With the release of his masterful Monolith EP, BlackGummy draws us deeper still into his dark, forbidding world.
---
Iman Marouf, better known to the world as BlackGummy, has spent the last several years forging his own path within the electronic music space. The protege of Steve Duda and one of mau5trap's newer artists, he already has the support of major artists like deadmau5, NERO, and REZZ. With the release of his third EP, Monolith, BlackGummy delves into the mysterious communication and symbolism surrounding the origin of human life, presumably centered around the enigmatic bear with which he has become inextricably linked.
Monolith consists of four tracks, with a distinct through-line of dark, minor-key tonality melodic elements coupled with energetic, pulse-pounding basslines. All the tracks on the EP are overlaid with ominous sound samples that instill a sense of foreboding in the listener, painting a picture of an ancient world left to decay by the sands of time. The unique sound samples are something of a signature in BlackGummy's work to date and provide a depth uncharacteristic of much modern-day electronic music.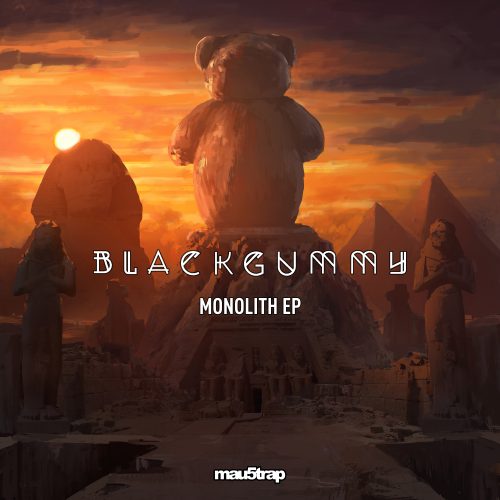 The first track, "Iconoclast", sets the stage, with a menacing tone enhanced by pointed, dynamic synth riffs and percussion. "Arp Makes Sphinx Purr" takes a more mysterious turn, beginning with an introspective melody that gradually builds, fades, and snaps into sharp relief when introduced to the bassline that carries the track forward to its conclusion.
"Desert Fire" begins simply, featuring a driving, stripped-down house aesthetic that eventually takes an unexpected turn with an interlude of major-key synth riffs completely unlike anything else on the EP. The final track, "Edifice", is an industrial masterpiece and perhaps the darkest on the EP. Here, BlackGummy architects a complex soundscape that even after multiple listens, reveals deeper layers and effects.
Some of BlackGummy's largest influences are deadmau5, Eric Prydz, and Feed Me, and shades of these artists can be seen throughout Monolith. His obsessive focus on his craft is evident – the finished product represents a level of quality and attention to detail that only the most masterful producers are capable of achieving. For fans of the darker side of electronic music, Monolith is required listening without question. Check it out below!
Love BlackGummy? He's on tour, and you can catch him live at Das Energi Festival or as part of REZZ's Mass Manipulation tour.
Stream Monolith EP on Spotify:
Stream or purchase Monolith EP via your favorite digital platform.
---
Follow BlackGummy on social media:
Facebook | Twitter | Instagram | SoundCloud