Northern Nights Music Festival announces an expansion to their pioneering Medical Marijuana Zone for its fifth year!
---
On July 14-16, Northern Nights Music Festival will be taking over Cook's Valley Campground for a weekend full of amazing vibes and an epic camping experience. This will be paired with a lineup that is sure to get your moving and grooving, as acts in both the hip hop and electronic realm of music will be playing throughout the weekend. Artists like Jai Wolf, Living Legends, Random Rab, Justin Jay, Big Wild, and more will be bringing the heat with some epic sets to really get you going. Attendees will also fall in love with the beachside dance parties, world-class production, and plenty of art too.
Tickets for Northern Nights Music Festival are on sale here!
Hosted in the "Emerald Triangle" of California, which is known for the flourishing cannabis industry in the state, Northern Nights Music Festival has announced a unique expansion for this year's edition of the festival.
Paying homage to their location on the borders of the Humboldt and Mendocino Counties, they have unveiled a very positive stance on cannabis this year. Doubling their efforts in helping further the cause of breaking the stigma and prohibition on marijuana, they are not only providing education regarding cannabis but a safe haven for those who use it too. If you're a medical marijuana patient this is definitely a festival that is helping your cause.
This year, NNMF unveiled that they will be expanding their Medical Marijuana Zone to a massive "Tree Lounge" inside the festival. Featuring educational information, on-site doctor recommendations, cannabis sampling, interactive installations, and even meet-and-greets with some of the headliners. The Cannabis Tree Lounge highlights Humboldt, Mendocino and Northern California cultivators that have perfected their trade over the years. Additionally, there will be plenty of activities ranging from yoga to massage therapy with cannabis-infused oils for you to experience.
Read on for the full list of collectives participating, the complete lineup, and more festival information!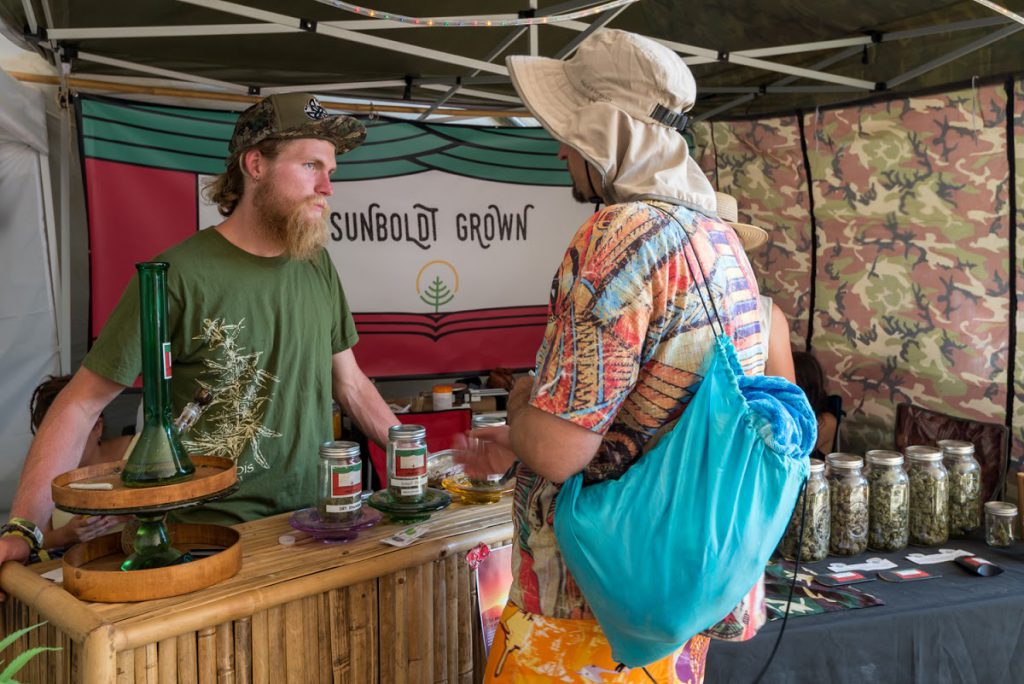 ---
Northen Nights Music Festival 2017 Tree Lounge Collectives 
OTG Organics ⧫ 1LN ⧫ Madrone California ⧫ Bloom Farms ⧫ WyldeHeart Ranch ⧫ Redwood Roots ⧫Humboldt's Finest ⧫ General Extractions ⧫ Emerald Pharms ⧫ Light Heart ⧫ Hillstrong Collective ⧫ The Humboldt Brand Cannabis Company ⧫ Lola Lola ⧫ County Line Ranch ⧫ Emerald Exchange ⧫ North Bay Nectar ⧫ Old Kai ⧫ One Feather Ranch ⧫ Humboldt Brothers ⧫ Humboldt Apothecary ⧫ Wildseed
---
Northern Nights Music Festival 2017 Lineup: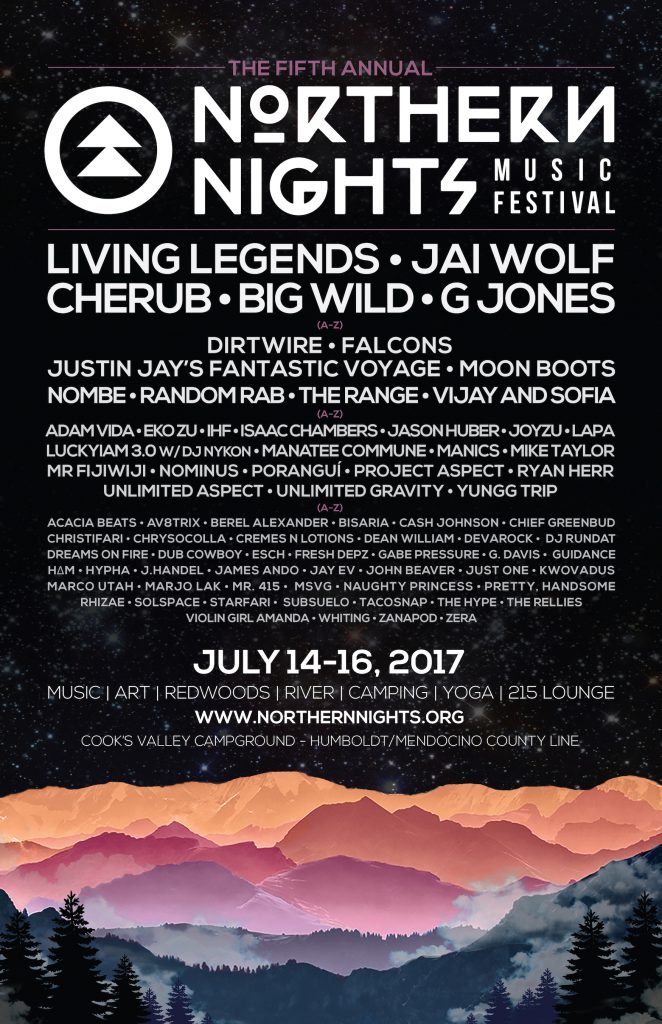 ---
Northern Nights Music Festival 2017 – Event Information:
When: July 14-16, 2017
Where: 83950 Road 442E, Piercy, CA 95587
Ages: 18+
Tickets: HERE
Facebook Event Page: HERE
---
About Northern Nights Music Festival:
Now entering its fifth year, NNMF has created its home along the South Fork Eel River at Cook's Valley Campground, 3.5 hours north of San Francisco at the intersection of Mendocino and Humboldt counties. With a passion for celebrating emerging underground music and featuring the most sought-out producers and DJs from around the globe, the luminaries behind NNMF, San Francisco-based BLAP Productions, nd Humboldt's World Famous Productions, first came together in 2013 to achieve their vision. As their vision – and the festival – grew, the team welcomed production houses EPIC (Chico), Burningleaf Productions (Humboldt), Eye Heart SF (San Francisco), and Euphoric Styles (Santa Cruz), who collectively strive to sustain NNMF as a premiere destination experience.
Offering attendees a unique opportunity to fully embrace a truly Californian experience. Aligning with the history and tradition of previous festivals in the region, a portion of NNMF proceeds from ticket and beverage sales are donated to the Mendocino and Humboldt school districts, nonprofits, and environmental groups.
---
Connect with Northern Nights Music Festival:
Website | Facebook | Twitter | Instagram
 Featured Photo Credit: Get Tiny