Welcome to The Landing, EDM Identity's weekly post highlighting fresh tracks you may have missed!
---
Since the introduction of streaming sites like SoundCloud, YouTube, and Spotify, as well as release mediums like Bandcamp available for artists to release on, new music is hitting us faster than ever. The abundance of releases can almost be overwhelming, as the tools for production and releasing music are easily accessible for anyone around the world. We know that it is a difficult task to keep up with every release from every artist, so we're here to assist you with some gems that "land" in our inboxes. In every edition of The Landing, we intend to highlight some tracks that you may have missed, or perhaps shine a light on new music for you to fall in love with.
This week's edition of The Landing features fresh tracks from Dirtyphonics, Cosmo's Midnight, PureNRG, Charbonneau, Jamie Berry, CYA, Autograf, and Antra!
The Landing || May 21 – 27, 2017
---

House turns dirty with Dirtyphonic's "Boombox"
Dirtyphonics – Facebook | Twitter | SoundCloud
Drum & Bass group Dirtyphonics continues its trend of appealing to all sorts with the retro flair of "Boombox."  Given their roots, it's a surprise to hear the group pull off a House tune with such tenacity.  The lead synth throws back to the style of house that radiated in 2010 to 2012.  It's Electro enough to really grab the ear – but it also has a huge groove that infects the listener and drives them to dance.  The two step shuffle is back kids…. LES GO! Turn it up!  Grab a copy – its out now on Dim Mak!

---

 Mellow Electronica meets R&B with Instupendo & Cosmo's Midnight
Cosmo's Midnight – Facebook | Twitter | SoundCloud || Instupendo –  Facebook | Twitter | SoundCloud 
Silky vocals in an R&B flavor are spoonfed with a side of bliss on Instupendo's remix of Cosmo's Midnight.  This is a splendid bit of daytime music – it is ambient enough to blend into a soulful sunny pool party but sublime enough to be a piece of heaven when driving down the highway at sunset.  There's a sad note to the lyrics – the hook of the chorus is "Because we've got too much history" after all – but the melancholy of the lyrics gives way to an atmosphere that's simply divine.  Get lost in this one, before you dive into the Memorial Day festivities this weekend!  If you dig it too – grab a copy by clicking here!

---

PureNRG brings a touch of the Mediterranean to Trance!
PureNRG – Facebook | Twitter | Instagram | Website
From the beauty of arpeggios to the groove throughout, it is no surprise that the team up of Solarstone and Guiseppe Ottaviani as PureNRG is hitting the summer hard with a beautiful little island of Trance gold.  There is no strangeness here – the track maintains a solid foundation rooted in Trance and is built in a manner that expresses the beauty of the soft crash of waves upon the shore.  Plucks create a smooth atmosphere and transition the track segment to segment without the stereotypical tension found in festival-focused tracks.  "Cala Blanca," or White Cove, perfectly blends the summertime mindset with the elements of Trance.  It maintains solid movement, and enough energy to be played at peak hours. It also is subtle enough to be slowed down for the transition from day-party to starlight.  Graba cold one, find some friends, and dance straight on to morning on the sandy shores.
Pick up a copy here today!
---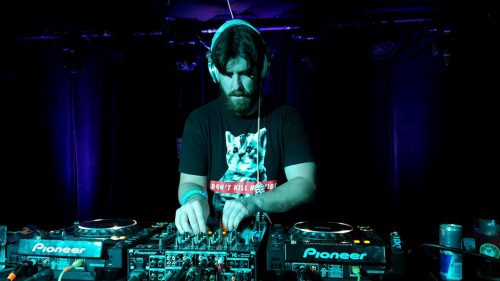 Charbonneau delivers a magnetic twist on Gigi D'Agostino's "Super"
Charbonneau – Facebook | Twitter | SoundCloud || Gigi D'Agostino – Facebook | Twitter
Recently, a track from Artist Spotlight house guru Charbonneau landed in my inbox and instantly I found myself hooked on the unique character that ran from start to finish. In December 2000, the original mix of Gigi D'Agostino's track called "Super" was released on Arista. A true OG to the dance music game, Luigino Celestino "Gigi" D'Agostino, known also as GIGI DAG unveiled himself to the world as an Italian DJ, remixer, singer and record producer. In 1986, he started his career as a DJ spinning Italo disco, and released his first mix titled "Psychodelic". Fast forward to 2017 and his music finds relevancy among the creative and innovative dance music minds, as evident in Charbonneau's choice to put his own creative twist on the classic Italia Disco masterpiece.
I first heard it in May of 2001 in Barcelona, Spain. I recall running back and forth between these clubs atop the Maremagnum Center to hear Super, Sandstorm (Darude), The Bongo Song (Safri Duo) and L'amour Toujours, another all-time classic by Gigi D'Agostino. All great tracks….but Super gave me a feeling unlike anything I had heard before. It hooked me the first time I heard it.

I asked the DJ who's track it was, and I felt like I already knew the answer when he responded "Gigi". Sixteen years later, the track and those memories are still alive inside me. I have loved the experience of remixing it. I am grateful to share it with the world and pass on the intense feeling that it brought to life in me.

To Gigi D'Agostino…….thank you for making me feel alive with your music. Thank you for all you have done for dance music around the world. My remix is a progressive, intense, high-energy club track. A thumping kick, a grooving, driving bassline, hypnotic vocal loops and the exotic hook that has stood the test of time.

– Michael Charbonneau
You can check out Charbonneau's Artist Spotlight right here!
---
 
Jamie Berry previews "Bolder", to be fully released June 9
Jamie Berry– Facebook | Twitter | SoundCloud
After running our piece on Electro Swing last month, we were stoked to see this track from Jamie Berry hit our inbox. Featuring vocals from Georgia Thrusting, "Bolder" is a blend of electro swing, reggae, and a touch of house. This track definitely is capped up by the quality voice from Georgia, who provides some infectious vocals we can't get enough of. This wicked good tune is a great start for anyone looking to explore the genre deeper, as it has a quality groove that will get anyone moving to the beat.
---

Autograf brings the Summer Vibes with "Simple"
Autograf – Facebook | Twitter | SoundCloud
Autograf and summer go hand in hand to make some magic, and this year is no different. These talented artists have brought another musical masterpiece for listeners tuning in all over with track "Simple"! We love Victoria Zaro's voice, and the lyrics really make their mark too. It was "Simple" in our decision to include this tune this week, as it not only is perfect for pool party season, but even for Memorial Day Weekend vibes. Catch Autograf this upcoming June at EDC Las Vegas!
---

CYA remixes Highly Sedated's "Make Love"
CYA – Facebook | Twitter | SoundCloud
Out on SIZE Records, the fantastic duo CYA was given the green light to remix Swedish band Highly Sedated's track "Make Love". Putting a quality spin on it to make it their own, CYA toys with your eardrums as you follow the synths and keep steady with the basslines. The duo is coming off a fantastic start to 2017, and this track is sure to get any house lover grooving on the dance floor. Don't sleep on CYA this year, with support from the legendary Steve Angello you can expect to see more quality releases in the near future!
---

Antra takes R&B track "Dilemma" and puts his spin on it!
Antra – Facebook | Twitter | SoundCloud
A favorite tune from those who love Nelly and Kelly Rowland, "Dilemma" is one of those tracks that was perfect for all those summer lovers out there. Antra flips it to give it a more updated bassline and vibe that will be sure to get any club going. Coming off solid remixes of tracks like "Supernatural" and other original tunes like "Down" and "Gone", Antra shows off the more mellow, less hyped side of the trap scene that is great to just chill out to. Stream it below and let us know what you think!