And Here We Go…
---
Say the above headline with Heath Ledger's rendition of the Joker's voice in mind and you may begin to emulate just how awesomeness the III Points Festival lineup is for 2017. This year continues to be one full of incredible musical showcases, as festival after festival has released their line-ups. We got a little tease a month ago when III Points spent the night toying with us on Instagram, finally revealing that Gorillaz would be headlining. They have followed up that teasing beautifully as they release a line-up showcasing The XX, Nicolas Jaar, Richie Hawtin, Danny Brown, Skepta, Bonobo LIVE, Kaytranada, Rufus Du Sol, and more. This line-up is titillating, its eclectic: there is a little groove atop a layer of funk that had a dose dropped on its tongue all while being influenced by some soul.
III Points Festival will be held at Wynwood in Miami on October 13-15, 2017. Purchase tickets here!
This will be my first year attending III Points Festival though the festival is now in its fifth year. The festival has seen steady growth over the years in every way and now seems like the most auspicious of time to attend and their lineup promises to allow for such a solid array of audible stimulation. III Points, of course, offers a variety of entertainment and stimulation aside from the music too. It is a mecca of art, and when I say mecca I do not exaggerate. Wynwood, where the festival takes place, is considered to be the center of Miami's up and coming urban art trend.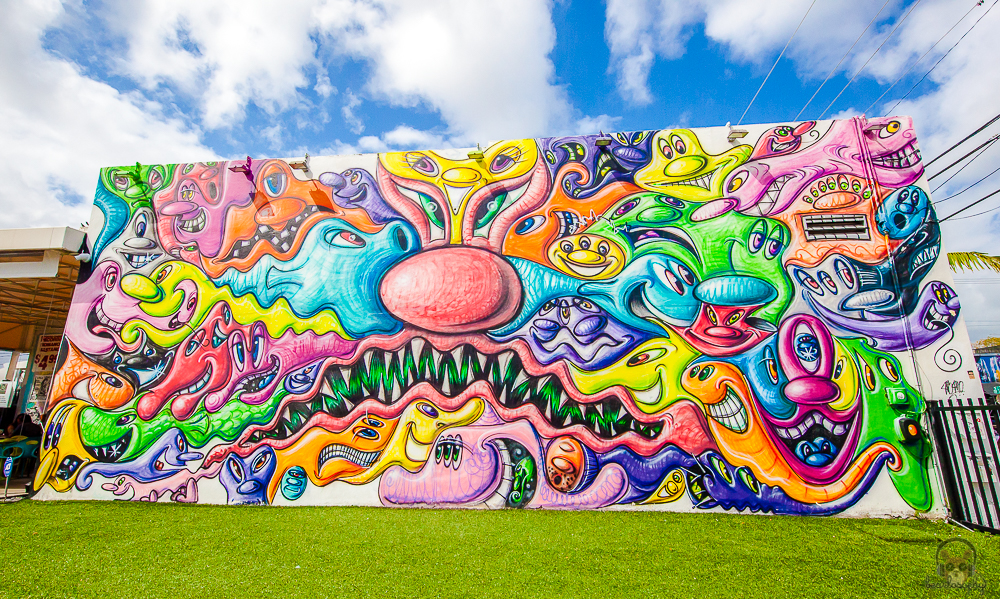 The buildings, walls, sidewalks, shops, and restaurants in the Wynwood District are littered with some of the best murals in our country. This festival has a certain attitude to it, only found in a Miami; that added element sets III Points Music and Art Festival apart from other festivals. III Points Music Festival returns October 13-15, this is one you do not miss this one. Take a look at the lineup below and get ready to immerse yourself in some of the best Miami and the South-East has to offer!
---
III Points Festival 2017 Lineup: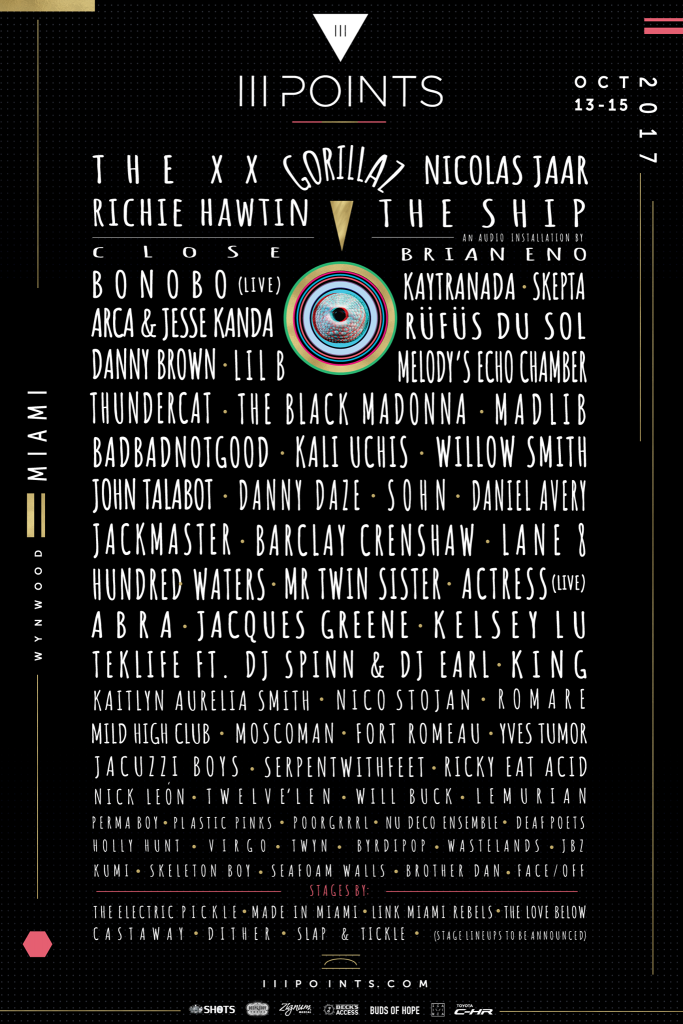 ---
III Points Festival 2017 Lineup By Artist:
The xx
Gorillaz
Nicolas Jaar
Richie Hawtin CLOSE
The Ship: an audio installation by Brian Eno
Bonobo (LIVE)
Kaytranada
Skepta
Arca & Jesse Kanda
RÜFÜS DU SOL
Danny Brown
Lil B
Melody's Echo Chamber
Thundercat
The Black Madonna
Madlib
BADBADNOTGOOD
Kali Uchis
Willow Smith
John Talabot
Danny Daze
SOHN
Daniel Avery
Jackmaster
Barclay Crenshaw
Lane 8
Hundred Waters
Mr. Twin Sister
Actress (LIVE)
Abra
Jacques Greene
Kelsey Lu
Teklife ft. DJ Spinn & DJ Earl
KING
Kaitlyn Aurelia Smith
Nico Stojan
Romare
Mild High Club
Moscoman
Fort Romeau
Yves Tumor
Jacuzzi Boys
Serpentwithfeet
Ricky Eat Acid
Nick Leon
Twelve'Len
Will Buck
Lemurian
Perma Boy
Plastic Pinks
Poorgrrrl
Deaf Poets
Holly Hunt
Virgo
T W Y N
Byrdipop
Wastelands
JBZ
Kumi
Skeleton Boy
Seafoam Walls
Brother Dan
Face/Off

Stages By:

The Electric Pickle
Made in Miami
Link Miami Rebels
The Love Below
Castaway
Dither
Slap & Tickle
---
Watch the III Points Festival 2017 Trailer on Vimeo:
---
Check III Points out on Social Media:
Website | Facebook | Twitter | Instagram | SoundCloud | Snapchat
Featured Photo Credit: Dubera.com