Are you ready for Anjunabeats San Jose this weekend? Listen to our playlist to get hyped!
---
In the spirit of Above & Beyond and the Anjuna family, it's reasonable to say that "I've been counting down the days and the nights" till Anjunabeats San Jose 2017. In order to make the work week go by a little faster, I've compiled a few of my favorite tracks from each of the artists playing. Andrew Bayer, Ilan Bluestone, Jason Ross, Sunny Lax, Spencer Brown, and Mat Zo will provide the soundtrack of the night, so be prepared to be taken to Anjuna heaven.
In the meantime, however, grab a pair of headphones and enjoy 27 tracks from the Anjunabeats San Jose 2017's lineup. For those of you still unsure if you'll be attending, all the essential info is below!
Anjunabeats San Jose 2017 Playlist:
---
Anjunabeats San Jose Event Information:
Date: Friday, May 12, 2017
Hours: 8:00pm – 1:00am
Location: City National Civic – 135 W San Carlos St, San Jose, California 95113
Age Restriction: 18+
Event Page: HERE
Tickets: Purchase HERE
---
Anjunabeats San Jose 2017 Event Flyer: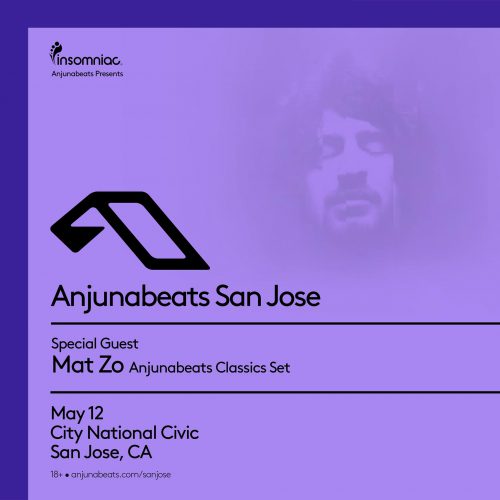 ---
About Anjunabeats:
Anjunabeats is the label owned and A&R'd by Above & Beyond – Jono Grant, Tony McGuinness, and Paavo Siljamäki. Starting its journey back in 2000 as an outlet for Above & Beyond's own productions, the label soon grew to encompass an ever-growing family of global talent. Over our 14 years, Anjunabeats has helped kickstart the careers of Mat Zo, Arty, Andrew Bayer, Boom Jinx, Super 8 & Tab, Oliver Smith, Jaytech, Ilan Bluestone and many more.
As well as the legendary Anjunabeats Volume series mixed by Above & Beyond, Anjunabeats has also released a number of treasured artist albums including Above & Beyond's own classic "Group Therapy", Mat Zo's eclectic "Damage Control" and Andrew Bayer's experimental "If It Were You, We'd Never Leave".
---
Get updates about Anjunabeats San Jose on Social Media:
Facebook | Twitter | Instagram | YouTube
Featured Photo Credit: Ilan Bluestone