We are still a week away from the release of The Best Of Armin Only album and live events but Armin Van Buuren has a little something special for you to quench the thirst!
---
In preparation for two groundbreaking The Best Of Armin Only events happening at the Amsterdam ArenA on May 12 and May 13, Armin van Buuren will deliver to the world a two-disc body of work packed to the brim with Armin van Buuren's timeless classics and exclusive records alike. When Armin van Buuren started off with his first Armin Only show in 2005, nobody knew it would become as big as it is today. But he embraced the experience and let it inspire him. So, in honor of this groundbreaking release, happening on May 12, the master of trance just couldn't wait and has officially opened up sales for pre-order!
When you purchase your copy of The Best of Armin Only you will be pleasantly surprised to receive a very special gift within a very special box! The Best Of Armin Only Special Box is what captures the essence of all of Armin van Buuren's 'Armin Only' shows. Packing four photo cards, one sticker, one custom-made shoutbox and two CDs brimming with the highlights of his previous 'Armin Only' shows, as well as the new music that will fill out The Best Of Armin Only shows in May 2017, this Special Box embodies Armin van Buuren's life-long dedication to his craft and the paths he has taken!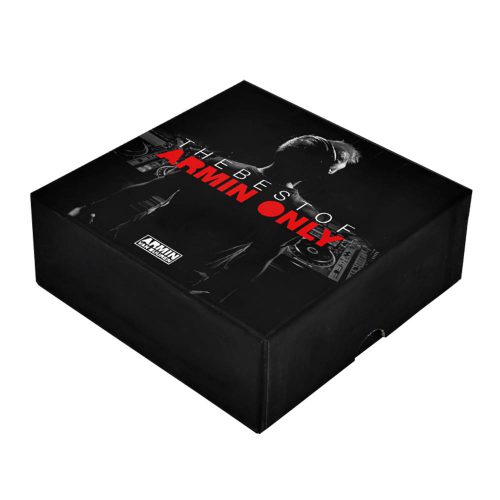 To preorder your copy of 'The Best Of Armin Only' album, click here!
Now, although the album is only in its preorder stage, have no fear because he has some music for you to fall in love with while you wait! "My Symphony", the official anthem for The Best Of Armin Only, saw its premiere six weeks ago, kicking off Armin van Buuren's gargantuan live set on the mainstage of Ultra Music Festival Miami 2017 and is ready for you to blast through your speakers right now! With strong orchestral elements, this is a track that oozes strength and yes, even a little bit of urban swag. A true crossover piece, "My Symphony" has elements that every trance addict, EDM fanatic, or dance music enthusiast can latch onto and love. As Armin van Buuren opens the door to the 2017 season, he reminds us that you don't have to be held down to just one genre or sound. If it drives you to move on the dance floor, then you know what? He is all about it! With his new album and anthem in tow, The Best Of Armin Only in Amsterdam will be his glorious nod to all of his faithful followers, where Armin will take his crowd on a spectacular journey of his last 20 years as not only a masterful trance artist but as a man who simply lives and breathes dance music, no matter the genre or classification.
Stream Armin van Buuren's The Best Of Armin Only Anthem – "My Symphony" on SoundCloud:
The Best Of Armin Only event happening on May 13 in Amsterdam is already sold out but tickets for the show on May 12 are still available! For more information or to purchase your tickets, click here!
---
Follow Armin van Buuren on social media:
Facebook | Twitter | Instagram | SoundCloud | Website