Pig&Dan Talk Techno, The Capsule EP, & More!
---
Pig&Dan both approached me with wide smiles on their faces at Phoenix Lights last month. Both were clearly amped to get on stage to play and you could just feel the energy from the way they arrived. They have been on a decade-long journey of making music and have really established themselves in the techno community. Both artists consider themselves experimentalists that are are always pushing the limit and have really found their own stride when they launched their own music label, Elevate. Coming together as a team was one of their greatest decisions, and I was ecstatic to be able to have a chat with them. Read on for our in-depth discussion with this fantastic duo below!
Listen To Adam Beyer vs Pig&Dan – Capsule EP on SoundCloud:
---
Where does the name Pig&Dan come from?
Pig: Basically, I used to be much fatter than I am now. I used to like (I still do sometimes) a lot cheese, like double cheese and triple mayonnaise. It was bad.
Dan: He was a consumer!
Pig: Yeah, I was a Pig. And my friend, a good friend of mine would call me pig and that's that, the name stuck.
Dan: It was a bit of a joke and to be honest we didn't expect any kind of success, obviously. You know what I mean?
Pig: We thought it was memorable. It's an original, I mean who the fuck would call themselves Pig?
Dan: We don't take ourselves too seriously, and we think it's also a really memorable name. There's a lot of weird things out there now.
Pig: Like Pig and Hen!
Dan: Yeah lot of things. Bastards they stole our fucking name. Oh, sorry I swore!
You just released your 4-track LP Capsule and each track was produced with Adam Beyer. What was it like working on this project and do you tackle collaborations differently than solo releases?
Dan: Yeah of course we do. I mean it was amazing because Adam is one of the…
Pig: He's a perfectionist.
Dan: Fuckin' 'ell isn't he? He's a perfectionist and he's definitely one of the ambassadors of the techno scene right now and he has been for 20 bloody years!!
Pig: It was a privilege for us to work with him. he's got very high standards and you know the actual track Capsule got mastered and remastered and we had to do the mix 8 or 9 times. And we had like eight or nine different masters. So I mean the thing is, it just shows how much work he puts into Drumcode. It seems people are being critical of Drumcode right now, saying it's too commercial or whatever. But you know they are successful, and that's because they care and put a lot of work, energy and passion into everything they do. It's exhausting!
Dan: And it's exactly what Adam wants. I mean he's extremely passionate about what he does. And you know I think people like to criticize things that do very well. But fuck man, it's all down to the fact that him and his team are amazing. I have to tell you musically it worked, I think very well. I'm not saying that egotistically, just saying his parts and our parts and the production together sort of complimented each other and we're going to do a follow-up.
That's good to know!
Dan: And just for you to realize, it took us three years sending Adam demos and stuff to get in there.
Pig: Yeah, three years. I mean I'm not going to say this egotistically (again) but we were already quite established. We released on Cocoon and our own Elevate was growing and it still took us three years off sending him demos. There was a moment where we were pretty frustrated. But you know it made us want to get better. Instead of being resentful or downbeat about it, we put that energy into being better. We are always striving to improve with our music. You can't measure whether we have done better in a way, but what I mean is to always be evolving, and pushing the envelope.
Dan: For us, we're actually our biggest critics. We always want to up the ante. We always want to find the new sound. You know a lot of the music we make, we actually play nearly all of it. I would say we design our own sets, and that's what makes us Pig&Dan….
Pig: …in our unique way. You know, a little bit different.
Dan: It's hard to stick out in these days, as you know anyone can get any piece of music anywhere with the digital age.
Pig: I think we have a trademark; our kicks, our high hats. There's something there for everyone whatever genre you like to listen to, as we try to not stick to one genre specifically when we are making a track. I mean, we did Destination Unknown with Bedrock, which was more like a chill-out album. We don't see music as a genre, we like to see it as different intensities.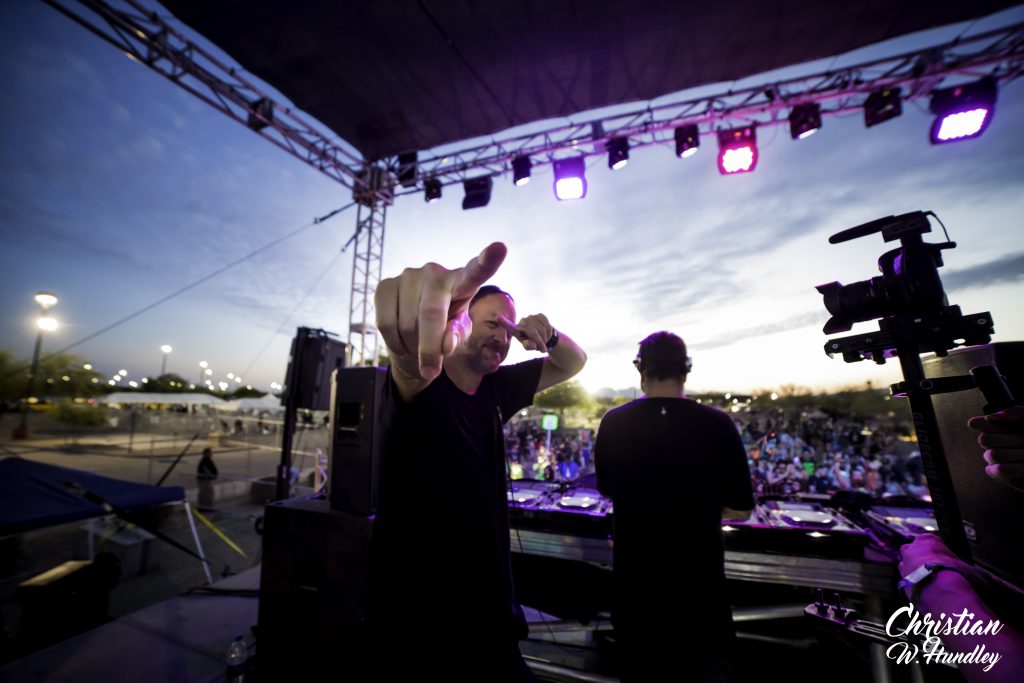 So on that note, what was the inspiration for the more down-tempo album Destination Unknown?
Dan: Well, it was over the years. When we wanted to sort of get away from techno, or not so much techno, but dance music a little. We would sort of branch out and write something that was just off the hook and after a while we ended up with a shit load of records that were doing nothing. John Digweed approached us and asking if we would submit a track for a chill out album he was going to do for Ibiza.
Pig: And we gave him fifteen!
Dan: Yeah, we gave him fifteen tracks! And he was like "I'm canceling the chill out compilation. I just want to do this as an album." So we came together and actually, Carl Cox wrote and spoke really nicely about the fact that it's the record he's had in all of his cars for the last year. It was respected at least by some of the dance music scene as not being too off the wall. It was a challenge. But we like challenges!
Pig: And to be honest, all the albums we've done have been the same. We've never gone, "Let's do an album". It's more like we just make a lot of music and then you know put it on an album. Funnily enough, it works. We kind of select what we think is stronger and, it's very organic. You know?
So when you're building an album to release do you produce it with the journey in mind or you just…
Dan: Never.
Pig: We just do it. We just make music. We don't know what we're doing. We really do not have a fucking idea of what we're doing. We never write a track and are like "we're gonna make a number one." No, we're just like, let's write a track.
Dan: We don't know if it's going to be techno or house. We don't know. Sometimes we'll want to write a banger or…
Pig: The thing is, no it's not like that, you start one way and then
Dan: It always goes the other way.
Pig: So you never know. You just kind of do it.
Dan: We are experimentalists. It's not really us.
You guys are leading into every question. [Laughs] Electronic music has changed quite a bit over the years. Do you approach the process differently compared to years ago?
Dan: We've never approached the process. We just do what we like.
Pig: We just do our thing and that's it. Like we just wrote three tracks on tour. We can write music on a mac with headphones.
Dan: The other day we found a drum and bass sample from the 90s with a vocal, we heard it and were like wow, that's an inspiration. And we wrote a whole track and we're gonna play it tonight!
I'm excited to hear that! What are your thoughts about the current techno scene and where do you think it's heading?
Dan: I think it's in a really good place. I mean the scene is growing enormously. I think the fact that people also in other genres are branching out. Like Deadmau5 is playing a techno set here and there. Yeah I mean I think that's a brilliant thing because it's introducing people that wouldn't have perhaps given it a chance.
Pig: It's evolving. You know a lot of people started with that music and their tastes evolved. I started listening to completely different music to what I'm doing now. I used to listen to hardcore and those compilations called Hardcore Mayhem. I don't know, but I remember they had skulls on them?! It was like 150 bpm hardcore techno! I was 14 years old back then though. Yeah man. Yeah, techno is really becoming, I'm gonna say this word, 'commercial'
Dan: Popular. It's not commercial, it's popular.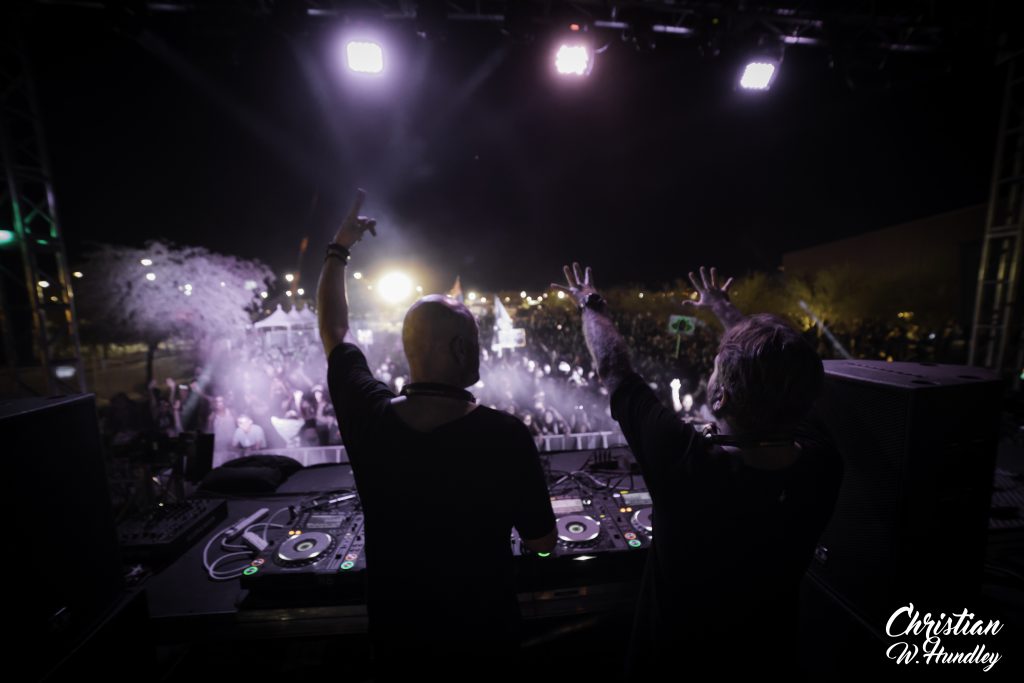 Finally, who would you say are the most influential artists in the electronic scene and which artists do you listen to?
Dan: Oh god, that's a really difficult thing because we, to be honest, we play our own music.
Pig: We're always in the studio so when we do have free time, we kind of like, we love silence. Silence is our music.
Dan: I mean of course there are artists that we push on Elevate. The people we believe in.
Pig: I mean I can give you names of the new guys on the label which will be Wehbba, HOBO, Dast and also Luca Agnelli is fantastic. I mean there's a lot of new producers. Real, real, producers. No ghosts out there. We have nothing against it, but we've always made our own music. And that's the thing. When you make your own music. It's like a cook you know. I always like to use the similarity of when you're cooking. Music is like cooking.
Well, thanks for chatting!
Both: Thanks!
---
Connect with Pig&Dan on Social Media:
Website | Facebook | Twitter | SoundCloud