From the mist, Suwannee Hulaween rises once again!
---
You have heard this story before, the strum of a guitar from a guitarist dressed as a mad genius. An ungodly creation fused together from some of the greatest talents in music brought together under a full moon in October. But sometimes when you look closer at, there is more to a festival, sometimes the festival is found not in the music or talent, but in the people who attend it. Festivals like to sometimes think of themselves as facilitators of experiences, but I assure you no place in the Country can boast what Spirit of Suwannee Music can. Enter Suwannee Hulaween.
Recently Suwannee Hulaween teased us via Instagram posting the above photo saying "HulaweenFL 2017, we are ready to return home." The Suwannee Family couldn't be more excited for another installment of what has quickly become one of the South's biggest and most fun festivals. Suwannee Hulaween is rounding on its fifth installment October 27 – 29. This festival put on by The String Cheese Incident is one EVERYONE must go to. It has an eclectic, well-rounded line-up that continues to grow every year. From String Cheese to Claude VonStroke to Grammy Award Winners Disclosure, Suwannee has hosted them. The venue is well-known among its goers as a place they call Home. Suwannee's festivals are known for their camaraderie and family vibe when you go to the Suwannee you go and become part of a group of people who quickly become family. I can not decide what I am more excited for, returning to my Suwannee Family, or to see how Suwannee tops an already insane festival line-up from 2015.
The line-up and presales are coming soon so make sure you sign up for Suwannee Hulaweens email list to get updates!
Check out the trailer for Suwannee Hulaween 2016 Aftermovie on YouTube:
---
Suwannee Hulaween 2017 Announcement Flyer: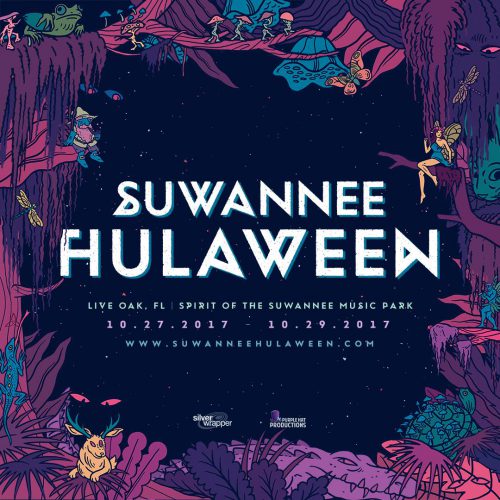 ---
Suwannee Hulaween 2017 – Essential Info:
Date: October 27 – 29, 2017
Ages: All Ages
Venue Address: Spirit of Suwannee Music Park – 3076 95th Dr, Live Oak, Florida 32060
Tickets: Coming Soon!
Facebook Event Page: Click Here if you dare…
---
Follow Suwannee Hulaween on social media: