We had the pleasure of chatting with Co-Founder of the Suicide Girls, Missy Suicide, ahead of the upcoming Blackheart Burlesque Tour which kicks off April 13 in San Diego!
---
Over the past 15 years, the Suicide Girls have pushed forward a message of body positivity, acceptance, and have helped change the way the world has seen beauty. You probably know them, and if you don't, we highly suggest checking out the work that they've done. The tastefully nude pin-up style that had all but disappeared from the world has come back in full force since the turn of the millennium. Having been reimagining the concept of burlesque since 2002, when they began to put the Blackheart Burlesque show on tour it made waves in the industry. Now hitting multiple cities in the United States, and even more in countries around the world, it has clearly become a resounding success. Spreading their message of alternative beauty around the world, the Missy Suicide and the Suicide Girls have helped numerous people not just have a good time, but also accept who they are and fall in love with their looks. We had the absolute pleasure of chatting with Missy ahead of their sixty-stop, three-month Blackheart Burlesque Tour to discuss Suicide Girls, what fans can expect on the tour this year, and more!
Click HERE to purchase tickets and check out the full dates of the Blackheart Burlesque Tour!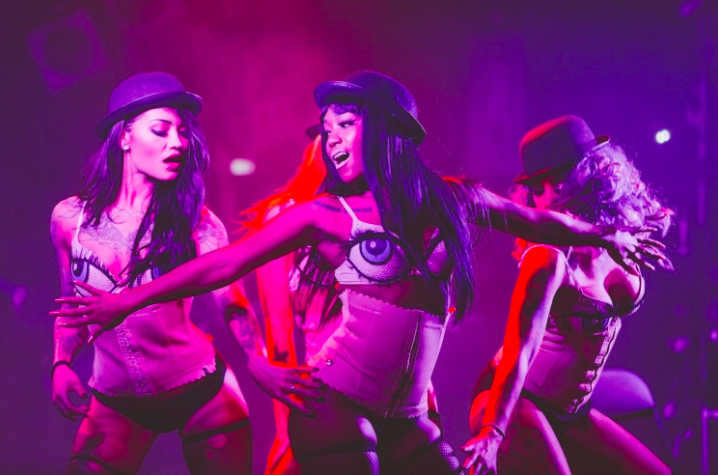 ---
First of all, Congratulations on reaching 15 years of Suicide Girls!
Thanks!
Did you ever imagine back when you launched that you'd be reaching the level of popularity you're at now?
When I launched, it was more of an "if you build it, they will come" sort of faith. I thought it would be popular in Portland and maybe Seattle, if I was lucky. But now we've got over 3,000 women all over the world. Every continent, including Antarctica, and members from every country in the world. It's just expanded and touched people's lives in ways I could have never envisioned when I first started it. I hoped that people would respond and understand the vision and intent behind it, but I had no idea it would be as popular as it is today.
Starting this April, the Blackheart Burlesque Show is set for a three-month, sixty stop tour hitting venues across the US. With your consistent pop culture influence with the show, is there a specific number that fans should keep their eyes out for?
I'm really excited about the Westworld number. Are you a fan of the show, did you watch it?
Yeah, I love Westworld.
You know how they have the sort of slowed down acapella covers of pop songs in it? Like they had Black Hole Sun and I think they did a couple Radiohead songs too. But "Funny Things" were the numbers, and it's just so hauntingly beautiful and I'm really excited for that one.
We're super stoked to see it! So, while every show on the tour is going to be special, are there any venues in particular that you're excited to be reaching this year?
There are so many. We book the tour ourselves and we've been to most of the venues before. Each of them has a special place in our heart because we've played them before and we try to pick the venues with the best sight lines and the best sound systems so we can really put on the best show. In the US, I love the Teragram in LA, it's a beautiful venue. In Chicago, we play a beautiful venue as well and Detroit is also amazing. There's just so many. [Laughs] We're putting on a special show at Le Poisson Rouge in New York that is going to be more intimate and smaller scale. And then in September, we're going to London and we do a show at the Electric Ballroom there. It's our fourth show there, and it's always an amazing time with all the UK girls that come out and visit.
How many girls will be featured on the tour this year?
There are six Suicide Girls that perform, and we also have our Tour Manager, Merch Girl, DJ, and two assistants that are also Suicide Girls. So our entire touring crew is Suicide Girls!
So it's a fully women-run tour as well, that's super cool!
They're all models from the site too!
Do they follow a strict regimen or routine when on tour?
I think they've fallen into a bit of a groove. With sixty cities, the tour is pretty tightly packed. They typically arrive at the venue overnight, they have the day, then at 3pm they do a run through, have an hour or two and then do VIP. After that doors open, there is an opening act, then the ninety-minute set and afterward get back on the bus to drive to the next city. They arrive sometime between 10am and 12pm.
That is rigorous for sure.
Yeah, they don't have a lot of time in each city but they make special trips when they can. Like the last tour, they were in Orlando on a day off so they got to go to Harry Potter World at Universal Studios. They do day trips if they can!
So they get a little time to relax and see some sights.
They make the most of their days off.
The choreography must take some time to develop in preparation for the tour. Do you work closely on the production end of it?
The show is kind of ever evolving because at this point we run it quite often. Even when we're not going on US Tours we're hitting South America or Canada. There are all these numbers that we're thinking of or trying out, that we're workshopping. We're trying to make sure the show is the best that it can be. Our Comic-Con show tends to be where we try out all our new numbers for the year. We put our brains together and say "this might work and that might work, and this might work" and we just kind of see from there. So the Comic-Con show tends to be two or three hours instead of ninety minutes just because there are so many more numbers and girls. It is kind of like where we workshop all of our numbers for the coming year, and we figure the fans at Comic-Con are sort of our true nerdy champion. They'll give us the best reaction and we tend to judge. If they say something is not working then we tend to let it go.
So Comic-Con San Diego is your proving ground for new ideas…
Exactly. [Laughs] So we're constantly workshopping numbers and ideas back and forth and trying to figure out what is going to be the best. They rehearse for like six to eight weeks before they go out on the road.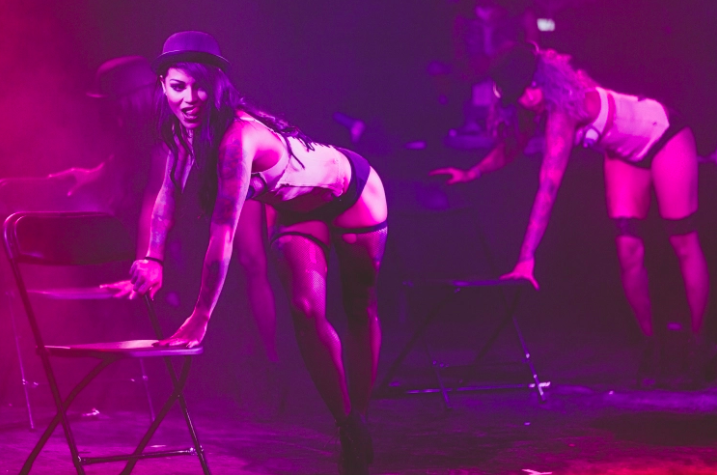 Since 2013 you've been doing these tours consistently…
Yeah, pretty much.
Is there a theme or choreographed number from a past edition that is a favorite of all time?
My favorite of all time….that's not including in this tour?
It could be included in this tour!
My favorite of all time is the Planet of the Apes number. It mashes up the Simpson's Planet of the Apes opera with Disclosure, and the girls come out in silver bikinis and monkey masks. That was probably my craziest idea that actually worked out really well, it always makes you dance.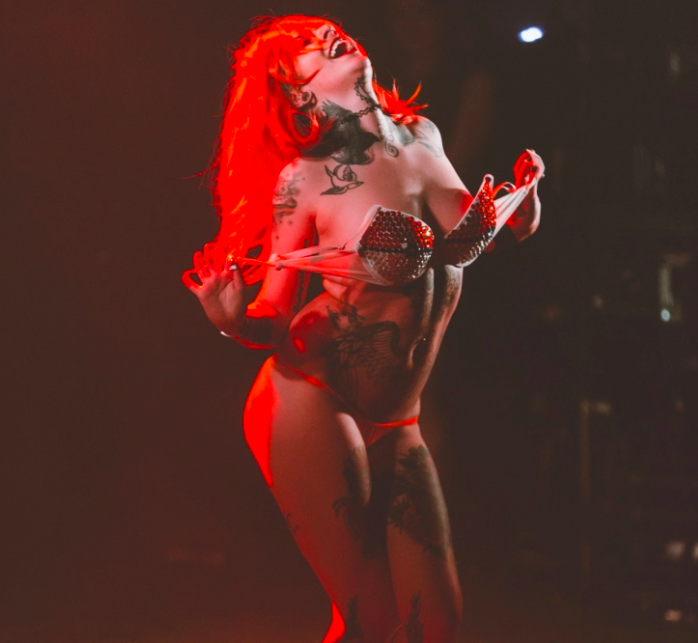 How do you go about pairing the music with different pop culture influences?
Kind of madness. There is no formula for it, it's just what seems to work. It's like, why do the Black Keys work with Adventure Time? I don't know, they just do, they really do, you just have to trust me on that. [Laughs] There is no formula, it's taking music and pop culture, mashing it up in my brain, and sending it out to the world.
I mean you mashed up Disclosure with Planet of the Apes, that's awesome.
Like you wouldn't hear that song and say "I know, this is gonna be a great Planet of the Apes number." or "this repeating beat sounds like Homer Simpson singing in that skit, it's all gonna work, it works perfectly".
Outside of the Burlesque Shows and Pin-Up Photo Shoots that really blew up in popularity, the Suicide Girls movies have also been very popular. Will there be one made surrounding this tour or is there another one coming in the future?
We don't have any movies in the works right now. We're doing a lot of live streaming though on Instagram, YouTube, and Facebook, so that feels like much more of a natural extension. People can kind of tune in to that. We'd love to do another movie in the future, but we want to come up with something that is amazing and different to knock everyone's socks off. We've done a bunch of shoot fests where the girls rent a house in a beautiful remote location and all come from around the world to hang out, shoot photo sets, cook dinner together, and have an amazing time. We've done a bunch of those.
We've done a lot of different things, but we need to come up with the next idea that is so different. But in the meantime, you can watch our YouTube channel and story streams to get an idea for what we are up to.
Yeah, that actually leads into the next question too. With technology constantly changing, how do you stay up to date with the latest trends on social media?
We tend to be early adopters for all the new platforms that come out. The minute there is a new social media network that launches we sign up for it and figure out how it's going to work. We have a Twitch account, Vimeo, YouTube, and more. Of course, all the dead ones that have gone by the wayside too. Rest in peace Myspace and Friendster…
The list could go on and on.
I know! They're the hot thing for a minute and then they fade out. So we make sure we can utilize each platform how it's intended, organically for that platform.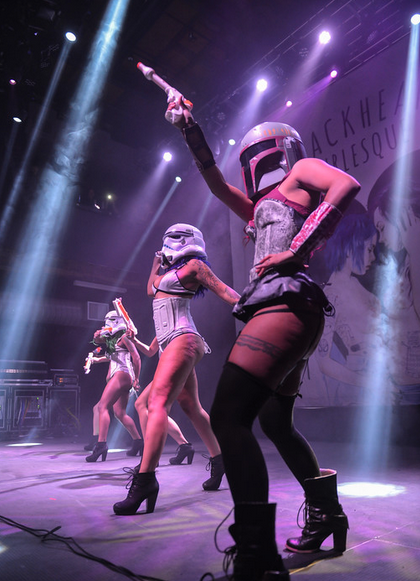 Since you've launched, the content you created has been both tasteful and different from much of the industry. I would consider Suicide Girls to be art and not pornography…
Yeah if you look at any art museum in the world, you're going to see more nudity then you'll see on Suicide Girls. The nude female form is the most celebrated subject matter in all of art history. We appreciate that and don't push beyond what you would find in most art museums.
Do you feel that you've shaped the way that many people see nudity right now?
I feel like people are starting to embrace their bodies a lot more, and people are starting to be less prudish about nudity. They are starting to see the freedom and such. People are kind of, not as prudish about it.
I feel that Suicide Girls helped lead the charge with the tastefully nude, pin-up model style of art photography. From my own circle, it seems to have helped people really get out of their shell. 
Yeah, I mean, women don't see girls like them celebrated in media as being beautiful. If you look at any poster or magazine, TV shows or movies, the images tend to be very limited in their viewing of who is deemed to be beautiful by society. I feel like it really affects girls, if you don't see someone who looks like you reflected back as being beautiful, then it really affects your self-esteem. I have women from all over the world who have emailed me and said they now feel beautiful, they now feel a sense of self-esteem, a sense of self-worth and pride since they saw a lot of women on Suicide Girls that look like them.
It's really cool that people have sent you letters and emails saying thank you!
Yeah, there is an email file where I keep all the positive emails and one for all the negative, crazy ones. The positive one is at 8,647 and the negative one is at 2,742. So I feel like I'm doing pretty good.
That's a great ratio right there, you must be doing something right. Everyone has haters so…
Right? [Laughs] and like, this is the internet and nudity. You can't post a picture of your breakfast without it getting called a slut. For me, for fifteen years to be putting out beautiful nude women on the internet and not have that much hate mail…I feel like I'm winning.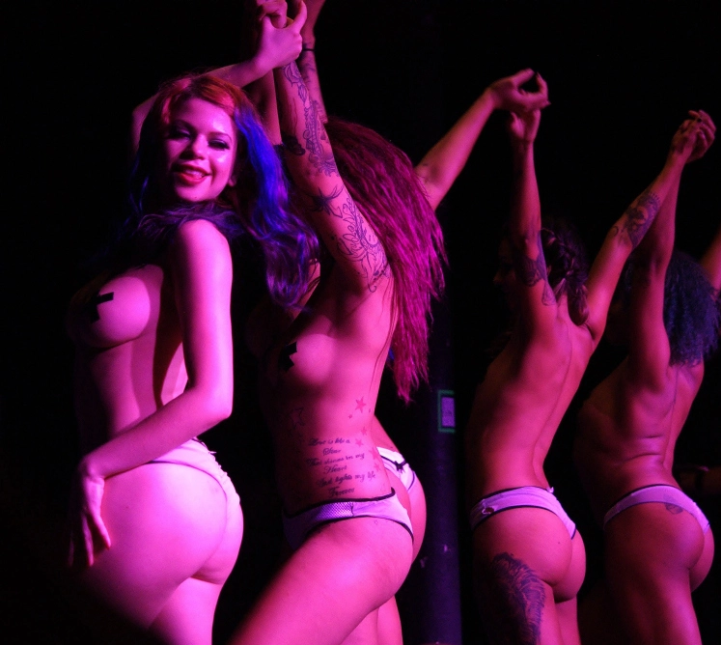 As an advocate for women empowerment, alternative beauty, and many other issues. What are some current issues or problems you feel we are facing…
You mean other than the president?
Yeah [Laughs] that's a big one.
You know the government is all against women at the moment.
How do you feel we can make a change right now?
Just using your voices more and standing up for ourselves and saying "I demand equal pay, I demand equal rights, I demand healthcare and the basic services and needs. I'm not going to sit down and I'm not going to be quiet, and I'm not going to be a good little girl and hope that you can be what I want. This is what I want, this is what I deserve." And being confident and resolute in our requests and inner demands.
For anyone who might be self-conscious about their body, looks, or style. Can you share any advice to help them grow some confidence internally?
Yes! Whatever it is that you feel self-conscious about on your body the most, whether it's your thighs, bum, belly or whatever it is, take two weeks and focus on positive things about it. Like, if you see yourself in the mirror, you can move your body to make it look a certain way. You can just appreciate it and wear shorts for a week. Just celebrate it and if you embrace that part of your body, you're going to get compliments on it. If you wear shorts or crop tops or whatever it is, people are going to appreciate them. Use your unique style to make it work for you. And at the end of two weeks, if you're still self-conscious about it, then get a tattoo on it. Create some beautiful artwork you love on that part of your body so that you can embrace it because you are beautiful and every part of you is. The more that you embrace your body and feel confident, the more confident in life you'll generally be.
I've never thought of the approach of using a tattoo for that purpose. 
Yeah, and it actually works!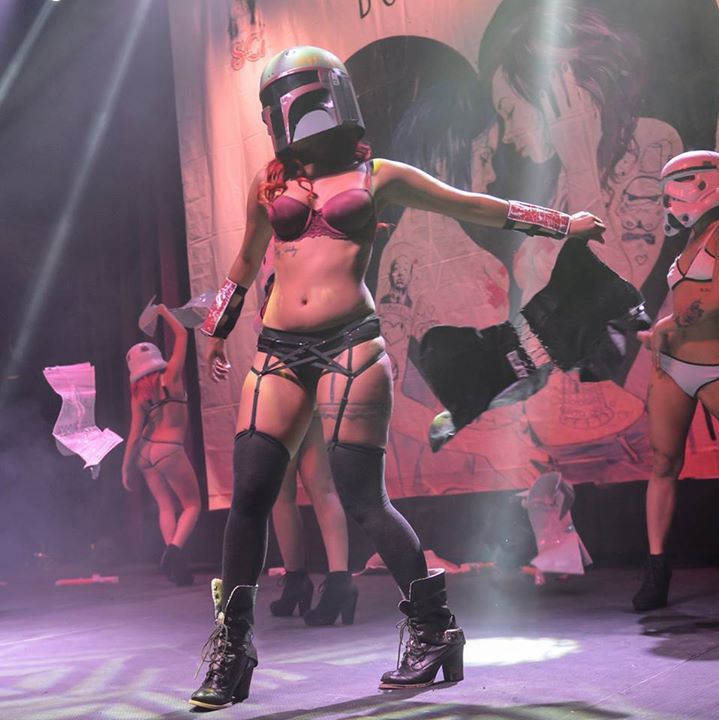 Looking back on your entire career, what has been your proudest moment so far with Suicide Girls?
The proudest moment is probably when I get the emails and read through them from people who say their lives were changed. That is probably when I am the proudest, and I know that's more on an intimate level. On the large scale, putting myself on Suicide Girls, that was pretty insane.
Finally, what is your current obsession in pop culture? Is there a show or anything you've binged on lately?
There's this show called Fleabag that's really amazing on Amazon. I feel like TV in general, it's gotten so good lately, there are just so many amazing shows.
Yeah, it's like out of nowhere it has exploded over the past few years in quality.
Right? It's just gotten so inspiring.
Maybe it's the shift more towards actual storytelling with major productions.
Yeah, they're definitely movie quality productions. I just watched Big Little Lies last night and it's crazy how good the production value was.
Well, that's all we have for ya. Thank you for chatting, it was a pleasure!
Thank you so much!
---
Connect with the Suicide Girls on Social Media:
Website | Facebook | Twitter | Instagram | Tumblr | YouTube
Connect with the Missy Suicide on Social Media: