What can make an impending tour kick off even more exciting? Deadmau5 has that covered with a wild visual and auditory pop-up shopping experience as he presents Lots Of Stuff In A Store!
---
Today marks yet another monumental tour kick off for world-renowned electronic dance music producer Deadmau5. Starting things off the best way he knows how the tour will debut at New York City's Hammerstein Ballroom for an event that will be one for the books! The show which features his new Cube 2.1 live production will be part of his Lots of Shows In A Row tour with Feed Me providing the support. In partnership with this epic event, Deadmau5 has something very exciting planned for all who want to get some shopping in as they prepare for the incredible event. Lots Of Stuff In A Store is the brainchild of Deadmau5; A pop-up emporium that will be packed full of exclusive goods for sale.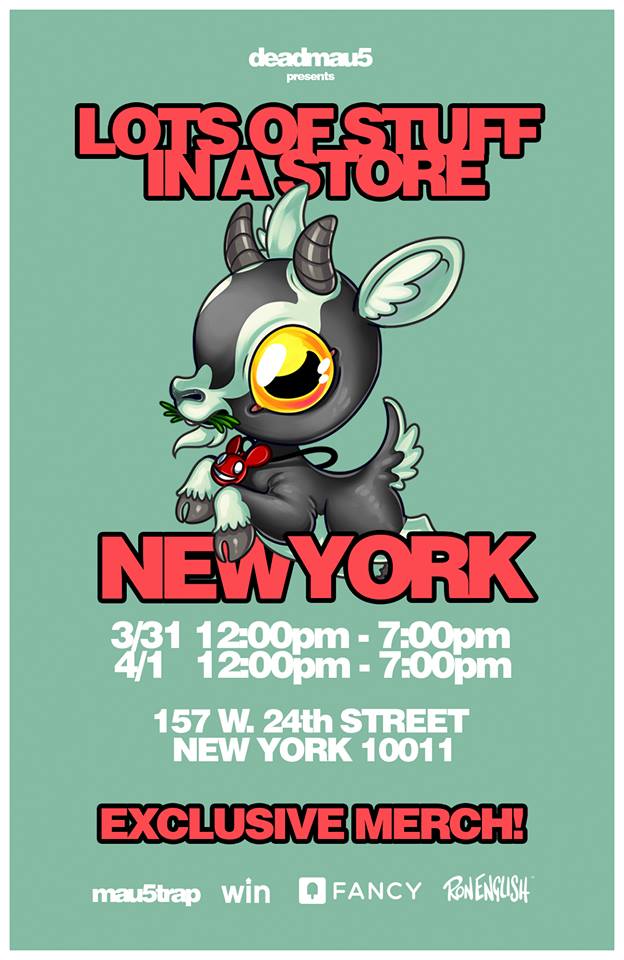 Deadmau5 offers an exclusive Behind The Scenes look at the work that goes into building his new Cube 2.1 ahead of the 2017 Lots Of Shows In A Row tour.
Check out the video For Deadmau5's Cube 2.1 on YouTube:
The shop, located at 157 W. 24th Street will open its doors on Friday, March 31, Saturday, April 1, and Sunday, April 2 from noon to 7pm each day. This shopping emporium is presented in partnership with fancy.com the destination for discovering and buying amazing things curated by a global community. And this won't be just any regular shopping experience for those who drop in. Guests are urged to keep their eyes peeled for world-renowned visual artist Ron English as he plans on making a special guest appearance at Lots Of Stuff In A Store on Friday, March 31, at 4pm. Watch this incredible artist at work as he paints a custom Deadmau5 head that will be offered online at omaze.com in support of the charity organization called Win.
Deadmau5's Lots Of Stuff In A Store, presented by Fancy, will feature many cool and unique specialty items such as limited edition deadmau5 x Ron English vinyl toys, installation of deadmau5's personal collection of mau5heads on display, limited edition mau5trap/deadmau5 art prints/posters, W:/2016ALBUM/ vinyl, Kid Dangerous merch collab, Wearhaus and KEF Audio installations and a wide range of official mau5 merch. This retail "experience" comes paired with tons of entertainment as well! Reflecting the light, sound, and energy, that Deadmau5 prides himself in at every show and event that he places his magic touch on, this shopping extravaganza will boast lightscapes and quality sound as Kef Speakers power the auditory experience. With Deadmau5's W:/2016ALBUM/ dancing through the airwaves, shoppers will be immersed in the beats as Blade speakers pump out studio quality audio. If you want a more personal experience, guests will be gifted the opportunity to listen to Deadmau5's latest release, "Stuff I Used To DO" on Wearhau5′ new social, connected, and wireless headphones! And to bring everything full circle, Nanoleaf's modular lighting panels will light up the room while Richard Clarkson's Smart Clouds, the motion triggered, music activated lightning and thunder performance will adorn the cielings, providing shoppers a unique experience that they will never forget!
Download or purchase your copy of Deadmau5's latest album release, 'W:/2016ALBUM/' right here!
Check out our review of Deadmua5 – 'W:/2016ALBUM/' right here!
---
About Win and Omaze:
Win is the largest provider of homeless shelter and supportive housing services for women and families in New York. Every night, Win provides shelter for over 4,500 people – including more than 2,500 children. Win provides services to 10,000 people per year, and has helped more than 800 families transition out of shelters and into homes of their own in 2016.  Partnering with Win is Omaze, an online fundraising platform that offers exclusive merchandise and once in a lifetime experiences to support global causes.
---

 See Deadmau5 on tour as he presents 'Lots Of Shows In A Row':
Wednesday, March 29 – New York, NY @ Hammerstein Ballroom
Friday, April 7 – Camden, N.J. @ BB&T Pavilion
Saturday, April 8 – Columbia, MD @ Merriweather Post Pavilion
Monday, April 10 – Lowell, MA @ Tsongas Center At UMass Lowell
Thursday, April 13 – Detroit, MI @ The Fillmore Detroit
Friday, April 14 – Detroit, MI @ The Fillmore Detroit
Saturday, April 22, Seattle, WA @ WaMu Theater
Monday, April 24 – Oakland, CA @ The Fox Theater
Tuesday, April 25 – Oakland, CA @ The Fox Theater
Friday, April 28 – Los Angeles, CA @ Shrine Expo Hall
Saturday, April 29 – Los Angeles, CA @ Shrine Expo Hall
Thursday, May 4 – Chicago, IL @ Aragon Ballroom
Friday, May 5 – Chicago, IL @ Aragon Ballroom
Tickets are selling out fast so make sure to grab your ticket today! Tickets can be purchased by clicking here! 
---
Follow Deadmau5 on social media:
Facebook | Twitter | SoundCloud | Website