ASOT Utrecht 2017 Set Times, Festival Map, & More!
---
We're finally just days away from ASOT Utrecht 2017! This Saturday, February 18th, some of the biggest names in trance will be playing at Jaarbeurs convention center for this all-night massive event. With the likes of Aly & Fila, Avalon, John O'Callaghan, and Armin Van Buuren gracing the stages, we are in for a treat. I can't wait to experience the energy, music, and people at my very first European festival. Here is any essential information you might need before heading to the event!
Make sure to check out my top artist picks HERE! If you can't make it, don't worry! ASOT will be live streaming the entire event HERE.
ASOT Utrecht 2017 Essential Info:
Date: February 18th, 2017
Show Times: 8pm to 6am
Venue Address: Jaarbeursplein, 3521 AL Utrecht
Ages: 18+
Lockers will be available on site for those of you looking to shed off your jackets and store your belongings! 
Acceptable Forms of Identification for Entry- Government issued ID:
Passport or Passport Card
Drivers License
State ID
Unacceptable Forms of Identification for Entry: 
---
ASOT Utrecht 2017 Set Times: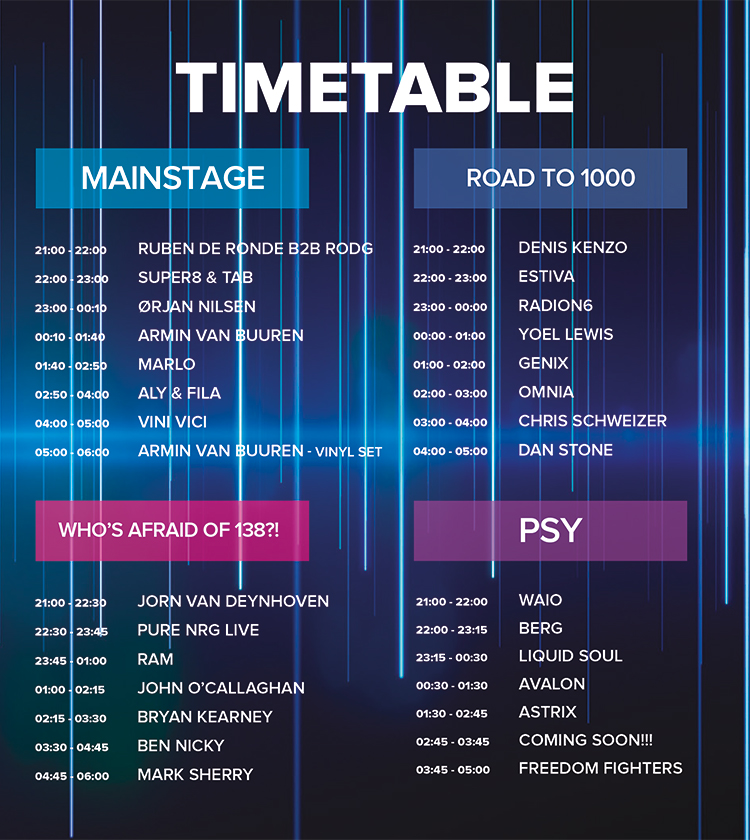 ---
ASOT Utrecht Festival Maps:
---
Reminder To Mind Your Belongings:
Unfortunately, many people have reported pickpockets, bag slashings, and theft of wallets, smartphones, purses and other valuables during this festival season. While this small number of bad apples in the bunch doesn't define an entire crowd, there are opportunistic people who come to these events to take advantage of unsuspecting party goers and it's important to be mindful of your valuables while at ASOT Utrecht. 
Pay attention to who's around you and what's going on around you. Keep your wallet and phone in your front pocket(s) if you can. Treat your phone the same way you would treat cash; don't set it down on a table or bar and look away. If a friend isn't standing behind you in a crowd, be careful of your backpack or purse, and don't put valuables in a pocket that could easily be unzipped by someone behind in a crowded spot without you realizing.
Festivals, in general, are a very densely populated place and are a well-known place where pick-pocketing of unsuspecting people occurs. It's easy to find yourself in a crowded environment in a line, at a stage in the festival, elevator, or even out on the street where someone could slip your wallet or phone our of your pocket or bag in a matter of seconds. Stay alert, be careful, and make sure to not carry more than what you need!
---
ASOT Utrecht 2017 Do's & Don'ts
PERMITTED ITEMS: 
ID
Mobile Phone
Cashless Card
Cash/Credit Card (to buy cashless card if you haven't already)
Good vibes!
PROHIBITED ITEMS:
Alcoholic Beverages
Drugs
Weapons or items that can be used as a weapon
Outside Food or Beverage
No Football Related Attire or Offensive Clothing
---
Connect with ASOT Utrecht on Social Media:
Website | Facebook | Twitter | Instagram | Facebook Event Page