Get to know rising producer, Shanahan, in this week's edition of The Lowdown!
---
Picking up major momentum since launching his career, Shanahan is an artist to keep your ears on this year and in the future. Working with notable names like Hardwell and Tritonal, his melodic style is great and bringing emotion out in the music he produces. His electro house productions have been both fun and dancey, bringing a fresh take to the genre in the process. Much of his work includes vocals that really make their mark on the tracks too, which can be seen on recent tracks like "Broken Souls" and "Is It Over". His work ethic goes beyond just producing and DJing, but also through teaching others about music production and assisting others looking to make their mark on the electronic music scene. Learn more about Shanahan in our chat with him below!
---
What led you to begin your career as a DJ?
I actually started my career as music producer 16 years ago and was not really thinking about becoming an international DJ. DJing came to me years later when I wanted to play my records out live at venues! For the future. I want to focus on being a studio producer & playing great events around the world to showcase my newest records. Being a producer is really where my full heart is, but there's nothing better than playing out and having fans sing along to your songs!
All tracks are special to artists, but is there one that sticks out as memorable to you?
Yes, there's about two records in my career that stand out amongst the rest. First being 'Passion' which I wrote with Sebastien Lintz in 2011 that was released on Hardwell's Revealed Recordings. This record was one of those classic style melodies that I don't think will ever get old, and I am super proud of that. The second record being 'Stars & Moon' with Breathe Carolina & Haliene, which was released on Enhanced last year. I still listen to this track almost every other day on my Spotify playlists and I hear it in friends cars or phones all the time, in which I am very grateful for. It just has a feeling to it that I will never get sick of!
I loved your track "Is It Over" with Disco Fries and Shy Martin! What has the reception been from your fans on the tune?
This one has been so amazing! I got so many messages and tweets from fans loving the overall message and vibe of this track. It was something totally different for the Shanahan brand, but that's what I do in my productions. I never really stick to one specific style, for me, it just gets a bit static; I enjoy trying new genres and pushing the boundaries of creativity. 'Is It Over' turned out to be one of my top records and working with Disco Fries & Shy Martin was a blessing, they're hard workers!
Your collaboration with Tritonal "This Is Love" was also a massive tune last year. What was it like working with the duo on the release?
It was quick, simple & painless. I mean that in a good way, you know? Working with collaborators sometimes can be a negative if you do not gel together. I've been going back and forth with Chad & Dave for past few years now getting to know them and starting to get familiar with their production style. The took the record to that next level it needed to become where it's at, it came out amazing and the collaboration was flawless.
Along with your electronic tracks, many also have acoustic versions released as well. What draws you to releasing these versions?
Acoustic versions are really fun; you can get creative with a track that is already finished. All the parts are there for you, it's just great to grab the singer, play some piano or guitar and maybe work with a few other artists to put together a 'Live' version, it's a lot of fun.
As a believer in making what you want musically, is there a genre you haven't produced yet that you'd like to?
Yes, I love producing all types of genres, but there's one I have not gotten to and that is dubstep. I've always loved the sound but there are certain dubstep tracks that are downright insane! I've been messing around and might put something together but it would be a melodic dubstep something maybe up the lines of Seven Lions, that style is super cool!
If you could only listen to three artists for the rest of your life, who would they be and why?
Audien – Because his chords melt me every time, the guy is a pure genius with every single record he releases!
Gryffin – His tunes really translate well to me because the live instruments he uses in with his dance music style, he's a major producer that I look up to.
John Mayer – He's a pure legend in the rock scene, and when I want inspiration out of dance music, I look up to John, his performance and writing talents are the best.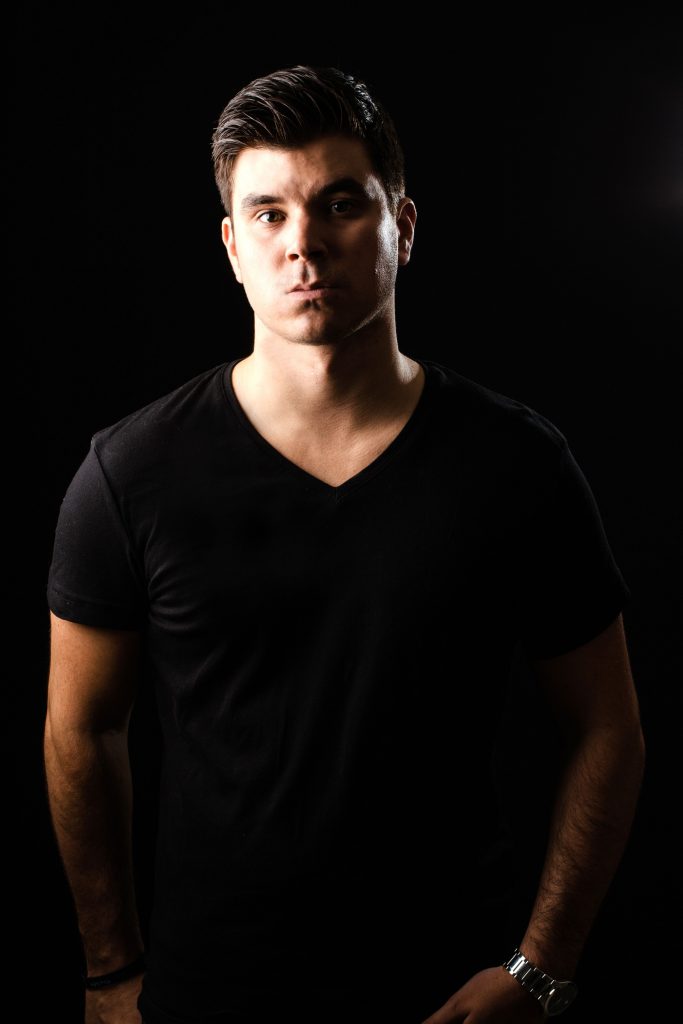 You also offer production tips for aspiring producers, can you share one of those with us today?
Yes, tutoring and making tutorials, in general, is something that I truly love doing. I've been working with Vandalism Sounds, a very well known sample & sounds company with the EDM market. These video tutorials I have been doing the past few months have been a huge help to producers & also have pushed myself a bit more in the studio to be creative!
A tip right now that I would love to share is to buy a set of small monitor speakers that are cheap. By this, I mean something like the Avantone Mix Cubes that I have in my studio. The reason I say this is because a large percent of your fans that are listening to your music most likely are going to play on their laptop, smartphone, headphones right? So, if your tracks are not translating well on those smaller systems, then your fans might not like the record. Mixcubes or smaller speakers almost force you to make your productions sound amazing on small sounding systems, which in return will sound huge on a venue's or bigger speakers!
Where is a dream venue for you to play?
Hakkasan Nightclub Las Vegas
Finally, what is your favorite Ice Cream?
Oh man! I'll go with vanilla on a cone with rainbow sprinkles, can't go wrong!
---
Follow Shanahan on Social Media:
Website | Facebook | Twitter | Instagram | SoundCloud