Life In Color Miami 2017 Set Times, Festival Map, & More!
---
Life In Color has come a long way from its simple roots as a paint party, as it has grown to become a well-known festival brand, making tour stops all around the world. Each year it returns home to Miami to start off a new tour with new artists and a great theme. On January 28th, LIC will not just be bringing the paint, but also celebrating its 10th Anniversary too! Shifting venues from SunLife Stadium to the Historic Wynwood Art District, this edition of Life In Color Miami is set to be better than ever with more paint, more beats, and of course amazing vibes too.
Check out my top picks for this year HERE!
Curious as to how the festival was in the past? Take a look at the 2016 event review HERE!
---
Life In Color Miami 2017 Essential Info:
Dates: January 28, 2017
Show times: 2pm – 12am
Venue Address: Mana Wynwood – 2250 NW 2nd Ave, Miami, Florida 33127
Ages: 16+
---
Life In Color Miami 2017 Set Times: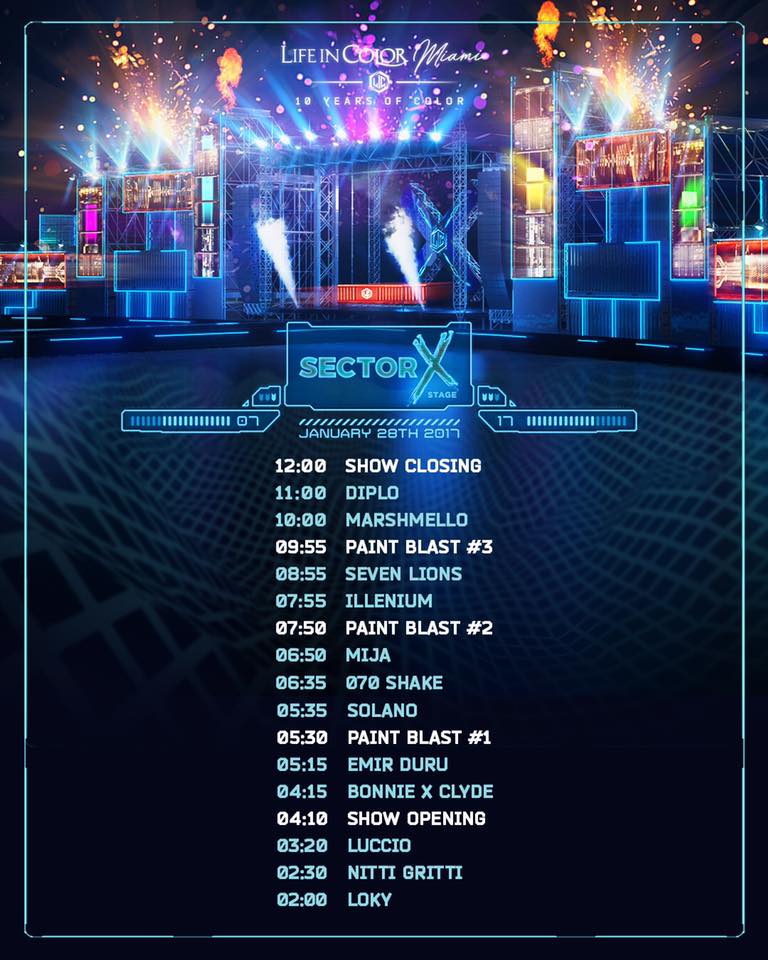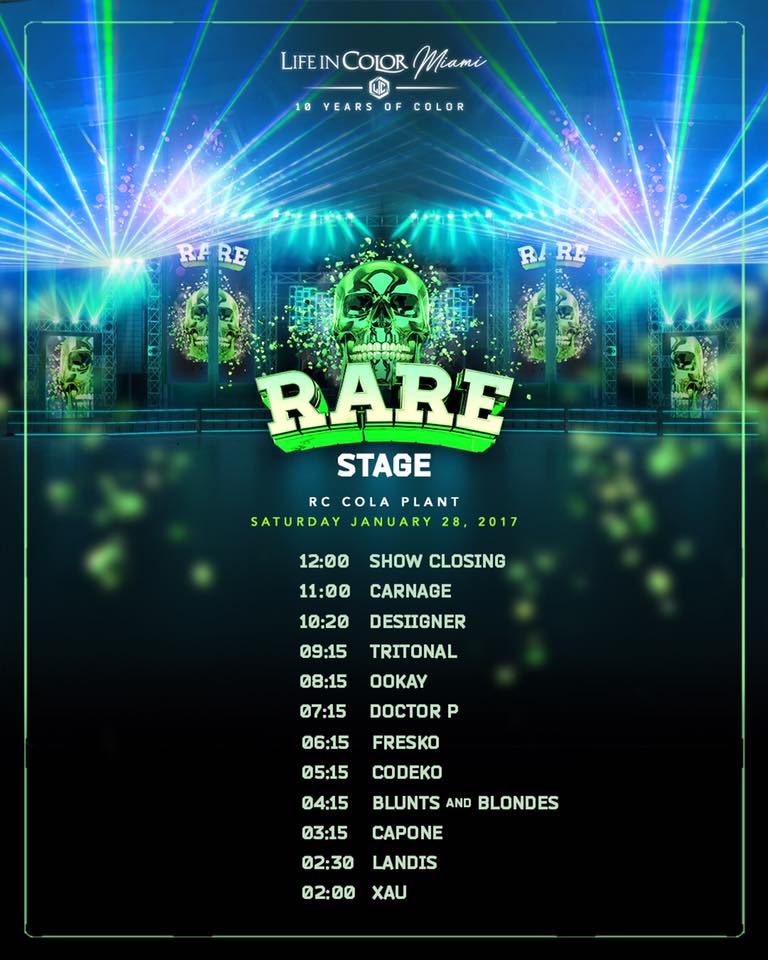 ---
Life In Color Miami 2017 Festival Map: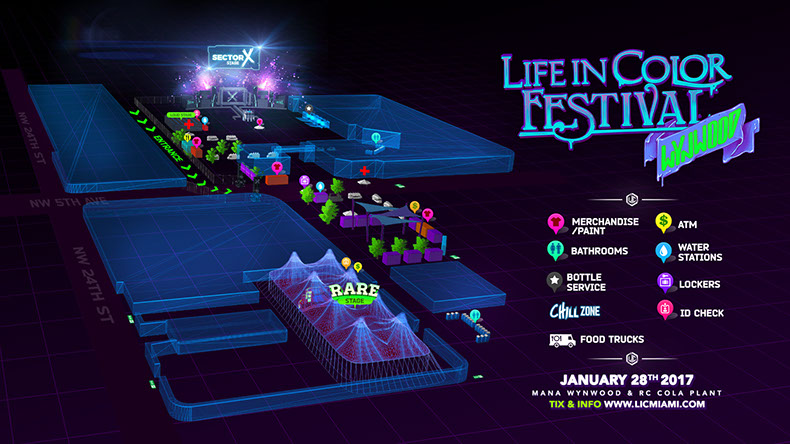 ---
Life In Color Miami 2017 Weather Forecast:
[awesome-weather location="Miami, Florida" units="F" size="wide" forecast_days="5″ custom_bg_color="#4286f4″ text_color="#000″ locale="en"]
---
Reminder To Mind Your Belongings
Unfortunately, many people have reported pickpockets, bag slashings, and theft of wallets, smartphones, purses and other valuables during this festival season. While this small number of bad apples in the bunch doesn't define an entire crowd, there are opportunistic people who come to these events to take advantage of unsuspecting party goers and it's important to be mindful of your valuables while at Life In Color Miami.
Pay attention to who's around you and what's going on around you. Keep your wallet and phone in your front pocket(s) if you can. Treat your phone the same way you would treat cash; don't set it down on a table or bar and look away. If a friend isn't standing behind you in a crowd, be careful of your backpack or purse, and don't put valuables in a pocket that could easily be unzipped by someone behind in a crowded spot without you realizing.
Festivals, in general, are a very densely populated place and are a well-known area where pick-pocketing of unsuspecting people occurs. It's easy to find yourself in a crowded environment in a line, at a stage in the festival, elevator, or even out on the street where someone could slip your wallet or phone our of your pocket or bag in a matter of seconds. Stay alert, be careful, and make sure to not carry more than what you need!
---
Life In Color Miami 2017 Do's & Don'ts
Prohibited Items:
Pets (except service animals with current rabies certification)
Grills, tanks (propane, nitrous and the like)
Food or drink purchased from outside the event
Glass in any form
Illegal drugs. paraphernalia, prescription drugs without a valid prescription with the holder's name clearly listed or that are being shared with others, and other products that are being used or may be used for an unintended purpose
Vitamins, prescriptions or eye drops in unsealed containers
Deodorant or perfume in big bottles or sprays (cosmetics which are a normal shape and size are allowed -max size 3oz/90ml)
Any apparatus (umbrella, sunshade, tripod for cameras, walking canes) considered dangerous by the security services to other festival goers may be refused
Motorcycles, ATVs or golf carts
Projectiles or explosives in solid, liquid or gaseous form
Fireworks or pyrotechnics of any type (e.g. sparklers, bottle rockets)
Dust masks
Chinese lanterns
Flags or totems
Lawn chairs
Frisbees
Large umbrellas
Unsealed tampons
Opened cigarettes
Marker pens
Musical instruments
Drones
Professional and non-personal radios and walkie- talkies
Flammable products or materials and sprays
Any weapons or dangerous, knives, sharp objects, or bruising object which could be used as a weapon (sticks, chains, stabbing or thrust weapons and the like)
Any item that can be used as a means to disturb the peace, endanger the safety of the crowd and/or inflict damage to people and goods in the sole discretion of security personnel
Fire making materials other than matches and lighters
Laser pointers
Recording equipment and professional cameras (those with detachable lens)
Water guns or misters
Inflatables
Stuffed animals/dolls
Pacifiers
Spray paint
Flyers, stickers, posters, any materials that could be used for vending or solicitation
Large backpacks or coolers
---
Life In Color Miami 2017 FAQ
Will the paint wash out?
Our paint is water based, latex-free, odorless, light on the skin, and will wash off. Please note however, that it may not fully come out of certain type of fabric/clothes. Make sure you wear something that you wouldn't mind getting paint on.
Are bags or Camelbaks/hydration packs allowed?
Only small bags, drawstring bags and camelbacks/hydration packs as long as they are empty upon entry.
Can I bring my own paint?
Unfortunately, you are not permitted to bring paint to the LIC event. Paint can be purchased at the local paint booth at the venue. Look for the sign that says, "Paint for Sale."
When will the aftermovie be released?
Aftermovies are typically released 3 weeks after a show. We release a shorter "Live Clip" the following Monday after each event.
When are you going to upload the pictures?
We do our best to get event pictures and photo available as soon as possible. Pictures are typically uploaded on the Tuesday/Wednesday after each show.
Can I get on the stage?
We do not permit attendees on stage for your own safety.
I bought GA, can I upgrade to VIP?
We are working on setting up an upgrade process. In the meantime, you can contact the source in which you purchased your ticket and request to convert your General Admission ticket to a VIP ticket. Worst case you can obtain a refund and re-purchase a VIP ticket.
Will you be posting set times?
Set times will vary from show to show and are always subject to change. We typically do not post these times in advance of the show.
I love taking pictures, can I bring my camera?
Professional Cameras are not allowed into the show. Video cameras are also not allowed into the show. Small Point and shoot cameras (Without Interchangeable lens's are allowed). Please note, LIC is not liable for any damage done to your camera at our events!
What do I wear?
We recommend you dress in all white. This typically is a white t-shirt, white shorts, and white sneakers. You can purchase am LIC t-shirt at our online store.
What kind of ID do I need to enter LIC?
A valid government issued form of identification is required to enter. Example – State issued ID, driver's license, or passport.
---
Connect with Life In Color on Social Media: