The young and talented Danny Avila has hit a major milestone, one that will place him on the map as one of the most relevant producers to ever hit the mainstream.
---
It began this past October when Danny Avila released "High", featuring the vocal stylings of Haliene. "High" is a fun summer anthem with an easy listening vibe and a whole lot of festival swag. Since its premiere on Billboard the track which was released on Ultra Music has garnered quite the attention. In fact, it has been streamed over half a million times and has ultimately landed in Parookaville's official after-movie; A two-day electronic dance music festival in Germany that prides itself on a festive government of madness (the crazy kind), love, and pure happiness! With such an exciting response from fans all over the world, it wasn't a surprise that Danny would step up his game to keep the momentum running strong by presenting his fans with an epic music video for this beloved track.
Stream Danny Avila feat. Haliene – High on SoundCloud:
So, how does one craft a video relevant enough for a season that has just about come to an end? How about an exclusive look into several of Danny Avila's energy packed performances and adventures from 2016?
This is exactly the route that Danny would choose, giving fans a glimpse into his life as a touring superstar with clips from Miami, Berlin, London, Ibiza, Scotland and Bali, and more. The video is a true representation of who Danny Avila is as an artist and what he experiences during his day-to-day travels all over the planet. The music video premiered on December 15th, on MTV before its official release.
Without further ado, head to MTV and be the first to take a dive into the world of Danny Avila with the official music video for "High"!
Click HERE to check out the music video!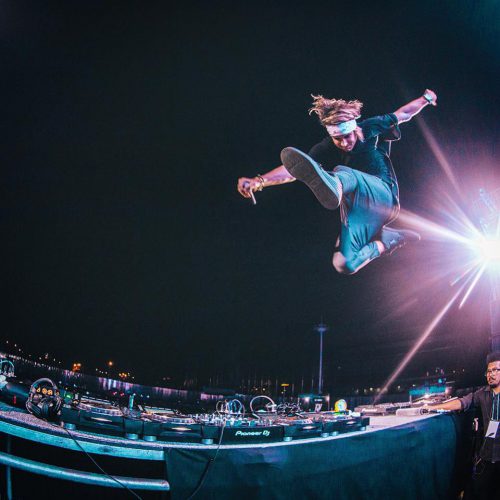 So, what's next on Danny Avila's agenda for the rest of the year rolling into 2017? Well, he plans on adding hosting and judging to his resume' as he will be hosting and judging Europe's biggest DJ contest NYDJAY by NEW YORKER! The competition kicks off in Amsterdam and makes stops in Cologne, Lyon, Stockholm, Budapest, Zürich, Zagreb, Moscow, Bucharest, Vienna, and Warsaw, looking for the world's next DJ superstar! Pretty impressive if I do say so myself!
For more info on NYDJAY by New Yorker click here!
For such a young talent in the industry, Danny is hitting goals that a majority of his elders may never achieve. Between releasing hits on Interscope, Sony/Columbia, Spinnin' Records, Dim Mak, Ultra Music, and Musical Freedom, signing a contract with MGM in Vegas to become the youngest resident DJ in the history of Hakkasan back in 2013, documenting his travels and sharing it with the world, and grabbing a spot to host and judge an international DJ search, Danny has truly made a name for himself in a very competitive market! The world is his oyster and he is gobbling up every precious moment!
---
Follow Danny Avila on social media:
Website | Facebook | Instagram | Twitter | SoundCloud | YouTube