Tom Swoon & Indigo do Matthew Koma's track "Kisses Back" major justice with their progressive house take on an emotionally charged original.
---
Last week Matthew Koma premiered his enticing new music video for "Kisses Back." The track pays homage to the struggles we have all faced in love and loss. If you have ever been in a serious relationship then you can't deny that you have experienced gut-wrenching loss at one time or another. Emotionally charged break ups are all too common and Matthew Koma expresses the devastation of failed love through crystal clear lyrics and a visually stunning music video that brings the theme to life in a very artistic way. The video was directed by Jungle George known for his recent work on Bishop Briggs' equally compelling video for "River." "Kisses Back" is Koma's first release from his forthcoming debut album on RCA Records.
Check out the official video for Matthew Koma – "Kisses Back" on YouTube:
To reinvent the single Tom Swoon & Indigo swoop in with a version that pays respect to the original but adds a touch of haunting melody and unique synth reconstruction. This progressive house remix is designed with new depth and a creative edge that can't be touched. Tom Swoon & Indigo bring an energy to "Kisses Back" that is almost empowering to those going through current struggles with their love life! One listen to this remix and you can't help but find the drive to get off the couch and head straight to the club for a night of mingling and love life rehabilitation! In fact, this is a piece that is not only perfect for the peak hours at the club but has the potential to cause some serious main stage festival mayhem!
Pick up your copy on iTunes!
Stream Matthew Koma – "Kisses Back" (Tom Swoon & Indigo Remix) on SoundCloud:
---
About Tom Swoon:
Taking the lead on the remix we have none other than Polish heart-throb, Tom Swoon. Swoon is a notable name in dance music, having released on Revealed Recordings, Flamingo and Armada and having been featured on Hardwell On Air. Swoon is also the founder of the weekly radio show broadcast, LIFT OFF Radio on Electric City, on Dash Radio. If that's not enough, Swoon was ranked at #56 in this year's edition of the DJ Mag Top 100! He got his start in the industry at the age of 17 after he discovered electronic dance music and found inspiration through artists such as Deadmau5 and Daft Punk.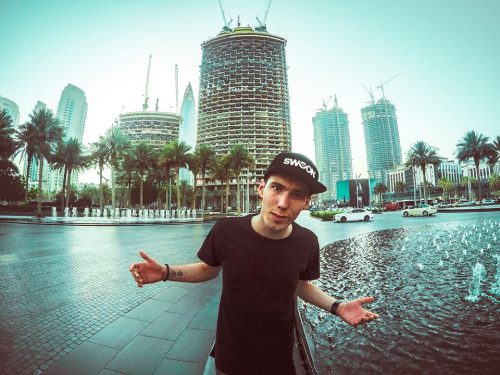 In late 2011, his first official remix of Gareth Emery's single "Tokyo" was released on Garuda and immediately climbed into Beatport's Top 100 chart. By 2012 Tom Swoon would be nominated by Nervo as their 'Breakthrough Artist DJ for 2012', and voted as the "Polish Breakthrough DJ of the Year" by FTB Poland. Both MixMag and Billboard Magazine called Swoon an 'Artist to Watch' in 2013. 2014 saw the release of his collaboration "Wait" with Paris & Simo, released on the mammoth label, Spinnin Records. Fast forward to 2016 and Tom Swoon is still as relevent as ever, placing his magic touch on Steve Aoki feat. Matthew Koma's "Hysteria" as well as releasing some outstanding originals like " I'm Leaving", "Never Giving Up" and "All The Way Down". With a discography that rivals some of the biggest names in the industry, Tom Swoon is on the top of his game. "Kisses Back" is simply proof positive that Swoon is here to stay. I can't wait to see what he has for us next!
---
Follow Tom Swoon on social media:
Facebook | Twitter | SoundCloud
Follow Matthew Koma on social media:
Website | Facebook | Twitter | SoundCloud