There was a mixture of excitement and anxiousness in my system before heading out to see Ghastly and Marshmello at Terminal 5…
---
This feeling usually overtakes me midday, after the initial "I need to get up and adult" feeling surpasses and continues to flourish as it gets closer to the show. It had not been a good day, so I guess that is maybe why the anxiousness outweighed the excitement, but I knew that once I walked through the doors at Terminal 5, I would be non-stop dancing to Marshmello and Ghastly.
Being the first to arrive out of my friends, was a bit awkward. Never has being alone at a show been a gateway for awkwardness to come flooding in for me, but it had been a while since I attended a show as purely an attendee and not as a photographer. As a photographer at shows, people often tend to come start conversations with you, whether it be to ask for a photo or to just show their appreciation. So without my camera and initial conversation starter glued to my hand I felt a little naked while making my way in the crowd as I waited for Ghastly to jump onto the stage.
After I made my way through the crowd I continued to open space on the right side of the stage. Looking around, I was a bit relieved to see that it was not an elbow to elbow situation but also knew that once Ghastly came on all of that would change. He has always been one of my favorite artists, from his musical talent down to his humble personality. There was even a time where I coincidentally saw him perform four weekends in a row, and not once was I ever disappointed. His set at Life Is Beautiful in Las Vegas was absolutely one of the best performances I have seen from him, and it left me excited for the next chance I would get to see a set of his. My chance had finally come and I could not have been more stoked. With only ten minutes until Ghastly's set started, my friends still had not arrived, and even though I was dancing by myself I knew that it would be an eventful night.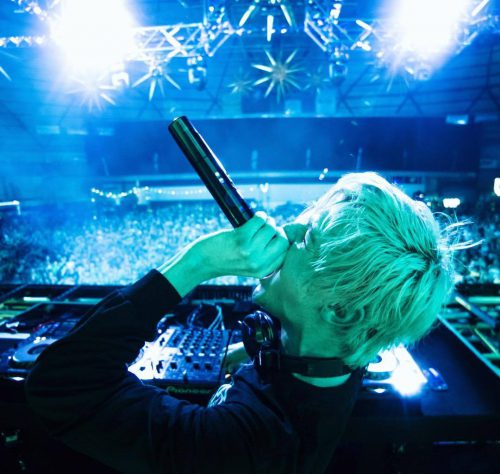 Ghastly's set was to begin at 10pm and at 9:58pm, my friend, Kat, her boyfriend, Will, and a couple of his friends finally arrived, and we made our way towards the center of the crowd. Spaces were now much more tight and the energy of the crowd had completely shifted, everybody was ready. As he greeted the crowd on the mic saying, "New York City, how ya feeling", he followed with, "Every Night" as his opening song and the atmosphere turned electric. As soon as the beat dropped my hands went up in the air and my head side went side to side. This was absolutely a perfect song to open with. It's a bit groovy, given that most of his sets are bass heavy this was a solid way to ease into things. Kat is almost identical to me, we are both 5″2, hispanic, wear glasses, and love to heavy bass. She knows how much I love Ghastly's music so she set out to make the night one we would not forget. During every bass heavy song that came on we would turn towards one another and synchronize our head banging.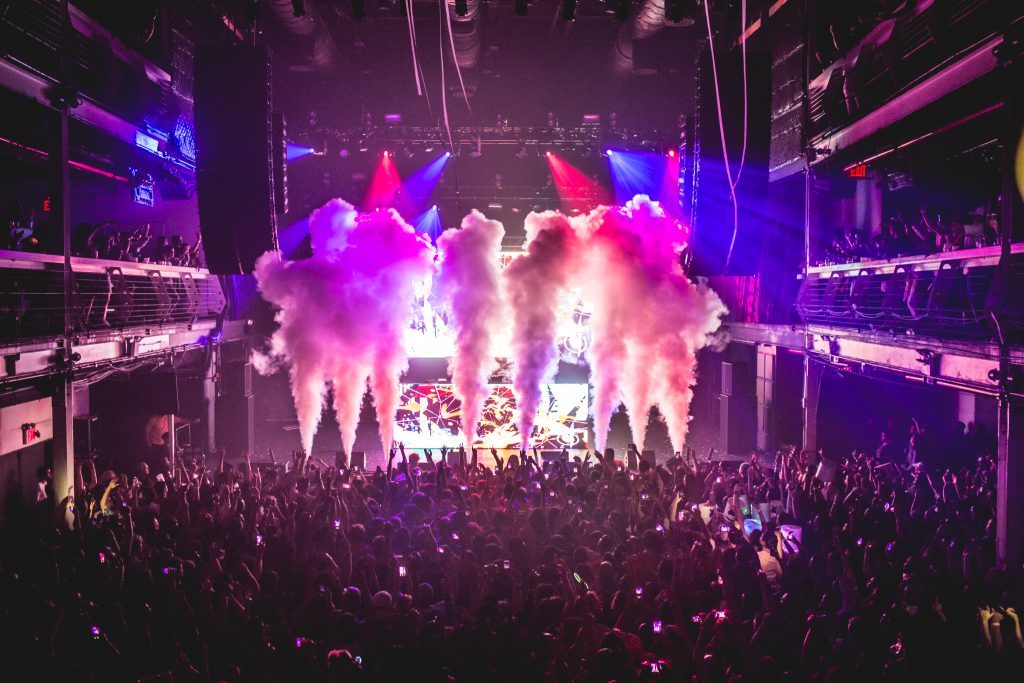 This continued all night as he played out songs like, "Bitch U Ghastly" and even a remix of The Chainsmokers, "Don't Let Me Down". My absolute favorite remix of the evening that thrown into his set was, Drowning Pool's, "Bodies", that song hypes me up every time. The moment it began to play, Kat and I looked at each other as we both sang. Our voices continued to grow louder as we continued to jump around. Seeing as how we were aggressively headbanging in a synchronized manner throughout the whole night, random people walking by would stop and either join in or give words of encouragement. There was a group of guys next to us who were intrigued by our excessive hair flying every which way, and it seemed to get them pumped too. We had made new friends, and that friendship would only grow and develop during Marshmello's set.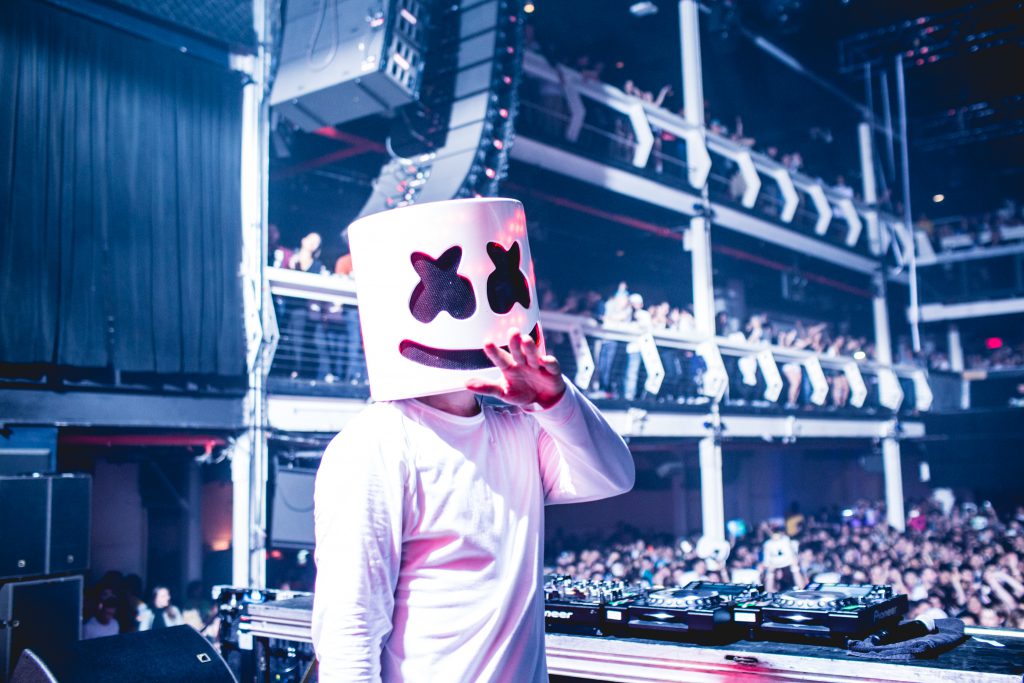 As Ghastly's set came to an end, with a killer set that got everyone's blood pumping, it was time for Marshmello to close out. His music to me is the type that puts you in a happy state of mind, the type that brings people together. That is just what it did. "Find Me" was the opening song, which has a beat that caused tons of noise from the crowd along with lots of repetitive, "oh's" being shouted. In no time the dance floor was packed, we were like sardines in a can, bouncing and jumping all over the place. It seemed like all of NYC's #Mellogang members had come out to rage with the man himself. Our newly found friends would turn to us, joining in on our jumping and try to make our hands go up in the air. This made things that much more fun. There is nothing more pleasant than absolutely having a rad time with total strangers as if you had planned to go to the show together in the first place. New tracks were dropped during his set and I knew right then and there that they were going to be big when released. More of Mello's top hits were played throughout the set like "Alone" and "Know Me", which of course caused the crowd to sing along to the tunes.
There was one song in particular that the crowd seemed to belt out with a little more effort and enthusiasm, which was his remix of Adele's hit track "Hello".
That song just seems to bring out everyone's inner singing talents, especially when the high note verses come on. I also fell victim to singing along with the track, but I'd like to think I sounded a bit more Adele-like than others. After moving away from the dance floor, we headed over to the bar area where there was much more breathing room. I was on the opposite end of the bar as my friend Will, and as a joke he moved over by me so he could sing "hello from the other side…", right on cue with the track. It was actually super hilarious and fitting to the song.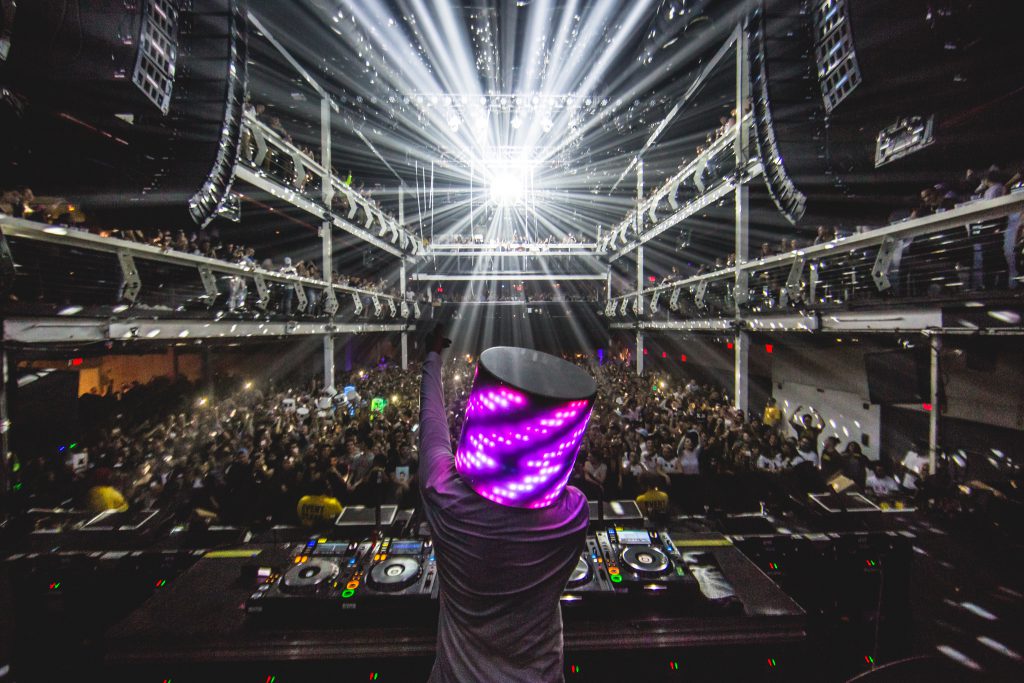 Usually when it comes to electronic music, I fall into the "basshead" category, meaning I love heavy drops and super heavy bass. This set was a change from what I was normally used to. I had only seen Marshmello once before at Camp Bisco, a set he closed the festival with, and I had been completely satisfied. This time around, as I was standing by a bar with my friends, I could not help but feel as though I needed more bass in the set. A few minutes later, Mello dropped a few songs in a row that featured some filthy bass, almost like he read my mind. Once again Kat and I began our headbanging again, the bartender just started laughing at us losing our minds. As his set began to come to an end, it seemed as though he was going to close out with, "Keep It Mello", but instead he played one more song, his newest release "Ritual". This only seemed fitting given that this was the 'Ritual Tour'. I absolutely love this song so I was very pleased. Confetti fell and even though the night was coming to and end the good vibes continued to flutter through the room.
As I gathered my thoughts and took some time to recollect, it dawned on me that this was close to being a perfect show personally. Having shot photos at Terminal 5 the previous night, I could really tell the differences between the two. Whether it had been the crowd or being with friends, Marshmello & Ghastly's show had my heart. The music was even louder than the previous night, the visuals were awesome, the lighting made all the difference, and overall the production was done well. This venue had three levels to it, each packed with smiling faces the entire night. As the attendees began clearing out, their feet shuffling through fallen confetti, I could not help but smile too. I walked out of the venue towards the subway station, still filled with energy more so than ever. All I wanted was to continue dancing even though I knew that was not an option.
This show was different for me because it brought me back to a special place.
Now do not get me wrong here, I love electronic music, the shows, the crowds, and the feels, but I admit that most of the time when I am there as a photographer, my mind tunes out the music subconsciously. Usually, I am so focused on getting the right photo, getting the right moment captured, that I forget that I am there in that same moment. This show was a "stop and smell the roses" realization type of show for me. I was able to sit back and fall back into why I love listening to EDM and why I love the crowd that comes along with the music. These two artists were the perfect combination for me. I thank these two talented beings, not only for a killer show but for helping me get back to a place I strayed away from. Hopefully, I will get the pleasure of seeing this ghost and marshmallow keep it mello together once more!
---
Connect with Marshmello on Social Media:
Website | Facebook | Twitter | Instagram | SoundCloud | YouTube
Connect with Ghastly on Social Media:
Website | Facebook | Twitter | Instagram | SoundCloud