Markus Schulz is one of the most unique, hardworking, and passionate producers/DJ's in the scene and with so many amazing tour stops coming up, groundbreaking achievements this past year, and the rise of his Dakota brand for 2017, we had to get the inside scoop from the man himself!
---
Since his first taste of production life back in 1993 with his remix of Sagat's "Why Is It? (F** Dat)", there has been no stopping the force that is the Markus Schulz brand. Whether you are an avid listener to his Global DJ Broadcast, privy to his extraordinary label Coldharbour Recordings, fallen in love with his countless number of original productions and remixes, bore witness to his 2 times and much deserved winning of 'America's Best DJ', or have attended one of his groundbreaking open to close marathon sets, then you know that Markus Schulz is clearly one of the leading powerhouses in the industry with a resume' that simply cannot be outdone.
2016 has been a year of success for Markus Schulz seeing the release of his sixth studio album 'Watch The World', his announcement that he would be sparking his Dakota brand back to life with a very special performance at Tao Nightclub for the Dreamstate event during EDC week in Las Vegas, hitting the 250th release on the Coldharbour brand with "Sestertius", and countless successful event performances as his 'Watch The World' tour went into full swing. But it doesn't end there! Let's not forget that he is fresh off gracing one of the most celebrated stages on the planet at 'Transmission' Prague, celebrating its 10th anniversary in style!
Next week is Thanksgiving and in true Markus fashion, he is planning a performance at Sky SLC Nightclub in Salt Lake City, Utah that will ring in the holiday with a bang! In honor of this upcoming event we caught up with the man himself and got the inside scoop about the show as well as his thoughts about this past year's successes and his plans for 2017.
To purchase tickets to see Markus Schulz live at Sky SLC in Salt Lake City Utah click here!
---
This year has been quite the busy year for you as your 6th studio album 'Watch the World' made glorious waves throughout the entire trance universe. This project was massive, as you were not only the producer but also the co-writer for all of its stunning tracks. Taking a look at now versus pre 'Watch the World', how has taking on both roles developed you as an artist? Do you plan on continuing a 100% hands on approach with your future work?
Well first, thank you for the kind words about the Watch the World album.
A couple of years ago, following the completion of the Scream albums, I felt I had reached a point in my career where I needed something to challenge myself as an artist. When starting out, your creative energy is essentially focused on playing with synthesizers and twisting knobs, and it's mindblowing at the beginning. But with five Markus Schulz albums and two Dakota albums in the books already, I felt that I needed to find that next gratification beyond only the music. And to me that's hugely important that I strived for this, because if you are not growing or evolving as an artist, you are dying, as nothing ever remains the same.
When reflecting on various periods of my life, I recounted my days of going to school and remembering what I excelled at, and the one thing that stood above all else was creative writing. But when the doors opened in the DJ world, that time and desire began to fade away. Getting back to that mindset of conveying my own thoughts and feelings into words was incredibly endearing.
I think… when you combine the personal gratification along with the response from the fans towards the album, then the songwriting path I will most likely continue to pursue for future albums. Of course, I'll want to keep producing those strong instrumentals too.
Since many of the tracks on 'Watch the World' are lyrical pieces and being the forward thinker, you have broken boundaries and set the bar high for other touring artists by including a live performance element. What has been the biggest challenge that you have experienced in regards to adding live vocals? Can you give us an inside look at the preparation that goes into these special appearances?
I think that has been a gradual thing throughout the years. When the aspect of custom visuals became more paramount as part of a night, it signaled the first shift towards introducing something more than just the music. So the preparation begins away from the clubs, in getting the visuals perfect.
Also, when you have a series of singers participating in your set, your structure for the night has to become a little more rigid out of necessity. For instance, we could have Brooke Tomlinson come out in the first 30 minutes, followed by Adina in the next 30, and followed by Nikki Flores after that. So you have to try to weave everything else around their performances. On top of that, you have to ensure that in your schedule you have time to bring everyone to the club, in order to go through sound check. So it's all the little things combined that make the effort larger.
So every Markus Schulz fan is dying to know….. How was Transmission for you this year?! What are some of your most precious memories that stay with you in celebrating its 10th year?
It was spectacular. It's one of those things where as each year goes on, you invest more and more time into it because Transmission as an event and brand is growing. When it's growing, you want to put more into it, and grow as an artist with it. For those of you who listened live or through the SoundCloud stream, you will know that I reserved a lot of new material to debut specifically on that night – some of which you'll see released on Coldharbour in the next couple of months, and some you'll be waiting a little while longer to see the light of day!
What has remained so special about Transmission through all this time is that it's one stage – not like festivals where everything is spread across four or five separate stages – it's one and everyone is there to see you; everyone is there to be part of what you present.
What I will always remember from the 2011 edition, themed as Digital Madness, was Above & Beyond's kindness. My father was sick and he was determined to come see me perform at this show, wheelchair and all. Above & Beyond were in the midst of their Group Therapy tour, and their final song of the night was Eternal, with the message of "this one is for Markus' dad". I'll always be grateful to them for doing that.
Having produced 9 total tracks for Transmission, 8 of which are centered around their event in Prague, which track sticks out to you the most and why?
In many respects, The New World remains as my most important production to date, not just for the impact it had on building Transmission as a brand beyond the borders of the Czech Republic, but also casting a wider net for my own fanbase. It was an anthem which really connected me towards all the eastern European countries, and that wide community is the backbone upon which Transmission stands today. It's the defining theme that I have to include in my Transmission sets every single year.
Let's stay on the topic of touring for a moment. You are gearing up to take the stage at Sky SLC Nightclub in Salt Lake City, Utah on November 23rd; a week that has been appropriately dubbed by the United States trance family as Trancegiving week! Can event attendees expect any surprises from the trance master on such a special night? How will you make this Trancegiving a special one?
The Thanksgiving Eve gigs always have a magical vibe about them, because there's a sense of people celebrating with their trancefamily on the night before spending time with their inner family. Coupled with that, despite not having played in Salt Lake City until recently, I can feel that the community of fans towards me is growing. So for me, if we can create something special to take place for trancegiving, the foundations towards a legacy begin to be laid down.
I have been so inspired lately that I've been carving out around a dozen ideas for new music, so I'm hoping to get a few cleaned up during my time in Berlin this week before seeing you guys next week.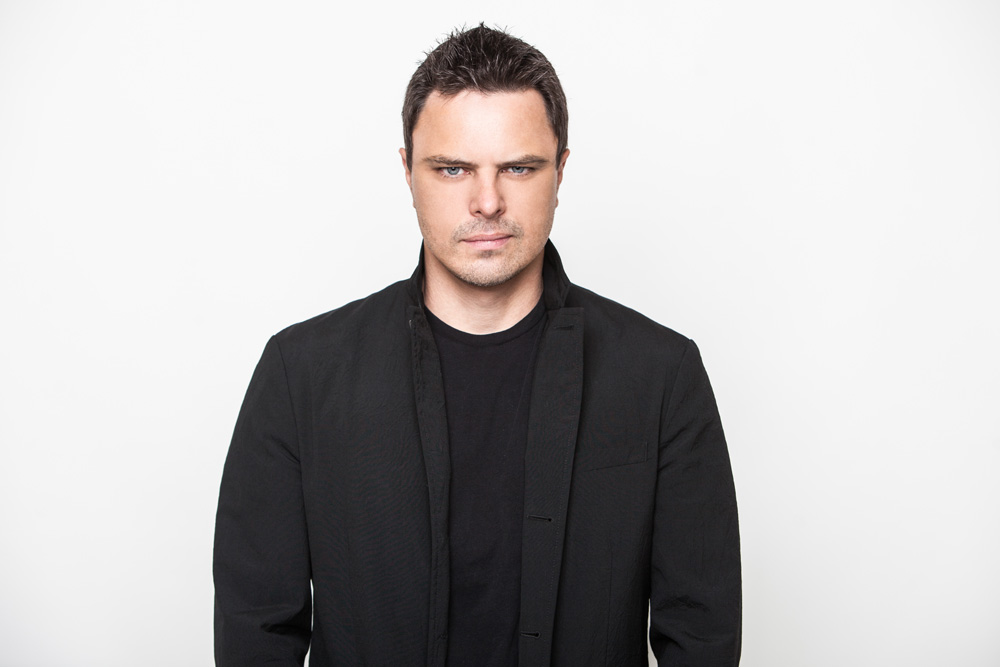 For those in Salt Lake City who will be coming to the show at Sky SLC and who have never had the opportunity to see you in a more intimate setting, can you give a glimpse into the elements that you bring to your club shows? What makes your club appearances different from a set you would deliver at a festival?
At club shows, you can be much more creative with your skills and set list. I love festivals, and they are a fantastic opportunity to cast a wider net for your fan base, coupled with the spectacular outdoor setting. But festival sets tend to be quite short, usually ranging from 60 to 90 minutes. And because of that, you tend to play much safer, because one single programming mistake could dramatically affect your entire set. They are essentially your storefront – these are my signature tracks, this is a snapshot of what I am about.
With clubs, however, everything is allowed to breathe more, with greater opportunity to experiment. There is a more intimate environment, meaning not everything has to be a recipe of big breaks and drops only. Clubs are also the perfect platform for testing unfinished material. I love playing longer sets, because you never know where the journey will take you.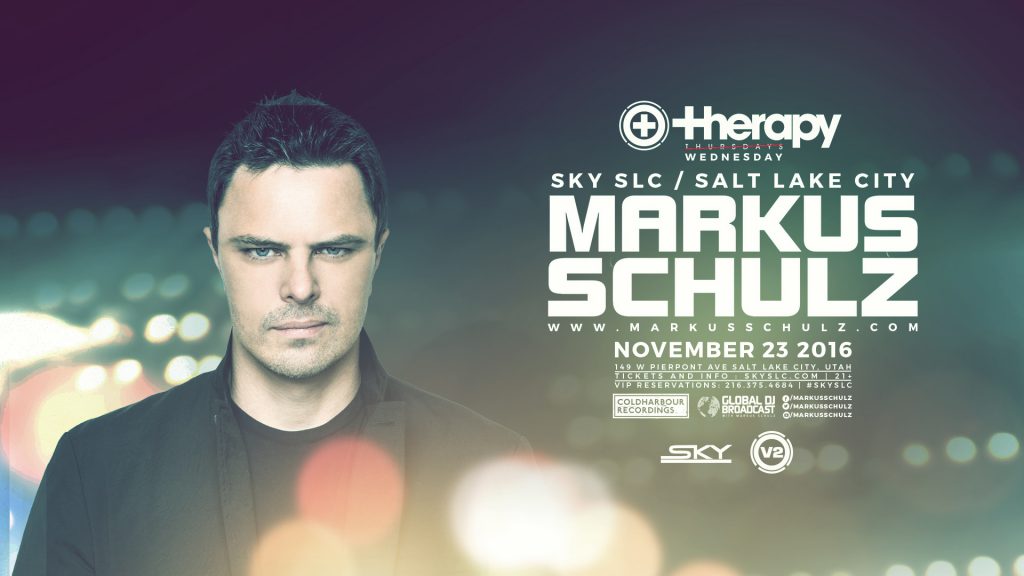 Since your show at Sky SLC is on a night that has been appropriately titled 'Therapy Wednesday', what are your thoughts on why music is such a wonderful and proven therapy for any mood or difficult situation? What are some of your go-to musical selections that make you feel better when you have had a crazy day?
To me, music is a form of escape. It's something that was such a vital part of my life from an early age, because I had a difficult childhood growing up in Germany, moving around various army bases and having no friends. But the one friend everyone has is the radio, where you can turn it on at any time and you never have to say goodbye. It was listening to the radio that made me fall in love with music and conceive the dream of becoming a DJ.
One of the most inspiring parts of this job is hearing from people who say that my music or radio show or DJ sets is helping them heal or live through difficult times. Music is so powerful and as you say, therapeutic in that regard.
I usually listen to some of the Hed Kandi Beach House-style of music when I want to unwind after a tough day. And for inspiration, I have always turned to classic rock, with bands like Pink Floyd, Led Zeppelin and U2. Pink Floyd's Dark Side of the Moon is undoubtedly the most important album in my life.
The Coldharbour brand is one that you have pioneered and brilliantly nurtured throughout your career. A major accomplishment for the label is its 250th release titled, "Sestertius"! Hitting the airwaves over the summer, the track is a gorgeous instrumental piece with so much depth. Can you go in depth about why you chose this particular track to represent this major milestone and what it means to you personally as an artist?
I'm so proud of the label and everyone who is part of it, whether it's the artists you see with releases or the team behind the scenes helping to keep the wheels running. What we have always strived to do is to make the catalog numbers have a meaning, particularly when there is a little or major milestone coming up. The responsibility for producing these milestones has fallen on my shoulders since the beginning. And with 250 on the horizon, I knew that I had to come up with something that would not just be memorable for the moment, but one I could look back on in five or ten years with pride.
My attention shifted towards what was "Coldharbour 250 Project" almost immediately after Watch the World finished. My goal was to have it ready for the summer season. When it was slowly taking shape, the Global DJ Broadcast Sunrise Set was approaching. So my idea was to make it something soulfully touching, and energetic enough that would find a place in my club and festival sets. I'm hoping that people will remember hearing it on radio for the first time with that Sunrise Set.
Sestertius has that Coldharbour soul cocktail of darkness and touching melody. I hope it's something that stands worthy of the milestone, and one that the fans have appreciated.
How do you keep the momentum going after this release as the next chapter of Coldharbour gets underway?
We just keep going! The quality of what comes in from the roster means that the release schedule always has a lot of anticipated pieces in it.
You guys would have heard the new Arkham Knights on Global DJ Broadcast last week, that'll be coming your way soon. As I mentioned, a lot of the IDs you heard in the Transmission set will be the backbone of my club sets and the Coldharbour schedule in the coming months.
The label will continue to seek out new talent and provide a platform for them to showcase themselves, and combined with Schulz Music Group, help guide them as they develop as DJs too. The Coldharbour Nights continue to grow in frequency and popularity. I felt really proud a little while back to have the guys running Coldharbour Nights simultaneously in Los Angeles and Dallas – I think that shows just how far the club nights have come in such a short period.
What's next on your studio agenda? Have you been working on any new tracks or EP's that you are particularly excited about?
Yes, still keeping busy as ever. I have worked on a couple of remixes that I should be able to start playing out soon. But the main attention has been working on something very special under my Dakota alter ego.
So many people have continually asked me over the years about a third Dakota album and I can confirm that it is indeed coming, but it's going to be much more than just the music.
My goal is to present it in a live setting, as a combined music and art show. It's a very spiritual concept that I am doing so that's taking a lot of my time at the moment, a lot of my brain power. But one that will hopefully make 2017 a very interesting one for the fans.
With such a grueling tour schedule does being on the road help you or hinder you in your creative process?
It's funny when you say that because I find that the biggest inspiration for all of my music is being on stage DJing, and seeing the reactions of the fans in the live setting. It helps me harness that passion and put my soul into all the studio work. One feeds the other – the fans inspire me to get into the studio, and when I am in the studio, I'm inspired by the thought of playing a new track out for the fans.
You see some of those incredible photos of the big shows – Transmission in Prague with all the lasers, the spectacle of Tomorrowland and EDC, or the intimacy of Ministry of Sound or Space, and they are rich sources of inspiration. I'll regularly change my screen saver to a photo of a previous visit to a certain club or event, and my brain becomes very active when focusing on the picture on a daily basis.
I think there's something absolutely magical how a melody can connect so many people around the world and unite, so when you get it right, the occasional struggles to get to the destination are completely worth it.
Finally, taking a look back on the past year and all of your monumental achievements you must have a new and even more spectacular goal that you are aiming for in 2017. So, if you could name just one thing that you have always wanted to add to your resume, what would it be, and why?
The big goal for 2017 is what I'm going to do with Dakota. And right now I'm not really looking past it.
One dream goal? A stadium show with all the fans who have been so loyal and passionate towards me, wherever they may be in the world. If we could all fill a stadium for one night, that would be something else.
---
Follow Markus Schulz on Social Media: 
Website | Facebook | Twitter | SoundCloud | YouTube