Will you be joining Flosstradamus, Slushii, Towkio, and Whethan on the Hi-Def Youth Tour as it hits Detroit?
---
Flosstradamus' Hi-Def Youth Tour 2016 is in full swing, and one of the next stops is at the Masonic Temple in Detroit this Saturday, November 19th, with special guests Slushii, Towkio, and Whethan.
Tickets are still available, purchase them HERE!
Flosstradamus, the duo composed of J2K and Autobot, kicked off their tour in New York City a few weeks ago, and have been absolutely killing every show thus far. Their sold-out two night Dillstradamus event with Dillon Francis, IDGAFOS HDYFEST 3UNION, was a huge success, and they've played shows in San Francisco, Portland, and Tacoma since then. Their stage, which they call "The Bunker" is designed as a worn-down military bunker with a giant LED screen in the back, which immerses the audience into the experience and the hard-core nature of Flosstradamus shows. And, of course, there's no shortage of lasers, fire blasters, and crazy visuals–they are putting on a wild show.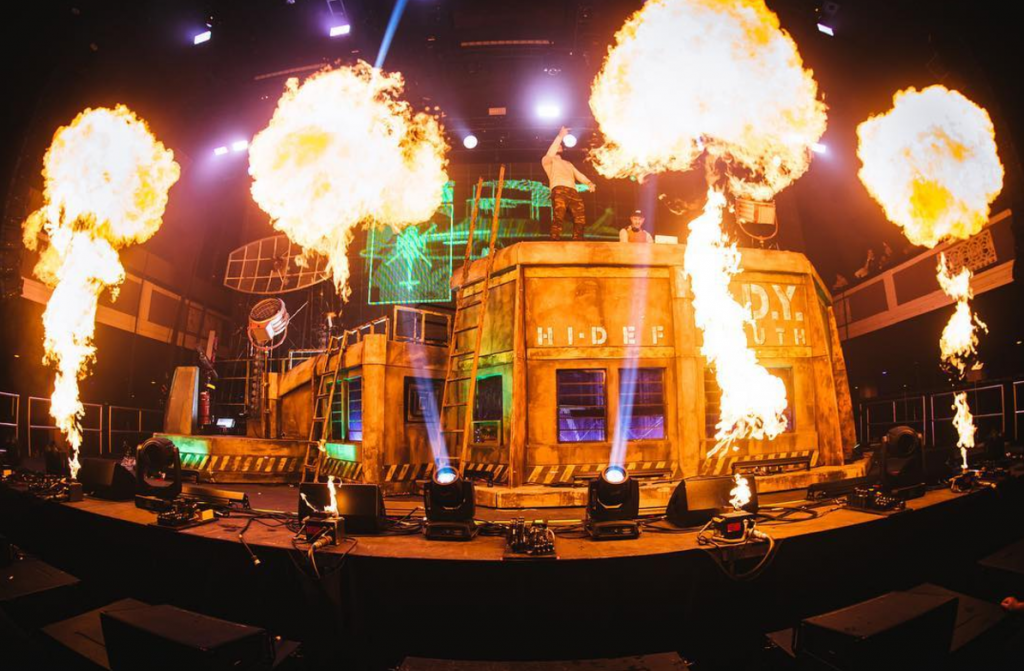 This past summer, I saw Flosstradamus back to back at Lollapalooza and at Hard Summer Music Festival, the energy they brought at both shows was unprecendented. The culture that they have created surrounding their brand–"HDYNATION"– makes their sets even more exciting, with countless people dressing in Flosstradamus apparel, flying Flosstradamus flags, and throwing up the "warning sign" hand signal when seeing other fans rocking gear. If this show is anything like the past times I've seen Floss, it's definitely not one you'll want to miss!
Slushii, one of the three openers, is someone I've hoped to see since his remixes began surfacing and receiving lots of love on SoundCloud less than a year ago. His dubstep infused bass sound and Marshmello-esque branding has combined to make him extremely successful in the small span of time since he first released music. In May of 2016, he released his first EP, titled 'Brain Freeze,' and made his debut performance at Hard Summer Music Festival, where none other than Skrillex showed up, announcing that Slushii is "the future" of dance music. Clearly, he is someone to look out for; can't wait for him to "Slush it up" this Saturday night.
---
Stream the Hi-Def Youth Tour Mix on SoundCloud:
---
Stream Slushii – So Long on SoundCloud:
---
Hi-Def Youth Tour @ The Masonic Temple Event Information:
Date: Saturday, November 19th
Ages: 16+
Hours: 8PM – 1AM
Venue Address: 500 Temple St, Detroit, Michigan 48201
Tickets: HERE
Facebook Event: HERE
---
Win a pair of tickets for you and a friend to see the show!
Win a Pair of Tickets to the Hi-Def Youth Tour at The Masonic Temple, Detroit!

---
Check out the Hi-Def Youth Tour Announcement Video:
---
Connect with Flosstradamus on Social Media:
Facebook | Twitter | Instagram | SoundCloud
Connect with Slushii on Social Media:
Facebook | Twitter | Instagram | SoundCloud