The Hi-Def Tour Mix is sure to get you excited for their upcoming tour!
---
Flossdradamus just kicked off their Hi-Def Youth Tour with supporting act, Gent & Jawns, this past weekend. To give us a little taste of what they're bringing to the table, the two groups collaborated on a tour mix that will have you hyped for what's in store. The high-energy mix originally aired on Sirius XM, but is now available to stream on SoundCloud or as a free download.
The hour-long tour mix is filled with original tracks from both Flosstradamus and Gent & Jawns, as well as music from Skrillex, Slushii, Alison Wonderland, Kill the Noise, and many more. If you haven't bought a ticket for the tour yet, this might sway you. It's also perfect to throw on at a pregame and get pumped up for a fun night out.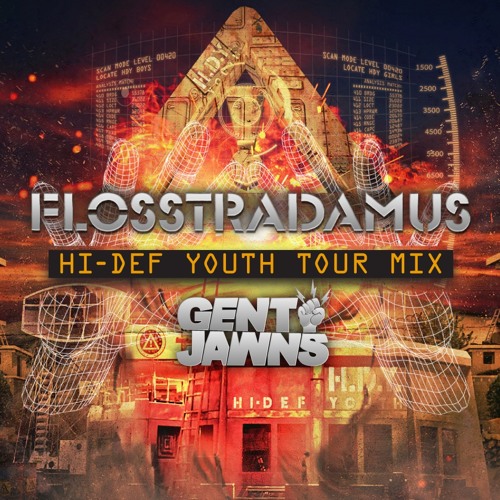 Stream the Hi-Def Youth Tour Mix on SoundCloud:
Download the mix HERE.
Buy tickets for the Hi-Def Youth Tour HERE.
After kicking off the tour this past weekend in NYC, Flosstradamus is gearing up for their highly anticipated two-night Dillstradamus event in Los Angeles with Dillon Francis, taking place tonight and tomorrow night at the Shrine Expo. Then, they'll continue on their tour, hitting countless cities across the US, with Whethan and Slushii joining them at various locations.
Hi-Def Youth Tour Dates & Locations:
11/5: Bill Graham Civic Auditorium – San Francisco, CA (Gent & Jawns)
11/7: Ace of Spades – Sacramento, CA (Gent & Jawns, Slushii)
11/9: Roseland – Portland, OR (Gent & Jawns, Slushii)
11/12: Tacoma Dome – Tacoma, WA (Gent & Jawns)
11/15: Skyway – Minneapolis, MN (Slushii, Whethan)
11/16: Orpheum – Madison, WI (Slushii, Whethan)
11/18: Aragon Ballroom – Chicago, IL (Slushii, Whethan)
11/19: Masonic Temple – Detroit, MI (Slushii, Whethan)
11/22: Intersection – Grand Rapids, MI(Slushii, Whethan)
11/25: Danforth Music Hall – Toronto, Canada (Whethan)
11/26: Metropolis – Montreal, Canada (Slushii, Whethan)
11/30: House of Blues – Boston, MA (Gent & Jawns)
12/2: Fillmore – Philadelphia, PA (Gent & Jawns, Slushii)
12/3: Echostage – Washington, DC (Gent & Jawns)
12/5: Ritz – Raleigh, NC (Gent & Jawns)
12/7: Orange Peel – Asheville, NC (Gent & Jawns)
12/8: Marathon Music Works – Nashville, TN (Gent & Jawns)
12/10: Tabernacle – Atlanta, GA (Gent & Jawns, Slushii)
12/15: Southside Ballroom – Dallas, TX (Gent & Jawns, Slushii)
12/16: Revention Music Center – Houston, TX (Gent & Jawns, Slushii)
12/17: Emo's – Austin TX (Gent & Jawns, Slushii)
---
Follow Flosstradamus on Social Media:
SoundCloud | Website | Twitter | Facebook 
Follow Gent & Jawns on Social Media: