Frankie Bones is one of the most influential artists from the early electronic music scene, get to know him today!
---
When you think about artists who paved the way for the current electronic music scene, there is absolutely no reason to not mention Frankie Bones in that conversation. The originator of PLUR, Frankie was a pioneer in the electronic music scene and one of the first American DJs to play abroad on a major stage. If you've had the chance to meet him or be around his presence, you can tell that he exudes everything that Peace, Love, Unity, and Respect is all about. Not only was he a DJ, but also ran a highly successful event series, Storm Rave, which launched after the return from his groundbreaking show in the United Kingdom in 1989. Through this event series, he helped transform the Brooklyn scene, and effectively the entire United States as well.
More recently, Frankie Bones was called upon to take the stage at EDC Las Vegas in celebration of their 20th Anniversary, and even made some appearances during the EDMbiz Conference during EDC Week! I was stoked to hear the news that he would be reviving his 'Bonesbreaks' series after a sixteen-year hiatus last month and knew that tracking him down for a chat was a must. Bringing an oldschool techno vibe with him with the latest release, you can grab 'Bonesbreaks 17' on Beatport HERE!
Stream Frankie Bones – Storm Rave 1992 (Original Recording) on SoundCloud:
---
You probably have been badgered a million times to discuss how PLUR originated, but for our readers who may not be familiar can you tell the story?
I was fortunate enough to be invited to the U.K. during the Summer Of Love in 1989. My first rave at Energy had 25,000 people and it was the first time an American DJ played. The Unity of that crowd was the first thing I noticed and on return to NYC, I wanted to start this movement at home. It became the Peace, Love & Unity Movement, (P.L.U.M.) from 1990-1993. It was realized after my first trip to Los Angeles in June of 1990. Without bearing witness to the early West Coast scene, it may have never happened. I had to go thousands of miles in opposite directions and experience it in London & Los Angeles to bring it right back to the middle which was New York. Once I kicked it off in New York, it then travelled from both coasts back to the middle of America. 1993 the scene had reached every city in the United States and the Movement had arrived. When the movement was disturbed by that fight that broke out where I made that speech, that is when it became P.L.U.R. I actually like that Insomniac's slogan is "awake since 93" because P.L.U.R. is as much theirs as it is mine. And everyone else who chose to use it as their mantra.
As the originator of PLUR, do you feel the PLUR vibes are still around in the scene?
Of course it's still around. It's actually the only thing that hasn't really changed from the beginning of the scene until today. The main part of P.L.U.R. to me is looking out for the next person no matter what. The candy and the beads are for the kids as they become united in the ongoing culture. It's about having a positive attitude and not allowing bad vibes to enter your circle. The energy you put out into the world is the same energy that comes back. It's always going to be around. People are living this dream. A lot of people.
Pasquale Rotella is pushing the old-school vibes back into the scene with the new Factory 93 series, can we hope to see you spin at a future edition of that event?
DJ Dan and myself wanted to do a complete night of history with the Factory 93 series, and somehow my classic Factory mix tapes which I started in 1992 seem to stream along with the concept. Pasquale totally loved the idea, I actually brought it to Insomniac and after our meeting I somehow got booked to play EDC, so one great idea turned into another. That being said, I'm still waiting on the call for the night. Everyone loved the idea, but Insomniac is a huge company, it takes time to make these situations and events a reality.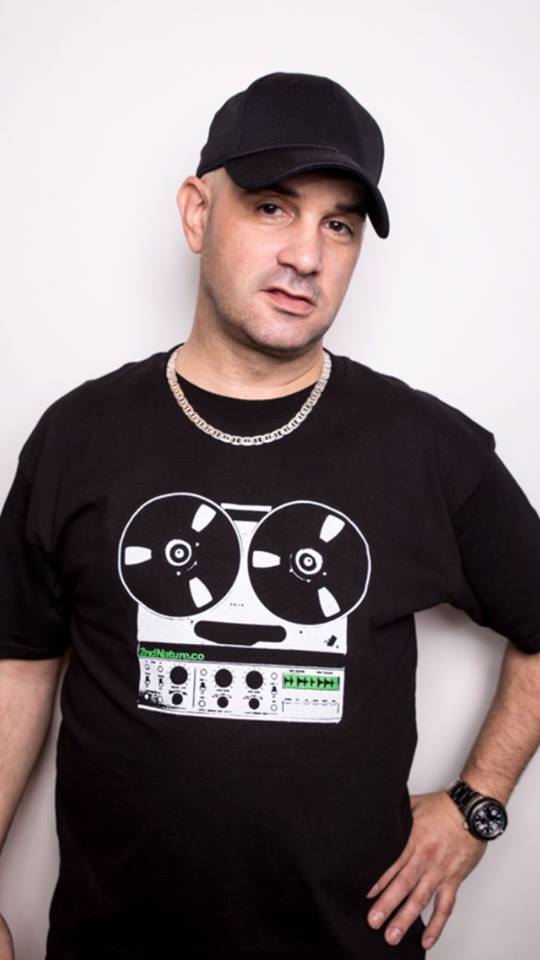 As someone who has been in the scene for nearly three decades, where do you see electronic music going and what sound do you intend on pushing?
House Music is the core genre of rave from the original scene in the U.K. When U.K. rave became U.S. rave, our core genre was Techno and Techno for the most part became the sound in Europe. Breakbeats emerged as the U.K. scene progressed and that became Drum & Bass. As we moved on through the 1990's, Trance & Hardcore also became essential parts and many of these genres are still what people want and what people like. EDM which is supposed to be the umbrella became its own sound and the Dubstep/Trap thing is big in most pop music today. I come from the club scene, so I push cutting edge club music. It's Underground Dance Music. UDM. My thing.
Do you have a favorite era of the electronic music scene?
Of course I favor the early years from 1990 onwards. I was pushing Techno & House as a Movement. Everyone else was just making records. I wanted to make a scene out of these records and it was amazing watching it grow out of nothing in a place where it shouldn't have happened in the first place.
In the early 90's rave documentary, 'Generation Of Sound' you stated "One thing I wanna say to people that wanna do drugs, that are gonna try, just make sure you know what you're doing, if you're even gonna do it. And don't do anything in excess, like "oh I wanna be better than my friends". I mean, to me I would just say no to it because if you can't come to a rave and have a good time without being on drugs then I guess you shouldn't be there, especially at Storm Rave because that's not why we devised it." Do you feel the message of sober raving, or safe raving even, has been lost over the years?
It has been lost because promoters are forced into doing events during the day, and the kids are out there in blazing sun & heat and this is where 99% of the deaths are happening. Maybe forbid doing events from 8 a.m.-8 p.m. and grant licenses for all-nighters 8 p.m.- 8 a.m. The reason STORMrave was so good is that we went all night into the morning. Morning comes, you pack it up, go get some breakfast and begin the journey home. The best way to do this is plan your night accordingly. Don't get messed up on a pile of pills you never did before, moderate….I always said that, do a half a pill, see where the night takes you…
Are there any organizations like Dancesafe or Bunkpolice that you are currently involved with to promote safer raving?
Dancesafe was always my go to organization when it came to safer raving, 100%. I'm not currently involved with them because I don't promote my own events anymore, I'm just a DJ as far as that goes. Red Bull was a great sponsor though. We were able to bring STORMrave back to life in 2015 because of the Red Bull Music Academy and they did an awesome job to make that event solid.
Following that statement you said, "We devised it [Storm Rave] to bring groups of people together that wouldn't hang out together, and they did do that. And the media wants to come in to say "oh, these kids are all on drugs" like we said, the drugs are everywhere." With the media being as influential as it is today, do you feel the tone has changed from the major media outlets in coverage of these festivals and events? Have you seen any forward progress in less-biased coverage?
When you go to EDC in Las Vegas and see what goes on there, it's obvious this isn't all about drugs. It's become a multi-million if not billion dollar culture worldwide. It's corporate and it brings in tons of money for Las Vegas. Does it bring drug culture with it? I'm going to have to say whatever drugs are available in Las Vegas are there already, it's not as if there is any more or less during an EDM event. There has been much less coverage because media is only concerned on politics these days, and the sh*t show that has become, but that maybe a good thing where the scene is concerned.
What do you think we can do as a scene to help change that image?
Don't die at a festival. Or a club. Because every time you go and die, you ruin it for the rest of us.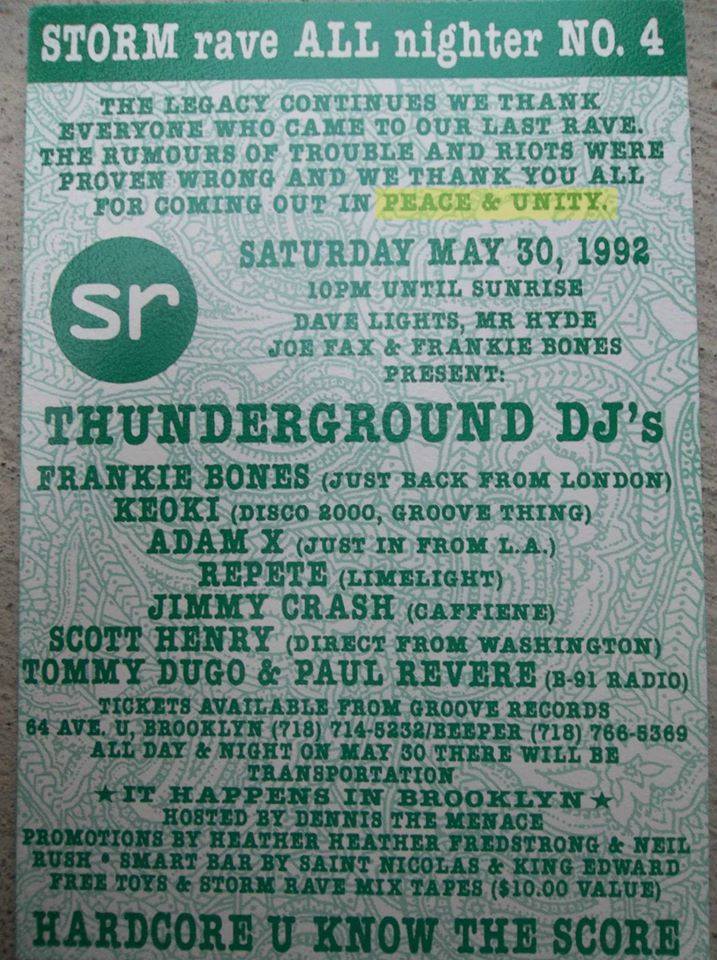 The idea behind Storm Rave was to bring groups of people together who wouldn't hang out, do you see the scene as something that is currently together, or has it become more fragmented as electronic music has hit the mainstream?
Before there was internet, the only way you could experience this would be by going out and doing just that. It will never be 1990 again. Today it is fragmented because there are many different themes. The best thing to do is find the events you like to support and support those events. Support your local scenes as well. Parties are only mainstream if you support mainstream parties. 90% of the masses do. The rest are the real people who exist in the scene. The ones who know better.
The RAVE Act from 2002 was a serious detriment to both the scene progressing forward and the discussion of drug safety. Can you share your thoughts on this act with our readers,  and did it affect you directly?
Being that Sonic Groove Records was a successful shop I owned from 1990-2004 with Adam X & Heather Heart, I have to admit 9-11-01 was the only serious detriment to the scene because we sold vinyl about a mile away from where the Towers once stood. I don't recall ever being worried about drug safety post-2000 because I was being professional, running businesses and being an international DJ. It did affect people I was close too. Disco Donnie for one. But even in the worst case scenario, he bounced back bigger and better than ever.
Los Angeles and San Bernardino Counties have recently begun building task forces to "deal" with the electronic music epidemic. What are your thoughts on the reaction to festival deaths from these communities?
It's obvious that HARD events need to hire more staff and maybe stop doing events in 110-degree heat. But Insomniac has their own task force which put on the best events in America, and with great success. So yeah, any local police force can build a "task force" and what happens is the task becomes directing traffic. What better are you going to get than that?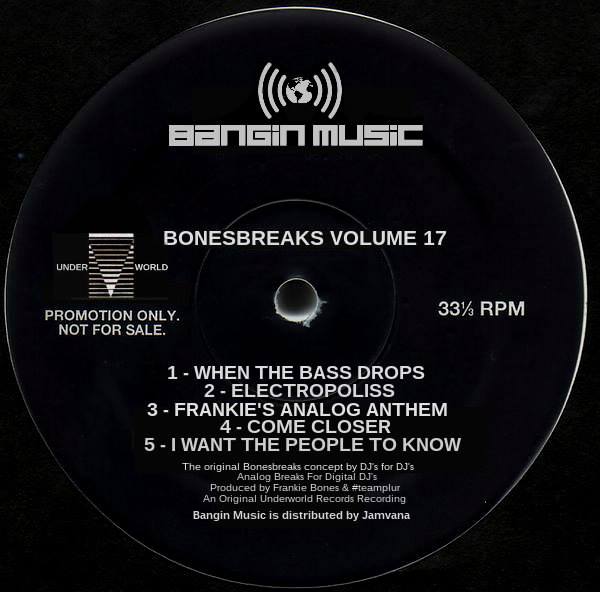 Bonesbreaks 17 was released after a massive hiatus. What brought you back to the series?
The ability to create in today's market is why I brought it back. I wanted to do it all over again. No other reason than that. You need to stay current in today's market, what better way then to do it with something you been doing forever?
And finally, coming from New York, what is your favorite pizza joint and toppings on a slice?
L&B in Brooklyn, straight square no toppings. Look it up. Nothing like it anywhere else in the world.
---
Connect with Frankie Bones on Social Media:
Website | Facebook | Twitter | Instagram | SoundCloud