This year, Insomniac Events expanded the EDMbiz Conference & Expo to greater heights than before by moving to their new home at Caesar's Palace. The expanded space was put to good use, with multiple stages playing host to speakers in the industry and an expo hall that was full of the latest and greatest in products surrounding the electronic music industry. Panels that I personally attended ranged from informative talks about past and current event photography, keynote speeches from industry leaders like Pasquale Rotella and Armin van Buuren, alongside many other topics ranging from trance to women in dance music.
The entire conference gave me some flashbacks to my days in college, jotting down concise notes and highlighting important details to make sure I could go back and study them later. I will have a full length review about the event soon, but here are some takeaways from EDMbiz 2016!
Grant's Top 5 Takeaways From EDMbiz 2016
---
We are finally having a true open discussion about drugs in the dance music scene.
After all the years of brushing it under the rug and ignoring the epidemic of drug usage in the electronic music culture, there is finally a rational discussion that has begun to take place. On a very forward thinking panel featuring many who have battled addiction, lost loved ones to overdoses, or have pushed campaigns forward to help change policies, an open discussion about how and why the electronic dance music community needs to act now shows how far we have come as a community. Those who attended the panel saw speakers discuss the problems that promoters and venues face when attempting to create a safer environment for attendees, and what they are doing to help curtail the drug issue as a whole. Other speakers discussed their inner demons, how they were able to claw their way out of addiction, and what they are doing in the scene now to help others out. Personally, the most touching speaker was Dede Goldsmith, whose daughter died from an overdose in Washington DC. She has been on a mission to get Vice President Joe Biden to amend the R.A.V.E. Act, to clarify and modernize the outdated and misunderstood policy.
Please help Dede and many other passionate people in their mission to show that drug policy should not endanger public safety by clicking HERE!
The amount of photos that are taken during an event is staggering.
Oh boy where to start here. Imagine the fact that you may see somewhere close to what, a few hundred event photos from something the size of EDC Las Vegas? Well imagine the fact that you're seeing what has been selected from close to 200,000 total shots. That's just during EDC Las Vegas alone, and not even including the hours of video footage that are recorded as well. Since 2014 Insomniac's Photo Team, which is the only one of its kind in the industry, has shot somewhere close to 3 million total photos. Out of those photos they have probably cut it down to around 300,000 usable ones, many of which are still unseen by a vast majority of attendees. This is a stark contrast to how raves and festivals were documented prior to the digital age, but more on that in my interview with rave photographer Michael Tullberg.
While women have made great strides in the EDM community, they still aren't always taken seriously by their peers.
I think one of the more interesting panels was 'Beyond The Boys' Club', not because of the topic but rather because it was one of the panels in which the speakers actually had a full on discussion as opposed to just answering questions. With a massive lineup of some seriously powerful women in the electronic music industry, it was evident that there are many viewpoints that one can take regarding women. It was entirely noticeable though that many people are still caught up in a backwards mindset, which was made crystal clear as the panel began and the room began to empty. Even during the panel, while I was jotting down notes and listening to the speakers discuss the problems they face, many people sitting around me were joking about the seriousness of the panel or disregarding what was said entirely.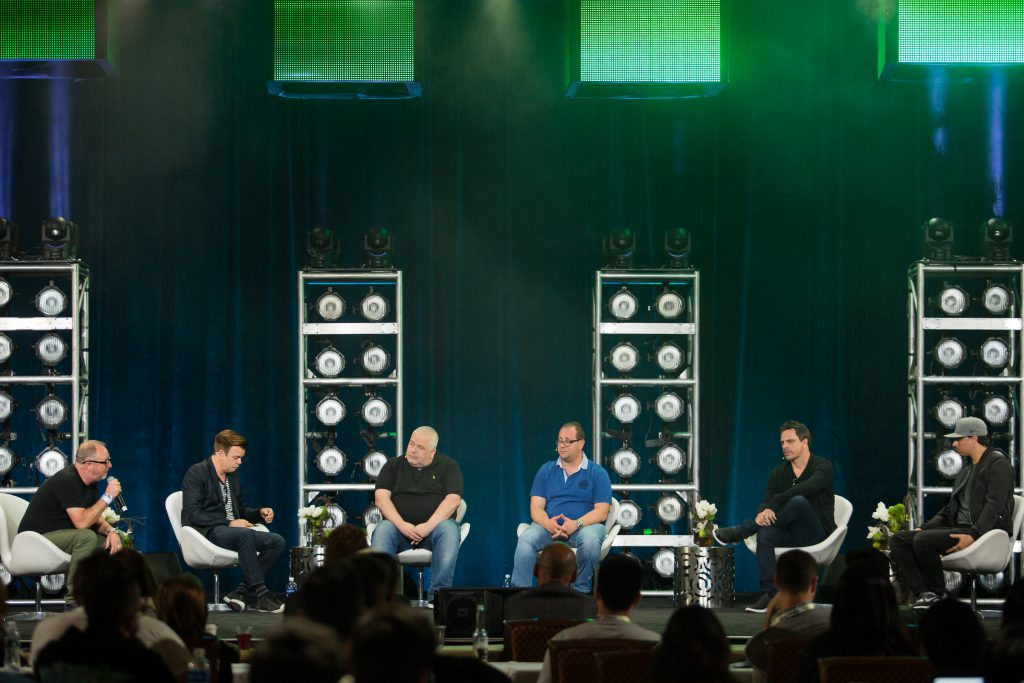 The Trance Renaissance has to come from the unknown.
The 'Resurgence of Trance' panel was one that I absolutely loved attending. It was held in a different style than other panels, involving the audience at a much earlier time than just the last 15 minutes. During the panel, there were numerous topics and points made about the rebirth and rise of trance in the current electronic music scene. Jeff Ryan, who heads up Insomniac's Dreamstate project, explained how they look at artists to book and the future of the brand. Markus Schulz and Paul Oakenfold discussed things from the artist's perspective, but one thing that was mentioned that resonated with me was that the trance renaissance has to come from the unknown. What is meant by that statement is that the current torchbearers of trance are doing what they can to bring the genre back into limelight, but they will need the help of fresh talent and producers who love trance to really push it forward into the next era. I believe this to be true, and I cannot wait to see what Dreamstate brings to the table this November. Hopefully we will see a highlight of some rising stars who have recently emerged in the trance genre at the event.
Passion is what drives all aspects of this industry forward.
The most common thing that transcended nearly every panel that I attended was the passion that the speakers have and discussed with attendees. It didn't matter if you were listening to a panel about entrepreneurs in dance music, how to join the Insomniac Photo Team, a keynote from Pasquale or Armin, or anywhere else, it was clear that passion drives this scene forward. Armin made it clear when he stated, "It's not about the kitchen, it's about the chef" and Pasquale brought it up when he said "If you're passionate you can make anything happen, I believe that". The people who I met or listened to that were the most in tune with what was happening at the conference were all passionate about their specific niche or the scene as a whole. So if there is one thing that I would tell people who are wanting to get involved in this community, it would be to find what you're most passionate about and push yourself forward to greater heights.
Stay tuned for a full event review of EDMbiz 2016 and more content coming later this week!
---
Connect with EDMbiz 2016 on Social Media: