After a SIXTEEN years of waiting, Frankie Bones has announced the return of his legendary Bonesbreaks series. The 17th Edition of this series was just officially released via Beatport today!
---
Well known for his status as an originator of PLUR, it was great to hear that Frankie Bones was reviving the series that originally launched in 1988. Starting as a vinyl series that was intended for DJ mixes as opposed to your regular old record player, the series was groundbreaking, and a mainstay in an era of raving that relied predominately on vinyls. The final edition of the series, until its revival of course, was 'Bonesbreaks 2000'. Personally, I'm excited for the release of the latest edition not just due to its legendary status, but in the hopes that this new generation of ravers can truly appreciate the sounds that made up the scene back in the day. An era in which the term "EDM" didn't even exist and everything was generically called "techno" was an entirely different experience. 'Bonesbreaks 17' intends on bringing it back to the old school, so get ready for a nice history lesson in the scene.
Purchase Bonesbreaks 17 on Beatport today by clicking HERE!
Assuming you aren't a collector of old rave vinyls, or just simply want to add some amazing tunes to your collection, you're welcome to grab Bonesbreaks Volumes 1 through 4 on Beatport today by clicking HERE!
Check out Frankie Bones – Live @ EDC Las Vegas 2016 on SoundCloud:
"Bonesbreaks Volume 1 and 2 both came out in 1988. With number two, we sold 22,000 copies out of the trunk of a car. I worked at the pressing plant, and 22,000 records takes about two or three weeks to press up, but we would just load the car up, and drop them off at the record stores. Just the whole breaks concept, like there were disco breaks but they weren't DJ breaks, and that's how I got my shot to go to England where all the Bonesbreaks records were being bought by kids in the streets before they had studios.

The new tracks don't sound like they're made in '88. What anybody would expect who liked the Bonesbreaks series is what they're gonna get from Bonesbreaks 17, but with updated production."

– Frankie Bones
Bonesbreaks 17 Track List:
When The Bass Drops
Electropoliss
Frankie's Analog Anthem
Come Closer
I Want The People To Know
Imperial Highway
It's Me Again
Kneel Before Your Master
Techno Dot
Control
Want to help celebrate Frankie Bones' 50th Birthday? Join him in October at Analog BKNY!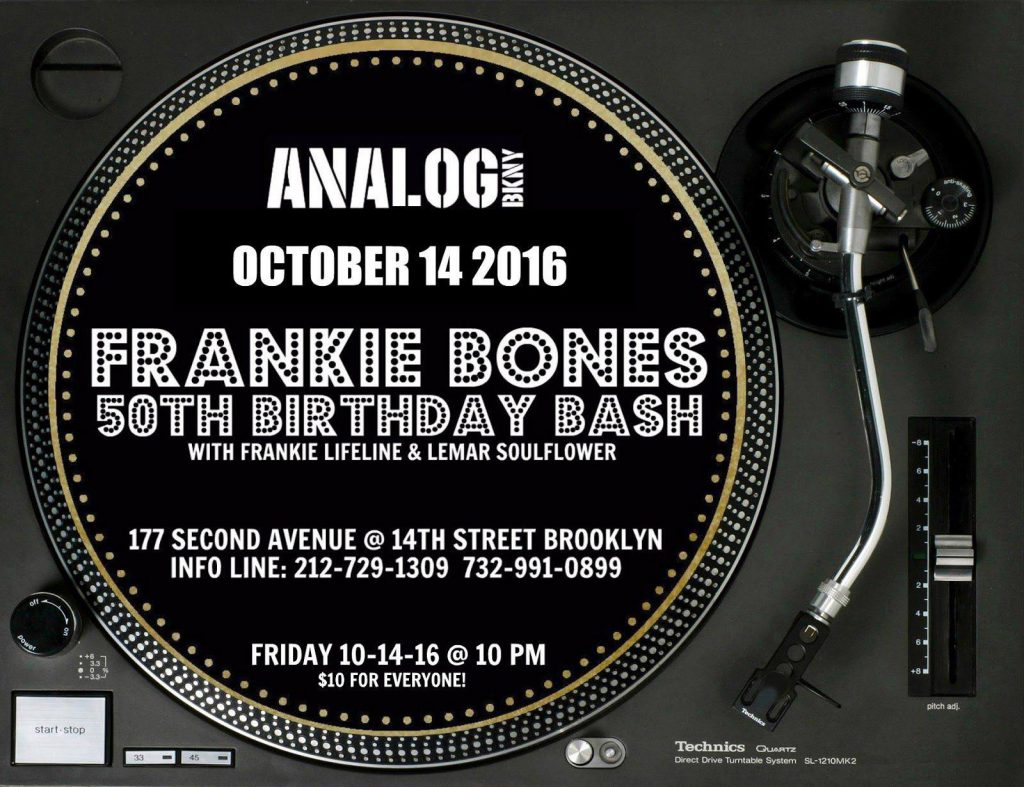 ---
Connect with Frankie Bones on Social Media:
Website | Facebook | Twitter | SoundCloud | Beatport