Darude is a legendary artist who helped shape the current electronic music scene.
---
Everyone knows Darude, how could they not? He's been in the scene for many years. If you somehow don't recognize his stage name, then you have absolutely heard his song "Sandstorm", released in 1999. However, Darude, real name of Ville, is much, much more than just one track. His knowledge and experience know no bounds having released four albums – 'Before the Storm' (2000), 'Rush' (2003), 'Label This!' (2007), and just last year his latest album, 'Moments'. His stage presence and interaction with his fans is what makes him so absolutely special. Darude visited my home town, Kansas City, last month. We were able to sit down with him to discuss the electronic music scene, his new album, and more. I'm grateful to have learned so much more about the legend that is known as… Darude!
---
You've been touring like crazy, you were just in Australia last month and you're going back to Finland after this. What's your favorite part about touring?
Well, it's absolutely just being in front of a crowd and playing music. Don't tell anyone this, but, I would probably do this without getting paid. It's the playing music and the instant feedback that I get. Sort of selfish thing maybe to say, but I love every track that I play. Obviously, I play for the crowd, but I just play the music I love. What would be better than that in a way?
Also, I'm a firm believer of this "win them one at a time" kind of thing, I truly enjoy it. Especially these days when social media is so big. We've had internet and forums before and stuff but we often talk about it like… it's crazy. You might be tweeting back and forth with John Doe 1235, and then all of a sudden one day in Kansas City, John Doe 1235 is there and you can actually shake their hand and talk in real life. It's quite surreal sometimes, but that's what I like.
I like the industry connections but I also like to see the real people and usually after a set I go down and shake hands and sign autographs if someone wants them.
Having released your new album last year, 'Moments' that was very diverse, I was wondering what led you to produce a more diverse sound on this album than what you have traditionally done in the past?
First of all, good that you recognized it. The thing is if you would now just in a row listen to 'Before the Storm', 'Rush', and now the 'Moments' one… they all go a little more and more diverse and more and more. I'm not trying to get away from Trance, but if you think of the first album from track to track it's way more similar than 'Moments'. I think it is sort of natural development as a writer and producer.
I had about an 8-year gap between albums and now when I started working on this one…I worked on music all the time…but when I started putting the actual album together, I had material from even before the last album released, some of which I wanted to use. Then I had this dilemma, should I make them all sound 2015? Should I "EDM-ify" them all or whatever? In several cases, I decided not to but then at the same time, I needed to have some of the tempos down because my style is not exactly 138 trance today.
To kind of achieve a kind of thing that sounds like Darude and is not a copycat of someone who is big, but also has an EDM 2015 kind of sound to it in some ways so people can relate to it as well. So I thought the best thing…and here is where the variety came from… I wrote with probably 10 different people, several singers, and also co-produced at least half of the album tracks with somebody. So basically, I got to nick their sound and partially put their sound on my stuff. So when initially I decided that I'm not going to try to make it all the same, honestly, the track "Peace Revisited", I made that initial project over 8 years ago or something.
It's funny that you say that because my next question was going to be surrounding "Peace Revisited" and "No More Tears to Cry", which both sound like that original sound of yours.
Right. Then I decided I'm not going to try to make it new or anything because then it's all sorts of honest. I also wanted my old and original fans to find something familiar to them as well. When I decided that, and then I started, I got to sort of cherry-pick with my buddies who are up and coming producers, and I just decided I'm going to make music and not genres. So the best feedback I've gotten for the album, and there's actually been quite a lot of that, where people have said they listen to the music without realizing and it not bothering them what the genre is from track to track. Obviously, it's all dance music but you know, going from sort of big room to sort of trance to festival to old school piano house and whatnot. So that's been cool.
Also, the difference in the style comes from the fact that I wrote with many people. There are at least two tracks that are not written by me originally, but I took them and produced them like I wanted to. So I was, in many cases with many tracks, also a listener. I was a fan of the music that I got to make my own. It was an interesting album to make that way as well. I really haven't used this big variety of people working on it before. Now I got some of the melodies that were totally done by them so I was a fan of the track before it was my track, that was also really cool and it was sort of a new thing for me.
I had the idea that maybe electronic dance music producers should do everything on his own pretty much, minus maybe in my case the singing or something, but yeah. It was very interesting and I'm going to keep on doing that kind of thing. I'm also writing and composing with piano and keys more than I used to. I'm doing sessions with singers and writers face to face in the studio. I've done way more programming than before. It's new to me. I'm learning it. It's interesting.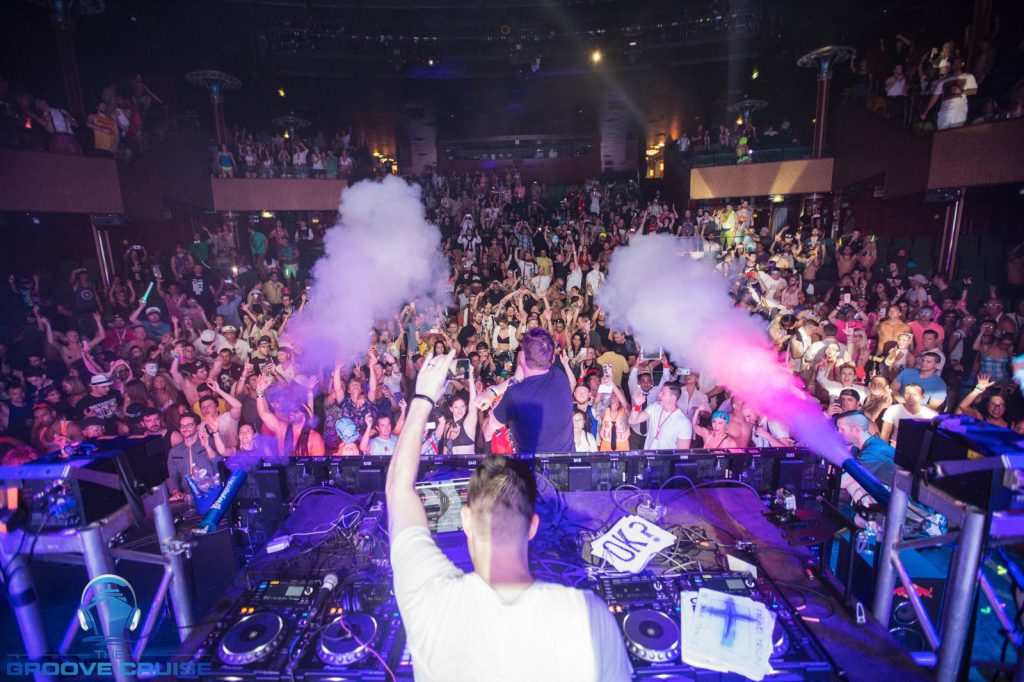 What was your favorite track to work with from the album?
All of them, I can't pick one baby out of 11. I think "Be With You Tonight" has a really cool backstory to it. The track got its start at a writing camp in Denmark. The guy who sings on it, Will Sly, there was a couple of groups in the studio working on various stuff and I jumped in their studio in the group and he was just kind of humming the "Be With You Tonight" line but they had no other lyrics yet. Then there was this other guy Danny O'Rothman who had done the synth chords right at the beginning of the track and I was getting a really strong vibe so I described the music video that the track would have before we had the music.
We had the main hook line, part of the hook line, and some of the chords and some music video that is like anti-EDM festival. Not that I have anything against it. But think of Ultra, whatever, big festival, 50,000 people, and the whole purpose of the music is kind of like to get away from the masses and go back to your lover, your dog, your son or whatever. I like…I don't know if it would be a typical music video, but beautiful scenery and four different stories where people just get home from the masses.
So when I described the video, then they were like "okay, we sort of have the lyrics", and they just wrote the lyrics as well in that one session. It was really cool because I feel huge ownership but I did very little in that session musically. Then I finally produced it after that so it was very interesting, and like I said it took me a good while…many many years, to kind of realize and get into that mode of collaborative music making.
Your career spans two decades now. Do you have a favorite era in electronic music?
2016. I'm laughing when people are like, "oh things were so much better in the 90's or whatever". I love my 90's stuff and I love my early 2000's stuff and they bring me memories. But one of the biggest criticisms that I think is just so silly I get sometimes is "why don't you make music like you did, like you know, in 2000?" I mean, screw that. It's boring to do the same thing over and over again. If I wanted to, I could take… I know exactly for instance what my track "Sandstorm" is made of or "Out of Control"…and I could take each and every sound and just re-compose something similar with them but what's the point?
I can, and I will probably do something similar, but not just like it's 138 BPM track from 2000. It will have some sort of twist or a new way of using those things. I think it's better to look forward and look at what's around you and so that's why I'm playing my best DJ sets today and sort of have developed, I hope, in a good direction for me at least. If you're a music consumer, there has never been a better time to buy or find music. I mean, pretty much free, whatever service you use. You don't even have to pirate if you have Spotify and Apple Music and SoundCloud and YouTube.
Is there anything about the older scene that you wish could make a comeback?
Respect. I hate, hate is a strong word, but I dislike people who look back and again, say "things were better back then". Well yeah, maybe they were for you at that point or whatever, but the respect is the thing that is lacking. There is a lot of people just trying to rip each other off left and right, there is a lot of that in the music industry. It's very cut throat and people try to use big names and reputation to gain whatever, like likes or gigs or whatnot. That's not what I like. It's refreshing when you find someone in the business today, especially somebody young who actually has a good head on their shoulders, a lot of times it's just like "give me everything right now"… entitlement.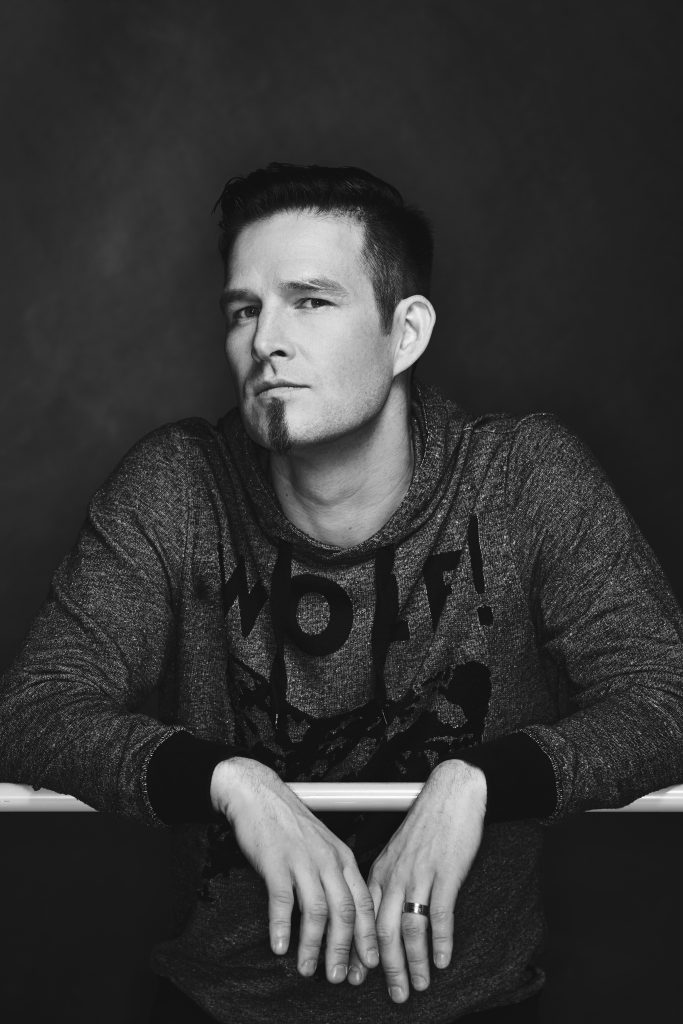 With all of the advancements in technology, there's been a lot of changes since you started producing music. Do you prefer the modern era of music production? Do you miss anything?
I started on the modern side. I started making music with PC and software and initially, I just had one synth. I never really was too much into the analog stuff. I dig it, but at the same time analog versus digital means nothing to me, it's all the same. I can make music with an analog setup if I needed to or wanted to. The modern setup is amazing for me, it's basically one computer and everything minus vocals. I mean obviously, I can have a real drummer or real guitar player visit studio if I want to. But total recall with the software, you can work on track A now, save it, open Track B now, and you can work on twenty different tracks a day if you want to, and the settings just pop up versus back in the day.
For instance, when we did my first album it was mixed down on an analog board and once you mix a track down, I mean, you can take pictures of the mix or you can write down the settings of various hardware gadgets, but it's really difficult to get it same sounding. If you realize a week later, "hey I have to revisit my mix", and you have already done something else, it's a nightmare. But now it's just like, you open a project and there it is… you know 2 years after or 2 weeks after.
In previous interviews, you've cited Ferry Corsten as someone you look up to who's been in the scene a long time. Why, and is there anyone else you would put on that list?
I mean, I respect pretty much everyone who has had a long career like Ferry. There are the Armins, the Tiestos, and what not, I don't even have to like everybody's every track, but guys like that, and I've met those guys and they are cool dudes, are normal and down to earth. Ferry sure loves to party and he always has fun, you can see it when he spins and that energy is contagious and that's one of the reasons why I like him a lot. I've had the chance to hang out with him a couple of times for just longer than just saying hi, and it's just… in a lot of ways musically and about the world and the industry, we see very similarly about things.
But I think it's all about being grounded and having common sense. I think a lot of life is full of common sense and it's just weird that a lot of people don't have that. Of course, I tend to think that a lot of people who have been able to be in a business like this for a long time, they must have a good head on their shoulders so that's also something I respect a lot.
---
Connect with Darude on Social Media:
Soundcloud | Facebook | Twitter | Twitch | Website