"Sinister sights and rattling sounds will shock, amaze, beguile, astound. Escape with us, and come inside — the Psycho Circus has arrived!"
---
It's only a matter of time until you succumb to the monstrous beats of Escape: Psycho Circus, Insomniac's annual Halloween festival. Being my third year in attendance in a row, there's no questioning that I can't resist the temptation to dance alongside my fellow ghosts and ghouls. Surprisingly Escape is the only Insomniac event other than Electric Daisy Carnival (EDC) that I've attended consecutive years in a row. Why Escape you may ask? The answer is the mesmerizing environment that is created each year for this particular event and holiday. Unlike Insomniac's other flagship festivals (i.e. Nocturnal, Beyond, Dreamstate), Escape consists of a number of attractions unique to itself such as the Escape Asylum and Psycho Circus along with several performers and artists you wouldn't see at your typical Insomniac event.
The Escape Asylum was a massive, multi-room escapade filled with horrifying characters and psychotic visuals inspired by the festival's storyline. Using the official Escape trailers of the past five years, Insomniac's Director of Imagination Bunny was able to create a truly immersive experience guaranteed to make your heart race. When speaking to my friends about the Escape Asylum, they said that it was intense to say the least and that several of the characters were quite frightening. That on top of the fact that you are put into a straitjacket, given your medication, and a mask was enough to persuade me to pass. But if you're interested in learning more about the Escape Asylum, read Insomniac.com's blog post Enter the Twisted World of the Escape Asylum at Escape: Psycho Circus 2016.
When you entered the Psycho Circus, you encountered clowns, gypsies, and downright odd individuals with masks reminiscent of 17th century plague doctors.
In addition, there were a number of spooky activities you could partake in such as getting your fortune read via tarot cards or better yet summoning spirits via Ouija board. There are simply so many things to see and do that it's different every year. All the lights and performers are enough to put any person at awe, which is how I felt wandering around NOS Event Center this year.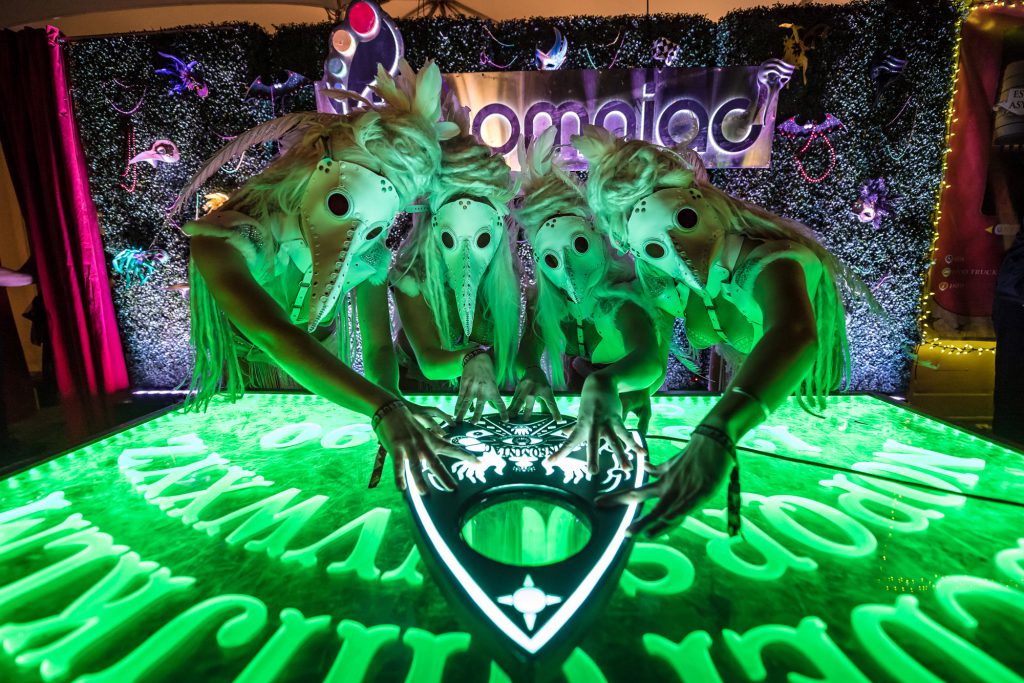 Apart from Escape's environment, the four stages were quite enjoyable and I spent the majority of my time at the Ghoul's Graveyard, Slaughtehouse, and Cannibal's Tea Party. My favorite artists sets are as follows, but if you are interested in listening for yourself visit our Escape: Psycho Circus 2016 || Livesets post.
Kaskade – After witnessing Kaskade play multiple festivals and several headline tours for his album releases, you get used to hearing the same few tracks. But for some reason he outdid himself at Escape by playing several tracks that I've either never or rarely heard live, which hit me in the feels to say the least. Like many others, I've grown up with Kaskade and being able to hear 4 AM, I'm In Love, and Be Still was amazing.
Duke Dumont – This was my second time seeing Duke, but my first time seeing him playing a festival set. Last time I saw him it was so packed at 1015 Folsom that I couldn't even get into the main room, so this made up for it. Like Kaskade, Duke Dumont needed a bigger tent as the crowd overflowed outside. It's safe to say they're both having a great year.
Eric Prydz – All I can say is ID ID ID, Eric Prydz never seems to dissapoint and will always remain a staple in the EDM community. I honestly can't wait for EPIC 5.0 as I know it will be as "epic" as 4.0 was. Stay tuned for EPIC 5.0 updates on our site!
Claude VonStroke – I've seen papa bird numerous times at Dirtybird quarterly, BBQ, and campout, in which he usually plays a funky "Dirtybird" set. But this time around at Escape he played a darker set full of techno and deep vibes that packed out Cannibal's Tea Party. His set was one of my highlights of the weekend.
In summary, Escape will continue to remain my Halloween tradition and I can't wait to see what Insomniac has in store for next year. Want to share your Escape: Psycho Circus 2016 experience, let us know in the comments!
---
Connect with Escape: Psycho Circus 2016 on Social Media:
Website | Facebook | Twitter | Instagram
Featured Photo Credit: Marc van der Aa for Insomniac Events