This past Saturday, REZZ and Malaa closed out the Lunatic Tour at New York's famous Webster Hall!
---
REZZ and Malaa played the final show of their Lunatic Tour, in NYC, and what an amazing show to end with! Both artist performed to a sold out Webster Hall for Halloween weekend , bringing nothing but good vibes to NYC. I watched as people filled each bit of open space by 12am, with headliner REZZ going on at 12:30am. It was clear that this was going to be an elbow-to-elbow type of club night.
REZZ From A Photographer's Perspective…
We all see those folk who dress in all black, who are constantly scrambling around with a bulky camera seeming to be super glued to their hand. Well I happen to be one of them and we liked to be referred to as photographers, there to get a job done, but also there to enjoy the music believe it or not. Having shot photos at both festivals and shows prior, it is safe to say that REZZ was not my "first rodeo". My first time seeing REZZ was at Camp Bisco, Scranton, PA, earlier this year and honestly I had no idea what to expect from her. Friends of mine had hyped her up so much, so honestly, I was excited. Her sound was such a unique eerie one that personally I can say is now my favorite, and just make her performances that much more special. After missing her set at Life Is Beautiful, Las Vegas, NV, I was determined to see her perform again.
When I heard I had the chance to see REZZ again in NYC, I was pumped, but then I heard I could have the chance to shoot photos of her performance, that changed everything. Yes, of course I was excited, but also a bit nervous. Once I actually got the approval to shoot, the nerves started flowing in. Here was a show that I was looking forward to attending, now here was the same show that I am now photographing. Before every show/festival that I shoot, I think to myself weeks prior, about the artist themselves and what type of photos might suit them to best capture a bit of who they are for their fans to see.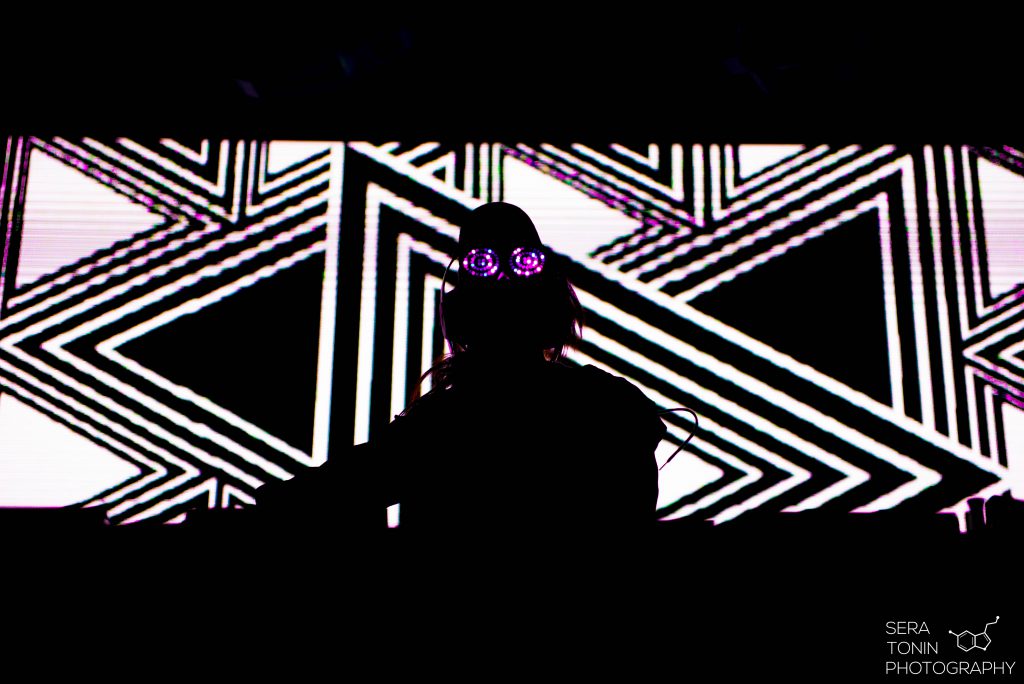 With an artist who has such high energy on stage, such as REZZ, shooting becomes a breeze. Compared to the first time I had seen her perform, it definitely felt as though she was a bit more comfortable really getting into her music by dancing, moving around on stage, and general interaction with the crowd. The lighting found a balance between colorful and spooky, with visuals to match, which was a perfect fit for Halloween. The dark and eerie vibe was projected perfectly. With songs from her new EP, 'Something Wrong Here', playing throughout her set, she also managed to fit in song's from two of her music influences, 'Basshead', by Bassnectar, and 'Collapse' by Zed's Dead. 
Being a woman of surprises, she even played some new tracks which had the crowd going crazy. REZZ has this certain level of passion that I think is what makes it so easy for fans to feel a genuine connection to her, as well as the music she produces. Being so close up to REZZ, the pure happiness shined through her crazy googles and poured into my lens. At the beginning of the set I was mainly in the photo pit, the designated area in front of the main railing that most bassheads reside and that is just what they did. While pacing through the pit I could just feel the crowds energy as they banged their heads to the beat of REZZ's songs.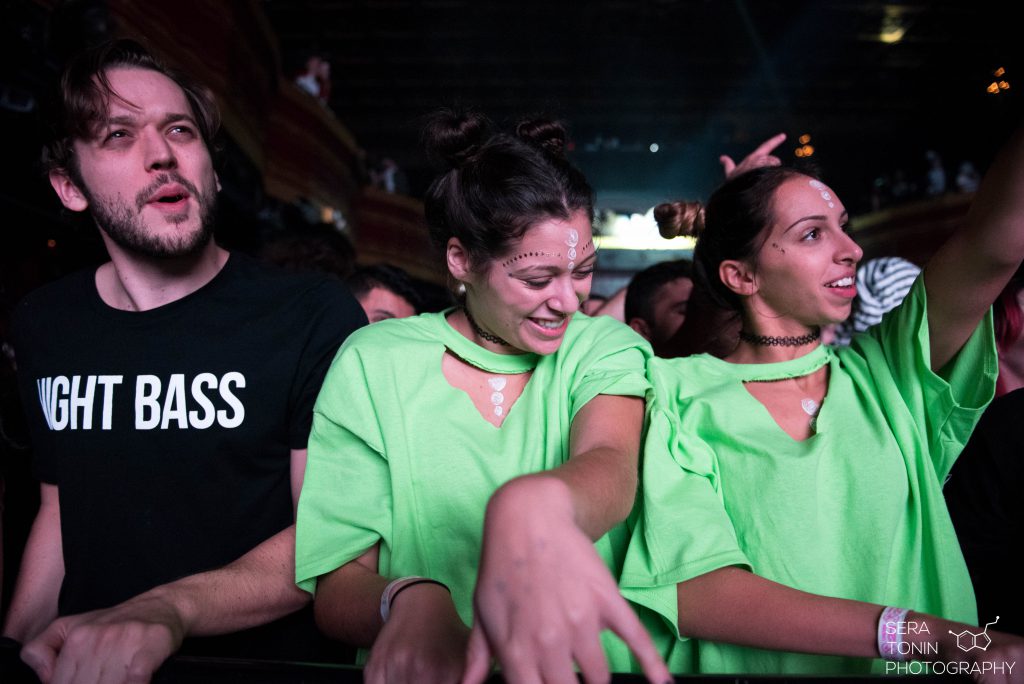 Given that it was Halloween weekend, attendees were dressed up as scary creatures of the night to pleasant bass loving aliens from another planet. The energy the crowd generates during a set, really sets the tone the shots a photographer is able to get. Granted this was a sold out show, therefore it was elbow to elbow while on the main ground level flow of Webster Hall, but that never stopped the crowd from swaying left to right the whole night. As I made my way into the crowd to get some photos of the stage as a whole, it became clear that this generally was not an easy crowd to get through. At many festivals most people tend to see the camera glued to my hand, along with my "oh crap, how am I going to get through this" face, and tend to pave a way to let me through. Each time, I am so grateful for crowds with attendees like these, but that was slightly not the case at this show. I have shot at this venue multiple times before but this was by far one of the most filled shows I have attended.
I found myself getting frustrated when I got stuck at a standstill for a great length of time, but this is when as a photographer I stop and put myself in the shoes of someone attending the show. If I were attending this show, not working, then yes I would find myself annoyed with the constant people flowing through the crowd causing chaotic traffic, so I understood. You have to work with what you are given, so I tried different areas within the venue. Webster has a top balcony level overlooking the main dance floor and stage which was VIP access only for this show. After entering, the amount of space was a breath of fresh air! If I forgot to mention before I am slightly claustrophobic so I get a bit overwhelmed at times while shooting.
As I looked to my left, I saw Manila Killa with some friends just enjoying the beats. Standing on the balcony looking down was one of the most incredible views, seeing everybody just letting loose was priceless. My camera left my hand at this moment, my feet started moving, and now I was the one letting loose. Right then and there Bassnectar's 'Basshead', had been dropped and I went crazy, as did everyone around me. REZZ dropped so much heavy bass that from the balcony level, I could feel the floors shaking from everyone dancing so hard. At one point REZZ came out from behind the DJ booth and stood in front of it, interacting and just spreading some love to her fans.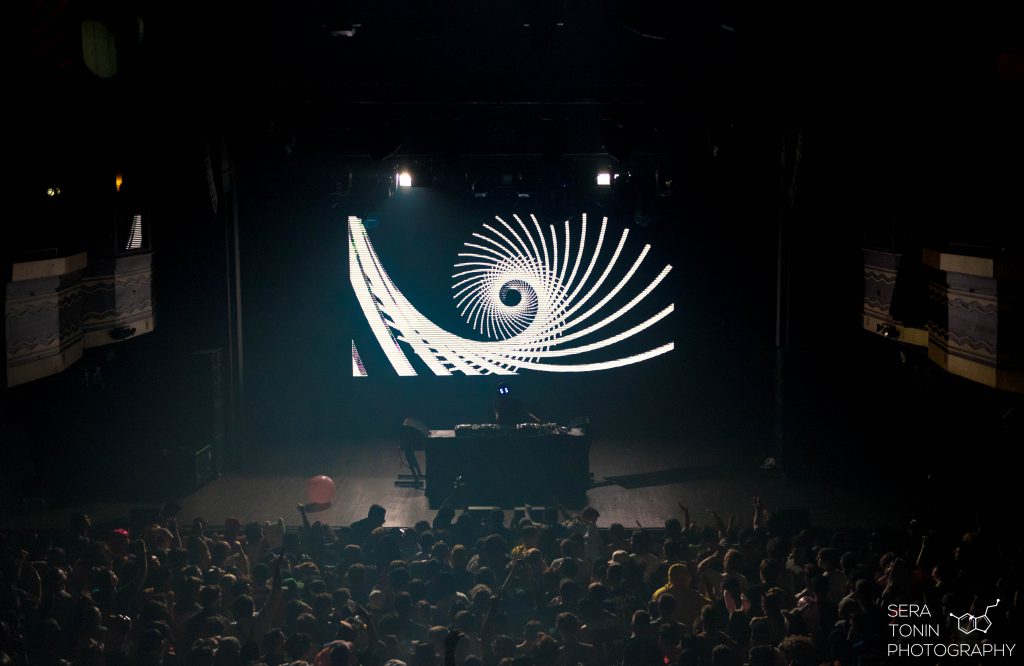 As her set wound down, she thanked the crowd for all of the energy they provided, but really we all thanked her for being an artist who never seizes to create and inspire.
Hands down, this had to be one the best performances I have seen from her, and production was top-notch! The production and light schemes really effect my shots, since most of the venues do not allow flash photography, and hers made for an easier shooting. Her constant liveliness throughout her set, made her one of my top ten artist to photograph. During the whole set, I was excited to get to edit these photos, because I knew there were so many that truly captured REZZ as a producer. I look forward to seeing her live again, whether it be as a photographer or an attendee, after the way this Lunatic Tour, ended, I can't wait to see what her next tour will be like. To this wonderful talented, creative soul, we all thank you for throwing down some heavy bass and making us question whether we or not we are this planet.
---
Follow REZZ on Social Media:
Facebook | Twitter | Instagram | SoundCloud