September is in full swing, that means we're less than two months away from the inaugural sailing of Groove Cruise Cabo! To celebrate, Whet Travel has graced us with the second phase of lineup announcements. And EDM Identity has you covered with some other info you'll want to be prepared before you hit the seas!
Want to see what Groove Cruise is about? Check out our Groove Cruise Miami recap here.
Less than 50 cabins are still available for Groove Cruise Cabo 2016. Prices go up September 28th so be sure not to sleep on it. Click here to purchase a cabin.
When choosing a cabin, don't forget to use code 'EDMIDENTITY' for a $50 per person discount!
---
The lineup for Groove Cruise Cabo 2016 was already impeccable but some how Whet Travel managed to improve on it. Notable additions to the lineup include Dubfire, Denny, Dosem, DJ Dan, Shaded (Live), Sian, Sydney Blu, and more. After Groove Cruise Los Angeles last year, they've been on a mission to provide the deeper, underground sounds their customers beg of them. The artists they added are joining notable underground talent already on the lineup like wAFF, UNER, Stanton Warriors and more. The lineup announcement image also has an additional artist listed with a blurred out name. The positioning and shape of the name gives us some hints as to who it may be. We personally think its LA Riots but let us know who you think the special guest is!
The Groove Cruise Cabo 2016 Phase 2 Lineup:
But don't think that's all we brought to the table for you today. The themes for each day of Groove Cruise have been announced. They're sure to offer endless entertainment as you shop for the perfect outfit to fit each theme. A reminder that the themes are definitely not required but certainly encouraged. They provide an avenue for even more self expression and it's a great conversation starter as you make new friends on the ship!
Groove Cruise Cabo 2016 Themes
Friday Boarding: Identity (EDM Identity tanks/crop tops anyone?)
Friday Night: Shine The Fuck Up
Saturday Day: Baby Blue & Pink Party
Saturday Night: You Celebrity (Dress like your favorite celeb)
Sunday Day & Night: Groove Cruise 3000 (Futuristic theme)
Monday Day & Night: Halloween On The High Seas
Tuesday Day: Devil & Angel (Pool Party)
Tuesday Night: Arabian Nights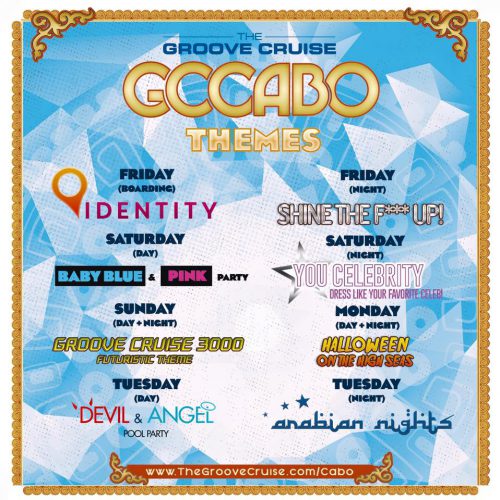 Groove Cruise Cabo 2016 Featured Venues
Are you a Groove Cruise virgin? Take the time to browse over the venues listed below so you know where you'll be partying in the middle of the ocean! If you think these aren't enough venues, don't sweat! There's more venues to be announced that we'll highlight in our articles in the coming weeks. Make sure to follow us on social media so you don't miss a beat!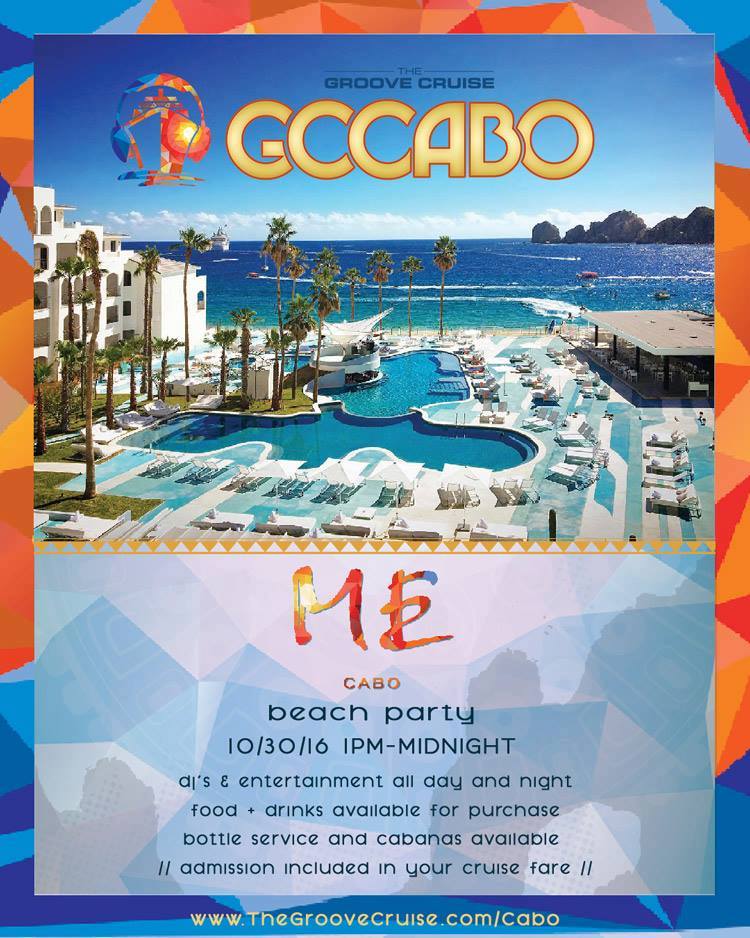 Featured Venue: ME Cabo
Located right in the harbor with a view of the ship anchored, this venue will be Groove Cruise's from 1PM to Midnight. It has an expansive pool with a DJ booth above a swim up bar. Admittance to this event is included with your cruise fare, however food and drinks are not. Be sure to take advantage of both the pool, as well as the beach at ME! Pricing and information about the cabanas and bottle service will be coming closer to sailing.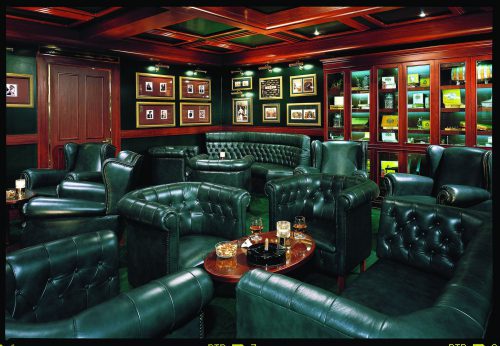 Featured
Venue

: Windjammer Bar

The Windjammer Bar is located on deck 6 mid-ship next to Dazzle's disco. This bar features relics from other cruise ships in addition to replica ships. If you're a fan of nautical memorabilia then this bar and lounge is the place to be. Comfortable leather seats provide a place to relax your feet from hours of dancing but keep you only a short distance from the music! Need some down time but don't want to hang in your room? Look no further than Windjammer Bar, it even has the ships best martini bar.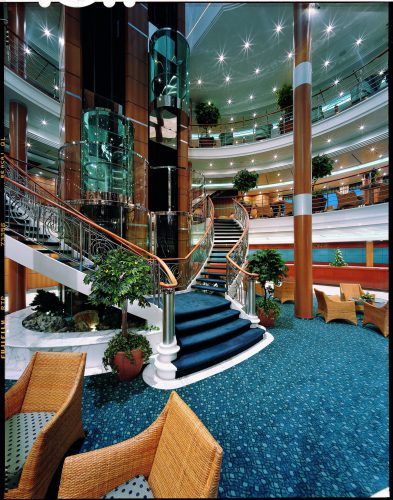 Featured
Venue

: Atrium

As you board the ship you'll step into the atrium with it's stunning glass elevators which take you up to the action on the pool deck. The atrium is the focal point of the Norwegian Sun! The atrium itself spans three decks with important places you need to know! In the atrium, Deck 5 has both the Guest Services, as well as Shore Excursion & Captain Support (Whet Travel) Desks! Deck 6 houses shopping pleasures! Deck 7 houses the atrium bar and café for all your caffeine needs to keep energized on the high seas.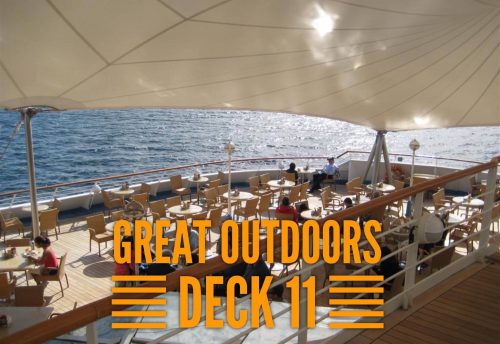 Featured
Venue

: Great Outdoors

Great Outdoors is both a music venue and a place to sit back and catch a bite to eat. As far as food is concerned, they offer breakfast and lunch fare with great views of the stern of the ship and the sunset over the sea.  In the late afternoon (4PM-5PM) until 10PM this venue transforms itself in a music venue. Offering a perfect location to dance away the day and welcome the night.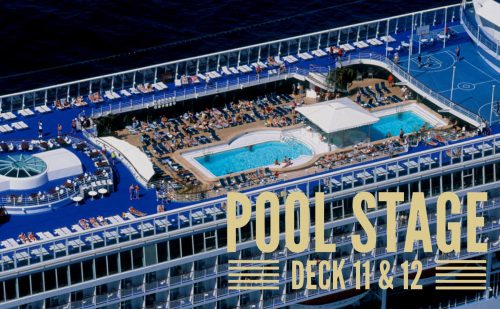 Featured Music Venue: Pool Deck
Located on Deck 11 & Deck 12 mid-ship is the pool stage! This stage runs nearly around the clock while the ship is at sea! Daytime this is your pool party venue and the party continues past sunset into the early hours of the night. After a brief break to clean up the area, it's onward to the Incorrect Afterhours party and sunrise! This venue features plenty of space to dance, shuffle, swim, and more!
Featured Music Venue: Stardust Theater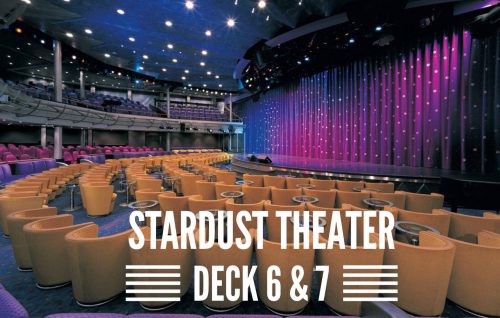 The Stardust Theater is located on Decks 6 & 7. It is home to the major headliners each night. The theater opens around 11PM and generally operates until 4 – 5AM. Deck 7 has balcony seating and a birds eye view of the stage if you want to view the action from above. If you want to be in the middle of it all, Deck 6 is the floor section, chairs are moved out of the way to provide ample room to dance the night away!
---
Catch up with Groove Cruise on Social Media: