Are you ready for a month full of unique stages, themed events and plenty of candy? Check these spooky stages from past events!
---
It's just about that special time of year when ghouls, goblins, demons, dragons, aliens, and apparitions become a little bit less taboo and a lot more awesome! A time when you can forget about reality and transform into something creepy and controversial, wild and colorful, or dark and mysterious. Yes, I am talking about the spooky holiday that brings tricks or treats and the holiday that never goes out of style, especially within the rave and festival community. It's Halloween!
In honor of this special holiday my team and I have compiled a list of our favorite Halloween inspired stages from festivals past. We dug deep to find the scariest, creepiest, and most monstrous stages that we could find. The one's that took our breath away and made our skin crawl and blood pressure rise. Feast your eyes on these spooky stages from events around the world.
EDM Identity's Top 10 Spooky Stages:
---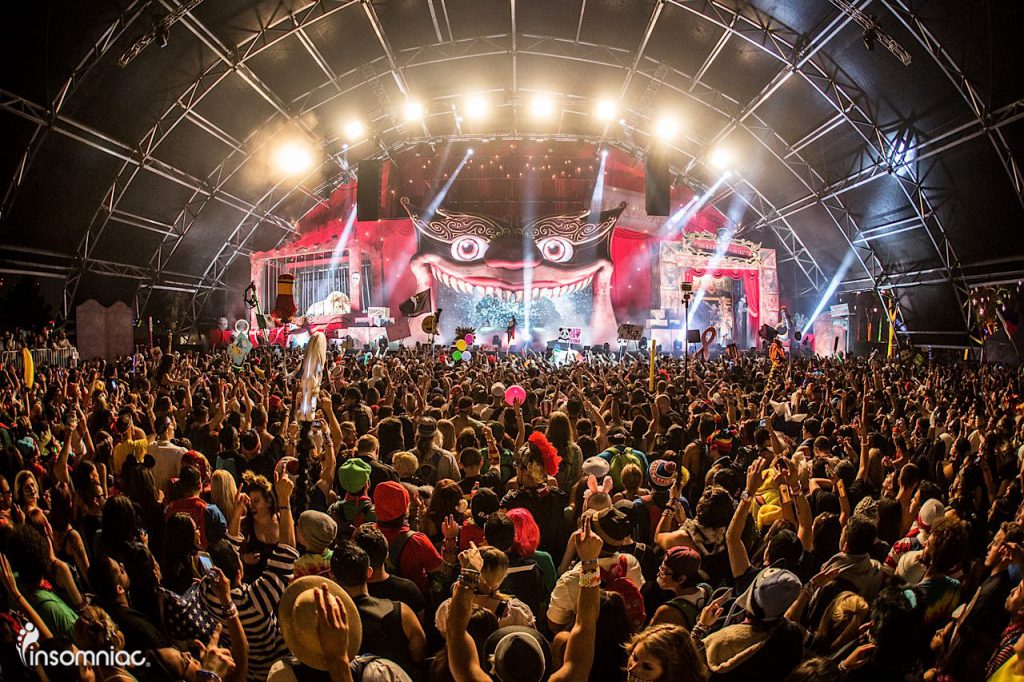 Escape: All Hallows' Eve 2014 (and Escape: Psycho Circus 2015) – San Bernardino, CA: 
For those who attended Insomniac's Escape All Hallows Eve in 2014, Halloween would never be the same. Greeted by an Alice In Wonderland themed main stage called The Slaughterhouse, festival goers were transported into a world ruled by the Cheshire Cat. Being the mysterious character that he is, you never quite knew if he was on your side or leading you into a world of trouble. With a mischievous grin he taunted your mind and played with your emotions. And as the DJ took his crowd on an epic journey, so did the Cheshire Cat. The perfect union dreamed up by the greatest festival producers in the country.
Will you be joining us at Escape this year? Click HERE for the lineup!
---

Something Wicked – Houston, TX 2014: 
Something quite intense happens to your psyche when you are face to face with a towering skeleton torso. For Something Wicked in 2014, the designers harnessed that insanity with a skeleton structure that shot lasers out of its eyes and boasted massive arms that extended out to each side, bidding the crowd to enter its hellish domain. Even its fingers were horrifying, projecting upward and delivering the message that he was the true king of the underworld and you were now playing by his rules.
---
Q-dance at Tomorrowland – Boom, Belgium 2013:
Making its first appearance at Tomorrowland, the most beloved festival in the world, this scorpion from hell is probably one of the most unique and meticulously crafted stages that I have ever had the opportunity to see live (TomorrowWorld, Atlanta 2013). Some of the characteristics that stand out the most are its sharp edges, fangs made of blades, and daunting metallic shine. But what truly makes this stage more terrifying than any other is the disgusting eyes that peer deep down into your soul, hypnotizing you with a driving hardstyle beat, waiting for the perfect moment to strike!
---

Defqon.1 – The Netherlands 2013:
Defqon.1 has claimed its spot at the very top when it comes to designing and constructing the most massive and visually stimulating sets in the entire history of EDM festivals. In 2013, Defqon.1 wanted to take stage design to the next level of insanity. What they dreamed up and delivered for their event in the Netherlands was beyond anything that anyone could have ever imagined. The result was 3 demonic warrior tribal masks with a futuristic lighting system far ahead of its time. Absolutely no detail was spared on this stage. One look at those 3 satanic faces and you were sent into a tail spin right down to hell. Words truly cannot do it justice. Check out the video below and prepare to be blown away!
---
 
Q-dance Qlimax – The Netherlands 2013:
On the 23rd of November in 2013, the 18th edition of Qlimax took place in the GelreDome in Arnhem. Qlimax is the biggest indoor hardstyle event in the world and they certainly don't hold back on their stage designs. With a projection screen that transformed before your eyes it dazzled with ever-changing demon spirits from the deepest depths of the underworld. The center eye remained ever watchful as hardstyle maniacs danced with absolutely no inhibitions, pulling out an energy force that provided food for its evil soul.
---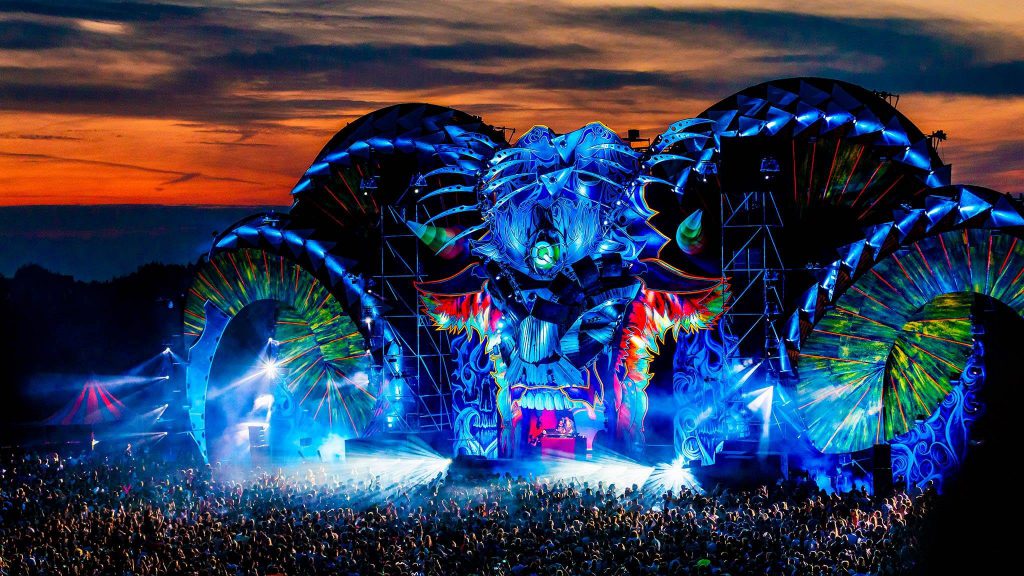 Q-dance at Mysteryland – The Netherlands 2016:
The Q-dance official end show at Mysteryland 2016 began with a voice that spoke these chilling words: "The truth that lies within is sometimes one of evil sin". As the beat dropped the stage lit up with a mind-blowing laser show, complimenting the horrific demon that loomed over its unsuspecting victims. I think it is clear that hardstyle fans are ridiculously spoiled when it comes to game changing stage designs. Just like its counterparts, this particular stage left no detail to the imagination. An evil Ram souped up on steroids and the souls of its victims would be the best way to describe this colossal character. Certainly a character that tortures you in your dreams and leaves nothing but death in its wake.
---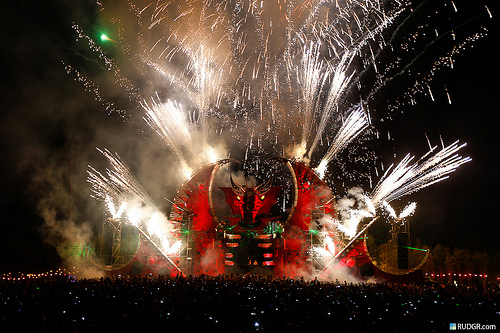 Defqon.1 – Australia 2012:
And here we have it! Finally, the devil himself in dragon form! Once again we take a look at Defqon.1. For this stage we have to travel back to 2012 to the Defqon.1 event in Australia. What I love about this stage is that while it is terrifying it also oozes with fairy tale character traits. If dragons existed, this is what they would look like in both detail and size. Its stance is majestic and strong with two glowing fiery eyes as the focal point. Blood red and ruler over the damned, this devil dragon reigns supreme.
---

Basscon – EDC Las Vegas 2014
Wait…..I know I have seen this monster before! It's Mike Wazowski from Disney's Monsters, Inc! Well, maybe if Mike Wazowski was in true form, an evil monster praying on the screams of little children. No, this monster is Mike Wazowski's horrible cousin who decided he would drop in at EDC Las Vegas 2014 to terrorize the innocent and destroy humanity as we know it. Now, just imagine if you were the DJ! Having to climb into its disgusting mouth not knowing whether or not you were going to be his next snack! No thank you! We will just leave that to the professionals!
---

The Resistance Stage/Arcadia Metamorphosis at Ultra – Miami, FL 2016:
If you hate anything creepy crawly then I suggest that you look away because our next stage design takes us into insect territory. But this is not just any insect. No, this is the type that is at the very top of the food chain. An insect so big and so evil that it eats humans for breakfast! The Resistance Stage at Ultra 2016 played host to a very special project called Arcadia Spectacular. Arcadia Spectacular, also called "Arcadia", is a performance art collective that combines elements of sculpture, architecture, recycling, pyrotechnics, lighting, circus and music into large-scale performance and dance spaces. For Ultra 2016 they brought along their very special friend known as Arcadia Metamorphosis, otherwise known as the alien spider from hell! No thank you! If there is nothing I hate more than devil dragons it would certainly be alien spiders from hell! While I look away, go ahead and check out its stunning landing show below.
Check out our review of the Resistance Stage at Ultra Miami 2016 HERE!
---

Alfa Future People – Bolshoe Kozino, Russia 2016:
Finally, Halloween wouldn't be complete without a robot to freak us all out! Alfa Future People is an electronic music festival which is held in the Russian town of Bolshoe Kozino near the city of Nizhny Novgorod. Their stage design opens up festival goers to the world of robots and cyborgs and combines it with stunning performance art and visuals that rival any other of the aforementioned festivals. We all have imagined a world in which human and cyborg will live side by side functioning together in tolerance but what if we are wrong? Take one look at Alfa Future People's main stage and now imagine a world in which the cyborg reigns supreme. Chilling thought, isn't it?!
---
BONUS PICK! Because you can never have to many skulls on Halloween!

The Sound of Q-dance – Los Angeles 2013:
This particular stage is special to the EDM Identity team as it is where Editor in Chief Grant Gilmore and Co-Founder Drew Utterback met for the first time. "I will always remember the skull that they had on the projection screen; it was a truly remarkable stage that they were able to pull off in that space", says Drew. We all have to agree that this stage is incredibly forward thinking and one that will haunt our dreams for many nights to come! Seriously, I can't get this image out of my head! It's going to be one sleepless night! Happy Halloween!
Check out our experience at The Sound Of Q-dance HERE!
---
What are some of your favorite spooky stages? Let us know in the comments!