This past weekend I had my first non-West Coast massive and first Ultra experience. I spent March 18th, 19th, and 20th at Ultra Music Festival and danced alongside over 150,000 festival goers.
It's nearly impossible to sum up the experience of a three-day festival that was as loaded with amazing talent as Ultra Miami 2016. It's been a few days since the end of the event and I still have Sunday's set times as my lock screen; I'm not ready to let go quite yet. Thankfully as I'm coming down from cloud nine, I can keep the momentum going by listening to the many live sets that have been released and take an aural journey back to Ultra.
Getting In To Ultra Miami
Any festival-goer will likely tell you that the time you arrive determines how long you have to wait until you get in. This weekend, that was exactly my experience. Day 1, I had every intention of getting there right at 4PM but life doesn't always go at planned. This was by far the longest wait of all three days. It took about 35-45 minutes to get through security, ID check and ticketing. On Days 2 and 3, I came at 3PM and 1:30PM respectively and the lines were a breeze to get through. A positive was that during the wait, we were offered free water, chips and 7-up, so it wasn't all bad.
---
Ultra Miami's Layout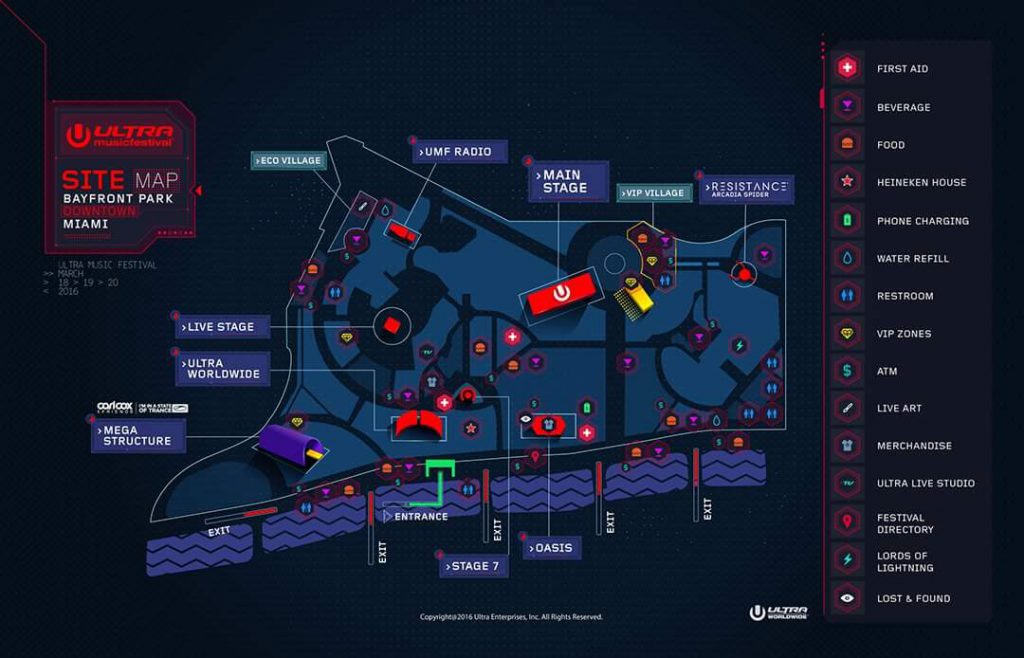 The event had about 7 stages that were spread out amongst the area,  and one indoor stage.  While I appreciate the variety of the stages, the number seemed too large for the amount of space they had to work with. For example, the Resistance Stage is essentially a massive spider structure, and was placed in the corner with barely enough space for the structure and multiple festival goers to coexist. Perhaps this was intentional as it mirrored the underground warehouse feel they seemed to be emulating. However, the UMF Radio and Ultra Worldwide stages were also tiny in comparison. Also, the layout typically led to some level of sound bleeding between stages. Unless you were at the front half of the stage, or near a speaker, it was pretty easy to hear the sounds of other stages. While at the main stage, I could sometimes hear the Resistance Stage or Lords of Lightning show and while at the Live Stage I could hear the UMF Radio Stage. At times, the discordant sounds made it difficult to get lost in the music.
---
The Short Review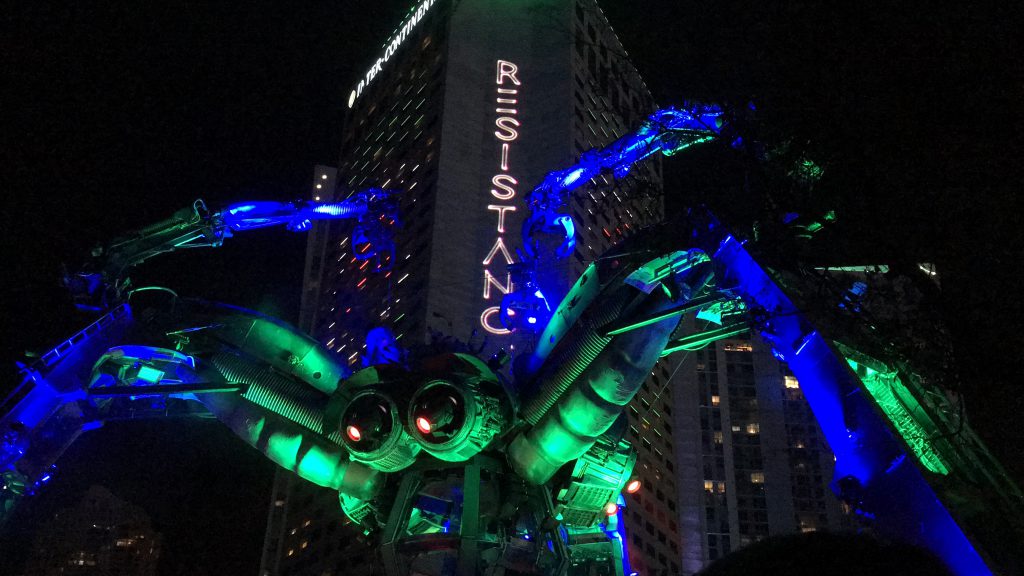 The Good
Miami Music Week: MMW was very expansive and allowed for people to keep the party going well after Ultra was over. The massive line-ups and organized parties also allowed for people to come to Miami and still see many of their favorite artists without having to attend Ultra.
The Resistance Stage: This was hands down my favorite stage. I will gladly admit I'm a sucker for proper set design, Cirque du Soleil and dramatics, so a massive, spider that shot flames and had acrobats hanging from its limbs while playing techno, was right up my alley. Even better, they seemed to nail that grimy, underground warehouse feel that I love. Everyone at this stage was very relaxed and since the artist was suspended from a dome that was clearly seen from any angle, there was minimal pushing to try to get to the front.
The Live Stage:  The overall concept of the mini amphitheater stage was unique as almost every artist has some live element to their set. For example, Thomas Jack was accompanied by a saxophonist and violinist and Nero had the live vocals of Alana Watson.
Wi-Fi: Ultra provided fee Wi-Fi for all patrons and it actually worked relatively well. So well that I was able to FaceTime my husband and get him in on some Nero action
Food choices: I felt like the food choices were great and not about as expensive as expected. Attendees had the option to choose from, tuna bowls, burgers, gyros and multiple other types of food.
The Flags: Ultra seems to be one of the few stateside festivals that has a lot of international appeal which was fully embraced. As someone who loves learning about other cultures, seeing so many people proudly wave their flags was a definite highlight; I proudly brought my Nigerian flag as well. Throughout the three days, multiple artists asked festival goers to wave their flags or hold them up high.
Pendulum: As a long time fan who had never seen them live, the return of Pendulum was definitely one of the highlights. Rob Swire's voice was album quality and the nostalgia factor was the perfect way to close out the entire event.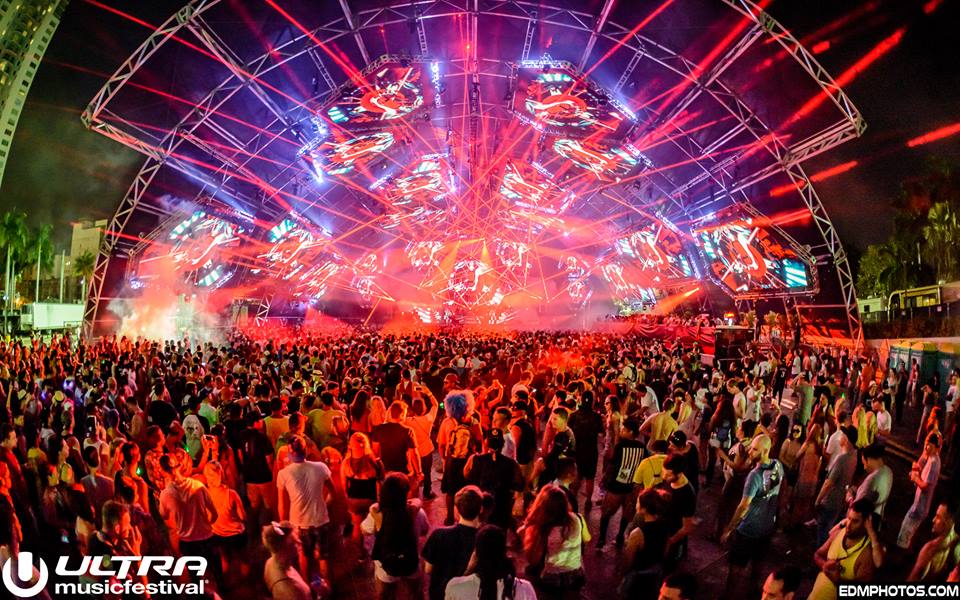 The Bad
Sound: At times there were issues of sound bleeding from other stages. Also, often times I felt as though the sound from certain stages were very low. I'm sure being in the city meant that Ultra was required to follow numerous city ordinances which likely led to the lower volume. However, I wish the volume was turned up!
Mission Control: I personally found it very difficult to find mission control, get a map of the layout or ask them for assistance. When I asked my friends if they had seen any Mission Control workers, they hadn't either. Maybe we kept missing them, but it seemed as though Mission Control was not very visible or available.
Transitioning from ASOT: Trying to leave ASOT while Deadmau5 played was an awful experience. It felt as though half of the festival was trying to come in while few people tried to leave. This lead to the worst bottleneck of the entire weekend. During this time multiple phones were stolen, mini-fights erupted and PLUR was nowhere to be found.
The Prodigy: As a fan, I was excited to see the band on the line-up and more excited to see that they would not be playing at the Main Stage but the more intimate Live Stage. It was disappointing when they had to cancel, but I understand that health always takes precedence.
---
The Long Day-by-Day Version
Click HERE to see the Resistance Stage after movie
Ultra Miami 2016 Day 1
Day one I arrived at around 6 PM and took about 45 minutes to fully get through all of the security check and ID lines. Walking into Ultra was amazing as the Ultra Worldwide stage was in full effect and everyone was in their groove. My first stop was with Kygo. He brilliantly evoked the power of the elements during his set; Water fountains flowed during "Feels Like Home"  and fire raged during "Firestone." It was very easy for me to be caught in the calming trance that is endemic with his easygoing music. Over at the UMF Radio stage Tom Swoon was able to get the small crowd that formed up and jumping. Later in the day, I checked out Miike Snow, after meeting them at the Oasis meet-and-greet and unfortunately, they had the smallest crowd that I saw that day. Many people missed out because they played a fun set at the Live Stage and dropped great songs like "Genghis Khan." Afterward, I happily went over to the main stage to check out Kaskade who came out of the gate flashing bright lights and serving heavy bass. He was followed by Armin van Buuren who played a lot of harder music and psytrance and ended with a flurry of fireworks and a new song. Lastly, I closed the night with a bit of Martin Garrix who dropped a new single with Avicii.
Most Notable: The Arcadia Landing Show was by far the thing that stood out to me the most. The Spider came to life with a drum and bass infused fire and acrobatic show. It was about 30 minutes, which did feel a bit long at times, but was worth sticking through.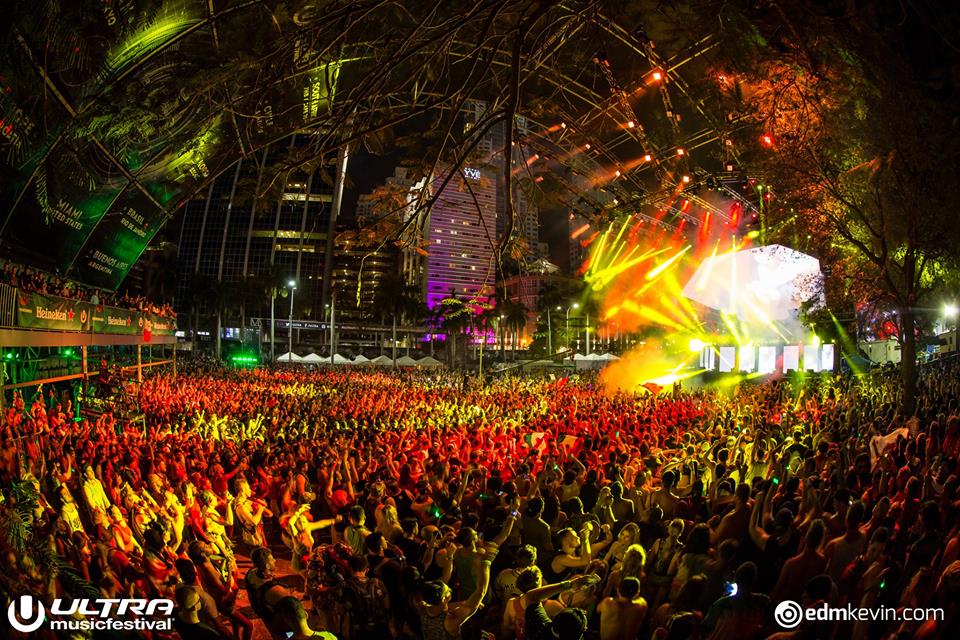 Ultra Miami 2016 Day 2
I learned my lesson from day 1 and arrived a bit earlier. I had a scheduled interview with Gareth Emery early in the afternoon so arriving at about 3 PM was as early as I could be. Thankfully, getting through security took 10 minutes tops!  This day I spent time at Nicole Moudaber, Thomas Jack, W&W, Steve Angello, Don Diablo, Laidback Luke, Nero and ended the night with OWSLA All-Stars and Maceo Plex.  As a fan of tropical house, it was nice to hear two different musicians that play the genre. Kygo is more pop mainstream tropical house and Thomas Jack is a bit more mature and almost soulful with his heavy use of saxophone. Steve Angello dropped quite a few Swedish House Mafia tracks while the audience crooned along to fan favorite, "Don't You Worry Child." I know many were hoping for a small Swedish House Mafia reunion, but of course, that did not happen. Nero was a nice addition to the live stage. It was nice hearing Alana Watson's vocals belted out at the packed stadium. Unfortunately, the crowd began to dissipate about halfway in once the group dropped their massive hit, "Promises." I planned to end with The Prodigy but since the performance was cancelled, I rounded out the night between two vastly different closers: OWSLA All-Stars and Maceo Plex. Multiple people recommended that I check-out OWSLA and I obliged as I doubt I would see them outside of this arena. I like Skrillex, particularly as Dog Blood, but I'm not much of a dubstep fan therefore, while I enjoyed the high energy of the performance and the crowd, it wasn't my scene.
Most Notable: Don Diablo was a definite highlight. He played a packed stage and brought high energy the entire way through. He dropped many future house track such as "House Time is Anytime" and "Chemicals" and played two of my favorites: "Make Me Feel Better" and "Starlight." At one point, he brought out Oliver Heldens who dropped a new track. Maceo Plex was another highlight. Getting more acquainted with his deep dark techno sounds were a perfect way to close out an eventful Day 2.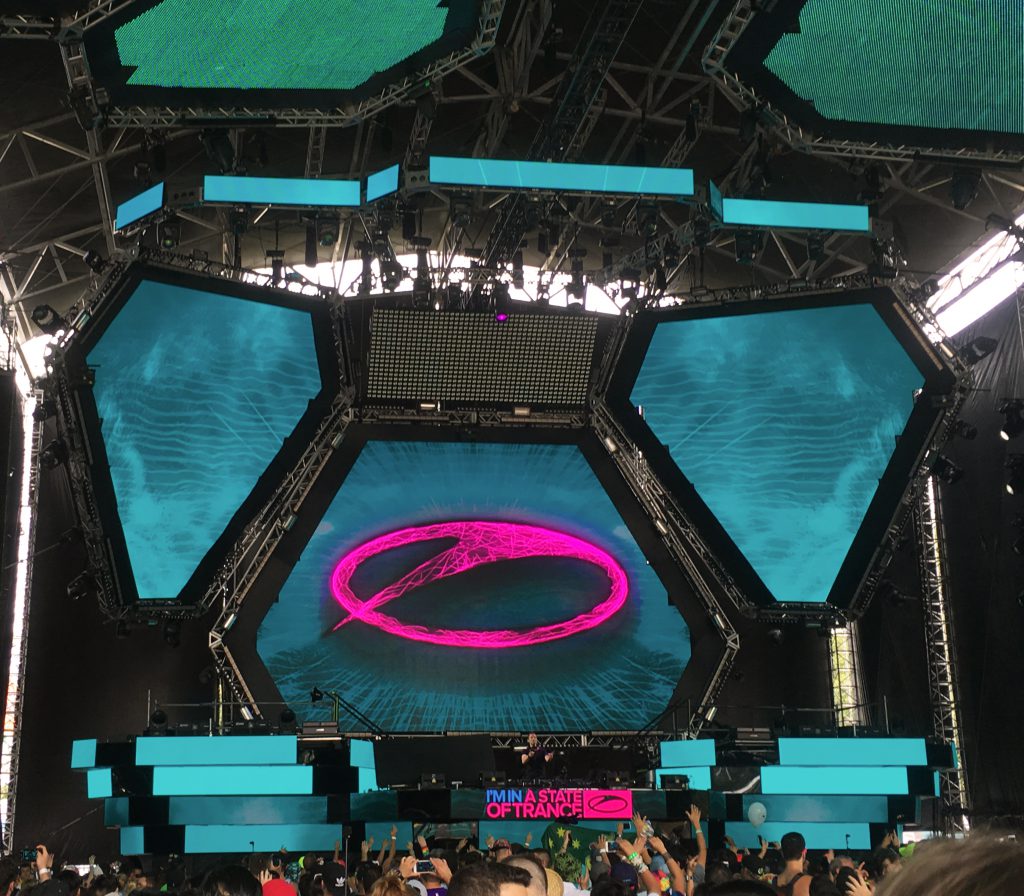 Ultra Miami 2016 Day 3
From the day the set times dropped, I knew that would live at the ASOT stage for about 75% of the day. With acts like MaRLo, Aly & Fila, Eric Prydz and Armin van Buuren, playing it was sure to be an amazing time full of great vibes. That day the Ultra fam arrived at 1:30 and again security was a breeze. We caught a small bit of Ben Gold, and I still regret not arriving earlier to see the full performance. Aly & Fila were great and got the crowd going with their FSOE sounds. When it was time for Deadmau5 the crowd changed and getting out became a difficult situation, as explained above. I took this time to meet new friends from Kenya and Trinidad and explore Guy Gerber at the Resistance Stage and also watched Zedd display his "True Colors." We all were blown away by Eric Prydz, King of Lasers, especially during "Opus" and with Armin's set. At this time, I began transitioning to the Main stage for Pendulum! Unfortunately, a situation occurred where I had to take a festival goer to the medical tent and it was concerning how difficult it was to find it or find a mission control person to assist me. In the end, I found it and the person was taken to the hospital.
Most notable: I was most excited to see MaRLo and he did not disappoint! He dropped some psytrance, the beautiful ethereal "Dreamers" that features vocals by his wife Jano, and mixed in one of my favorite classics, "Children" by Robert Miles. By the end of his set, I was exhausted and overheating but it was worth it.  Lastly, of course, I have to mention Pendulum. I'm not a Knife Party fan so I grooved with other festival goers and patiently waited for Pendulum. They broke out of the gate with Slam and Propane Nightmares and, as stated above, Rob Swire's voice was strong and vibrant live. However, just as quickly as it started, it was over and I felt a bit of sadness that this also symbolized the end of Ultra. I wish that Pendulum had a full one hour slot instead of splitting that time with Knife Party; either way, I was happy to see them live.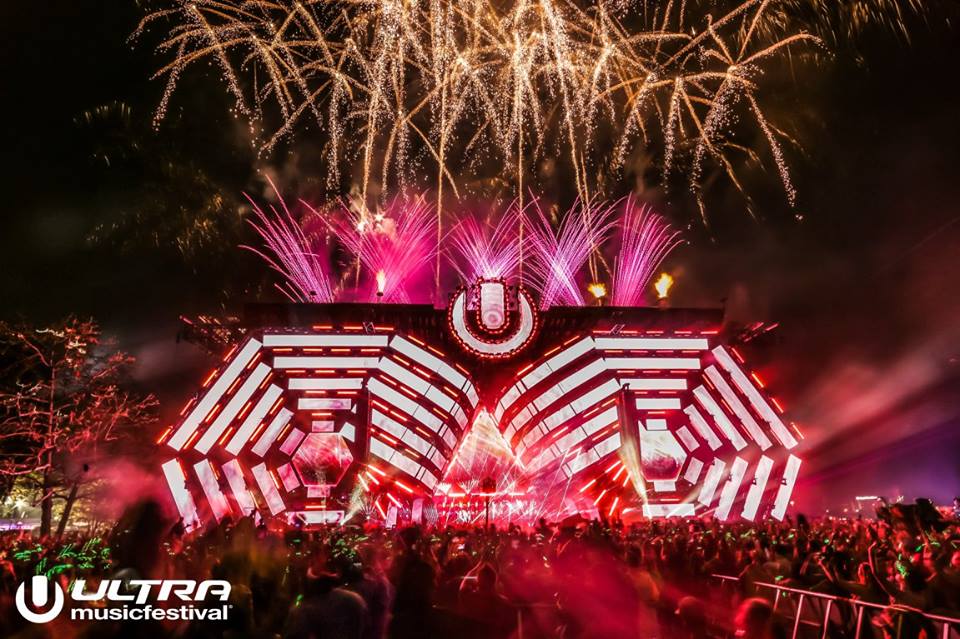 Final Thoughts
For me, Ultra was worth the red-eye connecting flights to Miami and the 5AM Monday morning flight back to Los Angeles. I was surrounded by positive people and many different cultures that came together for the love of music. I danced under a flaming spider, witnessed the return of one of my favorite bands and was put in a state of trance. There were many things I didn't like about the set up, the layout and the assistance but in the end I choose to remember the positives. I spent three solid days enveloped by many things I love: good friends, good music, and good vibes.
Who knows, maybe I'll see you guys on March 24th, 25th, and 26th for Ultra Miami 2017!
---
Follow Ultra Music Festival (and Ultra Miami) on Social Media: