Shaun Frank took The Chainsmokers' track "Closer" and gave it the full remix treatment!
---
Toronto based producer, Shaun Frank is back remixing the hit single "Closer" which he co wrote with "The Chainsmokers." This time Shaun Frank returns with a fresh and melodic twist on the original version of "Closer". The emphasized piano intro is sensational and envelops into a great rework. The newest release comes just shortly after Shaun's debut hit single "Let You Get Away." On September 23rd, Shaun Frank headed out on his own headlining tour "The Getaway Tour" after wrapping up his previous tour "The New Order Tour" which featured; SNBRN and Dr. Fresch. It has become evident that in a short span on time Shaun Frank has been hitting on all cylinders lately after collaborating with Steve Aoki on "Dope Girlz" and his hit tracks "Heaven" and "LA LA Land" featuring vocals from Delaney Jane!
Catch out featured interview with Shaun Frank HERE!
Stream The Chainsmokers – Closer (Shaun Frank Remix) on YouTube:
Listen/Purchase Closer Remix on Spotify | iTunes | Apple Music | VEVO
For information on "The Getaway Tour" click HERE.
Catch Shaun Frank on 'The Getaway Tour' in a city near you: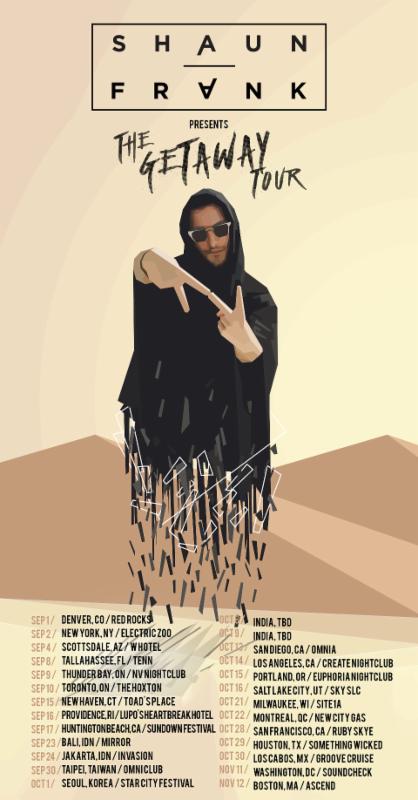 ---
Connect with Shaun Frank on Social Media: 
Facebook | Twitter | Instagram | Soundcloud