Los Angeles based DJ Gareth Emery has already had one hell of a year. He has released a top-selling album that reached #1 in multiple countries, closed out Dreamstate SF, and played multiple festivals including  EDC Las Vegas. For the latter half of the year, Emery will be bringing his latest album, 100 Reasons to Live, to his fans! He has including a two-stop California-based album tour, which is part of his nation-wider tour.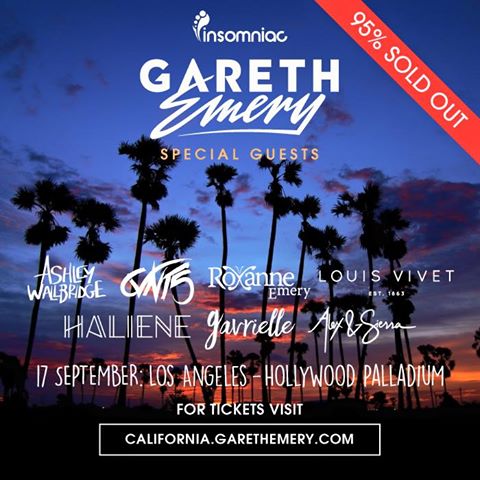 Tickets Available HERE
For the Los Angeles stop of his tour, Emery has spared no expense. If you are a fan of the latest album, you will be pleased to known that multiple featured vocalists will be attending. The list includes: Alex & Sierra of X-Factor whom are featured on "We Were Young," Gavrielle, who is featured on "Far From Home" and who also sang "Downbeat" and "Best Thing" with featured openers Louis Vivet; and CVNT5 which is comprised of Emery and fellow DJ Ashley Walbridge; Wallbridge also created a massive remix of Emery's opening album track "The Story So Far." Other important artists include Roxanne Emery, Gareth's sister, who often writes lyrics, serves as part of his management team and lent her vocals to smash hit "Soldier;" and Haliene who sang vocals on the amazing track "Saving Light" which was the opener of Emery's EDC Las Vegas 2016 set. Honestly, if you are a fan of Emery's work and particularly of this latest album which has spawned multiple noteworth remixes, you would be remiss to miss out on this amazing line-up!
---
Important Event Information For Gareth Emery at The Hollywood Palladium:
Date: Saturday, September 17th, 2016
Hours: 9PM – 3AM
Support: Ashley Wallbridge, Roxanne Emery, Louis Vivet, Gavrielle, Alex and Sierra, Halien, and CVNT5