It has been about a year since the release of Boy Noize's last album, Strictly Raw Vol. 1, but just because the German producer has been quiet doesn't mean he has been kicking back. Boys Noize, aka Alex Ridha, has been busy playing venues around the world and released his fourth solo album, Mayday, earlier this year. The album is Alex's most diverse to date and features a wide variety of collaborations with Poliça, Benga, Remy Banks, and other secret guests that bring their own flare while maintaining the classic Boys Noize style. The last track on the album 'Birthday' features Danny Brown, Pell, Spank Rock and was produced by Boys Noize and Hudson Mohawke. The track was revealed via Pitchfork here and is available on all platforms and Spotify here!
The album title, Mayday refers to the international distress signal. "MAYDAY is my warning signal against blind categorization and conformist synchronization," says Ridha. "A call for individuality and diversity – and a tribute to outsiders."
Boys Noize has also announced a 15-date North American Fall Tour beginning October 5 in Los Angeles. The tour will then make its way up the west coast stopping in Seattle and Vancouver before traveling to New York, Miami, Boston, Florida, and ending in Austin. Check out the tour dates below and grab a ticket for a show near you! Also, stay tuned for more new music and videos before the start of the tour, including Boys Noize's contributed music to the new Oliver Stone movie, Snowden, out on September 16.
BOYS NOIZE North American Tour – Get Tickets HERE!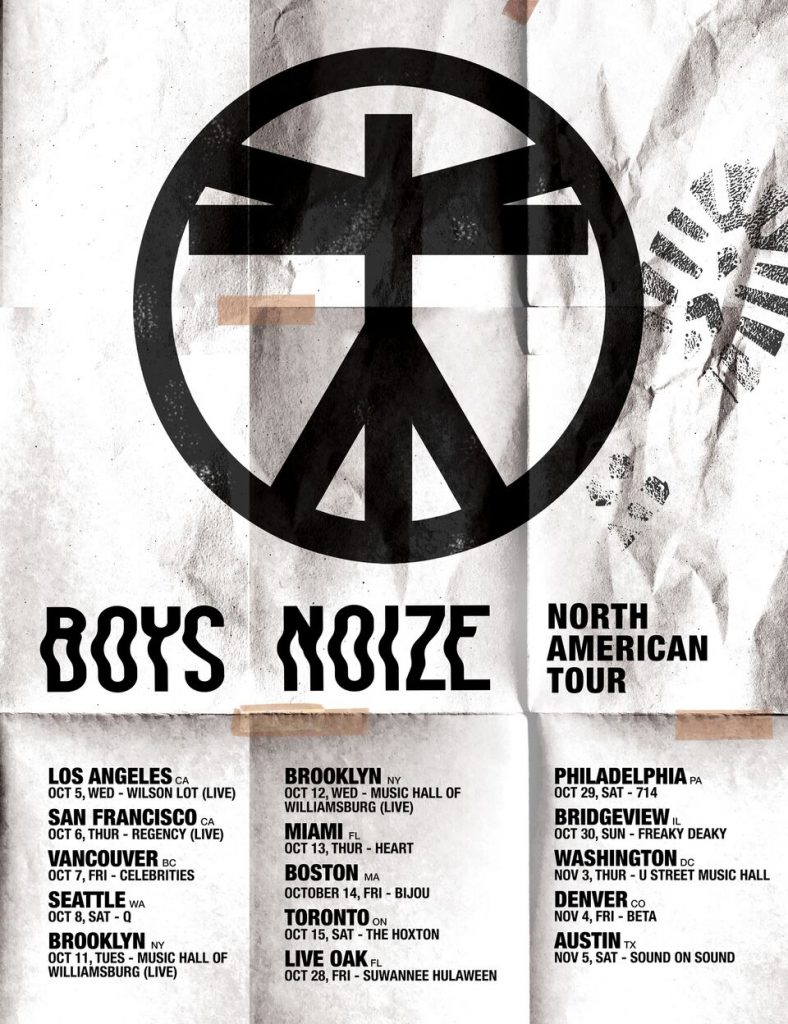 10.05 – Los Angeles, CA @ Wilson Lot (LIVE)
10.06 – San Francisco, CA @ The Regency Ballroom (LIVE)
10.07 – Vancouver, BC @ Celebrities
10.08 – Seattle, WA @ Q
10.11 – Brooklyn, NY @ Music Hall of Williamsburg (LIVE)
10.12 – Brooklyn, NY @ Music Hall of Williamsburg (LIVE)
10.13 – Miami, FL @ Heart
10.14 – Boston, MA @ Bijou
10.15 – Toronto, ON @ The Hoxton
10.28 – Live Oak, FL @ Suwannee Hulaween
10.29 – Philadelphia, PA @ 714
10.30 – Bridgeview, IL @ Freaky Deaky
11.03 – Washington, DC @ U Street Music Hall
11.04 – Denver, CO @ Beta
11.05 – Austin, TX @ Sound on Sound (ex-Fun Fun Fun)
---
 Connect with Boys Noize on Social Media: