Dancefestopia returns to the Kansas City area next weekend on the 9th, 10th, 11th at LaBenite Park in Sugar Creek, MO. Borda Productions is bringing three days of awesome activities, music, and camping for attendees with a new location and lots of fun stuff in store. Tickets are still available for the event and can be purchased here. 
We're super excited for the event and want to make sure you have all the information you need before heading to DFT, so check out our essentials list below.
EDIT: Dancefestopia cashless system has been CANCELLED.
---
Dancefestopia Essential Info:
Event Hours:
Friday, 9/9 – 12PM early entry, 1PM for campers, 3:30PM for non-campers
Saturday, 9/10 – gates open at 11AM
Sunday, 9/11 – gates open at 11AM
Camping Hours: Thursday, 9/8 for Thursday night campers starting at 5PM until 11PM
Location: LaBenite Park, Sugar Creek, MO 
Age Restrictions: None, this is an all-ages show
Facebook Event Page: Click Here
Musts to Bring:
Printed off tickets. Electronic versions not accepted. If ticket does not scan, you will not be granted access.
Credit card/debit card/cash. Parking is cash only.
Identification.
---
Transportation Information:
LaBenite Park is located in Sugar Creek, Missouri along the Missouri river. It is 17 miles away from downtown Kansas City. To view the location, visit here.
Uber rides are available from the Kansas City metro area to the event. The closest airport is Kansas City (MCI).
Ride Share Options:
www.erideshare.com
www.rideshare.us
www.ridestar.com
www.alternetrides.com
www.goloco.org
www.craigslist.org
www.carpoolworld.com
www.pickuppal.com
Parking:
If you choose to drive, parking per vehicle is $35 cash at the time of entrance for the entire 5 days. You are allowed to leave as many times as you want or need to. The parking lots are accessible from North and south bound 291 Highway. Dancefestopia is not responsible for loss, damage, or theft of vehicles or personal items.
ADA accessible parking spaces are limited and are located near the park for vehicles displayed a disabled hang-tag or license plate. There is also a designated drop-off area at the paved entrance to the park area, at which vehicles displaying a disabled hand-tag or license plate may drop-off disabled passengers and then park the vehicle at the nearest available parking site.
Getting to DFT:
Dancefestopia asks that you follow their directions to get to the event as they will have traffic guides and specific routes that make it easier for attendees to arrive in an orderly, timely fashion.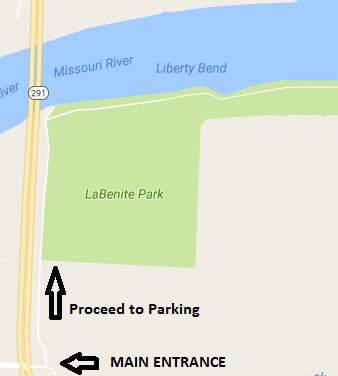 For exact directions from your location, utilize Google Maps and type in 'LaBenite Park, Sugar Creek, MO'.
IMPORTANT: From Highway 291 at the Missouri River, take Highway 291 South, then east on Cement/N. Courtney Roads, then immediately north to the LaBenite Park entrance. Take the river access road which parallels the highway on the east side (watch for the river access sign).
---
Prohibited Items:
NO propane or gas in camping areas
NO fire of any kind
NO illegal substances
NO drugs or drug paraphernalia – Saftey First HERE
NO pets
NO laser pointers
NO dust masks
NO glass
NO coolers outside camping area
NO spray paint
NO large chains or spiked jewelry
NO weapons of any kind (Includes pocket knives, pepper spray, fireworks, etc.)
NO professional recording equipment – photo, video, or audio (No detachable lenses, tripods, big zooms or commercial use rigs)
NO video cameras – NO drones
---
Camping Information:
Check out my comprehensive camping guide to learn more about all of the camping options at Dancefestopia and everything you need to know to make your camping experience successful. This article includes a list of essential items, an FAQ, and more.
---
Set Times & Stage Lineups
Not sure who to check out at the event? Take a look at my top 5 picks that you should definitely see at the festival.
---
Festival Map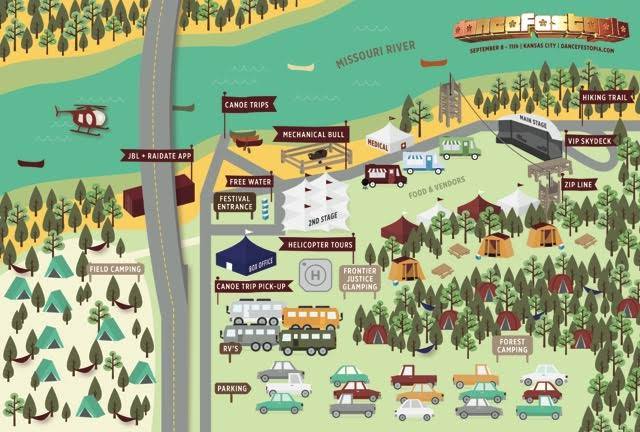 The Dancefestopia map is out and can be seen above. It outlines each of the camping areas as well as the stages, extra activities that are available at the event, the hiking trail, and more. Everything you need to know is on this map! I would suggest saving it to your phone so that you have it just in case.
---
Mind Your Belongings & The Weather
Unfortunately, many people have reported pickpockets, bag slashings, and theft of wallets, smartphones, purses and other valuables during this festival season. While this small number of bad apples in the bunch doesn't define an entire crowd, there are opportunistic people who come to these events to take advantage of unsuspecting party goers and it's important to be mindful of your valuables while at Dancefestopia.
Pay attention to who's around you and what's going on around you. Keep your wallet and phone in your front pocket(s) if you can. Treat your phone the same way you would treat cash; don't set it down on a table or bar and look away. If a friend isn't standing behind you in a crowd, be careful of your backpack or purse, and don't put valuables in a pocket that could easily be unzipped by someone behind in a crowded spot without you realizing.
At the time of this writing, the weather for the weekend of Dancefestopia is shaping up to be absolutely gorgeous with a high of a temperature in the lower 80's and a low of a temperature in lower 60's. I would suggest bringing warm clothes for the night and evenings and plenty of blankets for your campsite and tent if you are camping. It also wouldn't hurt to pack a cheap poncho just in case a thunderstorm does hit as well as extra towels if you are camping in case anything gets wet.
Note: The weather in the midwest is known to be very tempermental! It could change at any moment. Stay tuned and make sure you check the weather when it gets closer to the weekend so you can ensure you have the appropriate items to make sure you are comfortable throughout the event.
WEATHER UPDATE AS OF 9/6:

Looks like it is most likely going to storm on Thursday and Friday! Campers, make sure to bring some extra towels in case you need to mop up any water, and don't forget your tent rainfly(s). As I mentioned above, I suggest that attendees grab a cheap poncho! Borda productions has promised that even if it rains Friday, we will be dancing the night away regardless… so don't let a bit of rain kill your vibe, let's do some rain dancing!
---
Live Event Coverage:
Be sure to follow EDM Identity on Instagram and Facebook for LIVE event coverage of the event, and if you catch us at the event, don't be afraid to say hi!
---
Follow Dancefestopia 2016 on Social Media: