The Groove Cruise, and their parent company Whet Travel, have been pioneers in getting music lovers on the open seas for a weekend of great vibes, unique parties, and amazing music.
---
Officially embarking on their mission in 2004, The Groove Cruise has become the industry standard for boat parties and has secured their spot as leaders in the scene. Attacking both coasts with their cruises, instead of solely relying on Miami and the Caribbean, is just one thing that makes the Groove Cruise a special experience. Having successfully run Groove Cruise Los Angeles for many years, an exciting announcement of the inaugural Groove Cruise Cabo had my ears perked up and listening to what they had to offer.
Embarking from San Diego for the first time ever this October, Groove Cruise Cabo will be taking passengers south of the border to Cabo San Lucas, Mexico, and staying overnight to allow for even more time to spend! Boasting of 120 hours of straight music, this is a "can't miss" cruise for anyone who loves electronic music and the high seas. I was curious about the expansion and the history of the Groove Cruise, so I reached out to the head of marketing and sales, Rafi Leibo, to chat about the upcoming cruise and more!
Curious about Groove Cruise Cabo? Click HERE to find out more about the nearly sold out cruise! Don't forget to use code 'EDMIdentity' while booking your room! Click HERE for our Facebook Event Page!

---
What originally brought you into the electronic music scene?
That is a good question, even dating back to my days in college I was always promoting events for my friends and getting a hand in where ever I could on the event management side of things. I was the social chair of my fraternity and I think at that point I realized I was naturally good at event planning in general, I wouldn't say necessarily pertaining to EDM but obviously at the time the EDM was what was in and what isn't. I was studying marketing in the first place and when I saw a marriage of the two within the event space, I thought it would really be a perfect gig. That was all happening around the time that I coincidentally got introduced to Jason, who is the owner of the company. So really it was perfect timing, perfect place for me, more so than anything. I was obviously looking at other careers and avenues to pursue, but with the timing of all this and how it all went down its had the perfect synergy.
When it comes to being the "OG" of music cruises, what do you feel it takes to have a successful boat party?
Another good question, so obviously we're a little bit unique to other boat festivals you might see nowadays out there because the company started in 2004. I think being first to market has its pros and cons. The pros are, if you were able to at the time, you could really build your brand around an experience and kind of have uncharted waters in front of you, no pun intended. The bad thing is that the sincerest form of success is imitation. Now all these competition events have popped up, which are all fantastic events as any music cruise is an amazing experience, but that if anything helps us in a way because it's keeping us on our toes, it forces us to innovate, definitely keeps us in check, and times change. It's not 2007 or 2008, its 2015 and because of that it presents its own unique challenges every day. Ultimately I think it's a good thing, I think we can learn a lot from what other people are doing, and a lot of people would tell you the same about what they're doing. The biggest strategic advantage that we have is that because we've been working in the cruise space for so long, we're definitely the pioneers in cruise line execution, so no one can really take a cruise quite like we can and convert it into a festival. We've gotten the relationships with the cruise lines down to a science.
So that's something that makes Groove Cruise unique to other events or imitators…
Exactly, we just have a little bit more flexibility with what we do and outside of just the Groove Cruise as a parent company, Whet Travel, we have managed seven other music themed cruises as well. Although the Groove Cruise was just the daddy event, when I started with the company five years ago that was the only event we did. We did one Groove Cruise every year and that was it, now we're doing seven cruises a year spanning all different genres and demographics. We're doing a salsa cruise, a rock n' roll/metal cruise, a spring break cruise, a yoga/health and wellness cruise, and then last year we did Motörhead's Motorboat Cruise, which was really cool. We've got a pretty big portfolio of events now which I think is a testament to our industry expertise within the cruise world.
That's huge, because you have so many experiences for people with different tastes…
My baby will always be the Groove Cruise, of course, that's pretty much what I owe it all to, and that holds the closest place in my heart. But like I said, you have to innovate and move forward. If you stay still doing the same things for too long you become really stagnant. The growth was an essential part of what the company is today.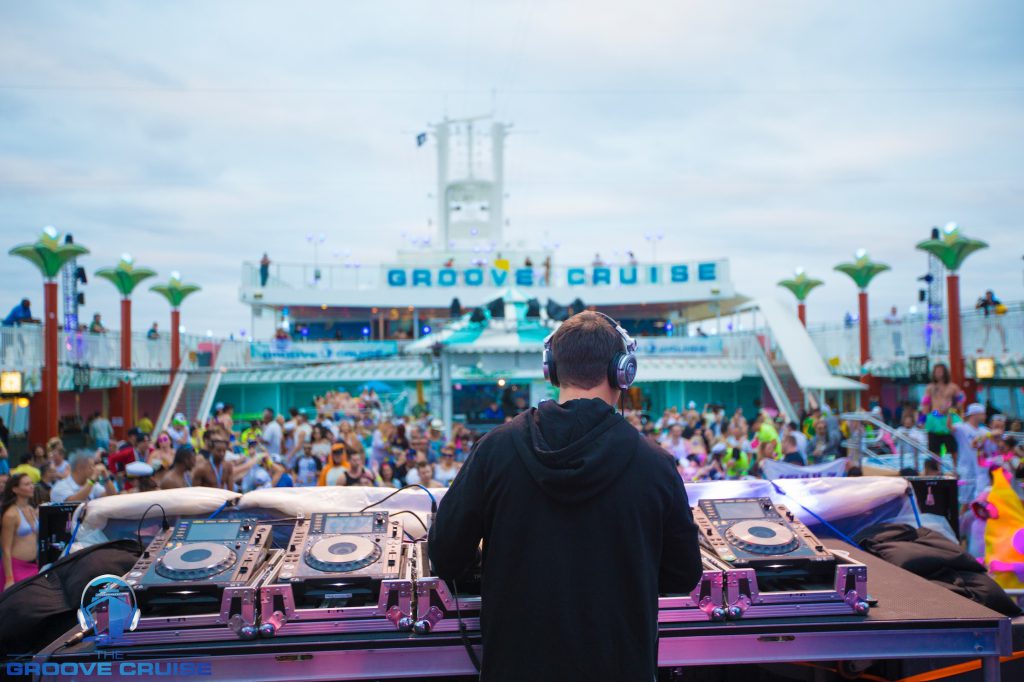 Groove Cruise Cabo will be making its maiden voyage out of San Diego in October. What will the new port bring for long time fans of Groove Cruise?
I'm actually really excited about this, I think more than any other event I have ever been a part of. Mostly because of destinations like you said, so it's the first music cruise to ever leave out of San Diego. That's a really cool first, we've always had a really big fan base in San Diego. It's always been a feeder market for us when we do our west coast cruises, but also in Miami as well. We've got great relationships with a lot of the booking agents, we book a ton of artists from San Diego. It's been something that we've been trying to do for a while, and fortunately we were able to this time. It also opens the door to a lot more destination wise because Cabo, where we're going, was always unattainable on a three-day cruise out of LA. But from San Diego we were able to work with the cruise lines, and this is a good example of how we do what we do, we basically carved out a custom itinerary while the ship is in transition going up to Alaska. So the cruise actually isn't stationed, they're bringing the ship in for us to use for that five-day period, which is pretty cool.
That's awesome, actually.
Yeah it's really cool, so that's obviously a huge part of it. I'm really excited for Cabo, we're doing an overnight stop there which is the first ever for a Groove Cruise. It opens us up to do a lot of stuff while we are there too. We're doing a twelve-hour pool party at the ME Cabo, which is one of the nicest resorts down there, that's going to be with Robin Schulz and a really big special guest who we haven't announced yet. Probably one of the bigger artists, if not the biggest artist on the lineup, still yet to be announced. Then we are doing two different events at two different nightclubs in Cabo, all while having an afterhours party on the ship too for those who would rather party on the boat. It just opens the doors for us to do a lot of cool stuff that we haven't been able to before because of the destination. Also San Diego itself is such a beautiful place anyways, especially around that time of the year, there's nowhere else I'd rather be.
Switching over to Groove Cruise Miami, you guys made a change from Norwegian to the Carnival Victory for 2017. Is that going to bring any new surprises or amenities on board?
We moved from Norwegian to Carnival for a few different reasons. One of them is just to switch it up and innovate because we've used the same ship with Norwegian for three years running so it was time for a change. It also opens up the doors because it's a bigger boat, almost 400 people more on this upcoming one, which is really cool as well. And then, generally with cruises, especially the way the newer ships are built, they aren't really built with festivals in mind, they're built for family style vacations. So a lot of the boats you've got coming out of here, they have pool decks that aren't well equipped to handle the full capacity of the boat. They have side stages and theater stages that don't hold the entire capacity of the boat because they don't really have to on their regular sailings. They never really have the entire ship in one room at one time.
We've had our eye on the Carnival Victory for a while, and that reason is for the pool deck. It's probably the best pool deck I've ever seen for a cruise ship. It's absolutely massive. If you want to look at pictures from another cruise and look at the pool deck, it's sensational. We love the way its set up and we're going to do a really cool stage there, and it's going to be the biggest party we've done in ten years. That was the biggest reason for the ship change. Also the inside theater area is much bigger as well on the Norwegian but the style was slanted up so it wasn't as much room. Lastly, there are also differences between Carnival and Norwegian that are good and bad I guess. One of the things that is really good about Carnival is that the staff on the boat are much more in line with the Groove Cruise brand. They've really embraced the experience, and in my experience they go the extra mile for the guest's experience which is important as well.
I've actually been on both Carnival and Norwegian, and I definitely feel the Carnival line has more of the party atmosphere.
Exactly, and with the Norwegian line they have the specialty restaurants, they have the private area on the ship just the suites and stuff like that which is really cool. But Carnival is more of a ship built for this type of event and I just think overall it is going to be really cool. Not better or worse, just very different and very cool. We've been trying to do it for a while because of the pool deck and the theater, so it worked out great!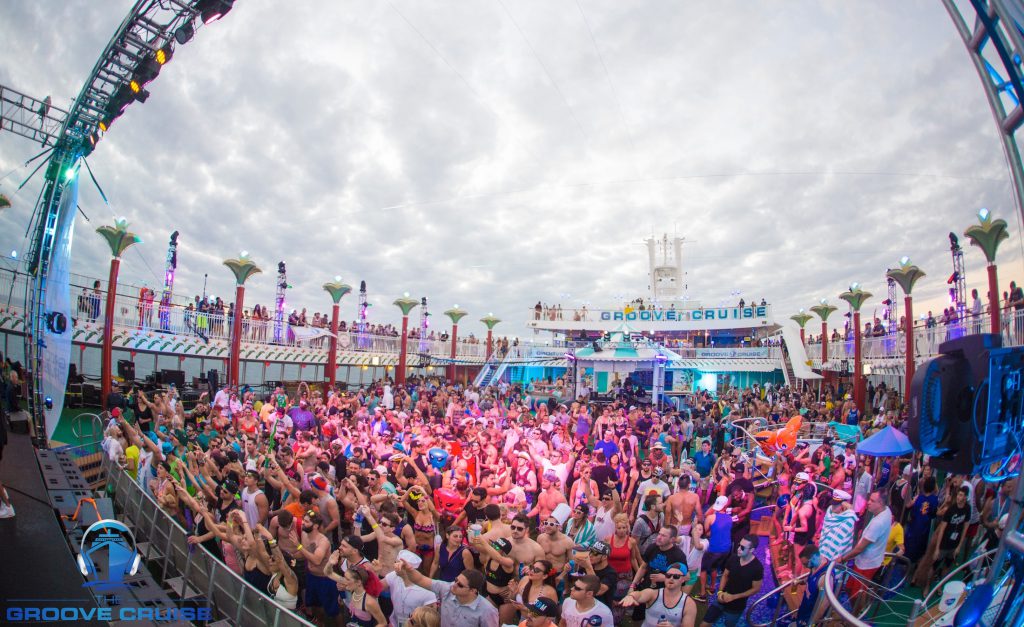 Groove Cruise is primarily centered on warmer climates, is there a chance in the future we could see a Groove Cruise Alaska or something in a different destination?
Interesting, we've always been discussing new and different things. A day in our office is always very interesting and we always are throwing ideas out there. The owner, Jason, is what we call a visionary, which means he's got all these crazy entrepreneurial idea and all sorts of visions. The thought of it has been tossed around, but no plans are in motion as of right now. I personally think that the Groove Cruise is very tropical, outdoor, beach, type of brand. That is kind of what we like our experiences to be, to be sunny, remote destinations. Some of our other cruises, that's definitely an option, and then there are some other cruises that we haven't even done yet, that would be a great fit for a colder climate like Alaska. But with Groove Cruise I think we're going to keep it in the sunny, warmer climates, with beaches and stuff like that.
Is there a dream or a goal that you guys have for Groove Cruise that you haven't hit yet?
Definitely, every year we have our annual strategy meeting where we map out our plan for the next three, five, ten years. The biggest goal for us, I don't want to put a number on it and say how many years, but we really want to push for international expansion. The likelihood of that happening has become increasingly higher which is very exciting. We're getting quotes on ships right now, for all over the world basically. Australia, Asia, Europe, really cool places we've been trying to take the Groove Cruise for a while, we feel we're almost ready to take that next step at this point. For me, being from the U.K. originally, I think a European Groove Cruise would be a huge personal highlight because I could share the experience with my friends and family on that side of the pond. In general I think any time we can take a brand overseas it's a huge accomplishment, a huge feat, and I think that's something as a company we're excited to spearhead in the next year to two years.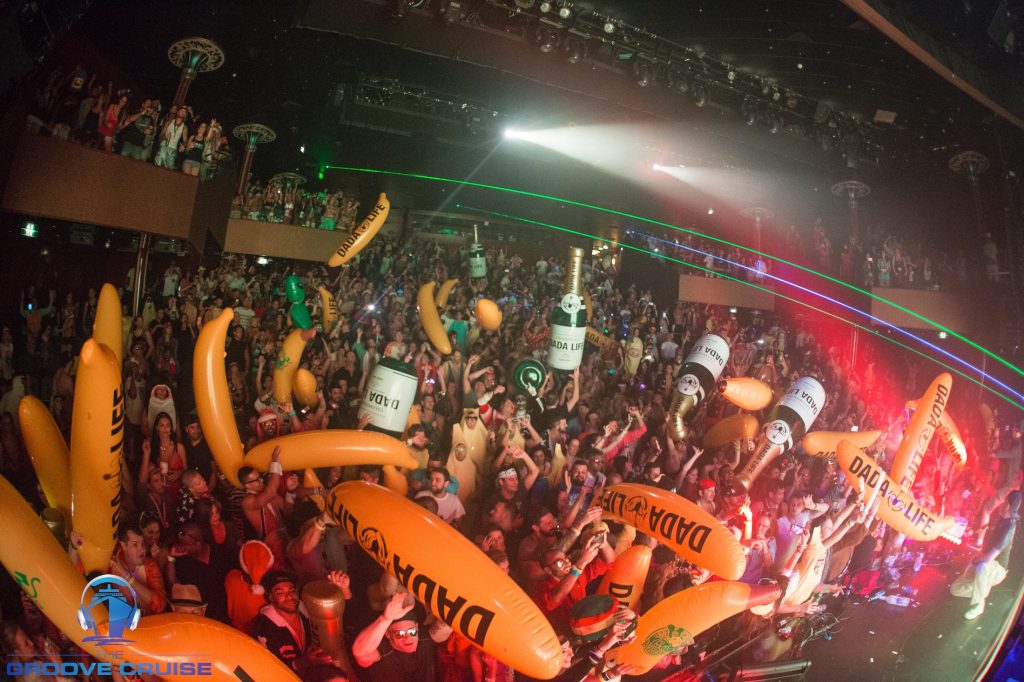 Are there any artists that haven't played Groove Cruise yet that you guys were looking to book or want to book?
There's a lot of artists that I'd like to book that we haven't been able to yet. We're always changing the artist strategy as well. Groove Cruise in general, our bread and butter that we want to be known for is trance and techno, really deep groovy underground music and euphoric trance. Those are our two signature sounds. That also differentiates us from a lot of the other boat cruises out there because musically we stick to what we like and what we're comfortable with on the artist side. Some artists we haven't worked with yet that we'd love to work with, obviously the generic big names like Armin van Buuren, Pete Tong, Alesso, Axwell /\ Ingrosso, those are all types of guys we'd love to have. The special guest we have for Groove Cruise Cabo right now is a guy we've been going after for years and we finally got him, so I'm really excited about that!
With Groove Cruise Miami, the lineup hasn't been released yet, but it is going to be within the next month. That lineup we went straight underground with a little bit of trance, that lineup is going to be super cool, super musical and there's a lot of artists on that boat that we haven't had, which I'm excited about. Obviously I don't want to get into names and stuff like that as a lot of it is verbal at the moment, but once this Miami lineup is announced I'll be checking off a lot of artists off the list for sure.
Is there a favorite memory or moment from a past Groove Cruise that sticks out as special to you?
I think that my favorite event on the Groove Cruise is the last party of the weekend. It's the sunrise celebration and it goes from 3am until 8am, or whenever customs shuts it down, whichever comes first. We'd go forever if we could. Those moments for me are pretty cool because throughout the weekend we're so busy, running around doing what we do, running the actual event, that it's hard to take a second and enjoy it every once in a while. That last party, the entire staff and I, we all go out and celebrate with each other. Seeing the whole ship there, the look on everyone's faces after the weekend that they just had, checking out everything that we had been able to accomplish, that's always a rewarding feeling for me.
Sort of like a production close out party…
Yeah, exactly, and we get to share that with our guests too. We know the guests very well because we spend so much time with them over the weekend. So I love spending my time with them and my staff together.
Can you give me the top reason to choose Groove Cruise, for those who may be still undecided about going?
It's without a doubt the attendees themselves that makes Groove Cruise different. It's not just any cruise but any other event that I've been to in my entire life. We say "Groove Cruise Fam" and it really is a family. I've never seen a more tight-knit, respectful, fun-loving group of people in my entire life. It's without a doubt what makes the Groove Cruise so special, you can feel the difference and the energy within 30 seconds of being on the boat. And if you ask any attendee that's ever been, they'll tell you the same as well. My personal take on why that is, is because I think that the cruise grew so organically over time we have a lot of people who return year after year. Our retention rate is extremely high, so everyone knows each other, everyone is kind of like a big family. When you get the camaraderie that a regular cruise brings, mix that with the Groove Cruise fam, and then all the music and production we do on the boat, it's a winning combination.
Finally, what are three must bring items that people wouldn't normally think of bringing on The Groove Cruise?
I get asked this a lot and I have a lot of different answers, let me think of some good ones. I think three items you should bring, I would definitely bring a onesie. The impromptu, 5am onesie parties that break out in the dining rooms is a highlight. I would say a onesie is mandatory. I would say plenty of Emergenc-E or B12, whatever your vitamin of choice is. The reason I say that is because it's a non-stop party, literally the music does not stop the entire time. For example, Groove Cruise Cabo is five days, 120 hours of straight music. We obviously want our guest to look at themselves, stay hydrated, and get the vitamins they need to support their bodies as they go through this crazy mission. So Emergenc-E or B12 would be a huge one for me. Lastly, I would say a captain's hat. I think it's cool when you get on the boat to throw on your captain's hat, it really is the icing on the cake of the whole experience and it really sets you off on the right foot. We all have our custom Groove Cruise Captain's Hat, people make their own if they want to customize them and such. It's a cool moment!
---
Connect with The Groove Cruise on Social Media: