Julian Jordan is at the forefront of dance music scene and clearly has no plans on stopping anytime soon. Dishing out some house tracks that will make you want to dance, he brings his own personal flair and a fresh spin on the genre. Julian has been making his mark on the EDM scene with both solo tracks and collaborations. You might know him for his tracks "Kangaroo", "BFAM", or "Blinded By The Light", but you also cannot forget his sick live shows that have taken him around the world. Coming off the release of newest tracks "Pilot" and "Rebound" Julian has shown that he intends on being a powerhouse that is here to stay. Look for more releases from Julian on his own GOLDKID Records in the future! I had the pleasure of sitting down with Julian before his set on Stage 7 at EDC Las Vegas 2016 to chat about his career as a DJ, take a look after the video!
Check out Julian Jordan's EDC Las Vegas 2016 Recap Video:
---
Was there a specific moment in which you realized you wanted to become a DJ?
I don't know actually, I'm not sure when it happened. I don't remember the moment, but I do remember that I always liked to play music for my friends, I would choose the music at parties or where ever. I listen to a lot of electronic music like Daft Punk and I was trying to play that out and mix it together. When I tried to mix all those tracks together is when I discovered the art of DJing. I did some research on that, I decided to save some money for a DJ set. That's when I saved a lot of money and bought my first set, I was about 13 years old back then, that's how it all got started. There wasn't just a specific moment, I just always loved electronic music. Just at one point I searched how to play it live and that's when I discovered it.
Who are some of your inspirations as an artist, who do you look up to?
My all-time inspirations are Daft Punk and The Prodigy, but I also love the Swedish House Mafia, they had a really big impact on EDM right now. Let me think, I really love M83. There are just so many great artists right now that are playing what they love and doing their own thing and that inspires me as well. Also the new artists that are coming up. If I see a young kid producing the sickest stuff ever without any knowledge of the whole game, that inspires me as well. So it doesn't have to be a big artist, it also could be just a kid that sends a promo to my email.
Do you have anything special in store for your fans here at EDC Las Vegas?
Yeah, a lot actually, a lot of new tracks, I've worked on so much new music the last couple months. We finished a lot of tracks and I want to play them all tonight. There is a lot of stuff in store for tonight!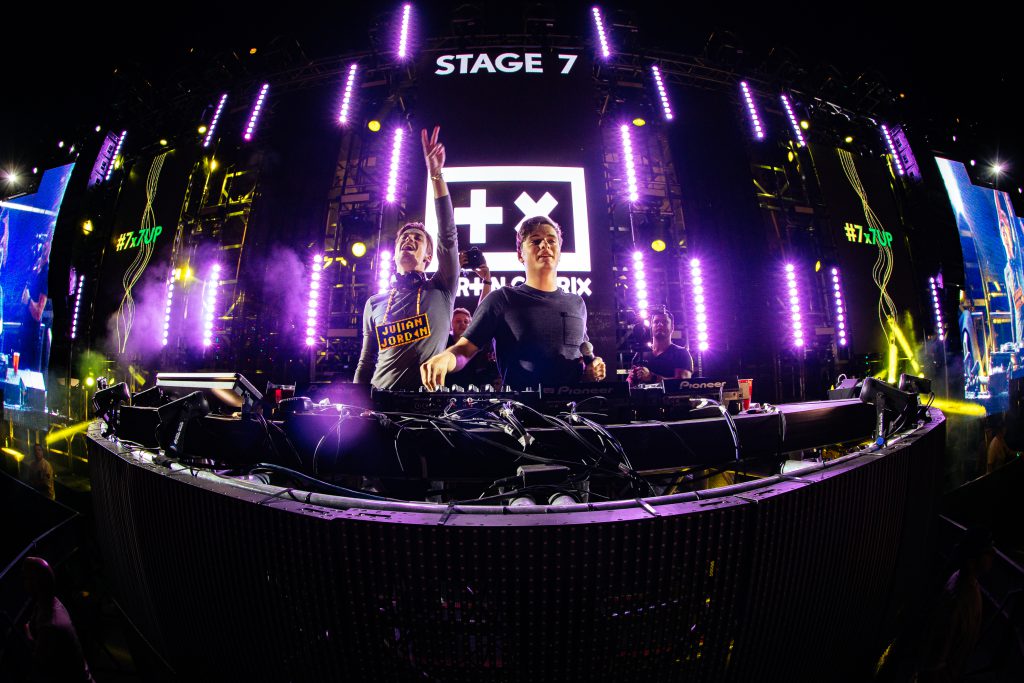 Making your debut back in 2012 on Spinnin' how do you feel you've evolved as an artist since then?
If I look back on the past years, it's been all a discovery. Every year you do bigger parties and see more people, play for bigger crowds, and every year is the next step. And right now I feel like it's all coming together. We're doing great, playing ultra main stage, it's a confirmation that things are going well. It's a discovery, a journey, you need to learn how to react, to play for a crowd and find your own sound and I think I finally discovered my Identity. Right now I'm working really hard to show the people my vision and identity. That's the whole journey until now!
You released your track "Pilot" back in April on Revealed Recordings, how do you feel crowd has reacted to it being played out live?
I created that track for the masses, for the festival crowd, and the crowd reacts really well. It's a festival track and it's also a club track, but also a gimmick track. It works so well and the crowd loves it, they really go wild. It's really good to see, especially in bigger crowds, the energy is so good and it gives me more energy to play longer or put more hours in the studio at home!
https://soundcloud.com/julianjordan/pilot-extended-mix
Do you have any pre-show rituals before you get on stage?
No, not really, I'm not really a ritual guy, I just like to be on time.
Do you prefer creating tracks that are collaborations with other artists more than your own, or do you prefer making your own tracks?
I like to collaborate because you can work with another artist with a different vision. I like to collaborate with people who are outside of EDM like a songwriter. I also like to do something for my own, and sometimes I feel that when I collaborate I don't get to do what I want to do 100%, so that's what I like about doing my own tracks. You can do your own thing and not think about what another DJ or Producer wants.
Playing shows all around the world, what are some memorable festivals or events you've played?
For me it was Ultra this year, on the main stage. Like I said earlier it was a confirmation. I recently started with my own team, I split with my old management and started with my own team and that worked out really well. And the Ultra Main Stage was confirmation it was going really well and that I was making the right choices. So for me it was THE event to confirm that I made a good choice.
What are your favorite pizza toppings?
I really like basic pizzas, I really like a Margherita. I don't know why, but it's really simple and super tasty. I always order Margherita or Pepperoni!
---
Connect with Julian Jordan on Social Media:
Website | Facebook | Twitter | Instagram | SoundCloud | YouTube