EDC Las Vegas 2016 Set Times, Festival Map, FAQ, & More!
EDC Las Vegas is THIS WEEKEND! The EDM Identity Team is super stoked for the 20th Anniversary of the best party on earth. Whether you're stoked on the lineup, the new additions to this year's festival grounds, or simply just excited to dance the night away, we are right there with you. To help make your trip one that is unforgettable, we want you to be in the know so check out the essential info!
Looking for some EDC Tips from veterans of the event? Click HERE and HERE!
---
EDC Las Vegas 2016 Essential Info:
Dates: June 17, 18 & 19, 2016
Parking lots open: 5:00 pm
Show times: 7:00 pm – 5:30 am
Venue Address: Las Vegas Motor Speedway, 7000 N Las Vegas Blvd Las Vegas, NV 89115
WILL CALL HOURS (Cause we know your tickets didn't come in time either)
6/16: 2pm–12am
6/17: 11am–4am
6/18: 2pm–3am
6/19: 2pm–11pm
Will Call Address: Caesars Palace, Roman Ballroom 3570 S Las Vegas Blvd, Las Vegas, NV 89109
ACCEPTABLE FORMS OF ID
Any US government-issued driver's license or ID card containing a photograph and date of birth
US or foreign government-issued passport containing a photograph and date of birth
Foreign government-issued driver's license/ID with color photocopy of passport (Not valid for 21+ wristband. To purchase alcohol or enter VIP areas, a physical passport or US ID will be required.)
UNACCEPTABLE FORMS OF ID
NO school ID
NO consular ID
NO birth certificates
NO photocopies of any ID
---
EDC Las Vegas 2016 Festival Map: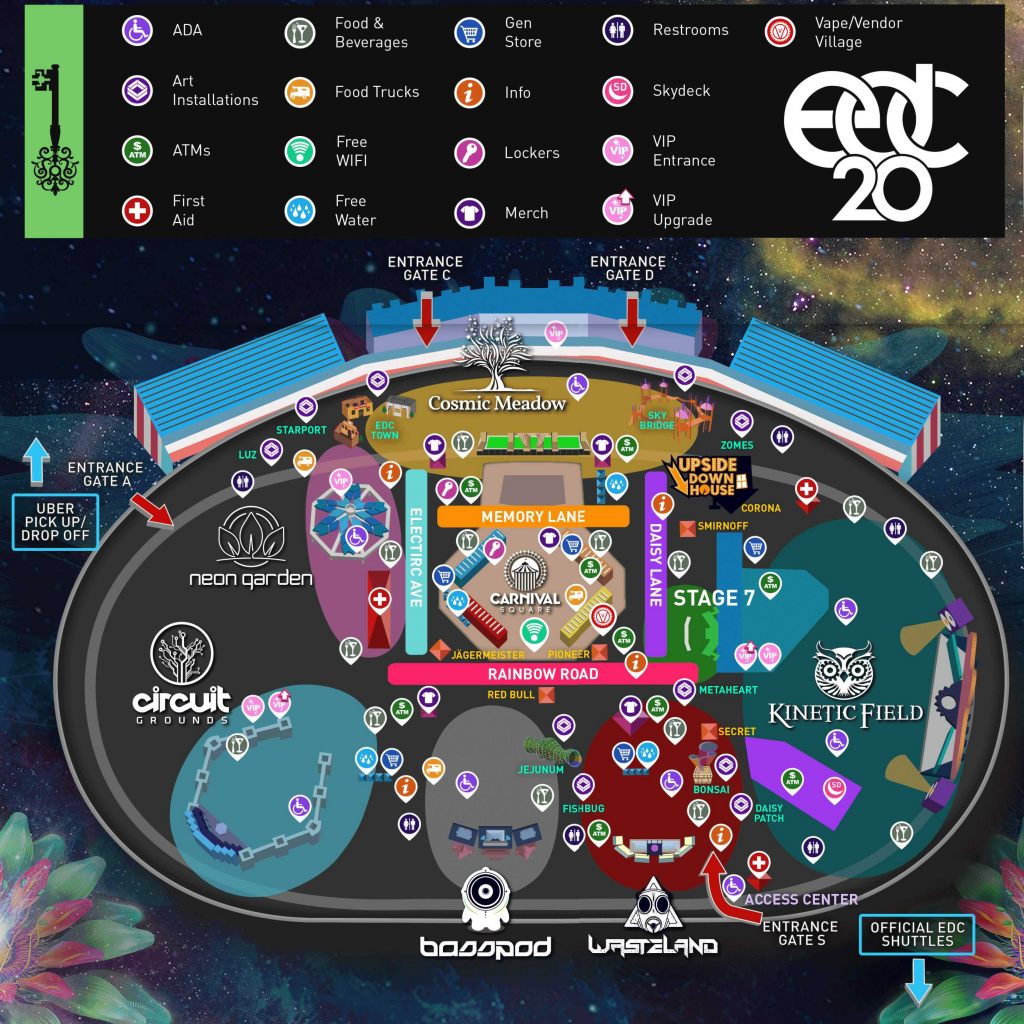 Click here for a full size copy of the map.
---
EDC Las Vegas 2016 Set Times:
Friday June 17th
Saturday June 18th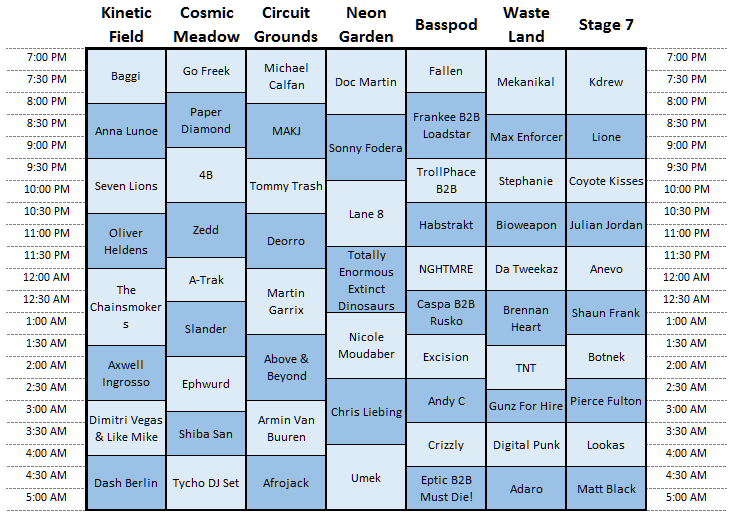 Sunday June 19th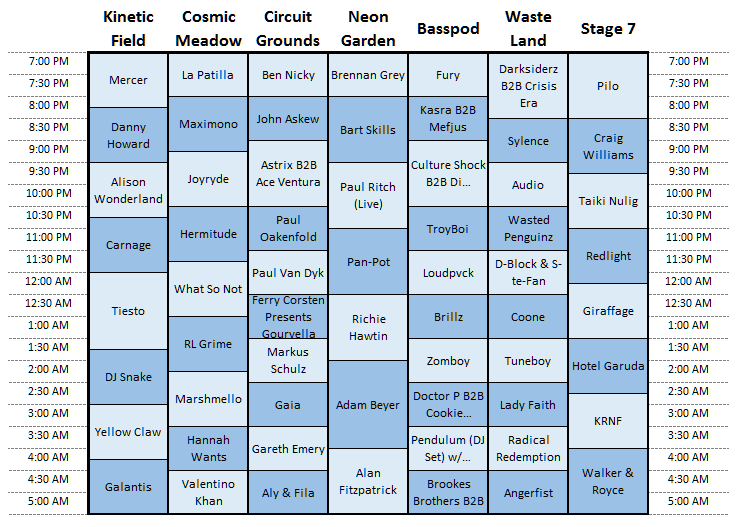 Click HERE for an Excel Spreadsheet with the set times for this weekend! (A BIG thanks to our friends at Reddit for this easy to read list and images).
---
EDC Las Vegas 2016 Parking Map & Shuttle Schedule: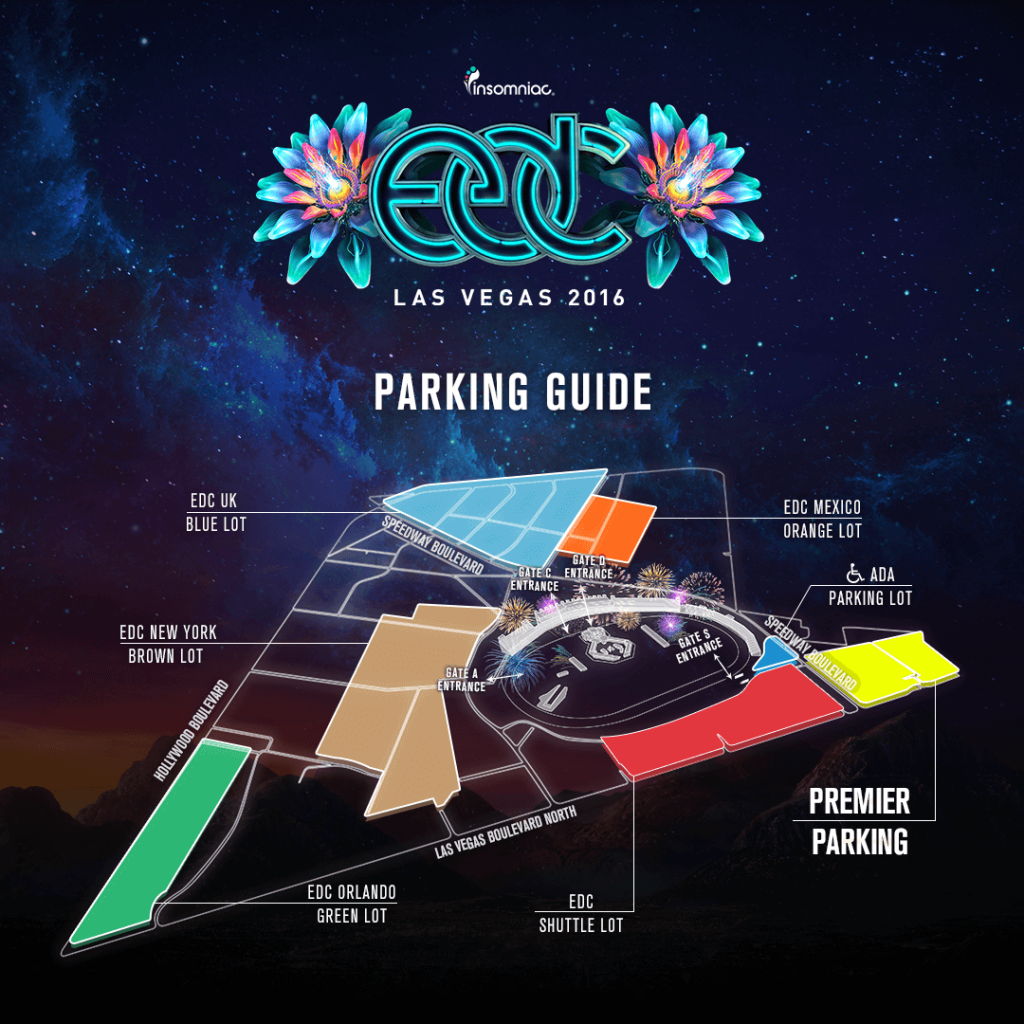 Vehicles must vacate the parking lot each day at the close of the festival. Any vehicles left in the lot between 10am and 4pm will be towed at the vehicle owner's expense. The following activities are strictly prohibited in the parking lot and areas surrounding the venue:
PROHIBITED PARKING LOT ACTIVITIES:
Tailgating
Camping/sleeping in your vehicle
Buying/selling tickets
Vandalism, loitering or other illegal behavior
Drinking alcohol
Illegal drug use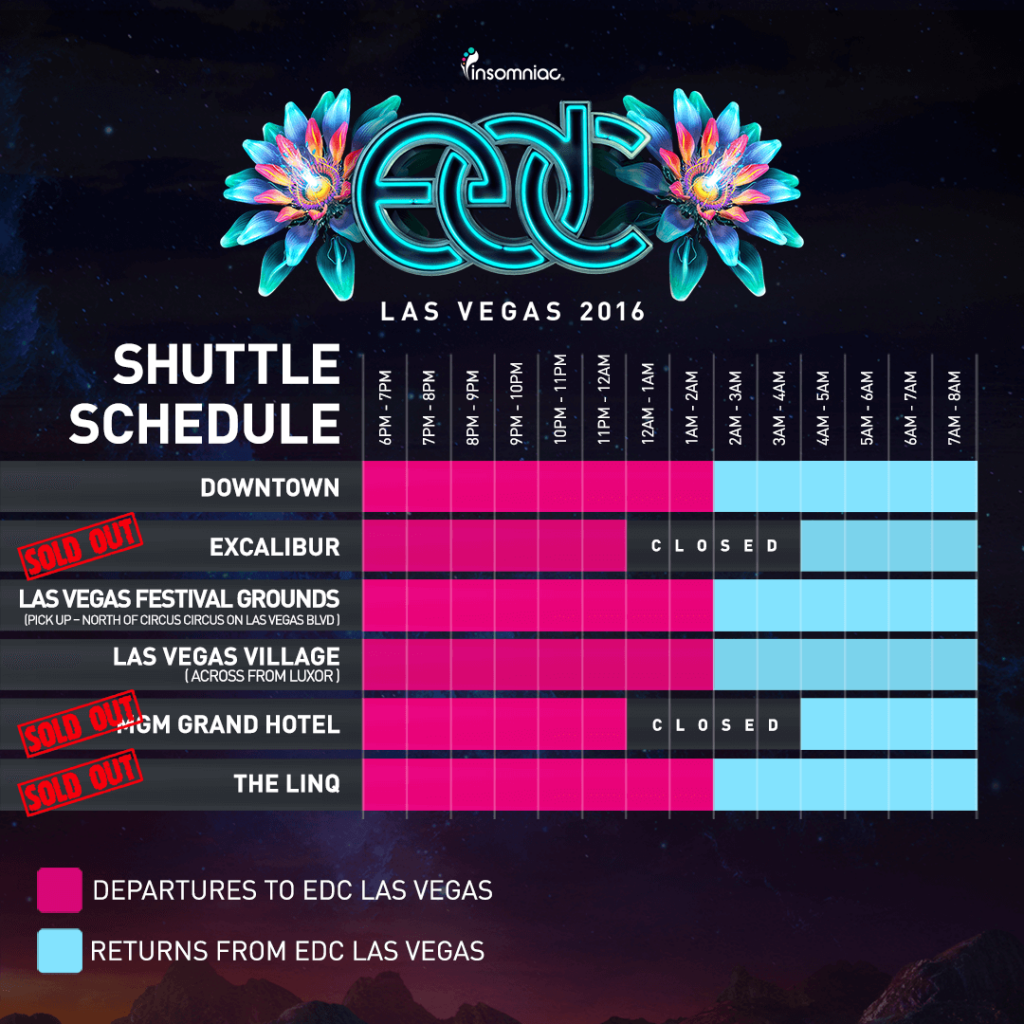 ---
Reminder To Mind Your Belongings
Unfortunately, many people have reported pickpockets, bag slashings, and theft of wallets, smartphones, purses and other valuables during this festival season. While this small number of bad apples in the bunch doesn't define an entire crowd, there are opportunistic people who come to these events to take advantage of unsuspecting party goers and it's important to be mindful of your valuables while at EDC.
Pay attention to who's around you and what's going on around you. Keep your wallet and phone in your front pocket(s) if you can. Treat your phone the same way you would treat cash; don't set it down on a table or bar and look away. If a friend isn't standing behind you in a crowd, be careful of your backpack or purse, and don't put valuables in a pocket that could easily be unzipped by someone behind in a crowded spot without you realizing.
EDC Las Vegas and Las Vegas in general is a very densely populated place, and is a well-known as a place where pick-pocketing of unsuspecting people occurs. It's easy to find yourself in a crowded environment in a line, crowd in the festival, elevator, or even out on the street where someone could slip your wallet or phone our of your pocket or bag in a matter of seconds. Stay alert, be careful, and make sure to not carry more than what you need!
---
Be Prepared For The Weather!
Its definitely important to stay hydrated all weekend, we cannot stress this enough. Also, its a good idea to apply plenty of sunscreen if you'll be attending any day parties in Las Vegas this week/weekend. It will definitely be a hot one so make sure to stay cool and be safe out there!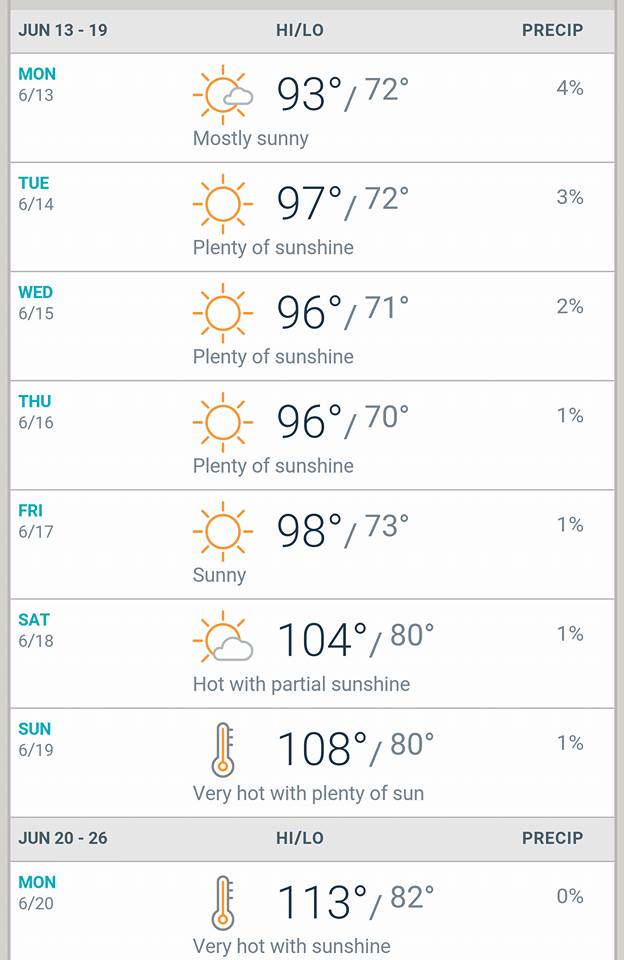 ---
EDC Las Vegas 2016 Do's and Don'ts
ACCEPTABLE  ITEMS
Small bags, single compartment backpacks, plush backpacks, & purses (maximum 12″×12″)
Official Insomniac water bottles—must be empty upon entry
Hydration packs with no more than two main compartments and one smaller compartment—must be empty upon entry
Cell phones and portable chargers/external batteries
Fanny packs
Sunglasses & hats
Lighters and sealed packs of cigarettes
Earplugs
Sealed lip balm & gloss
Powder makeup and sealed tampons
Glowsticks & glowing/illuminated costumes or jewelry
Sealed packs of gum
Prescription medication (must show physician's prescription and consult with a safety officer upon entry)
Hula hoops (including led hoops)
Inflatables (must be deflated upon entry)
Flags/banners or handmade signs (no corporate/company branded and no hard flag poles)
Festival totems or decorated pool noodles (see TOTEM GUIDELINES below)
Non-professional flash/still cameras, handheld video devices under 6" (sony action cam, GoPro, etc.), and GoPro extendable poles
E-cigs/vapes (refillable liquid chambers OK, must be empty upon arrival)
PROHIBITED  ITEMS
Illegal substances
Drugs or drug paraphernalia
Pets
Massagers
Laser pointers and air horns
LED gloves or LED microlights used for light shows
Pacifiers, dust masks or gas masks
Eye drops (available inside festival at the general store)
Over-the-counter medication
Liquid makeup or unsealed tampons (upon entry)
Glass, cans, cups or coolers
Markers, pens or spray paint
Large chains or spiked jewelry
Stickers, flyers
Balls or Frisbees
Tents, large umbrellas, chairs or blankets
Bota bags
Large purses, bags or backpack (over 12″×12″)
Stuffed animals or dolls
Open packs of cigarettes (upon entry)
Outside food or beverages (including alcohol and candy)
Weapons of any kind (includes pocket knives, pepper spray, fireworks, etc.)
Professional photo, video, or audio recording equipment (no detachable lenses, tripods, big zooms or commercial-use rigs)
TOTEM GUIDELINES
Maximum height is 10'.
Totems must be made from a lightweight material (e.g., foam, PVC / no solid metal).
Collapsible/telescoping camera extenders that follow the above guidelines are OK (lightweight/hollow aluminum/polycarbonate).
PVC, light wood, aluminum poles must be no thicker than 1" in diameter.
Decorated pool noodles work great for easy entrance through security.
Inflatables attached to totems must be deflated upon entry.
Any item deemed dangerous will not be allowed.
---