The Big Apple's version of our beloved Electric Daisy Carnival was a wild ride. Citi Field, home of the New York Mets, was transformed into a wonderland of beautiful art, talented performers, and of course, dedicated fans. While Insomniac's own recognizable style of art, stages, and of course, the signature owl at the main stage were all present, it almost did not feel like an Electric Daisy Carnival event at all for a number of reasons. Note: this was not a bad thing by any means! It was just so different from the three magical nights at the speedway we're all used to.
Here is my day by day experiences of EDC New York: travel, performers, fans, vibes, and more!
On The Way To EDC NY
The biggest difference between EDC Las Vegas was the event taking place from 2:00 PM to 11:00 PM, with doors opening at 1:00 PM (instead of it being an overnight event). It was so unusual to wake up at a time like 10:00 AM to prepare for EDC — usually we're all waking up at 5 PM and are in a rush to get ready to the speedway in Vegas!
Having never attended another EDC besides Las Vegas, or any music festival or rave on the East Coast, I had a lot of curiosity and tried to avoid having any negative preconceived notions based on things I've read about crowds like Ultra Miami. Once I transferred to the 7 train at Times Square, tons of eager and colorfully dressed party-goers filled the subway and began chatting among themselves, easing my concern about the crowd, and certainly confusing the hell out of other New Yorkers who had no idea what was going on this weekend.
From the moment the subway train opened to let us off at Mets-Willets point, tons of eager EDC attendees rushed out of the subway cars and began singing, chanting, clapping. The whole entire subway station was filled with fans chanting "EDC!" Regarding travel, this was probably the easiest and most simple to-and-from process at any Insomniac event, rave, festival, or perhaps ANY concert I've been to outside of New York. No waiting for shuttles, no shuttle passes required (only inexpensive NYC Metro cards), and no getting searched before getting on the subway — full Camelbaks and beverages allowed.
The Mets-Willets point station was a one minute walk from restrooms, merch lines (I was able to get all my swag right away), GA entry lines, and a short walk to VIP entry lines. I was actually blown away by how close it was — as soon as I left the subway station, it was literally RIGHT THERE! I arrived early to explore the VIP area and plan my afternoon and evening. I enjoyed the deluxe private bathrooms, elevated areas with seating, food trucks and VIP tables available for additional charges. In addition to the elevated viewing area, craft cocktails, and food trucks, the VIP area had fun activities like giant chess, giant connect four, and of course, a ball pit.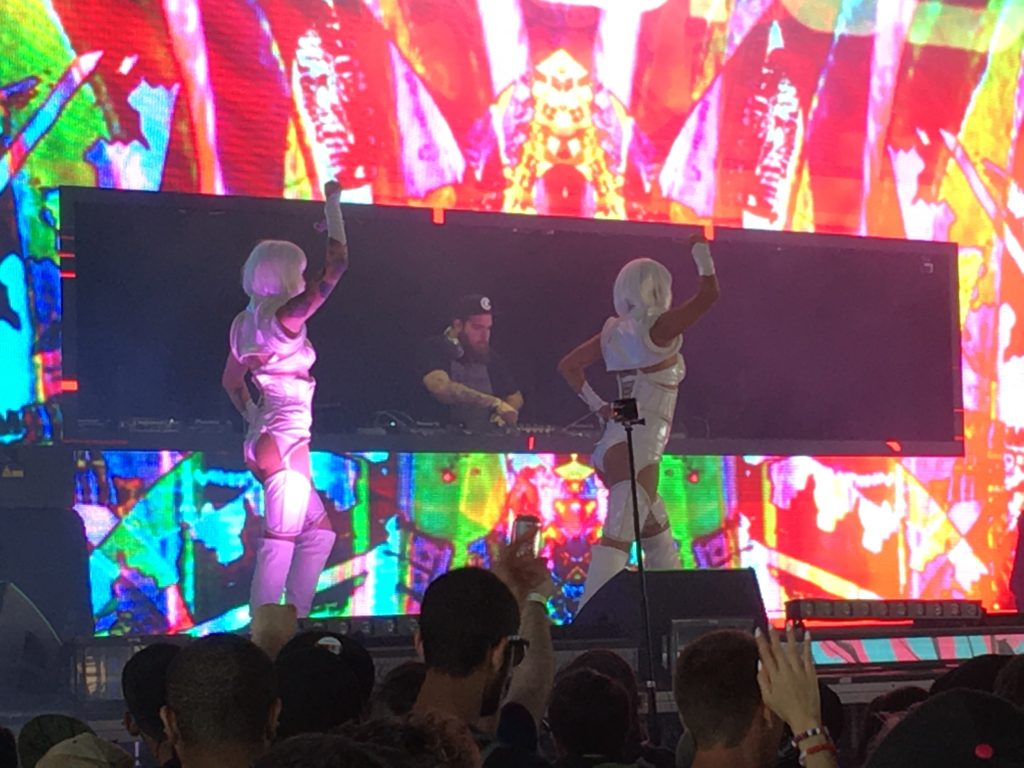 The VIP area was nestled between the two main stages, kineticFIELD and comicMEADOW. This resulted in the sounds between the two stages slightly bleeding during simultaneous sets, which was my only complaint with the event overall. However, it made it very easy to quickly run to the VIP areas to catch artists at kineticFIELD and cosmicMEADOW.
In the GA area, there were plenty of the typical food options, and even a Jaegermeister-supported hut with an elevated viewing area and bar. I didn't go in as the line was much too long; however, it was great that GA attendees had a place to grab a drink and sit down.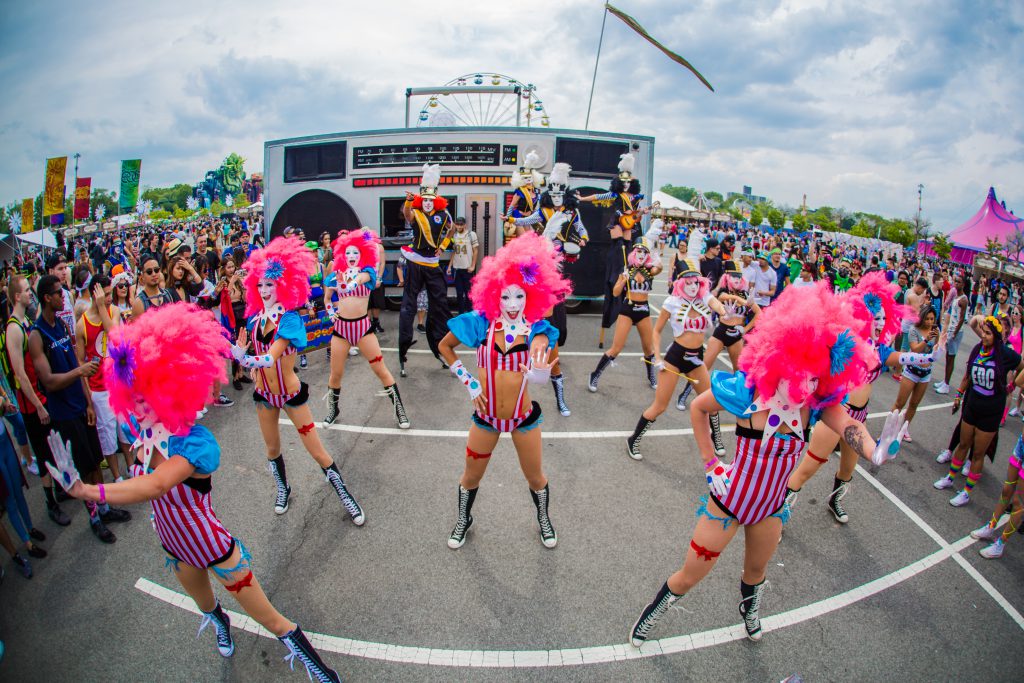 EDC NY Music Recap – Day One
Sirius XM DJ Liquid Todd warmed the crowd up with a funky house set as attendees filed through the gates. After Liquid Todd opened the stage, I was able to catch a little bit of Drezo's more uplifting and dancey house set before heading to circuitGROUNDs. I left Drezo a bit early to get to Will Atkinson in time, and the crowd was already loving his trance set to start the day. The crowd was packed to see him and there was no VIP area at this stage for me to escape to. This was fine though, as there was plenty of room to move around while the crowd enjoyed the set and prepared for Ben Nicky. I'm not sure if everyone was actually ready for his set which was, well, literally fire. Flaming visuals adorned the screen while Ben Nicky took the crowd away with an amazing set.

Hailing from Los Angeles myself, I , of course, had to check out the Bixel Boys set. They brought a lot of energy with them just as expected, as I have seen them a few times in the past. My favorite track played was a remix of Montell Jordan's "This is How We Do It". They even came down to the gate after their set was finished to greet the crowd and take some photos.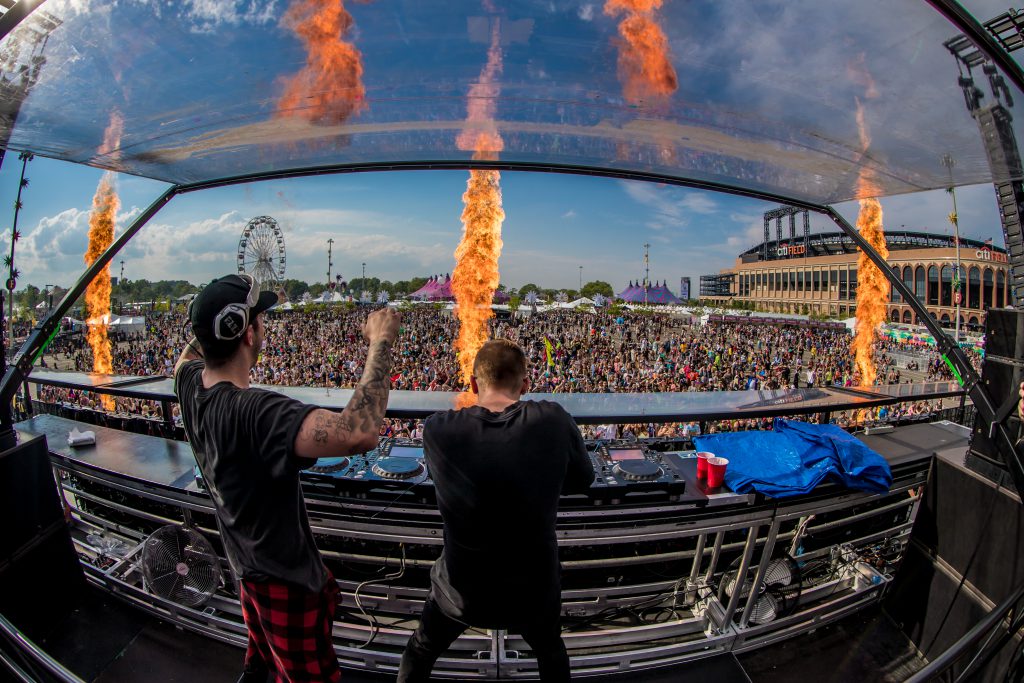 I stayed at cosmicMEADOW to catch an artist I was most excited for – Marshmello! #Mellogang was in full effect; plenty of homemade Marshmello heads and perlers could be seen throughout the festival all day. As this was Marshmello's first EDC, he was very excited and the crowd responded accordingly. He finished his set with one of the first songs that put him on the map: "WaNt U 2". Beautiful visuals, foam cannons, confetti, and fire shooting into the air were in full effect – I hope Mr. Marshmello didn't melt!
Madeon and Adventure Club played the opposite main stages afterward, and I was glad to be able to catch both of their sets, running back and forth every 20 minutes or so. Probably my favorite moment of the entire day was Adventure Club dropping "Gold", followed by a remix of Zara Larsson – "Never Forget You". The duo then thanked the EDC crowd as the sun set over Citi Field. It was a beautiful moment. Madeon opened with "You're On", playing most of his tracks from his new album "Adventure" and keeping the crowd entertained in between. Overall I enjoyed it, and I personally love his music!
The last act that I caught was Ferry Corsten presents Gouryella. As we all know, anything Ferry is involved in is incredible, from his solo work to Gouryella, to his project New World Punx with Markus Schulz. Many attendees left before he performed, which provided easy access to watch his set. You could tell that the rest of the crowd who stayed had stayed for him and were dedicated fans. There was a definite connection to the crowd and to Ferry. I look forward to seeing him again, as Gouryella, New World Punx, or simply as himself.
EDC NY Music Recap – Day Two
By day two, I had a good sense of the venue and the vibes of the crowd. I entered with this mindset and was not let down. I got to the event early, so I caught Lost Kings first. Similar to the vibe of day one, they also played a house / top 40 set to get party-goers in the mood. It was a great set to just sit, have a drink, dance around, and chill out to. I then headed over to see Throttle on the other side of cosmicMEADOW, who was also getting party-goers on the other side of the stage ready. This ended up being one of my favorite sets on day two, Throttle was just so much fun!
I planned to stick around to see Dash Berlin, but I have seen him many times before and was in the mood for some bass music instead, so I headed over to circuitGROUNDS to watch Trollphace. I was not disappointed. The energy from him as a performer and the crowd was unbelievable. Some attendees were so excited that they took it just a little too far and started shaking a gate attached to a speaker. People were still respectful of each other, so that was nice.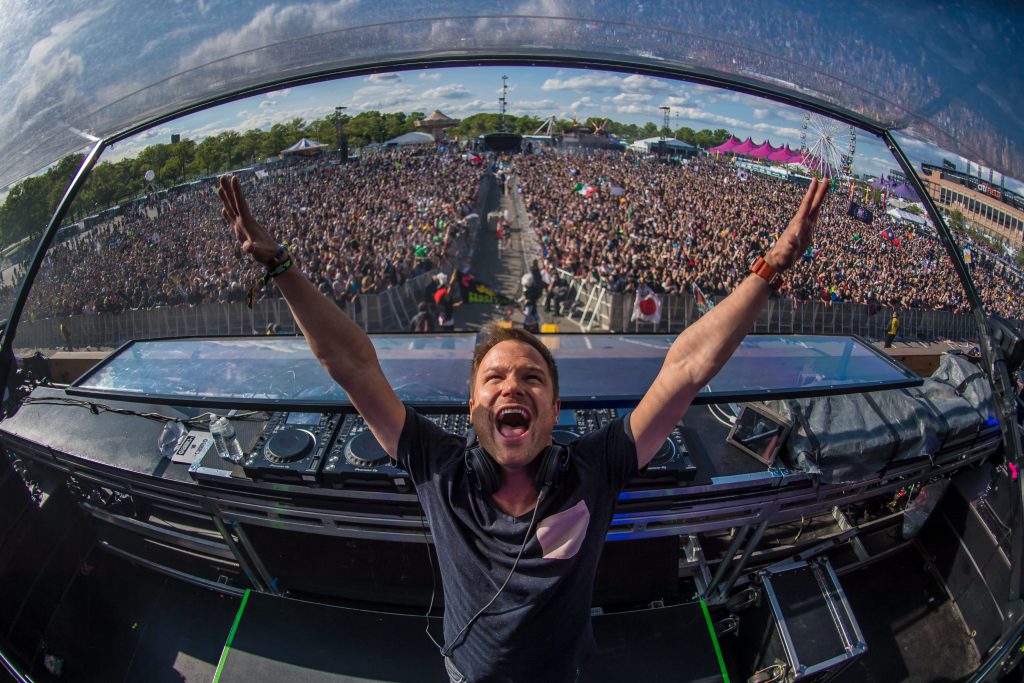 After some hydration and a short break from dancing, I went back to the VIP area near the stages to grab some delicious food (which I will showcase later) and to listen to Oliver Heldens. I enjoyed his house set, and it was easy to hear the music while grabbing food and a drink.
cosmicMEADOW was my next destination for Alison Wonderland and Seven Lions. It took a little while for the entire crowd to migrate to the stage, but that didn't stop Alison Wonderland from throwing 100% of her energy into her set. She is truly a DJ that not only knows what music works for every crowd she plays for, but connects with the crowd as well. In no time, cosmicMEADOW was packed for her set. I enjoyed the pyrotechnics, visuals, and surprise Jack U drops.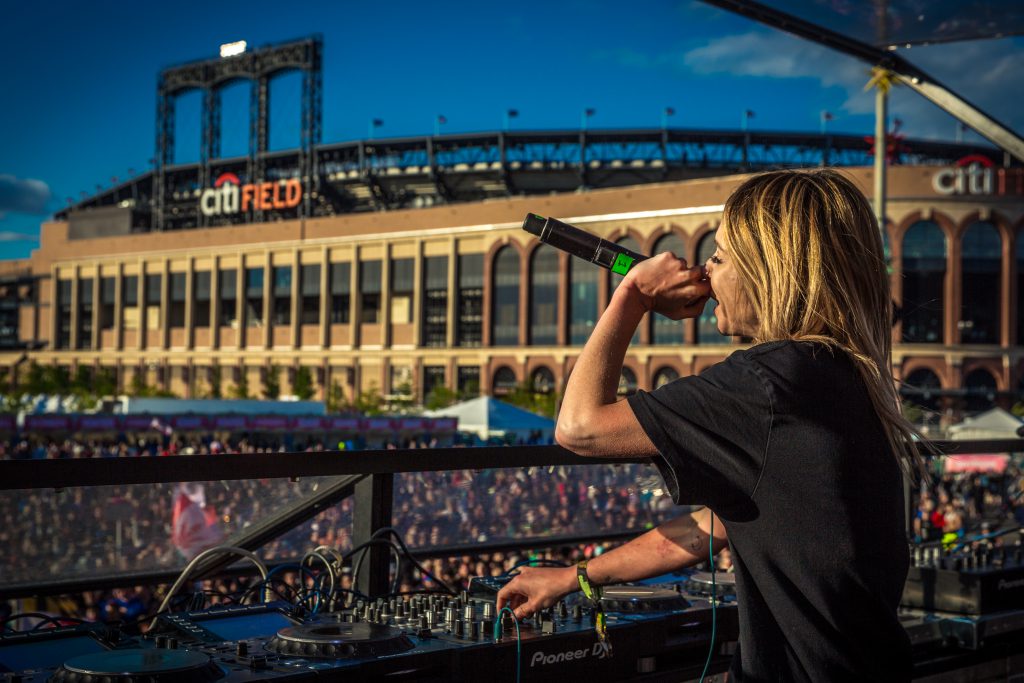 Seven Lions is one of my favorite EDM artists, and every time I see him his sets always blow me away. He avoids simple ten minute long transitions between his well-known singles. Although he does play what everyone can sing along to, you never know what's going to happen in between. Will it be a funky, dance-y transition? Or will it be psy-trance? You just never know! He pleased us with everything from his top singles to faster BPM tracks.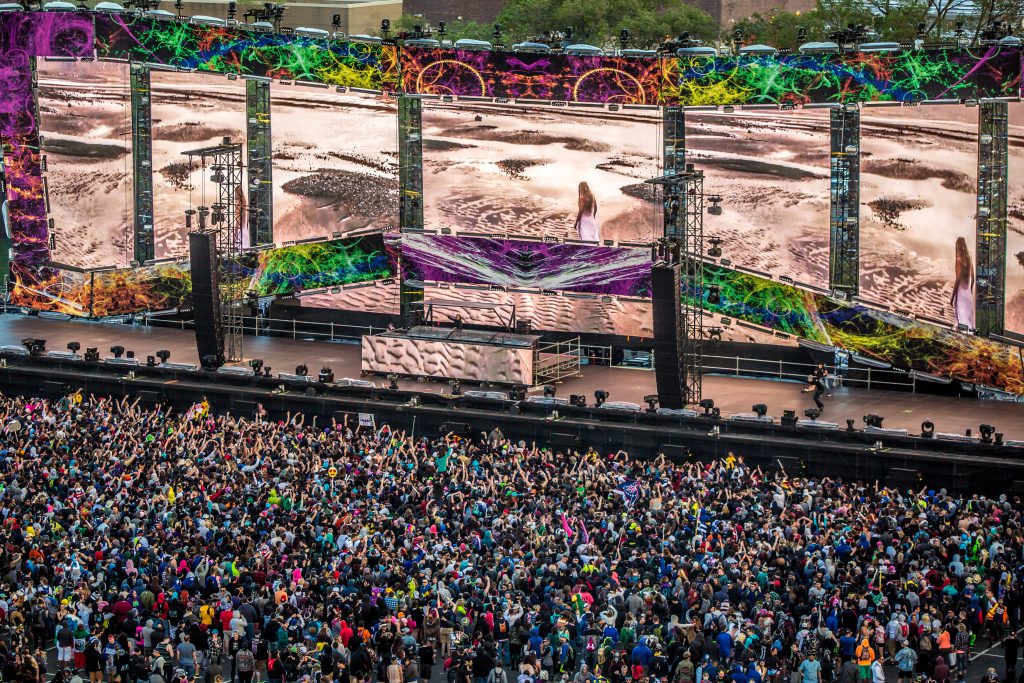 Finally, I was able to catch Eric Prydz, and I was eager to see him in a festival environment. Since the release of his critically acclaimed 'Opus' record, Prydz has become one of the most respected producers and DJs in the scene right now. His set was more uplifting than the darker techno he plays as Cirez D (who I'm also eager to see), but since this was a large festival I expected a popular radio-friendly set and that's exactly what was delivered.
EDC NY Food Recap
In addition to typical "festival food" available at most events, the VIP area had a wonderful selection of food trucks. I chose a delicious chicken wrap from Souvlaki and a waffle from Wafels & Dinges for dessert. Both were out of this world — if you're in NYC, you must check them out!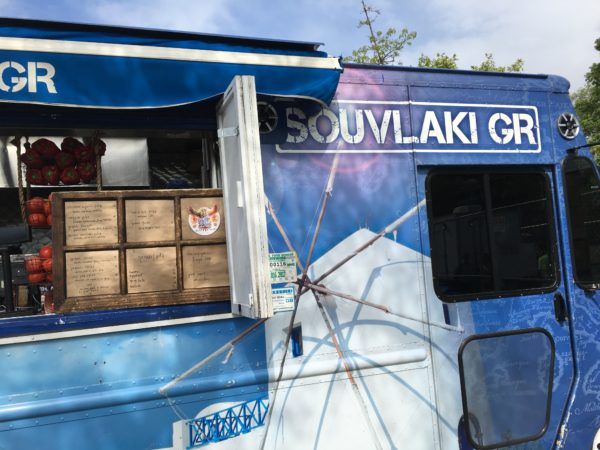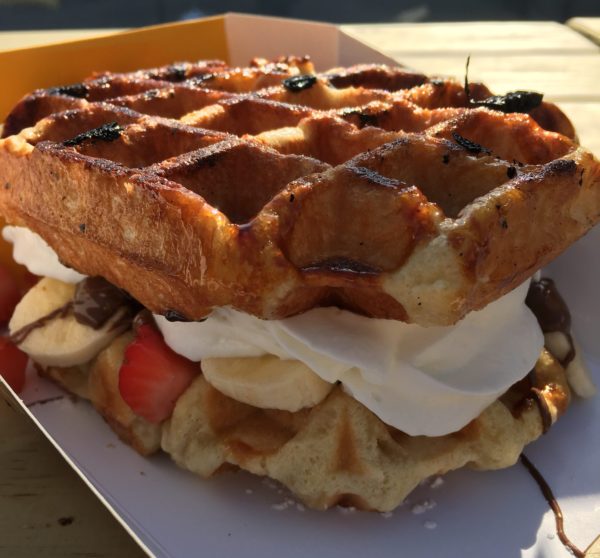 EDC NY Overall Recap
As far as the overall event, it truly felt more like a festival than EDC, being that it ended so early, no shuttles, and being able to get to and from Citi Field in 20 minutes. I also saw fewer totems, kandi, and creative costumes. It seems the New York EDC-goers dressed either for comfort or to impress. There is nothing wrong with that, I was just a little surprised coming from the West Coast.
I'm not sure if this was due to the difference of the crowd, or that Insomniac simply provided more trash cans, but the crowd was very respectful of the venue. I saw little trash or disrespectful behavior, no one throwing trash on the ground, no pushing or fighting, and no negative vibes. Overall, I really enjoyed my first East Coast event. I encourage everyone to attend EDC New York if you are able no matter if you have a ticket to EDC LV or not!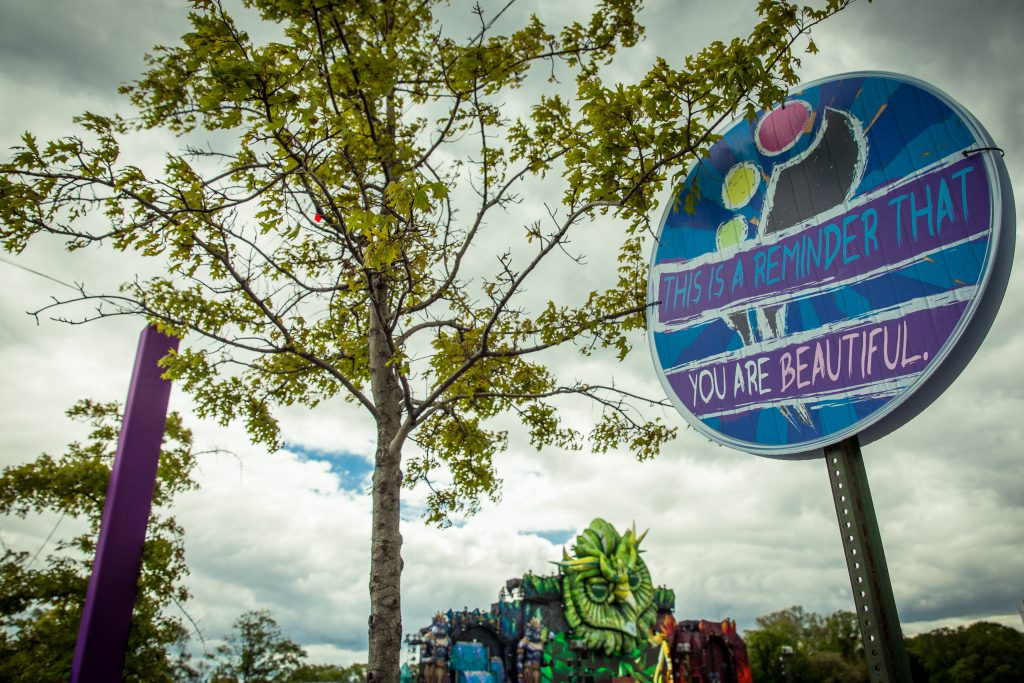 ---
Connect with EDC New York 2016 on Social Media: