June 3rd is fast approaching and is one step closer to the release of Above & Beyond's 'Acoustic ll' album. But, have no fear because while we patiently wait, Above & Beyond has released a song straight off the highly anticipated album. The song, "No One On Earth", features Zoe Johnston, an Above & Beyond staple vocalist. "No One On Earth" is actually an Above & Beyond Classic and the first track in which Above & Beyond made the decision to use Zoe Johnston as the vocalist. Reborn in 2016 with an acoustic twist, the track is back and more beautiful than ever.
"In 2004, in a very lonely and introspective phase of life, I went up to my attic studio with a CD of music I'd got in the post from three guys called 'Above & Beyond,'" says Johnston. "I wrote and recorded until 4am, dreaming of aliens coming to rescue me and take me to a humanless planet of intrigue and beauty for a little heart repairing session. We all want to go there sometimes, don't we? It turned out that this song was the start of a beautiful 12 year adventure with Tony, Paavo and Jono. I'm really fond of it." – Zoe Johnston
Listen to Above & Beyond – "No One On Earth" feat. Zoe Johnston on YouTube:
Jono Grant, Tony McGuinness and Paavo Siljamäki, the men that make up Above & Beyond, are probably the most brilliant men in the electronic dance music industry. They are true musicians in their own rite. Proving their musical expertise by joining the ranks of an 18-34 piece band/orchestra at their acoustic shows with Jono on Rhodes, Tony on guitar and vocals, and Paavo on piano. If you have ever seen them live then you know that their music speaks for itself. Intense, beautiful, full of meaning, and brilliant, whether in club or acoustic form, almost every Above & Beyond track becomes an instant hit. I have no doubt that the revival of " No One On Earth", as well as all of the other tracks on "Acoustic ll", will have a beautiful reception from Above & Beyond fans all over the world.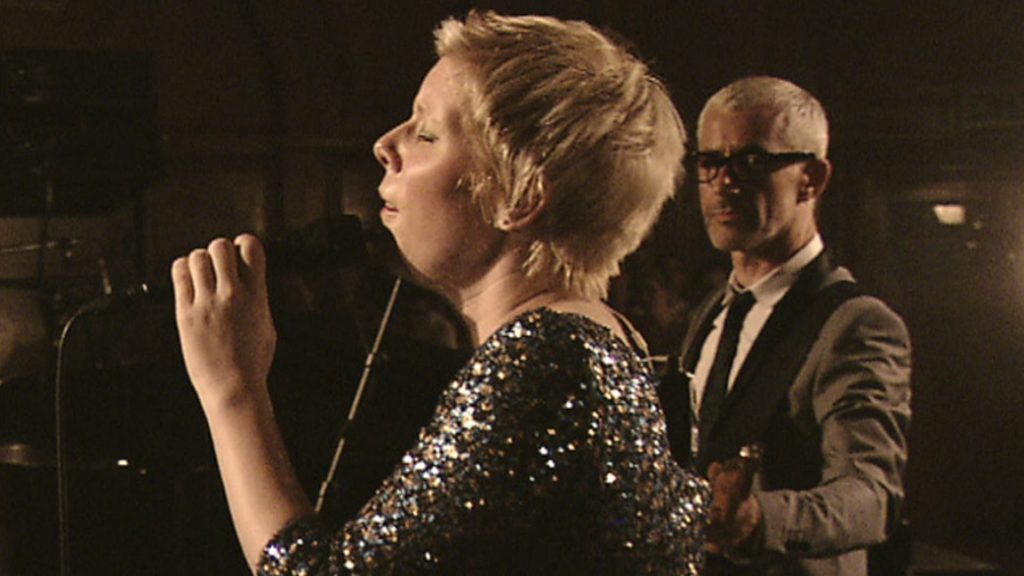 ---
Check out the full tracklist for Acoustic II:
Hello
We're All We Need
On My Way To Heaven
Save Me
All Over The World
No One On Earth
Black Room Boy
Peace Of Mind
Sticky Fingers
Alchemy
Counting Down The Days / Liquid Love
Blue Sky Action
Another Chance
'Acoustic ll' can be pre-ordered HERE!
The last remaining tickets for Above & Beyond's Acoustic II shows at The Berkeley Greek Theatre, Beacon Theatre in New York and Waikiki Shell, Honolulu, can be purchased HERE!
---
But wait, there's more! Aspiring musicians ready to take the next step in their career have been given a major opportunity through the Guitar Center presents Cover Me discovery program! Now through June 30th, unsigned artists can submit their cover of Above & Beyond's "Blue Sky Action" for a chance at winning studio time with Above & Beyond in Las Vegas, NV, new equipment from Pioneer, Roland, Sennheiser, Marq Lighting, QSC, and 8DIO, and $10,000! Submissions will be ranked on their social media engagement and fan growth throughout the submission period. The top-ranked 100 artists will be reviewed by Above & Beyond to hand pick the grand prize winner. This is an amazing opportunity and for those who have entered or will be entering soon, I wish you good luck! More info can be found HERE! Now that we are all up to date on the latest Above & Beyond news and announcements, the only thing left to do is kick back, relax, take another listen to " No One On Earth", and get cracking on your very own cover of " Blue Sky Action".
---
Follow Above & Beyond on Social Media:
Website | Facebook | Twitter | Instagram