Moby is set to release "Music From Porcelain" to contain tracks that accompany his memoirs. Check below for links to purchase the album and dates for his book tour!
American DJ, Moby is sharing a piece of himself with his fans. On May 17th, he is set to release a book of memoirs entitle, "Porcelain" via Penguin Press. In his book, Moby recounts the ups and downs of his career  as well as the times he crossed paths with memorable artists of that era, including Madonna, Run DMC, Jeff Buckley and Sonic Youth. Moby is considered to be an unlikely success story in electronic music as a devout Christian, vegan, straight kid from the suburbs; basically in a time where he was the polar opposite of other artists in the same at the time. Regardless, his unique sound, humility and work ethic enabled him to be one the most influential musicians of our time.
"The music in 'Porcelain' is almost as important a character in the book as I am. to that end I've compiled a collection of songs written about in the book, both mine and other people's, in a little time capsule to accompany it. These songs all remind me of the New York that I lived in and was smitten with from 1989 – 1999," – Moby
The accompanying album, "Music From Porcelain" is two-disc set; disc one is a newly re-mastered compilation of classic tracks including, "Bodyrock," "Honey," and "Porcelain" and disc two features important dance tracks of that era. 
Moby will be embarking on a North American Book Tour throughout May and June. Check out the dates below: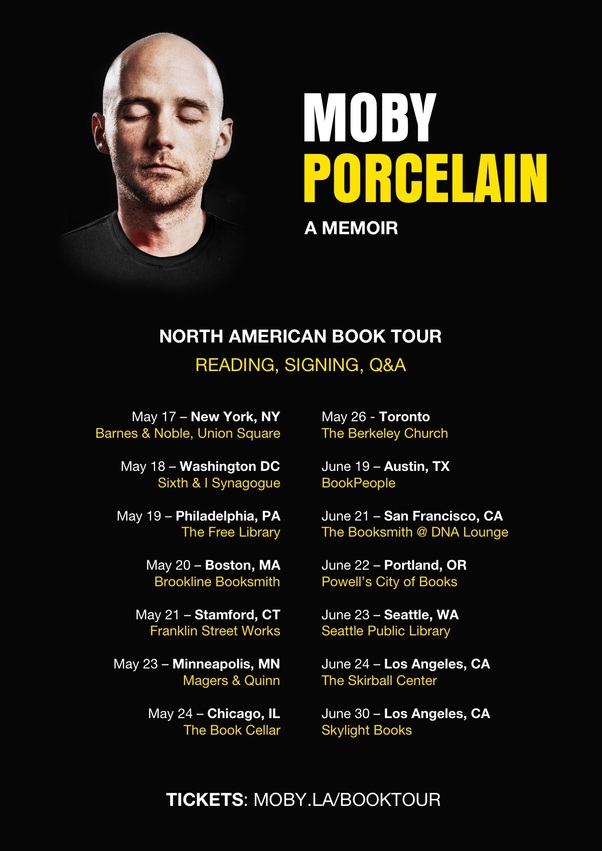 Pre-purchase the "Music From Porcelain" HERE!
Purchase tickets to the "Porcelain" memoir book tour HERE!
---
Follow Moby on Social Media: