Herbology is coming off of a successful 2015 and set to have a big year with some new releases. 2016 began by playing a packed show at Beta Nightclub in Denver, supporting Digital Junkiez and Manufactured Superstars. The duo released multiple tracks on Manufactured Superstar's label, most notably "Claire de Tune", which charted at #88 in the Progressive House chart! The track has received radio support from Michael Woods and Clint Maximus's Edge Radio Show with Antonio Giacca.
Throughout 2015, the duo racked up support from Jewelz and Sparks, Danny Avila, and Starkillers. Be on the look out for a three track EP from Herbology on Starkiller's Brawla Records this year. The duo also has plans to release a free download on Shelco Garcia and Teenwolf's label House Party Records. Expect to see Herbology on the rise in 2016 and beyond. This dynamic duo was also kind enough to provide us with an MLA Guest Mix for your listening pleasure!
Stream EDMID Guest Mix 019 || Herbology on Mixcloud:
MLA Guest Mix 019 || Herbology Track List:
Herbology – ID
Herbology – Claire de Tune
Herbology – Creepin'
Antoine Delvig & Gregori Hawk – Fump
Herbology – ID
Alok & Shapeless – Who Gives
Herbology – ID
---
What was your inspiration in becoming a DJ?
Malcolm: I have been inspired to DJ since I was 12. I messed around with mixers throughout middle school and high school eventually finding house/electronic music. I then pursued figuring out how to mix that style instead of Hip-Hop. John didn't get exposed to Dj'ing until I met him.
John: Attending our first events, seeing the music live on a huge system and the atmosphere intrigued us into wanting to pursue DJing more seriously.
Having a specific "sound" is important in the EDM world. What would you describe your sound as?
Our sound constantly is evolving . Our sound has a lot of tech house influence, and a touch of classical influence. Hip-hop has also been a major influence to us over the years. We always try to create a nice atmosphere or vibe. We use a lot of heavy bass synths and groovier sounds. Progressive House has also influenced our music and song design over the years. We would categorize our sound usually based on the record we are writing at the time. Although we have produced multiple genres our signature sound is more of an electro/future house sound. Our influences play a major role in our tracks.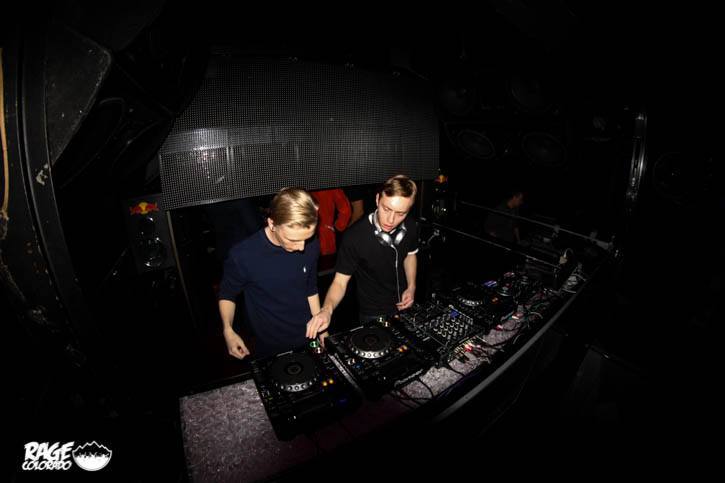 If you could play a b2b set with any artist, who would it be and why?
Maceo Plex, he is a legendary producer/DJ. His music is amazing and it would be a dream of ours to share the stage with him. His set has the crowd mesmerized from start to finished and playing b2b with him would be a rather enjoyable and honorable experience.
Do you have a favorite event that you've been able to play?
We were able to play Insomniac's Nocturnal Wonderland 2014. Insomniac always does a phenomenal job with their productions. We had the chance to meet a lot of great people in the industry and was an overall unforgettable experience.
What about the Electronic Music Scene specifically speaks to you?
The diversity of sounds, and cultures. The Electronic Music Scene is all over the world, it is amazing it hear the range of diverse influences in the music. It also is amazing to see how people from all over can come together to enjoy the music.
If you could pick 3 artists to listen to for the rest of your life, who would they be and why?
Eric Prydz, EDX, Michael Woods. These producers have been timeless for us and we only feel their music will continue to amaze us.
Which artist was your introduction to Electronic Music?
Eric Prydz.
What is your favorite event that you have attended together?
Spring Awakening 2015. The talent was great. We enjoyed seeing Dusky, Eric Prydz, Duke Dumont, Eats Everything, MK, Derrick Carter, Jamie Jones, Cajmere and many more all in one weekend. Chicago has an atmosphere and crowd like no other, the roots of the music really can be felt within the city. We haven't attended many festivals together and this one was very special due to the venue/city (Soldier Field) and the talent. Not to mention it was the same week the Blackhawks clinched the Stanley Cup so the city was buzzing.
What is your favorite ice cream?
John: Mint Chocolate Chip
Malcolm: Chocolate Chip Cookie Dough
---
Follow Herbology on Social Media: