Spring is upon us and down here on the Gulf Coast that can only mean one thing. Hangout Music Festival is right around the corner! This festival is particularly special because for a short time, once a year, our little beach town of Gulf Shores, AL becomes an international hot spot, hosting people who make the journey from all over the globe. Boasting beach front stages, a lineup that includes everyone from world-renowned DJ's, hip hop artists, bands, and singer/songwriters, a vibe that is family friendly, and a sub tropic climate, The Hangout Music Festival is one party you are gonna want to experience!
So, now that I have your attention let's talk DJ's! No multi genre festival would be complete without an electronic dance music stage. And The Hangout Music Festival always gives its visitors what they crave. Kicking off the weekend at the preshow, ravers from all over the Gulf will be doing the "Harlem Shake" as Baauer and Samo Sound Boy take over the stage and show the beach how to party electronic dance music style. Then, come Friday, May 20th the beach will be ready to get their rave on as The Chainsmokers, Snails, Alison Wonderland, and Jack Novak pump the speakers full of pulse pounding beats. Continuing the party on Saturday, Calvin Harris and 3LAU take over to deliver the main stage vibes and remind our little town what Big Room is all about! And finally, on Sunday we round things out with Flume and Bro Safari keeping the bass pumping and the party jumping! The rest of the time slots will be filled with a vast array of bands, rhyme spitters, booty shakers, and songbirds. A little something to satisfy everyones musical taste.
To Purchase Hangout Music Festival 2016 Passes or Thursday Kickoff Party Tickets click HERE!
---
Hangout Music Festival 2016 Lineup: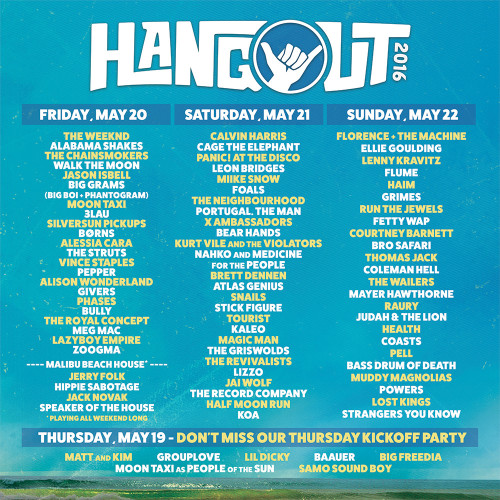 ---
Hangout Music Festival 2016 Map: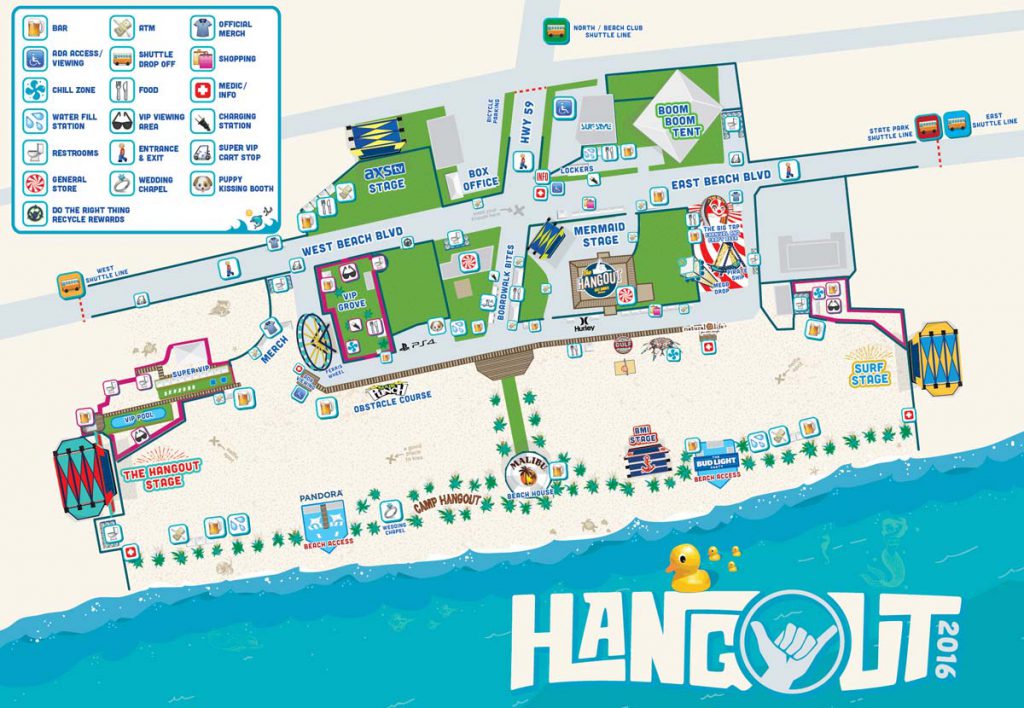 ---
Hangout Music Festival 2016 Event Details:
Festival Hours:
Friday, May 20th :: 11am-11pm
Saturday, May 21st :: 11am-11pm
Sunday, May 22nd :: 11am-11pm
*Times subject to change
Box Office Hours:
Wednesday, May 18th :: 10am-8pm
Thursday, May 19th :: 10am-10pm
Friday, May 20th :: 10am-10pm
Saturday, May 21st :: 10am-10pm
Sunday, May 22nd :: 10am-6pm
*Times subject to change
General Info:
Ages 18 and over welcome, those 17 and under must be accompanied by an adult over the age of 21.
The Festival is general admission.
Wristbands must be worn for entry into the Festival and allow for re-entry into the Festival at anytime.
Festival happens rain or shine.
No refunds or exchanges.
Lineup subject to change.
All patrons subject to search.
We recommend that you bring a hat, sunglasses, and sunscreen.
ADA Accessibility:
The Hangout Music Festival provides ADA accessible parking, entrances, restrooms, viewing and seating. Seating in the ADA Viewing area is limited and one companion may accompany each ADA patron.
For more info on accessibility at Hangout Fest please click here or email access@hangoutmusicfest.com.
Parking & Shuttle Info:
The Hangout offers a pre-paid shuttle service to the festival each day from various locations throughout the area. Parking near the festival is extremely limited. Seriously, keep your car parked and let us do the driving.
---
Now, how are you gonna get to the festival? The Hangout Music Festival has got this all worked out! Check out their Travel Packages, Condo Rentals, and Shuttle Pass info and then get your booties down to the beach for some sun and fun!!
---
Take a peek at past editions of Hangout Music Festival:
---
Follow Hangout Music Festival on Social Media: