Coachella 2016 is just hours away and we are legitimately counting down the minutes till we're back in paradise! The Empire Polo Grounds in Indio are about to play host to a global crowd for the next two weekends, and we want you to be in the know with some important information!. Art, music, and amazing people will seen this weekend, stay tuned to our social media channels for our favorite moments from the next two weekends.
Important Info:
Venue gates open at 11:00AM each day
Camping opens Thursday 9:00AM
Rain or Shine
Festival pass must be worn at all times
Wristbands void if tampered with or removed
Line Up / Set times subject to change
Everyone subject to search upon entry
The festival is all ages. Age 5 & under are free.
Day Parking is Free
Wristband Registration Info:
ONLY activate the wristband you will be wearing.
That means if you bought 2 wristbands for the same weekend, whoever is wearing the 2nd one has to activate theirs on their own coachella.com account
ONLY activate ONE wristband per Coachella.com account
Wristbands can only be activated once.
There are NO Changes after you have activated a wristband.
It doesn't really matter who wears it but it must be activated.
Activate prior to applying it onto your wrist. You will be unable to read your Unique ID number once on your wrist.
To activate your wristband, simply LOG IN to your existing coachella.com account (or REGISTER a Coachella.com account if this is your first time).  You may also do this via our 2016 mobile app.  Please note: just because you ordered passes for Coachella (from Front Gate Tickets) doesn't mean you made a Coachella.com account.  It's not the same thing.
Once you have logged in (or after you created a coachella.com account and logged in), scroll down to the "activate your wristband" section on your profile and follow the directions.  You'll enter your first name, last name, and the wristband number as pictured.
---
Coachella 2016 Set Times:
FRIDAY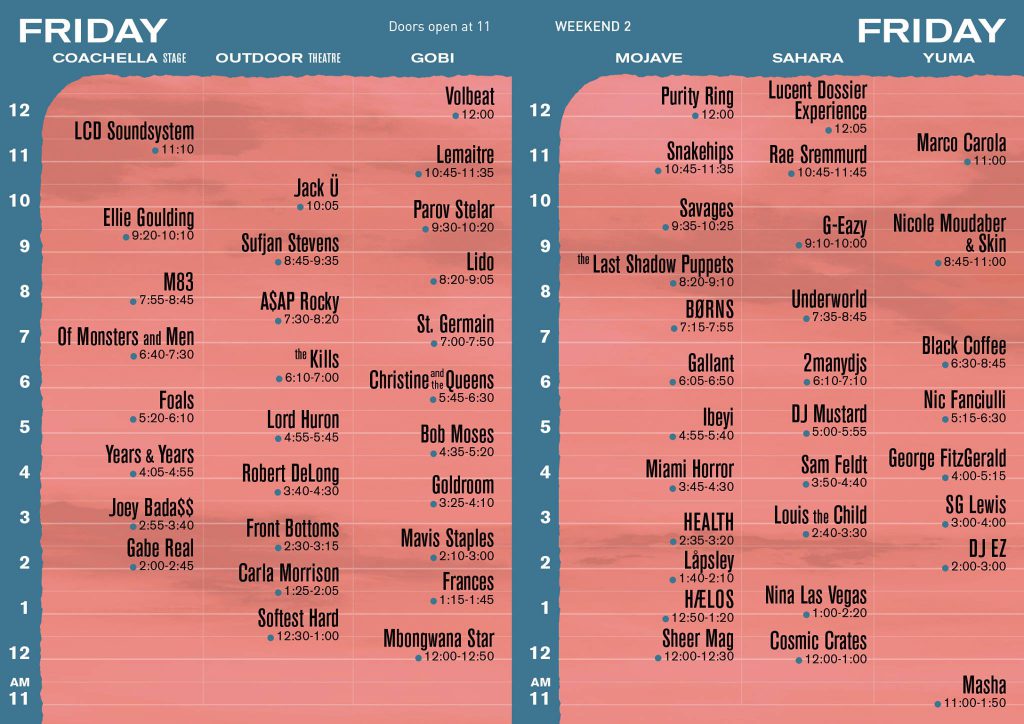 SATURDAY
Weekend 1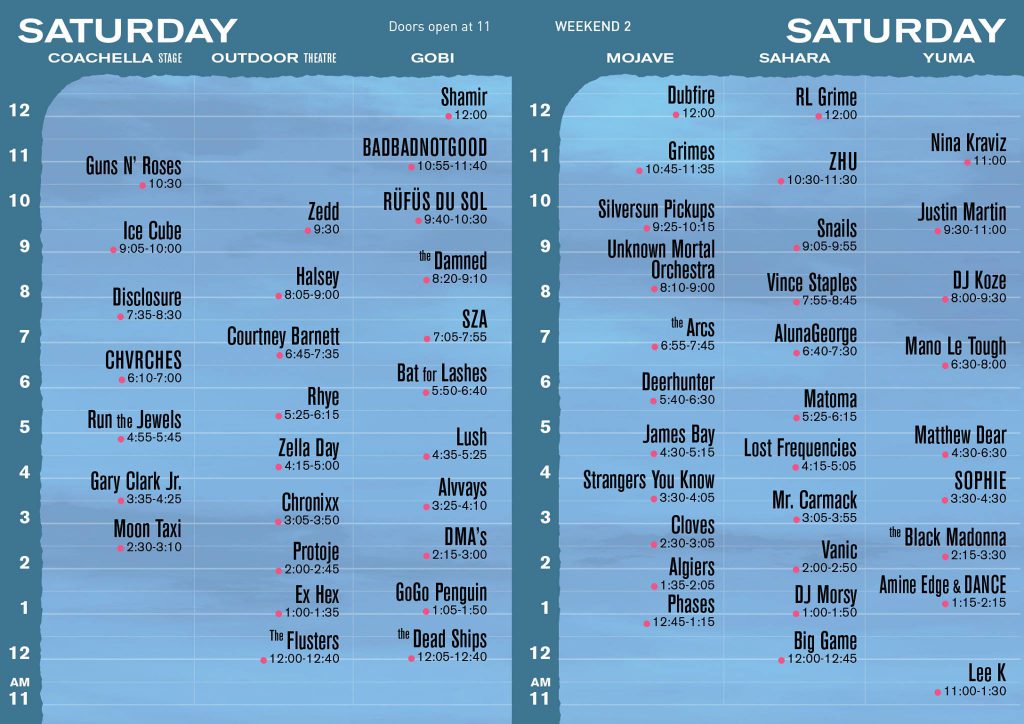 SUNDAY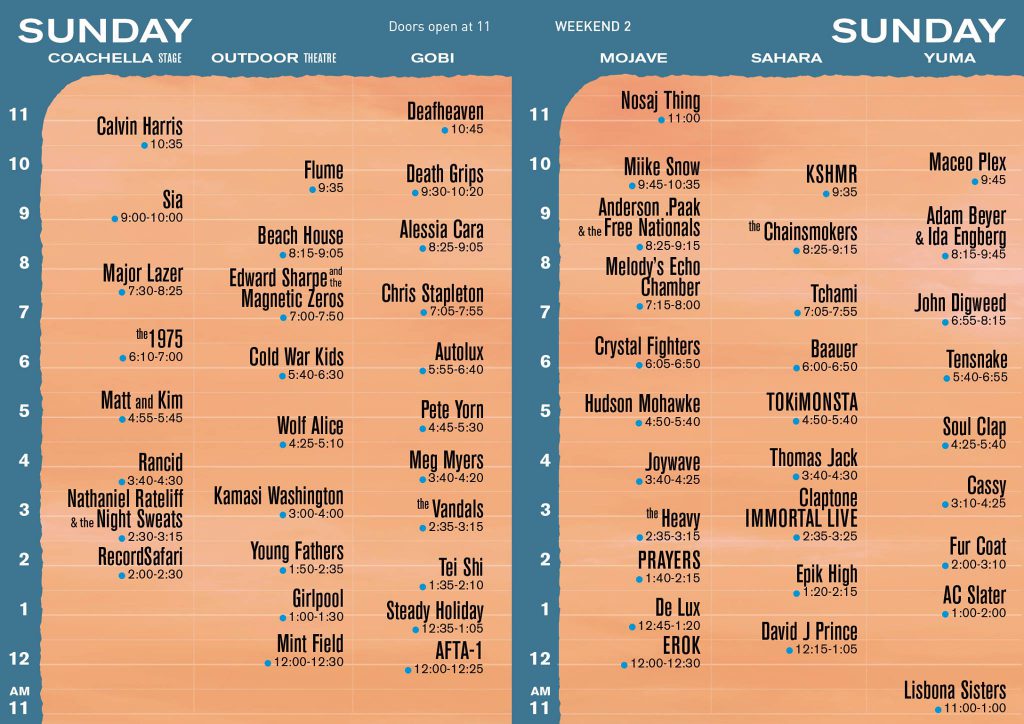 The Do LaB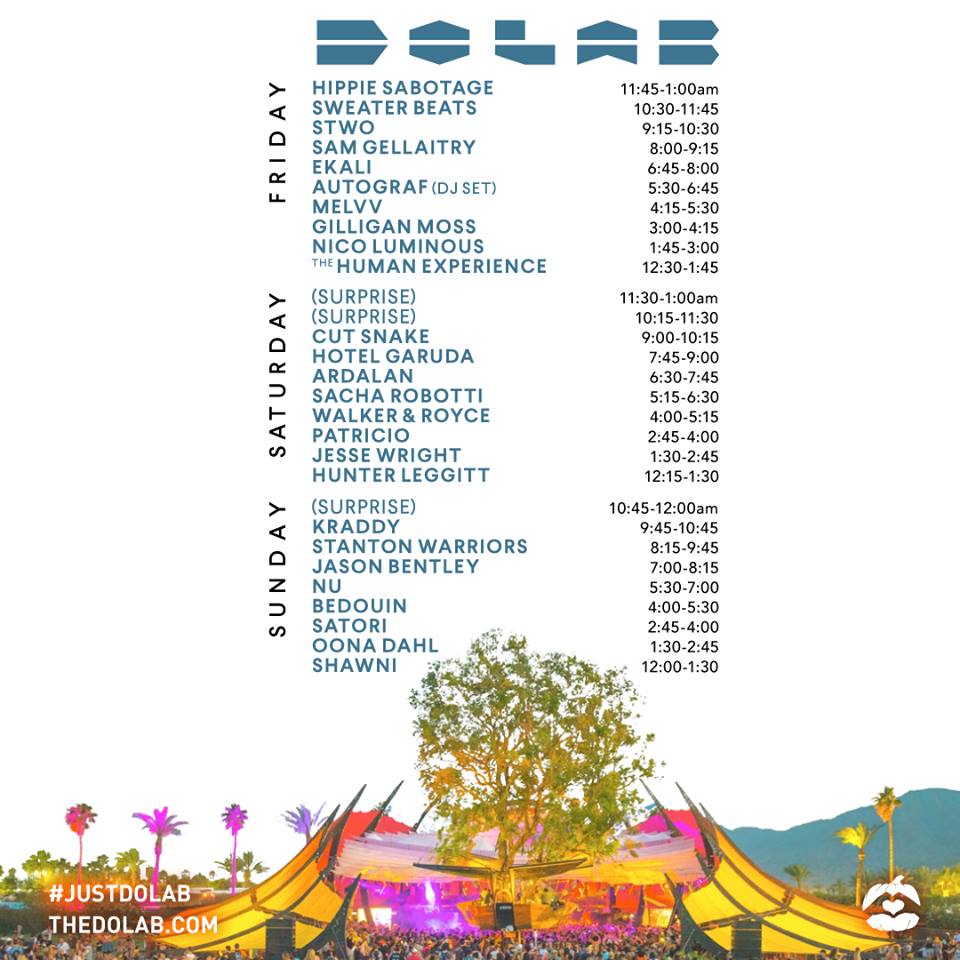 Heineken House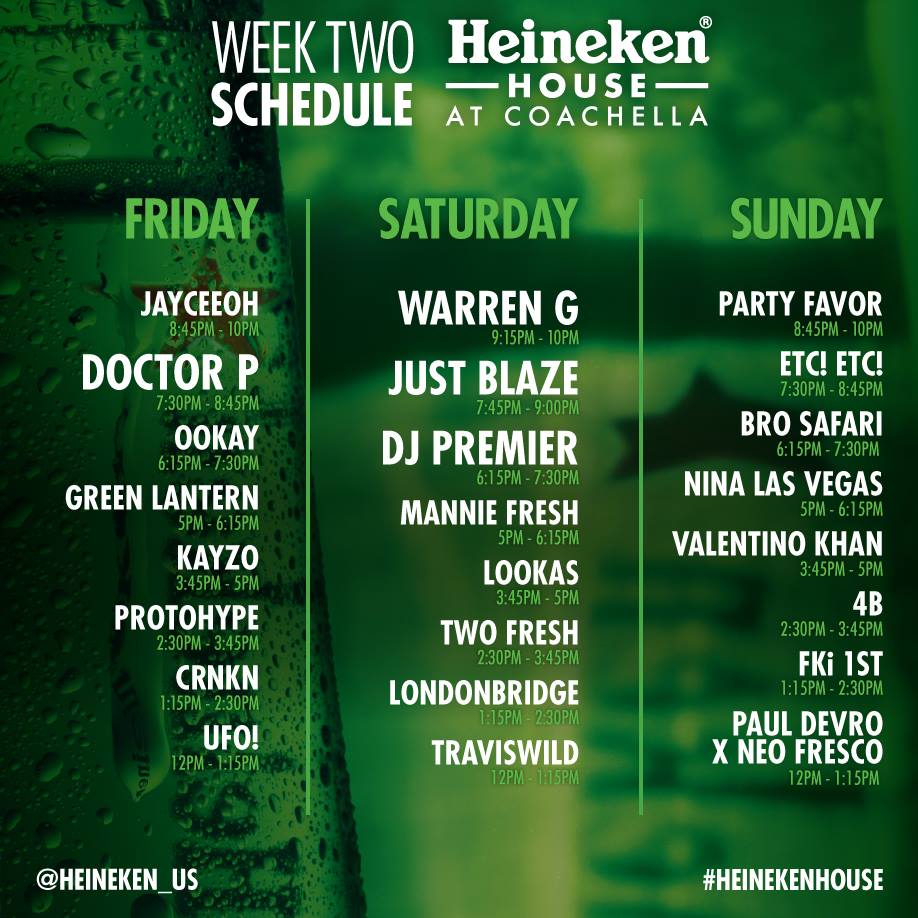 DESPACIO INFORMATION
---
Coachella 2016 Venue Map: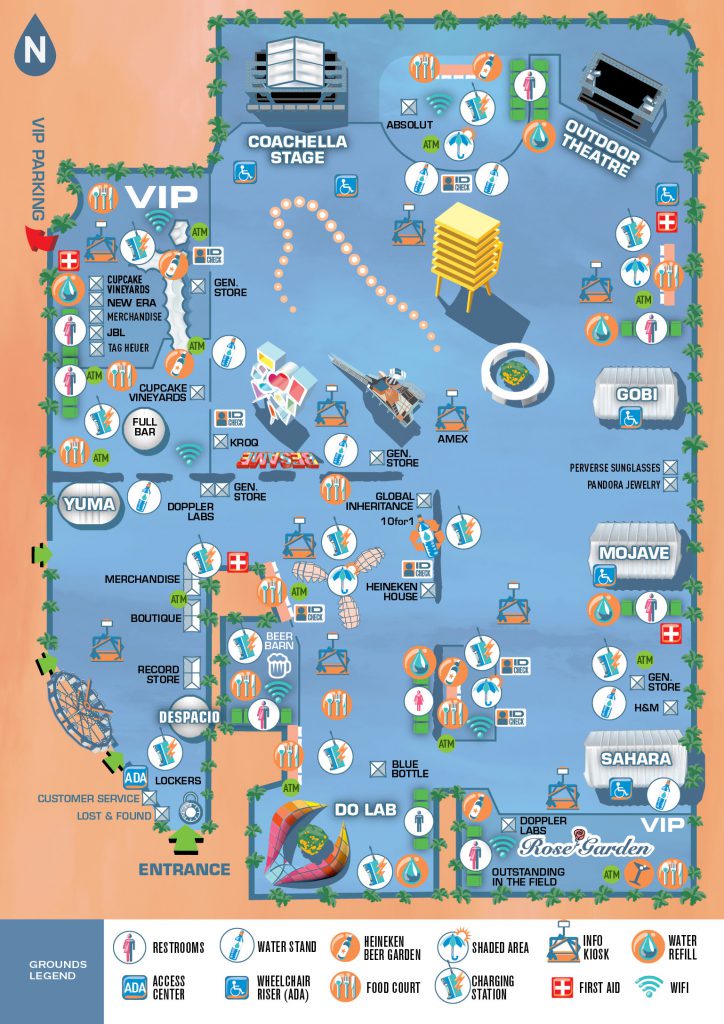 Coachella 2016 Campgrounds Map: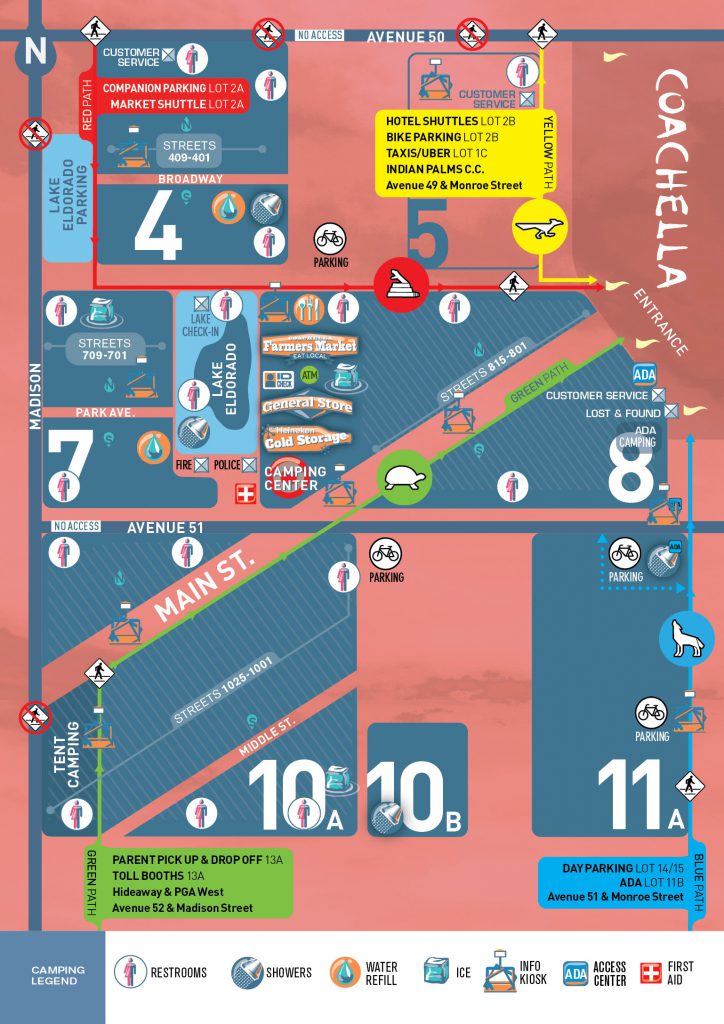 Coachella 2016 Parking Map: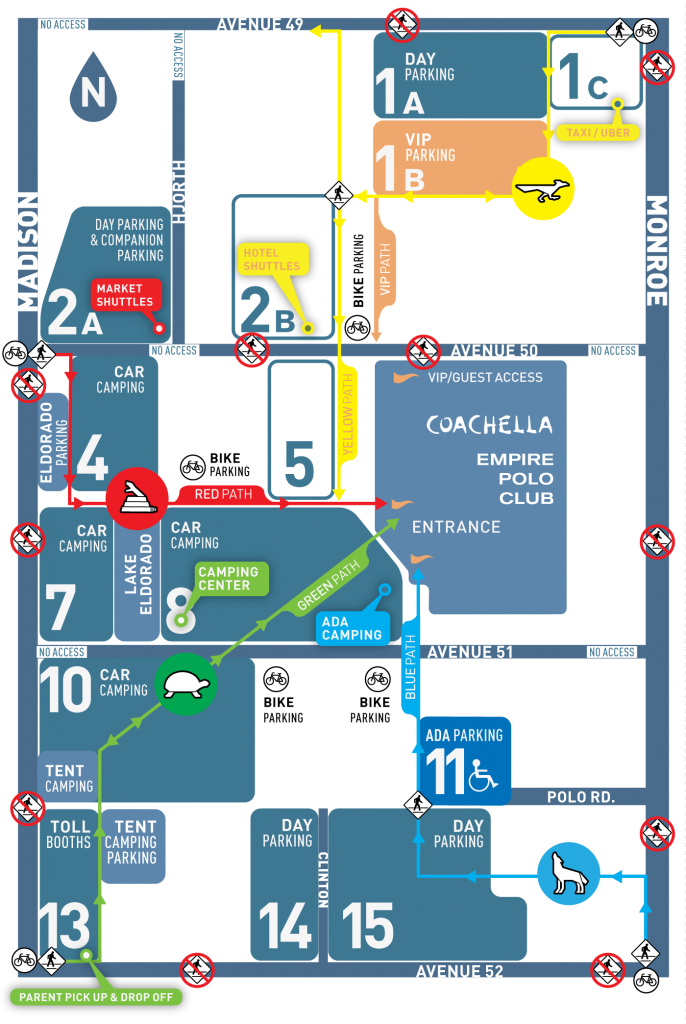 Coachella 2016 Driving Directions: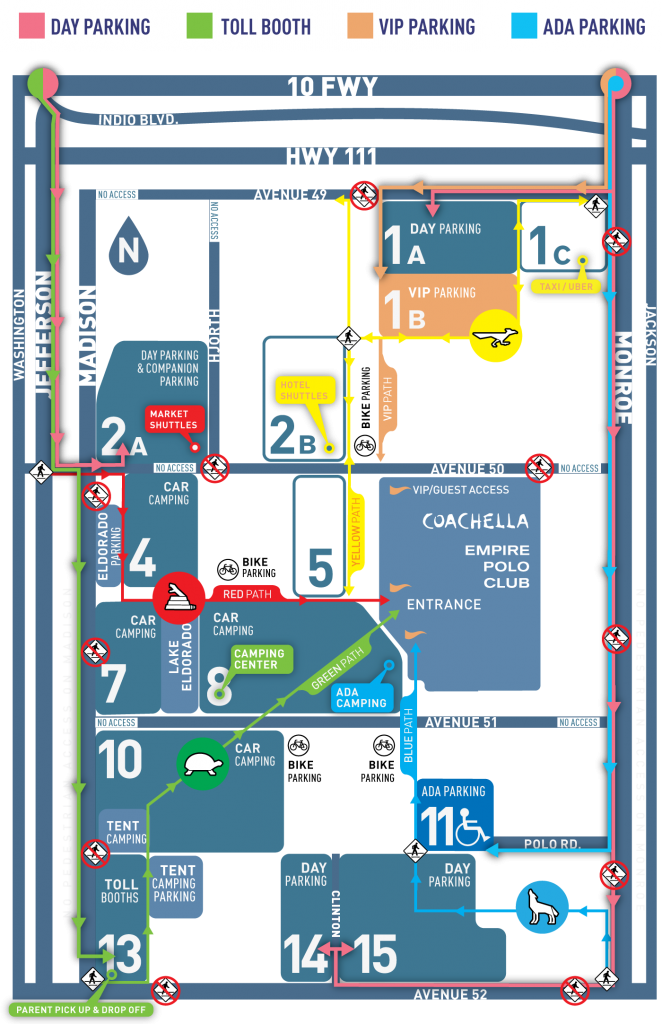 ---
Acceptable Items
YES All Ages Welcome
YES Ages 5 & Under Free
YES Baby Blankets
YES Baby Strollers
YES Backpacks (medium)
YES Camelpacks (EMPTY)
YES Cell Phones / Cell Chargers
YES Chapstick / Lip Balm
YES Cigarettes / Lighters
YES Dancing Shoes
YES Digital & Film Cameras (Non-Pro)
YES Ear Plugs
YES Empty Plastic Reusable Water Bottles
YES Eye drops (subject to testing)
YES Fanny Packs / Hip Bags
YES GoPros (2016 LAST year allowed) / Flip Cams
YES Gum
YES Hand Sanitizer / Baby Wipes
YES Hats
YES Ins & Outs
YES Make Up
YES Parasols
YES Purses / Handbags
YES Smiles
YES Sun Block (Non-Aerosol)
YES Sunglasses
YES Walkie Talkies
Prohibited Items
NO Aerosol products / Aerosol Cans
NO Air Horns
NO Audio Recording Devices
NO Bikes / Hoverboards
NO Blankets / Towels / Chairs / Coolers
NO Chains / Chain Wallets
NO Detachable Lens Cameras
NO Drones, Remote Control Aircraft, Toys/Cars
NO Drugs & Drug Paraphernalia
NO Fireworks / Explosives / Road Flares
NO Flags
NO Flyers / Sampling / Give-a-ways
NO Glass / Metal Water Containers
NO Glow Sticks / LED Gloves / Massagers / Stuffed Animals
NO Guns / Ammunition / Tasers
NO Hula Hoops
NO Instruments
NO Kites / Sky Lanterns
NO Knives / Weapons / Sharp Objects
NO Laser Pointers
NO Mace / Pepper Spray
NO Outside Food & Beverages
NO Pets / Animals
NO Promotional Items
NO Scooter / Segway / Skateboard / Skate
NO Selfie sticks / Narcissists / Tripods
NO Sharpies / Markers / Paint Pens
NO Tents / Sleeping Bags (in venue)
NO Toy Guns / Water Guns / Sling Shots
NO Totems
NO Umbrellas
NO Video Cameras
---
Campgrounds Do's & Don'ts
All camping attendees MUST be 18 years of age or older & have a valid I.D. or be accompanied by parent or legal guardian. Sorry NO exceptions.
Each camping attendee must have their OWN festival pass for entrance.
Please note: Camping spot decals are non transferable by themselves. They will only work when scanned with the festival pass it was ordered with originally. If you bought multiple festival passes and one camping spot, the camping spot decal will only be valid when scanned with one of the festival passes from that order. This is to help thwart scalping of camping passes and making camping available to actual onsite campers.
All onsite camping opens: Thursday at 9:00am and closes on Monday at 10AM each weekend. Early arrival is highly recommended.
All camping check in times: Cars that are car camping & Tent only or Lake Eldorado campers driving can check in at 9am on Thursday until 2am, and starting at 9am FRI-Sun (until 10PM).
24 hours for pedestrians.
Companion camping parking hours: Vehicles can enter to park at any time on Thursday starting at 9AM through 2AM Sat.  Vehicles can also enter to park Sunday from 9AM until 10PM. EXCEPT: NO VEHICLE EXIT or ENTRY FROM 10pm-2am FRI/SAT and 10pm – 1am SUN. NO VEHICLE INS/OUTS.
All general car & tent campers can visit each others camp sites.
There will be on-site security at all times as well as first aid stations open 24/7. Do not leave valuables in your tent.
Please be advised all car/tent only camping lots will be on lock down between the hours of 10pm and 2am nightly. Cars Camping will NOT be allowed to exit during those times. If you need to leave car camping prior to Sunday at 2am, you must do so before 10pm.
Venue/Promoter are not responsible for any materials misplaced, lost or stolen. It is recommended you don't bring valuable items or if you do, please lock them in your car for safety.
NO Wrapped / Sponsored Vehicles. Your Car/Truck/Van/Vehicle will be turned away at the Toll Booth if it has Ads/Marketing/Sponsors/Company Logos on it. (this is not talking about rental cars).
No branded/logo'd easy ups or tents allowed.
All camping attendees are subject to search upon entry.
Surrendered items are considered forfeited upon entry. There is NO return of any item regardless of what any random guard tells you.
Feel free to bring your own food and beverages into onsite camping. Refer to FAQ's below as to what is allowed.
No camping between weekends
NO GLASS containers, weapons, knives (including steak/cooking knives), drug paraphernalia or drugs allowed
No animals will be allowed in the campground.
No open flames (GPS we are not talking about you)
No tiki torches / Fireworks / any types of explosives / ammunition
No tanks of compressed air, helium, nitrous (haha)
No party balloons
No slip n slides
NO METAL TENT STAKES
No Drones/Remote Control Aircraft, Toys & Cars, hoverboards, motorized scooters
Campers are expected to behave in a manner that is courteous to other campers. Noise curfew at 1:30am
---
For more information on Coachella 2016 click HERE!