Sir Bob Cornelius Rifo, known for The Bloody Beetroots and his solo project, has partnered with Danish speaker start-up project SOUNDBOKS. For those unfamiliar with SOUNDBOKS, they will be the loudest battery-powered speaker available to the open market! When you have a speaker that's capable of dishing out up to 119dB of pure power, you could dish out the jams louder than a concert's PA system!
Available exclusively on Kickstarter: Link HERE
The combination of SOUNDBOKS successfully completing their Kickstarter Campaign with SBCR's newest EP release 'SBCR & Punks: Vol. 3', they have joined forces to offer fans the loudest cross-promotion in a very long time! Available to just one super fan, this exclusive Dim Mak x SBCR Super Limited Edition Package will include a variety of merch worthy of its own black mask and leather jacket ensemble!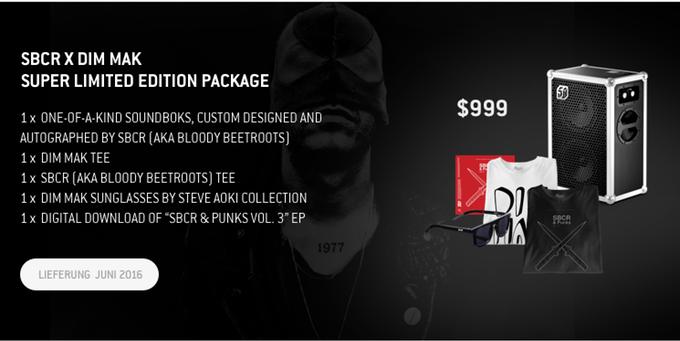 For $999, The Super Limited Edition Package includes:
1 One-of-a-kind SOUNDBOKS, custom designed and autographed by SBCR (aka Bloody Beetroots)
1 Dim Mak Tee
1 SBCR (aka Bloody Beetroots) Tee
1 Dim Mak Sunglasses by Steve Aoki Collection
1 Digital download of "SBCR & Punks: Vol. 3" EP
Check out SBCR's latest EP, 'SBCR & Punks: Vol. 3 on SoundCloud:
---
About SOUNDBOKS
SOUNDBOKS was founded by Jesper Theil Thomsen, Christoffer Nyvold and Hjalte Emilio Wieth. These three wanted a speaker portable, yet capable of extreme levels of volume. They wanted something that could blast the sound quality of festivals without the production crew required for festival level speaker set-ups. So they took all of these into account, found an idea for a durable, portable and functional for any party, festival or anywhere in between! This weather-resistant, temperature-enduring, rugged speaker system is capable of 119dB of sound (for reference: 110 dB is equal to most power tools such as chain saws, pneumatic rams and drills, 120 dB is just shy of the sound of a gunshot). Also, you don't need an outlet to run a SOUNDBOKS! The battery system included within each box is capable of up to 60 hours of play at 113dB after a full charge of its rechargeable battery packs! To see the numerous options available for SOUNDBOKS, check out their Kickstarter!
---
About SBCR
SBCR has recently completed a world tour, with stops in Warsaw, Prague, Cologne, New York City, Miami, SXSW and more. His newest EP 'SBCR & Punks: Vol. 3 has been receiving rave reviews, thanks in part to supporting artists TWNTYMLS, TAI and Signal Noize. Sir Bob Cornelius Rifo's signature bass-y Electro sound, with rock-heavy influence and erratic synths has made him one of the most recognizable artists this side of EDM. There has been lots of support for SBCR from EDMID prior, including DIM MAK Miami Lineup, SBCR & Adversaries: Vol. 2, SBCR & TWNTYMLS – Back To The Top and more!
Follow SBCR on Social Media:
Facebook || Twitter || SoundCloud || Instagram