It has come to my attention that many people are confusing Canadian Techno DJ (real) Justin James for an American DJ with the same namesake. Unfortunately for the real Justin James, he has had deal with hate mail and articles that are wrongfully accusing him of being "on the hunt for female DJs that fit a very specific requirement." If you look at the screenshot below, the American or other Justin James calls for women that must fit a particular height and weight. He then goes on to justify his actions with more distorted ideals. As all this was happening the real Justin James was pushed into the mix due to journalists using his photos for their articles about the other Justin James. In doing so it lead many to believe that these actions were committed by the real Justin James, but in reality it wasn't.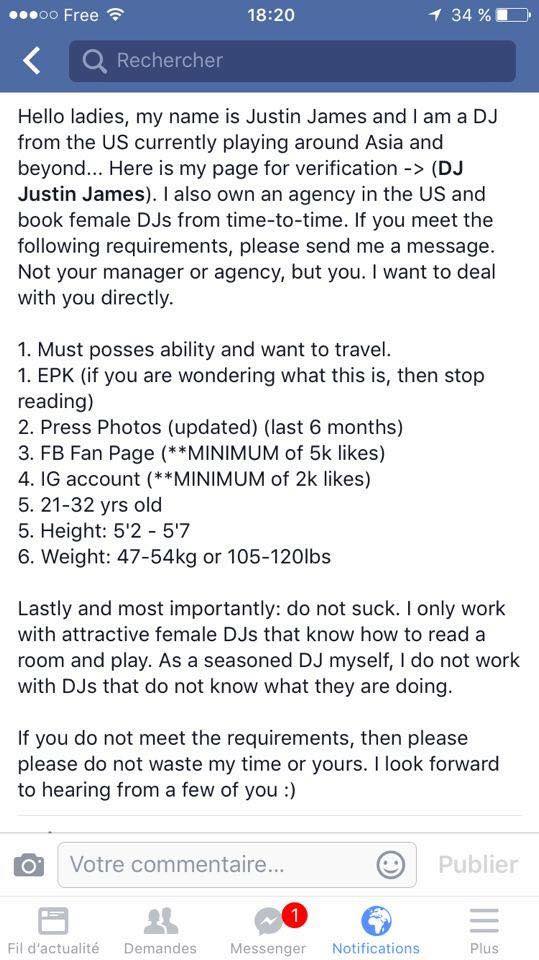 Mistaken identities are no joke.
The reason why I'm writing this is because the real Justin James did nothing to deserve this and he does not share the same misogynist ideas as the American DJ with the same namesake. Now if you're familiar with the real Justin James, you'd know that he was one of the few DJs that had been hand selected by Richie Hawtin to perform on the ENTER stage at Escape Psycho Circus 2015. He is not just another lowly club DJ, he is a lot more than that  and has real passion for his craft. See his statement below about the issue, as I believe he's been handling this situation extremely well.
I understand that there is an individual, unfortunately, named DJ Justin James that has caused a great deal of drama with his misogynistic ideas about the electronic music industry. Please understand that I am in no way affiliated with this individual and more importantly do not endorse his misguided and distorted ideals. Those, in the know, understand that our amazing culture is completely inclusive regardless of sex, race, religion and sexual orientation. For the purists it has, and always will be, about the music and absolutely nothing else. – Justin James
If you happen to see any articles with the real Justin James' name and likeness being used to represent the other Justin James, make sure to say something. Support the #RealJustinJames!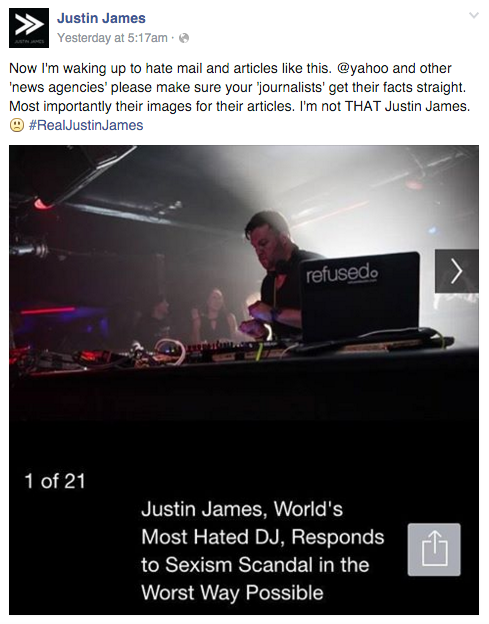 About Justin James
When a country's electronic music scene punches as heavily as Canada's, there is always a weight of expectation on artists emerging from its ranks. Fortunately, Justin James' talent, energy and ambition have allowed him to climb the heights of his illustrious countrymen. Justin hails from Windsor, Ontario the same city as his label boss and techno icon Richie Hawtin. With Richie, Dubfire and many others as close, guiding influences, James has used this ammunition to fire his way to international recognition.
Being just across the river from the revered school of Detroit producers has not left James unmoved. The powerful emotions deep within the seminal tracks that emanate from across the border resound heavily in him. Being touched by this rich history has deeply influence James' music production, sharing his own vision of techno with other like-minded souls. A slew of creativity is already available, through releases quickly signed to powerhouse international labels such as Richie Hawtin's 'Minus' and Dubfire's 'Sci+Tec.' James has not rested on his laurels, instead he has taken his vision to the next level by curating his own imprint "refused." a record label which will showcase forward thinking techno from himself, established artists and up-and-coming talent from around the globe.
Justin James is all about his deep love of the diverse elements of techno. His juxtaposition of raw techno with more organic elements, gives him boundless energy in the studio and behind the decks, which keeps the dance-floor militia on their toes. Cohesively developing a unique style that rolls all elements of techno into one highly kinetic experience, James has the ability to pool his influences, and endlessly move crowds to the far reaches of the genre.
With a list of achievements that already overshadow many artists, it's clear that Justin James has proven how combining genuine talent, with dedication can go a long way. While his productions and performances continue to open the ears of thousands of people across the planet, the reality is, James has a host of future projects up his sleeve, which reveals the best is still to come.
---
We sat down to interview Justin James last year about his music and the industry. You can check it out by clicking HERE!