Whether you love techno or not, you simply cannot ignore the mastery of talent that Justin James is currently bringing to the scene. Hailing from Canada, Justin is making a mark on the world with some great tracks and sets that make us dance late into the night. Not only does Justin James find time to DJ and produce great music, but he also runs his own label and teaches too! With the release of his latest EP, Space Sleaze, coming later this month, we are nothing but excited to see what the future brings for this techno-great. If you're close to Windsor, Ontario, you definitely should check out his event Unknown which is happening this Friday, December 4th!
I had the pleasure of chatting with Justin James about his music, direction, and more!
Can you pinpoint the influence in your life that led you to Electronic Music Scene?
I certainly had many moments that influenced me throughout my lifetime.  However, the largest influence of mine was heading to Movement  (or DEMF) every Memorial Day weekend in Detroit.  One particular year seeing John Acquaviva and Richie Hawtin play in an evening changed the way I thought about music forever.  I am very grateful for that experience.
What about the electronic music scene specifically speaks to you?
I love the 'grassroots' approach to the scene.  Everybody, on the underground side at least, is where they are because of what they did and the contributions that they had to their respective scenes.  From there, they started to become taste-makers and influential the the global scene as a whole.  That is so amazing to me.  It's real.  It's authentic.
Having a specific "sound" is important in the music industry. What would you describe your sound as?
I guess you can say a specific sound is important.  It's quite flattering when someone messages me and knows just by the sound of the track that it's one of mine.  I've had that happen on a few occasions where someone has played my track in a mix and people have asked me if it was mine.  That's pretty crazy.  On the other hand, it may not be a good sign.  It may mean that I am being lazy and predictable.  I'd describe my sound as techno.
I love your latest EP, Space Sleaze, that is being released early next month. What led you to working with Dan Diamond on vocals?
Thanks so much.  Very proud of that record.  It's special to me for a number of reasons.  One of my all time favorite tracks is "Peace Division-Club Therapy".  Dan Diamond was the vocalist for that jam.  Years later, I was fortunate to meet Dan through our mutual friend John Acquaviva.  We got along well and discussed doing some work together.  I had a track written and Dan write some lyrics to it.  Unfortunately, I wasn't too happy with the beats of the original version.  As a result, the project went dormant. Then this summer, I was preparing for my gig at Tomorrowland and came across the acapella on my DJ computer and instead of planning for the following day, I sat outside of a coffee shop in Berlin and wrote a new track.  The next day I was playing it at one of the biggest festivals in the world. Kind of crazy.
You just recently opened the Enter. Stage at Escape: Psycho Circus last month. Did you enjoy your time in Southern California?
I've been fortunate to play this event two years in a row.  What an amazing experience it was.  Any event curated and looked over by Richie and his crew is such a pleasure to be part of.  I hope to be back again soon.
Are there any artists that are on refused.'s radar that we should be on the lookout for?
There are so many great artists that I get to work with and communicate with and support every day.  Look out for new EPs from Fer BR, Maksim Dark and contributions from Ante Ujevic, Carlo Ruetz, Saso Recyd, 4Yo4u and many more.
If you could play a b2b set with any artist, who would it be and why?
It certainly would have to be a b2b2b set with Richie Hawtin and John Acquaviva.  They have been huge influences for me before I ever had to befriend them and refer to them as colleagues.  Playing with them would be a dream come true, for sure.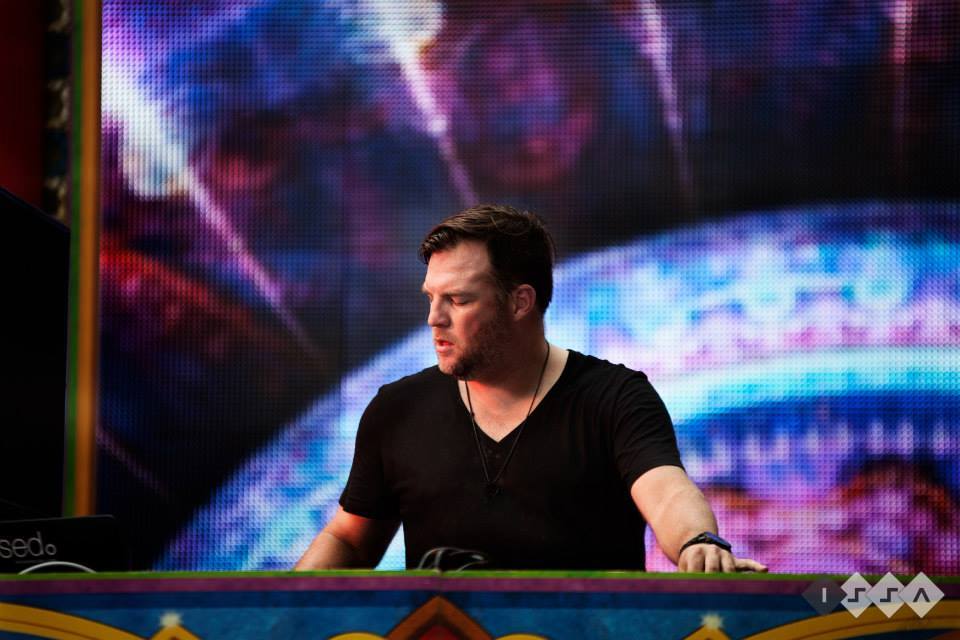 Outside of DJing and producing, you also run your own label and offer masterclasses and mastering services, along with your job as a teacher. When do you find the time to sleep?
I love what I do, so I make time for it.  I also have an amazing team that support.  My label manager Rory Piecuch runs refused. like a champ.  I also have two amazing agencies Liaison and B4 who take care of my bookings.  Also, my managers Ghayath and Ben have been so supportive in moving things forward.  Lastly, the beautiful girls at LCPR Public Relations do an amazing job as well.
If you could pick 3 artists to listen to for the rest of your life, who would they be and why?
Prince because he's a god.
A Tribe Called Quest because they are gods.
Kraftwerk because if robots could be gods, they would be.
What are your favorite pizza toppings?
Chicken, Sun-dried Tomatoes, and Mushrooms (for days)
---
Purchase "Space Sleaze" on December 7th on Beatport HERE!
Follow Justin James on Social Media:
Facebook
Twitter
Website
SoundCloud
More From refused.:
Facebook
Twitter
Website
SoundCloud