Friday night was a great night for San Diego. So many DJ's playing tonight, it was difficult deciding who to see. It wasn't until I was in Downtown before my sights were set on going back to my favorite club in SD, Bang Bang. Tonight's headliner was Madeaux. He's been making some monumental steps lately. He has recently: signed with Fool's Gold (A-Trak and Kanye West), headlined New Years at Sound Nightclub, and made some super nice music. Tonight was no exception, he put on an amazing show. Check out my full experience below!
Dinner at Bang Bang
I was able to get in while the kitchen was still open, allowing me to have time to grab dinner before the show tonight. As I have mentioned in previous reviews here at EDMID, getting food at Bang Bang is always worth it. The tables were packed, so I opted to enjoy my meal at the bar. Jennifer was quick to serve, setting me up with a Anthem Pear Cider right as I was got seated. As I looked over the menu, I got a chance to catch the vibes of the venue tonight. It was definitely more of a restaurant atmosphere rather than a club one at 10pm. Everyone was dressed to impress tonight; suits, long dresses, fashionable heels. There were multiple groups here tonight, as evidenced by the sushi boats dominating a few tables. As far as my dinner, I settled on the Karate Kick roll (Crab, spicy tuna, avocado, cream cheese, and jalapeno. Deep fried with house chili aioli and eel sauce). It was delectable. Crunchy, sweet, and the jalapeño tossed in a little bit of spice. The presentation was also great as always.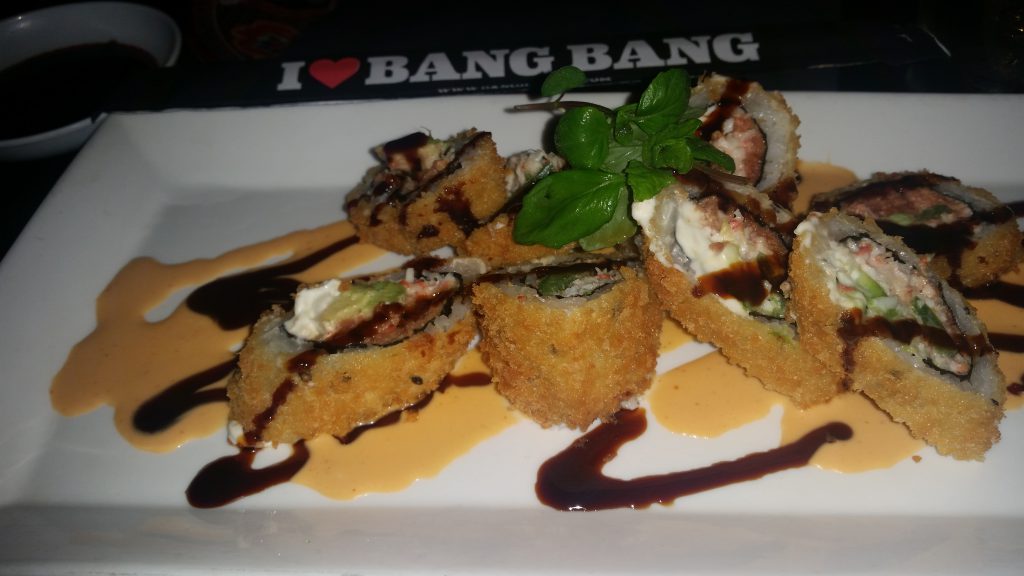 The Red Baron
As I finished my meal, the music inside made a massive switch. Gone was the nu-disco/house music that was normally being drowned out by conversations. Now the music switched to a pretty bass-y, hip-hop influenced tech house. So I finished my meal and my drink, paid out, walked over to the club side of Bang Bang. The crowd was very light, but the majority of people there were very into the set. As I found a good spot, and let the music soak in. The opening DJ was The Red Baron, who played what I consider one of the hardest sets at Bang Bang ever. While I didn't know his original tracks, he remixes were phenomenal. He played a great trap remix to Calvin Harris and Disciples' "How Deep Is Your Love". That brought most of the people out of the bar side into the club side of the crowd. He followed that with "Hotline Bling", much to the crowds delight and approval. After a bit, he dropped Benny Bennasi's "Cinema" converted to Big Room. That song transitioned to Troyboi's "Afterhours". It was a great set overall, the crowd was loving it, and I was quite surprised by it all.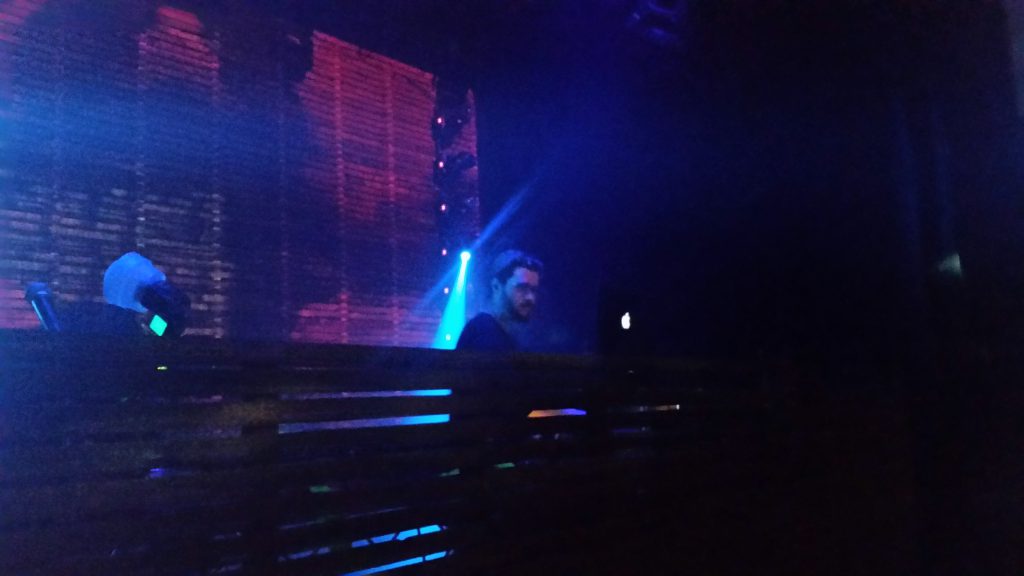 Madeaux
After The Red Baron's set, I went and grabbed another drink before heading back in Madeaux was up next and I was going to be up at the front. Unsurprisingly, just about everyone in the club was already on that side to go see him spin. It was still a smaller crowd with maybe about 100 or so people. It created an intimate atmosphere because the people there were so passionate about seeing him. He opened with a remix to "Personal Jesus" that was awesome. He was playing a bunch of his original tracks, and was very active on decks. He was building up and manually switching to each new song. He dropped a lot of Tech House, synth-pop with a good amount of bass to get the dance floor bumping. A great vibe all around.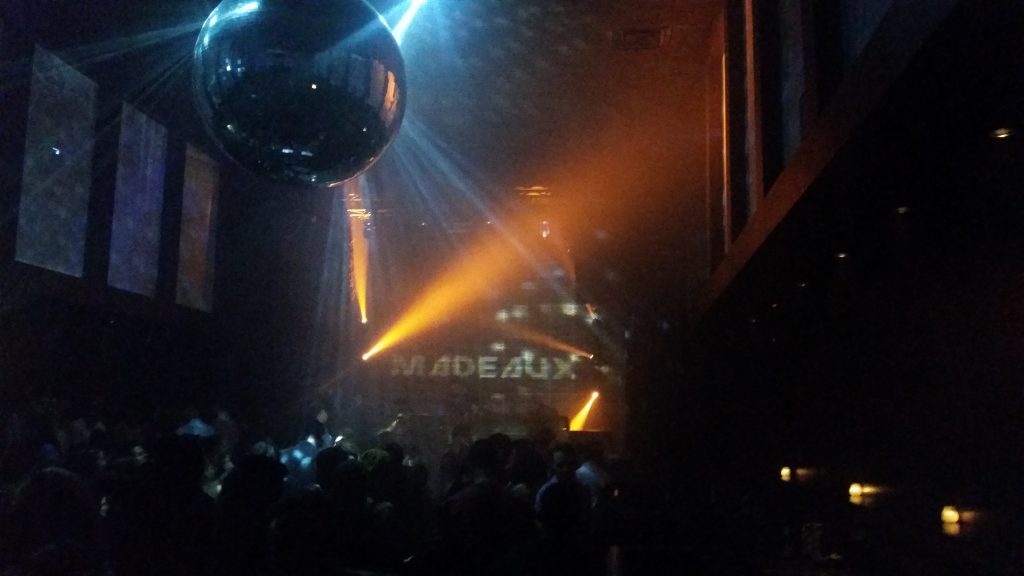 Things got a little interesting though when two guys that had too much to drink that night were dancing like there was no tomorrow. One guy was jumping over the rail normally reserved for media. After a little more "Red Rover, Red Rover, I'll send myself right over", they got more ambitious. One guy tried to climb the fence and railing separating the DJ from the audience. That got them promptly removed from the building, after lots of laughter from the crowd. As if the timing couldn't have been better, my most surprising part of that set was when he remixed Beyoncé's "Baby Boy". Haven't heard that song in years, and it was great that he brought it all back for that song.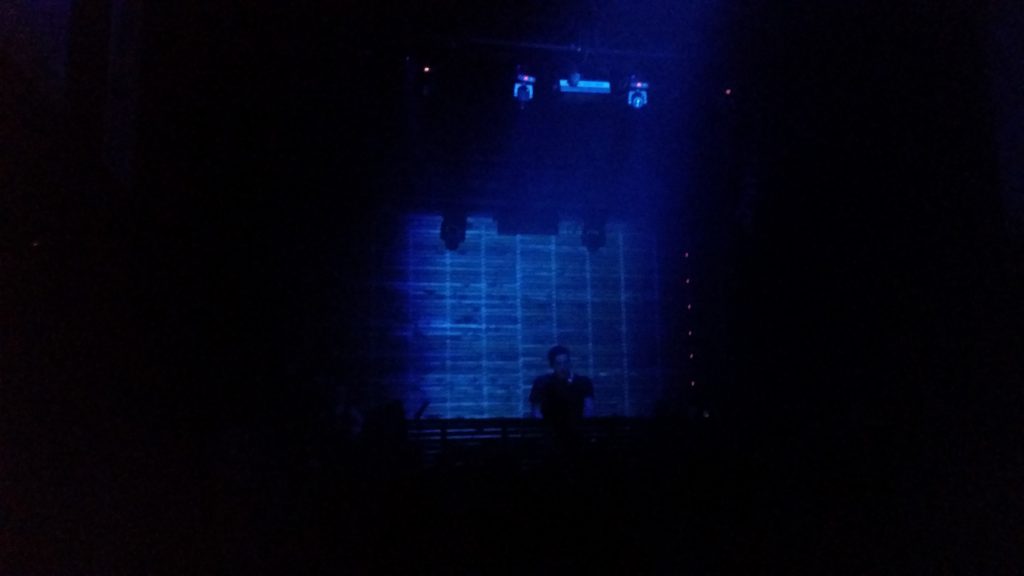 Final Review
Madeaux played a ton of great tracks, and had great energy on stage. This up-and-coming DJ is going to be big. Remember his name, because you'll be seeing it a lot more as the years go on. He mixed a lot of genres and created a club set that I can't even compare to other artists going around right now. He was just great all around.
Give Madeaux and Red Baron some love!
Madeaux
Facebook || SoundCloud || Twitter || Instagram || YouTube
The Red Baron
Facebook || Soundcloud || Twitter || Instagram