For those of you that do not know, actor Elijah Wood (Lord of the Rings, Wilfred, Sin City, among many, many others) is also a DJ. He has teamed up with Zach Cowie aka Turquoise Wisdom, to form a duo with the wonderfully named "Wooden Wisdom" and recently performed a set here in San Diego. Once this show was announced, I knew there was nothing that was going to stop me from seeing this set. Even though this is my second event review at Bang Bang, (link to my previous article here) this was definitely one of those sets that I consider "see it to believe it". I will give you a full breakdown here.
As is tradition, I arrive early to get dinner before the show. I trot over to the bar, and promptly order a Kobra Kai roll, Bang Bang Fried Rice, and a Whiskey Ginger. The service was excellent despite the fact that most of the tables were already full at 9pm. There were a very high guest count because most of the tables were clearly labeled reserved by the time I stepped in. The food arrived in a very timely matter, and the server was very nice. As usual.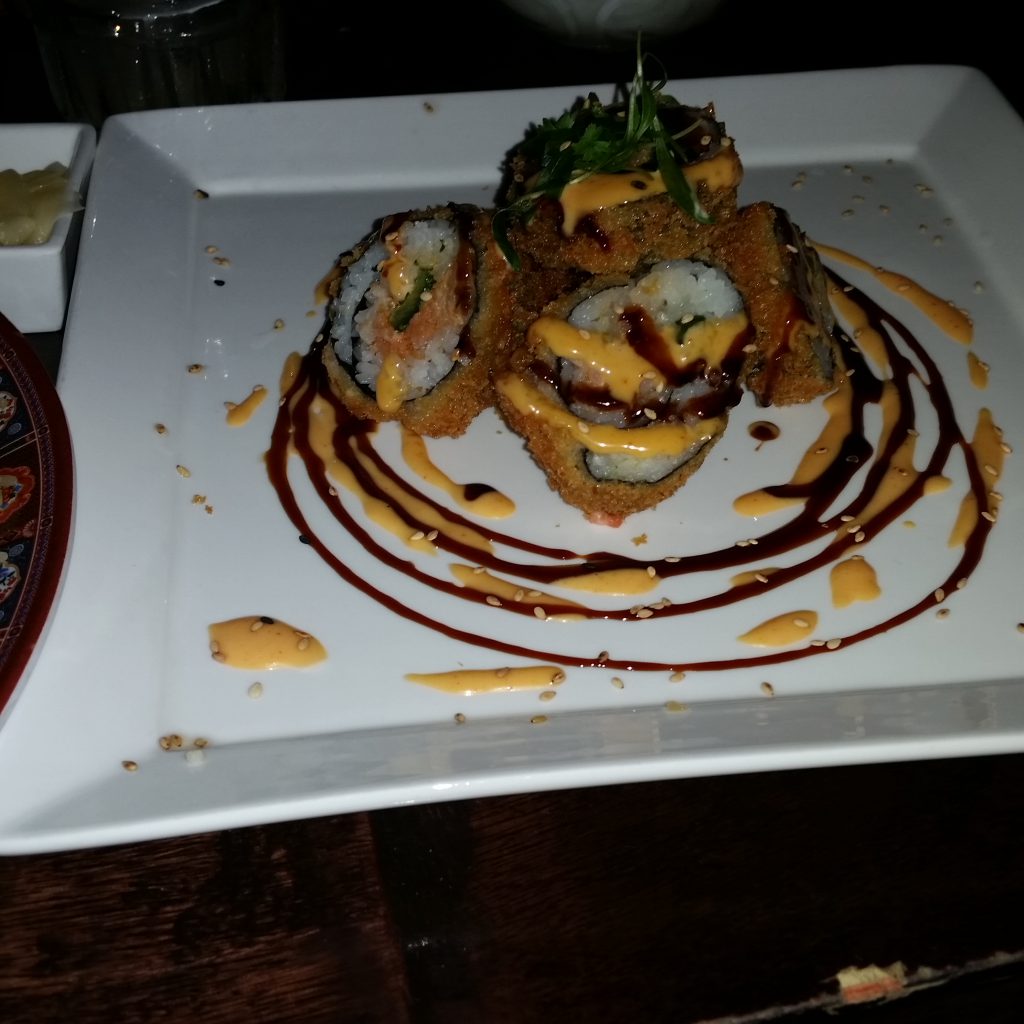 Once I finished my meal, the stage side had opened up. There was already a DJ spinning, and his choice of music was excellent for the crowd vibe. He started out with a very house-y mellow, ambient vibe. His name is Adam Salter (link to his Soundcloud) and knows how to drop a good all vinyl set. As the set progressed, he also did. He incorporated a lot of classic disco and Nu-Disco. It was quite refreshing to hear the pure beats that were played through the records. It seemed more organic, more old school. I was up at the front for quite a few songs before I went to go meet up with some friends.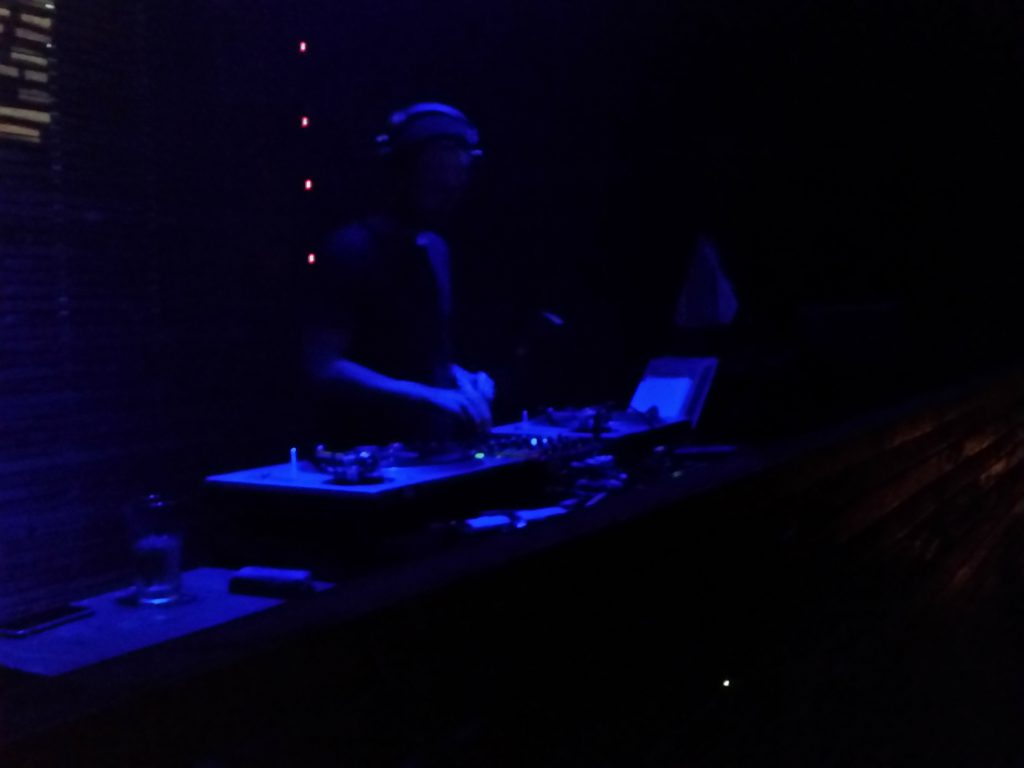 When I returned to the stage area, Wooden Wisdom had already begun their set. It was not what I expected. Everyone was jumping, dancing, just having a good expression all around. There were tons of people taking pictures, recording short videos, waving at Elijah Wood. There was even a group of people taking turns carrying each other so that each could have a chance to see him with their own eyes. Elijah was very positive about this, and was even spending some time to wave back when he wasn't actively working on the decks. He was very focused on the music, as Wooden Wisdom played an all vinyl set that night. But everyone was having a good time and just enjoying the atmosphere.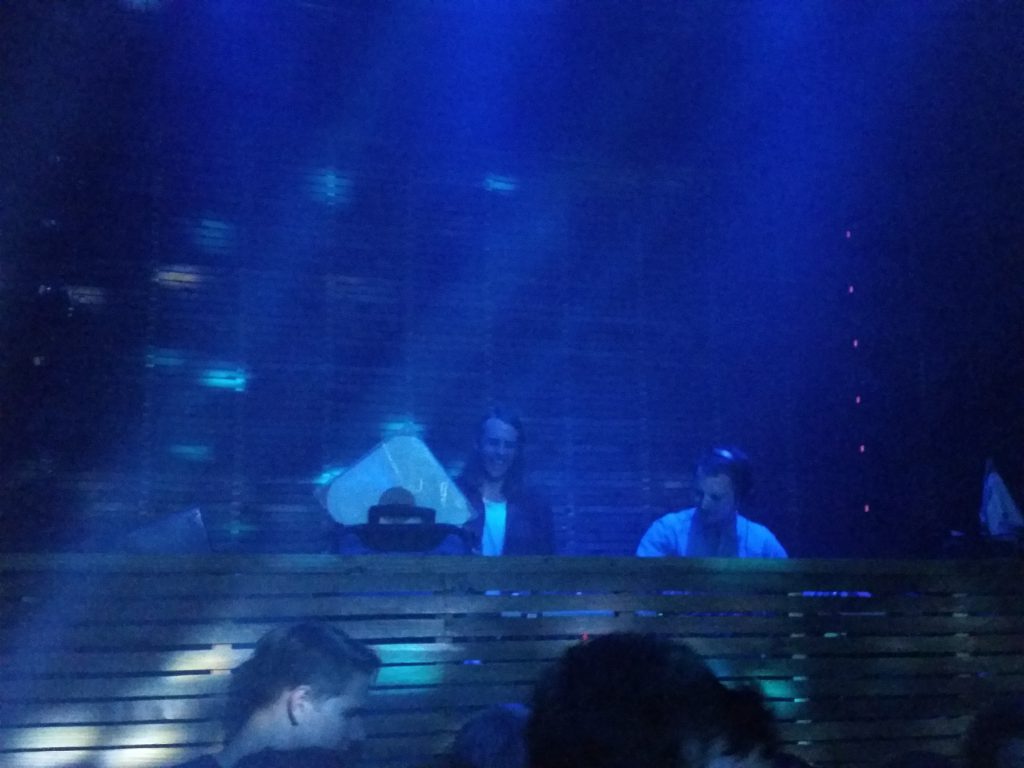 The disco ball was brought real low for this set, and the crowd was loving every second of it. So many cameras were out on this night, and everyone was in high spirits. It was also the first day of comic-con, as Preview Night had come to a close before Wooden Wisdom came on to the stage. So that brought quite the variety amongst the crowd. There was a blend of high fashion dresses to costumes to casual t-shirts and convention bags within the crowd. I was able to snag a picture with Hunter, who definitely made an impact with his well designed Stormtrooper uniform. We bonded instantly since we both were there to cover this very eventful day (and we also get to dress funny and take pictures of a celebrity, but that was just an added bonus)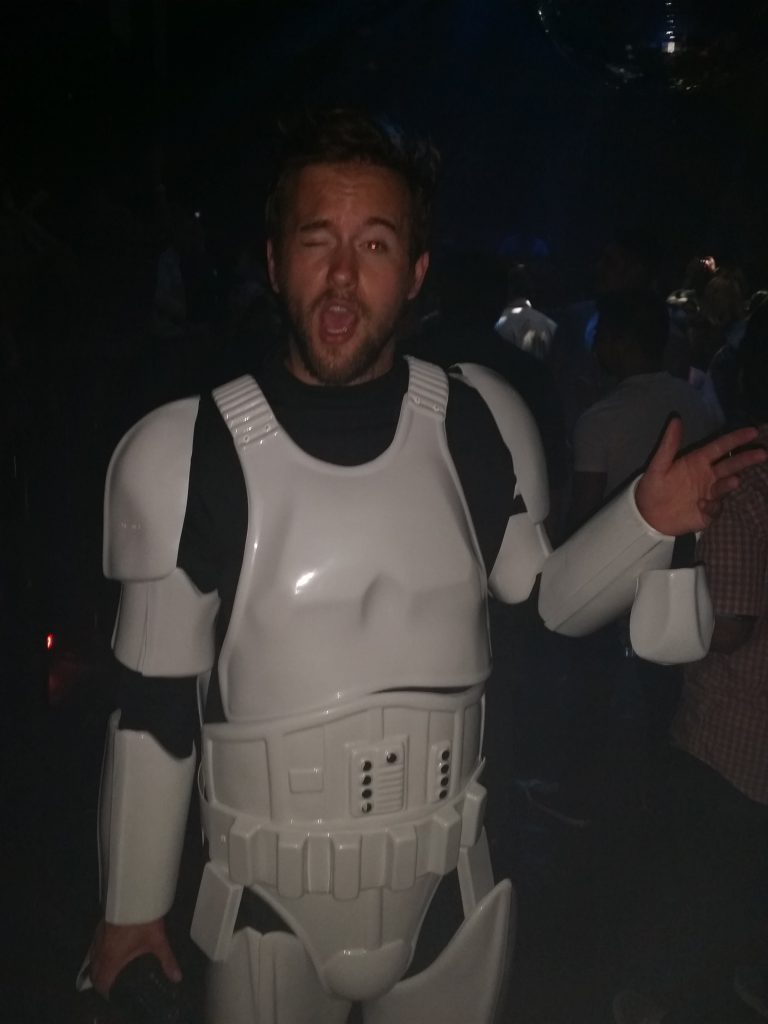 So all in all, the event was definitely worth the price of admission, getting to listen to vinyls at a club were definitely welcomed. Wisdom has a lot of skill on the decks and "The Ring Bearer" Elijah definitely held his own throughout the entire set. I was pleasantly surprised how the crowd was and the energy all of the DJ's this night performed. So even if you aren't a big LOTR fan, and are looking for a good, old-fashioned music event, keep an eye out for Wooden Wisdom, because it was a lot of fun and blew away any expectations I had for the night. And of course, I can't make a post about Bang Bang without also featuring their enormus disco ball. That is a thrill everytime I see it, and how can you not enjoy an 8ft diameter disco ball?