From December 29th-January 1st, my rave family and I went on a journey to LED's OMFG San Diego to celebrate New Years. There were many other opportunities at venues all over the US for our last event of 2014 but we chose to stay local.
Ultimately, I had chosen to go with OMFG for quite a few reasons. I have had lots of history with LED's previous events this year, it was a local event, it was 3 nights, and the artists performing were going to be great. The lineup alone was one of the best that LED has put together ever. When an event's headliners are Hardwell, Tiësto and Eric Prydz, with an additional lineup of nearly 25 other artists as well, its difficult to keep your jaw from dropping. The event as a whole was better than I had anticipated. The three days at Valley View Casino Arena brought along three completely different crowds and atmospheres as the nights went on.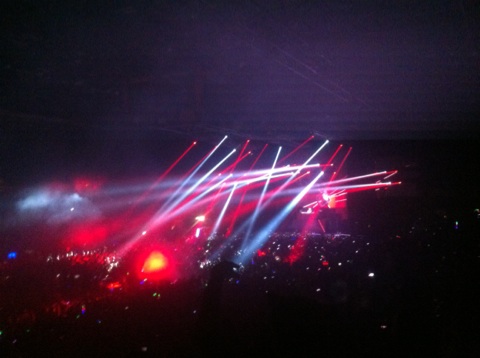 Day one was a great way to get settled in. There were many wonderful performances, but most surprising was by What So Not. "Jaguar" made the crowd go bonkers. I had seen What So Not before, but the set that night got the crowd amped and ready for the night more so than ever. Madeon played amazingly right after, and his songs were a terrific setup for the headliner of the night. He had everyone dancing with his funky sound and amazing hits. Hardwell was next up and the crowd was packed in to see the DJ Mag top 100's Number 1 for two years in a row. The set was exhilarating. This was my second time seeing Hardwell live so after I had a few moments hearing some of his great tracks, I decided to check out the Zoo.
The Zoo was OMFG's side stage underneath the main stage's seating area. I went over to DJ Sliink and it was definitely a completely different vibe than Hardwell. He ran a hard set and there was also quite a crowd despite playing opposite the headliner of the night. Sliink had a great set, and was one of the sets I was most proud of attending, despite never listening to or seeing him before. After Sliink, I headed over back to main stage for Bassjackers. They laid down a bangin' house set and the crowd was loving it. Seeing the crowd starting to lose some steam afterwards, our group decided to head back home because we had two more days and didn't want to miss out on anything the next two days!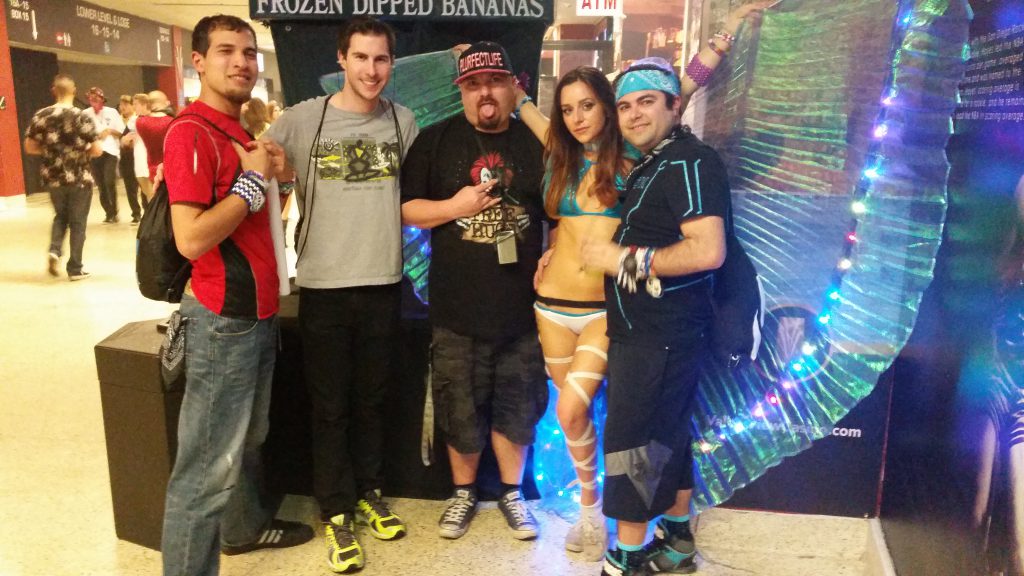 Day two was the most energetic night of OMFG. Tuesday was nothing like the night before, or most other events I had ever been to. People were off the walls with the lineup, the music, everything.  The floor was pretty much full and it wasn't even 10:30pm. I met up with my friends and we all got to stands just as Bro Safari started. This was the first time I got to hear a remix for iloveMakkonnen's "Tuesday". This will be the first of many times we hear this song, and it almost became almost predictable to hear every other artist play a remix of it at some point throughout the night. That aside, Bro Safari was amazing. The LED's were in full force and his logo proudly displayed during his whole set. His set ended all too soon, but it was time for TJR. I've always enjoyed his remixes in the past, and his upbeat melbourne bounce set was on point. His set was a bit tame compared to who he played between, but it was a good change of pace. At the end of his set, I could see the crowd getting really set up. The floor was packed, the stands were full, the entire place must have been at capacity, since even the archways into the arena were packed in with people.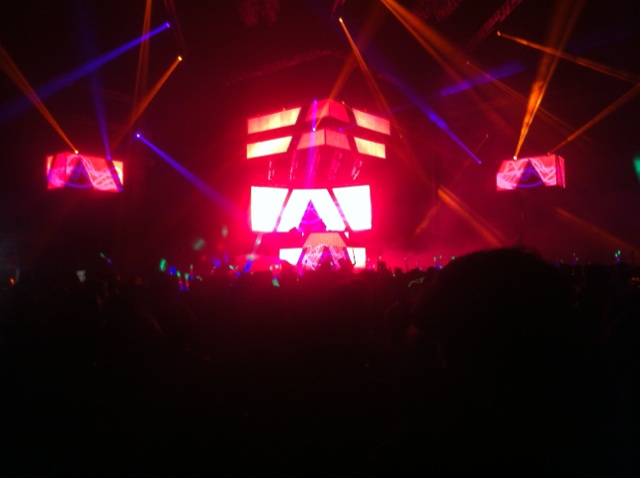 After TJR, Flosstradamus took the stage. If you have ever been to a Floss set, you know what to expect. Anarchy. Ever since his first song, the crowd was raging. The most exciting part of his set was when he brought out Casino for live vocals of their song "Moshpit". The crowd went insane. From the stands, I could make out about half a dozen actual moshpits in the crowd. It was chaos, the fans were in a frenzy, and there was nothing that could have stopped it from being anything else until the end of the set.
Tiësto was next up, and his return was well received. The crowd was so different than the crowd that was just here ten minutes prior. He played so many of his best songs, and I could see people gloving all over the place in the stands. It is a welcome sight that a venue is actually okay with gloving and most LED's in general. Tiësto played for an hour and a half, but it felt like a lifetime in the best way. Once his set came to a close, the crowd once again made a full switch. Those who raged during Floss, made their way back to the front. The lights went out, and then on came Borgore. His energy was so obscene. The crowd was ballistic. My first time seeing Borgore, and his DJ sets are pretty much like his tracks. Nonsensical, breakneck fast, and awesome. Despite being in the stands, after his set I still felt the need to take a seat afterwards. Closing out the set was Slander, and the duo was a great way to end the night. It was getting late, so I decided to call it a night and get ready for night three!
Day three, New Years Eve. This night was the reason we were all there. I got there right as doors opened, and even with a fairly quick travel and search, I had still missed the first artist, playing an unprecedented fifteen minute set. Once inside, Bixel Boys were playing and they were one of the main duos that our group was most excited to see. They played only a 45 minute set, since they were double booked to play the countdown over at the nearby sushi bar/club, Bang Bang, in Downtown San Diego. Alex Metric took over afterwards and the crowd was really starting to get there. His set worked perfectly following the Bixels, with his disco/funky hits like "Galaxy" and "Heart Weighs a Ton". After his uplifting atmospheric set, Ookay took the stage. He is always a great artist to go and get a crowd jumping. Playing a trap filled set with smashing bass and catchy hooks.
At 11:30pm, GTA took the stage for the duo's last set of 2014 and first set of 2015. As midnight quickly approached, Van Toth and JWLS stopped there set. In big numbers, the countdown began. The only thing heard was the capacity crowd screaming the numbers in unison. As we rung in the new year, streamers were shot everywhere, zebra striped beach balls dropped from the ceiling and "Turn Down for What" blasting through the speakers. New Years carried on with everybody with huge smiles and renewed spirits. Gareth Emery took over soon after, and his set was a great way to mellow out the crowd after GTA's new year's set off.
During this time, I ventured back over to The Zoo to check in on an artist my friend recommended, Dirty Audio. After catching the tail end of his set (and the last of my water bottle), I went back out to the main stage for Deorro. The crowd was ready and pumped for Deorro. So many panda hoods and panda shirts everywhere. It was like a blur of black and white in the crowd. His set was amazing, exhilarating, and terrific. Eric Prydz took the stage after, and was the closing DJ of OMFG San Diego. His set was so melodic, and a great way to end the night. My entire group left together with nothing but positive thoughts of the events, and which is why I am here to recap and share my experience with all of you!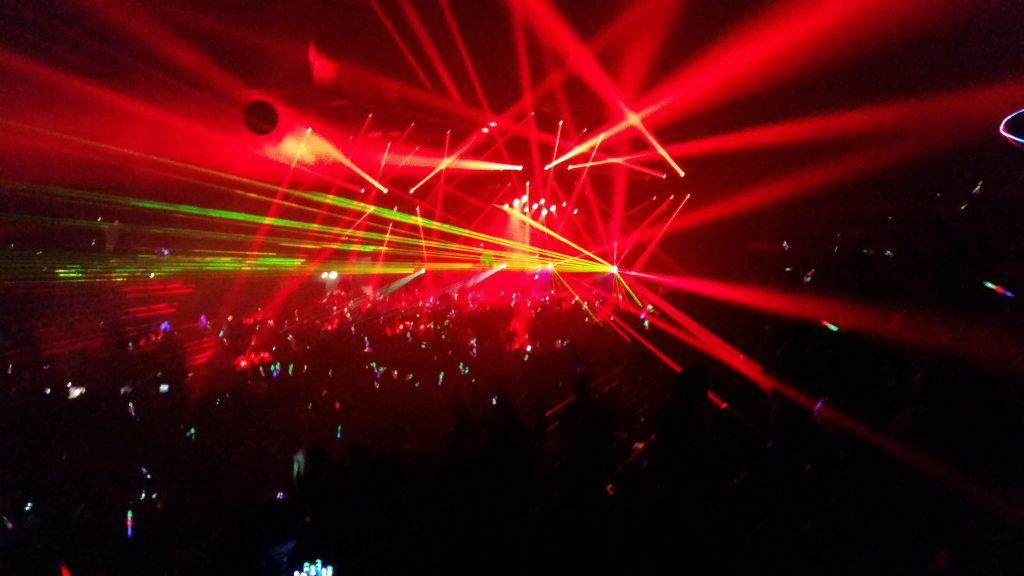 This week was a very different experience for a New Years, and many other venues and other artists could have been seen. However I got to be with many familiar faces, seeing artists that I enjoy seeing, artists that I've never had the chance to see before, and none of the other worries I usually end up dealing with at other venues. It was held in a temperature controlled, indoor venue. The stage production at LED events have improved so much over this past year. The lineup was eclectic yet fit the crowd amazingly. Also, it was a three day event but with shorter hours. This sounds excruciating, but I really is the only way to have so many artists all at the same event. I have always liked LED events (after being at their last five), and this certainly won't be my last. If you have ever been undecided between what event you want to go, I'd definitely suggest checking out an LED event one of these days. These guys know how to throw a party!