Disclosure, HAAi, Brina Knauss, Vintage Culture, and more are the first artists to be announced on the lineup for Tomorrowland's CORE Tulum in 2024.
---
While thousands bask in the glory of the CORE stage at Tomorrowland in Belgium each summer, the beloved brand has made it their mission to bring the lush, magical forest experience to other reaches of the globe. This unique setting landed at Tomorrowland Brasil this year during the festival's return to the country, but they also set their sights on Mexico for another round of CORE Tulum.
Earlier this year, Tomorrowland announced that CORE Tulum would make its way back to Zamna on January 13 and January 20, delighting house and techno lovers who are searching for an escape from chilly winter temperatures. While they teased that there would be a new, mythical stage to help enhance the audiovisual experience that would debut at this edition and later find a home in Belgium next summer, details surrounding the lineup remained a mystery.
Today, that curtain has been pulled as Tomorrowland revealed the initial artists slated to take the stage early next year at CORE Tulum, which carries on with their tradition of high curation at this experience. The first set of artists playing on January 13 includes Diplo, Disclosure, HAAi, and Mind Against. Then, the following week's festivities will bring Brina Knauss, Jaguar, Kölsch, and Vintage Culture to the newly unveiled stage in the tropical paradise.
There is still plenty more to be revealed as both dates offer three stages of quality beats for house and techno lovers to get down at as they start their year off on the right foot. Stay tuned for more details by following Tomorrowland on social media, and make sure to grab your passes via their official website before it's too late!
---
Tomorrowland Presents CORE Tulum 2024 – Initial Lineup: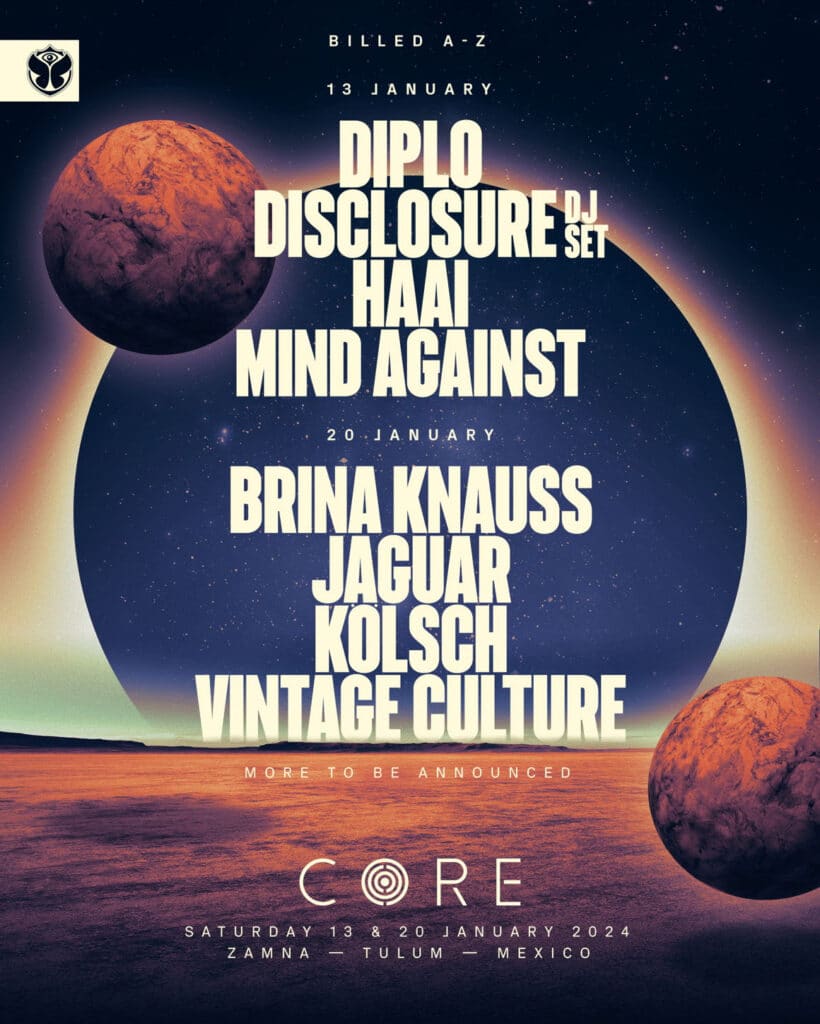 ---
Follow Tomorrowland:
Website | Facebook | Twitter | Instagram | SoundCloud | YouTube