Bonnaroo has announced its 2024 pre-sale date, some transparent price increase information, and more for next year's edition.
---
With the holiday season near, that means Bonnaroo ticket season is here! The fan-favorite summer festival is set to make its yearly return to Great Stage Park in Manchester, Tennessee on June 13-16, 2024. Attendees of the beloved Tennesse tradition, fondly named "Bonnaroovians," come from all walks of life and travel from near and far to experience The Farm together. The major family aspect, long-time history, and Bonnaroo mantra of "Radiate Positivity" make it one of the most unique festivals in the country.
In 2023, Bonnaroo debuted the addition of single-day passes, but unfortunately, they've been taken away just as quickly for 2024. Additionally, the festival made a transparent announcement via Instagram and other social channels that ticket prices would increase for the first time in over a decade. The statement explains that the increase still does not equate to current inflation and is necessary to keep the Bonnaroo experience the festival is known for. The base prices will reflect all fees, aside from the shipping choice selected at checkout and any applicable state tax.
Troo Roo pre-sale begins this Thursday, November 16 at 10am CT for fans who sign up either by text or email via the Bonnaroo website. The general on-sale will begin on Black Friday for any fans who might miss the pre-sale.
With no lineup announced yet, Bonnaroovians know they'll have to wait until just after the New Year to find out who's taking the 8+ stages this year. Celebrated for its diversity and eclecticism, past Bonnaroo lineups prove every year that so many genres coming together on one bill can make for one of the most unforgettable festival weekends.
Make sure to stay locked into Bonnaroo's socials to be the first to know when the lineup drops, and don't forget to sign up for the pre-sale now if you plan on snagging your tickets at the lowest possible tier this Thursday.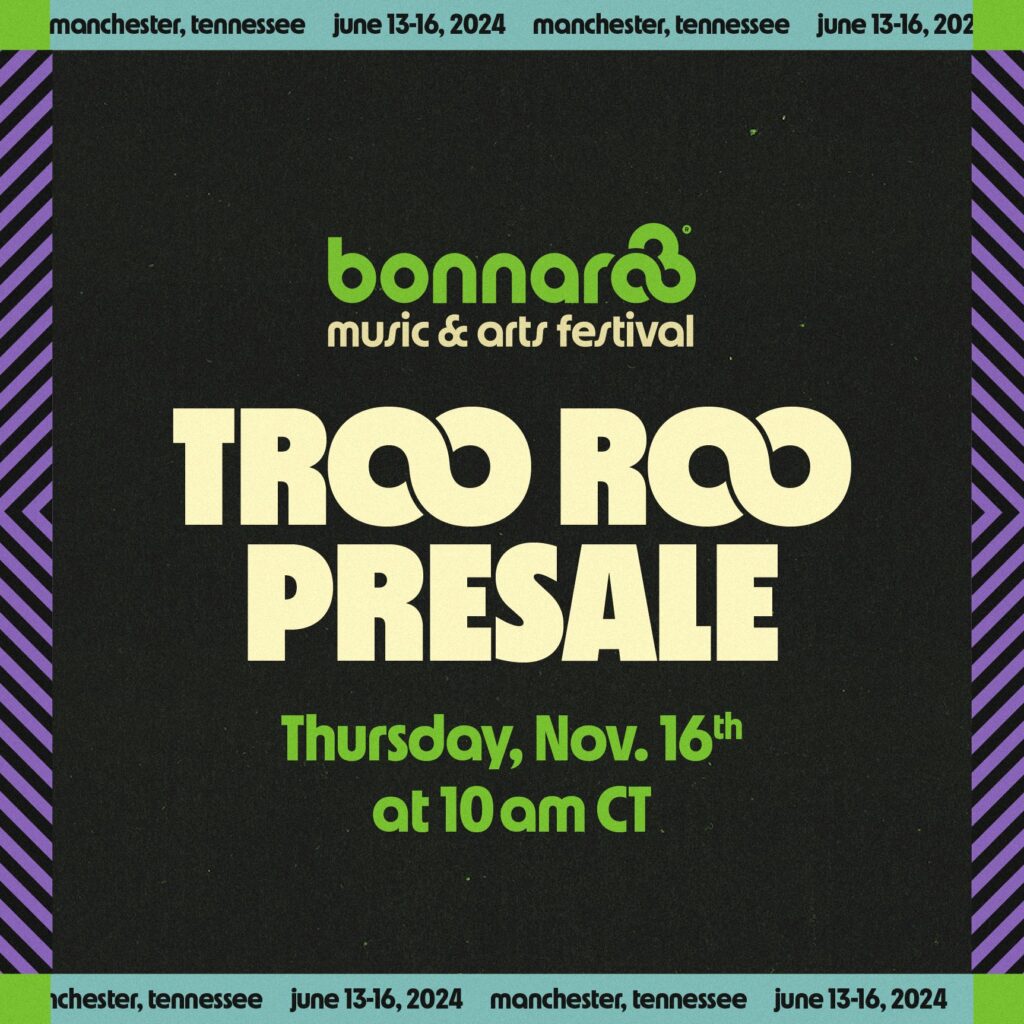 ---
Follow Bonnaroo: