SHAPESHFTR swung by to chat about winning the Discovery Project contest for Nocturnal Wonderland and his passion for house, techno, and AREA15.
---
Las Vegas is home to some of the world's best nightclubs and one of the biggest dance music festivals on the planet, Electric Daisy Carnival, but dive past the surface, and you'll find a bubbling underground community filled with rising artists. While the extravagant experiences on The Strip feature the biggest names, those looking for a dose of real house, techno, trance, hard dance, and more have been able to flock to other reaches of Sin City to get their fix. And SHAPESHFTR is one of the artists who has become a fixture at venues like AREA15.
SHAPESHFTR's passion for electronic music started at an early age, but it wasn't until 2018 that he made the leap forward with this new project. Since then, he's been off to the races with some releases on his belt on imprints ranging from House Of Hustle to Country Club Disco that garnered looks from some of the movers and shakers in the scene.
This year saw SHAPESHFTR continue to rise through the ranks, this time around, with the help of Insomniac. After entering a handful of their Discovery Project contests in the past, he took home the grand prize ahead of Nocturnal Wonderland. This allowed SHAPESHFTR to play the opening slot on the festival's main stage and silent disco, and his winning track, "What You Think," has since found a home on the label side of the brand.
SHAPESHFTR is currently in the midst of experiencing all that Amsterdam Dance Event has to offer, but before he set off on his trip he swung by to give us a piece of his mind. Read on for the full story behind this rising artist, and stream his exclusive guest mix on SoundCloud!
Stream EDMID Guest Mix 393 || SHAPESHFTR on SoundCloud:
---
Hi SHAPESHFTR. Thanks so much for chatting with us today. Let's kick this conversation off by digging into your roots as an artist. Can you share what drove you to develop a passion for house and techno? How did this project come to life?
Hey, how's it going? Thank you all so much for having me! So, I would have to say that my passion for house and techno came from having it around as a kid. My mom was an avid clubgoer when we were growing up. She would always be playing some dance music. What I remember vividly is mostly early Hardcore from the mid-90s, which is a super niche type of music, but that's the one that sticks out of my head. Also, I remember getting introduced to Daft Punk at an early age, watching Toonami one night randomly. They were playing their Interstella 5555 movie, and I just remember watching that as a kid and being very influenced by the music and the imagery and stuff.
But having all of those influences at such a young age kind of came to a head when I turned 18 and started going to real underground raves. There were a few spots that we used to go to all the time, one being this place called Fort Cheyenne. That place was as magical as it was dingy and had a huge influence on the music that I like and just getting into the rave scene in general. Without that place, I probably wouldn't have even gotten into wanting to make dance music at all.
But to answer the second part of your question, the SHAPESHFTR project came about in 2018. I've been DJing techno for a few years, and my tastes and music were evolving and changing. I was getting into more UK Bassline, speed garage, bass house, tech house, and all that, and I felt like I needed a new moniker. And I can't even tell you how I came up with the name. It was kind of one of those moments where something just kind of shoots into your head, but the name itself connotates how we all flow with life and change over time. It's very much about transformation and self-improvement in general.
You've been steadily releasing tracks that have been pure heat over the past few years on labels like House Of Hustle, Country Club Disco, OFDM, and Thiccfreqness. Can you share what impact these labels have had on your rise through the ranks of the scene?
First, let me say that the support I felt from these labels has been unreal. Each of them has helped me realize some untapped potential I had in myself and has helped me gain the confidence needed to become a great producer. I definitely have to shout out Hugh from Golf Clap, who's the founder of Country Club Disco. He was the first person to sign one of my records, and to get on a label that size for your first label release was unreal. It was a huge step in the right direction for me.
Also, if I'm shouting people out, I've got to shout out Josh, aka Fantom Freq. He not only helped me get on House of Hustle but also signed me to his label, Thiccfreqness, and overall he's an awesome dude. Also, some advice for any up-and-coming artists who are trying to get on labels would be to network, network, network with the people that you meet in the industry in your local scene who can help bring you up or support you and believe in you in certain aspects and that's what each one of these labels has done for me.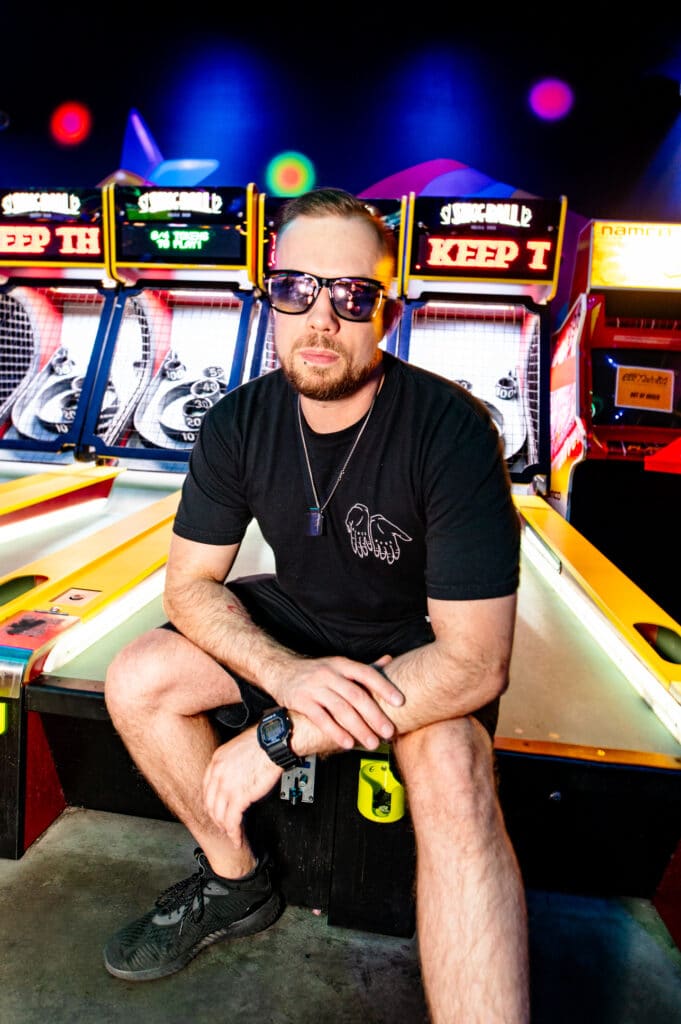 You also won the Discovery Project this year for Nocturnal Wonderland; congratulations on that! Looking back on when you found out you won, what emotions ran through you when you received the message?
Thanks, man. When I first found out that I had won, I honestly didn't know how to feel; it was a combination of being in shock and awe. Also, I didn't know what to do with myself. What's funny is I initially missed the call because I was in a work meeting and didn't get a chance to check my voicemail for about an hour.
So, when I finally actually checked my voicemail and heard this was Insomniac calling, I couldn't call back fast enough to make sure that they didn't give my prize away or something. It was one of the most ecstatic moments in my life, hands down. Shout out to everyone at the Discovery Project; they were absolutely amazing, and I couldn't have asked for a better experience. They really are about cultivating new artists that are up and coming, and I can't wait to see what comes next with our partnership.
What was it like getting the chance to help kick off the festivities in Southern California last month?
Talk about another surreal moment not only being able to open up the main stage on Sunday during Nocturnal, but I also got to close out the first night for the camping pre-party, which was absolutely insane. There were at least a thousand, maybe two thousand people there, and everyone was locked into my set the whole time. Opening on Sunday was also just a crazy experience. To be on that size of a stage was incredible. I had a bunch of friends and some family come out for the Sunday set, which was really nice, so I got to see some familiar faces in the crowd, which was cool. Overall, it was a great experience that I wouldn't trade for anything!
That victory also led to the release of your newest dancefloor-ready track, "What You Think." Can you walk us through the production process on this one? Where did the vocal come from?
It was one of those rare moments where the song kind of flowed out of me. I wrote the whole thing and probably two or three hours while I was on vacation in a cabin out in Mammoth. When I got home, I spent a week mixing and mastering, and then it was done. To be honest, the vocal sample is just something from Splice that I heavily processed. You definitely have to make those vocals your own if you're going to use them, but I was happy with how they came out.
Interestingly, while I was on vacation, I had a whole week off from work, so I told myself while I was out there, I had to write three to four tracks. This just happened to be one of them. The stars aligned in the craziest way for this track; life's a trip!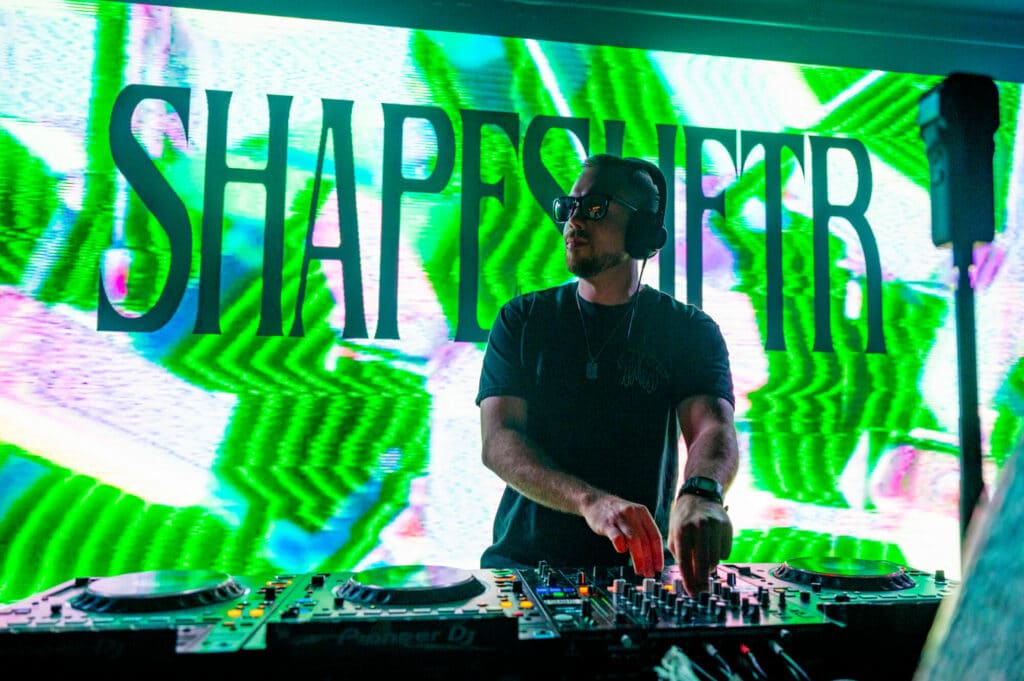 One of the venues you've frequently played is AREA15. It's a different experience than the bottle service nightclubs in Las Vegas, so what's your favorite aspect of playing at that venue?
Yes! I absolutely love playing for AREA15. They believe in what I'm doing, and I couldn't be happier to have them in my corner. They've been more than supportive, and I can't thank them enough! Truly amazing people over there. But my favorite aspect of playing at AREA15 would have to be their mindset on how and why they throw shows. They're forward-thinking, and what's crazy is that this is just the beginning of their journey as a musical powerhouse out here in Vegas! If you haven't been there, I highly recommend checking it out while you're in Vegas.
Speaking of Las Vegas, it seems as if the dance music community has really picked up momentum and moved away from being focused on The Strip. What are your thoughts on the current state of the scene in your home base?
I currently have high hopes for our music scene out in Vegas! We are getting a lot of great acts coming out here, and as you said, it's finally moving away from being centered around the Strip, which is a great thing. Having Insomniac move out here has also helped that a huge amount. They're throwing this NYE party called Forever Midnight, and that lineup is absolutely insane. Also, we have a community of amazing up-and-coming artists in Vegas. You all should definitely keep on the scene out here because I have a feeling it's going to pick up even more so in the next few years.
Just for fun, when we head to Sin City for a visit, where are you taking us for a night out on the town? (Dinner, drinks, and dancing, of course!)
Hmm, if we're hitting the town in Vegas, I'm taking you to AREA15 right off the bat. Then we're cruising downtown and hitting some clubs like Discopussy, We All Scream, or Commonwealth. Besides AREA15, those are usually the spots for the best music in town. For dinner and drinks, though, we will hit up Chinatown for an all-you-can-eat sushi spot and then drinks over at The Golden Tiki, an awesome tiki bar out here. If you're ever in town, let me know, and we'll 100% make this happen!
Finally, what goals do you hope to achieve in the rest of 2023 and beyond?
So, for the rest of 2023, I have a few more releases coming out. I have a remix on Cartel Collective next month, and then I am doing one more self-release for December to round the year off. Also, this week, I'm out at ADE in Amsterdam. I'm excited to be out here and network with so many people.
Beyond this year, though, my goals in the short term are to start racking up more releases on some bigger labels, hitting some more festivals/out-of-state shows, and just keeping this momentum going. I feel truly blessed to have this opportunity to share my music and message with so many new people, and I appreciate you all having me on here. I hope to talk to you all again real soon!
---
Follow SHAPESHFTR:
Facebook | Twitter | Instagram | SoundCloud | Twitch